TV Shows
Published June 22, 2022
Sloth Baby Productions Presents: 'Ms. Marvel' Episode 3
"Noor Girl?" No, that's not it either…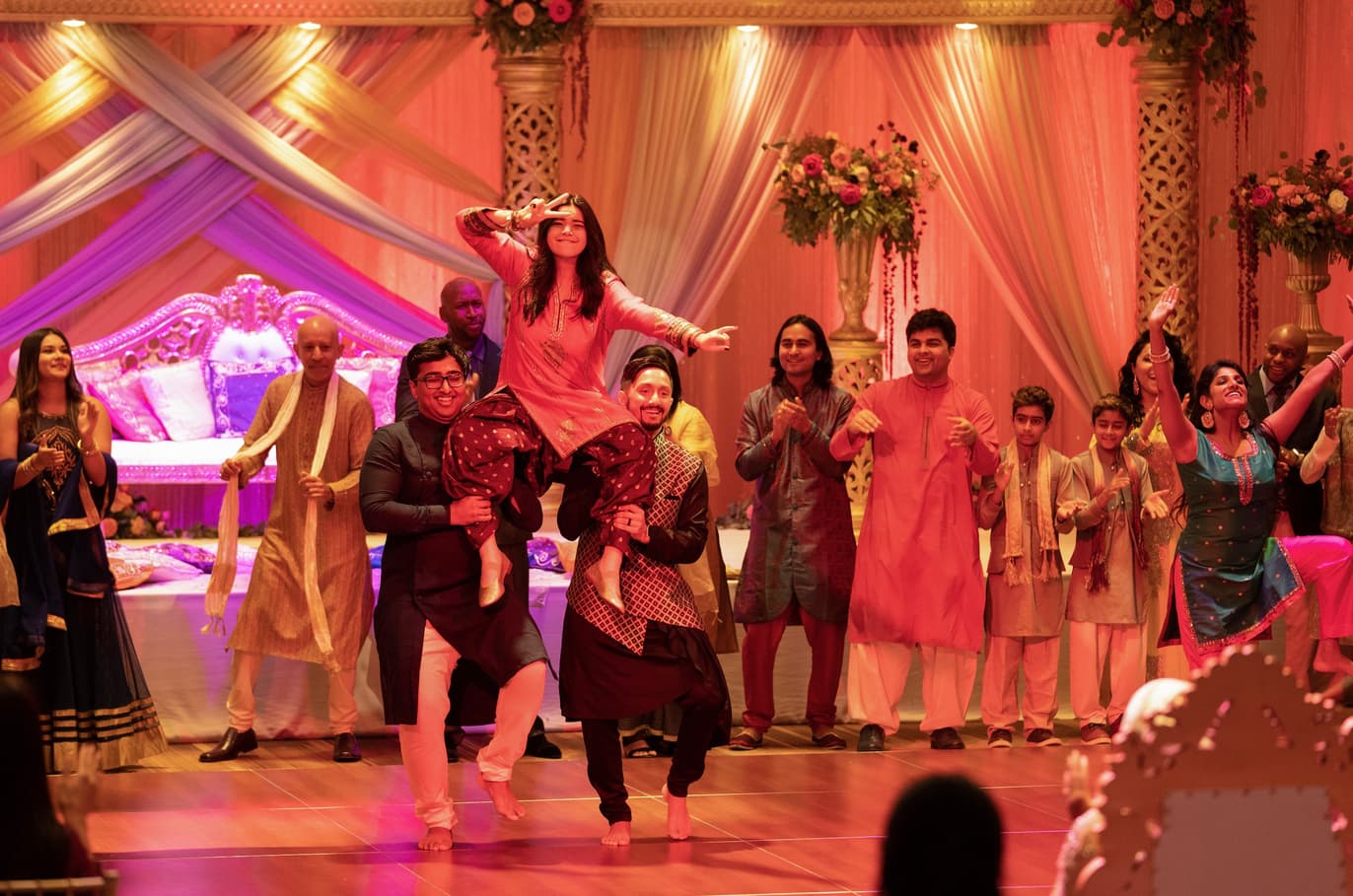 Flashback time. We're in British Occupied India searching for something in a slowly collapsing cave. But what? Eventually, it's discovered by the same woman Kamala has been seeing in her visions, Najma. And it's the bangle. It also happens to be on a severed blue arm, so hopefully, that's not a bad sign…

Aisha — Kamala Khan's great-grandmother! — enters the cave (which also happens to have the symbol of the 10 Rings carved into the floor) and asks to see the bangle as they all crowd around the artifact. Unfortunately, the British soldiers are quickly closing in on them and the group realizes they've got to get out of there. The man from the temple said that they would need two bangles and right now they've only got one, and Aisha decides that one's going to have to do. As everyone else is escaping she puts it on and feels something powerful travel through her. "Did you see that?" She asks Najma, but Najma didn't. With a solemn hug goodbye, the two women decide to separate to avoid the soldiers, and that was the last time Najma saw the Aisha and the bangle…

Until today, that is.

Present day, Najma explains her journey to now to a stunned Kamala. As Najma tells it, they're all from another dimension, including Aisha. ("Yeah, of course," Kamala half whispers to herself). The story Najma tells is that they were exiled from their dimension, not by choice, and are just trying to get back home. Kamala's next question is also very important, because how old are they…? Don't worry, while everyone else might be decades old, Kamran is in fact only 17, and Kamala breaths a sigh of relief. 

In another room, Kamala thanks Najma for saving her from the Department of Damage Control. Najma explains that they didn't even realize Aisha had any family until Kamala put on the bangle and they sensed the Noor. In this dimension, they can't unlock their full powers but somehow, Kamala can with the help of the bracelet. After some back and forth, Kamala realizes that Najma wants the bangle – it was Aisha's wish for them to all be home again and Najma wants to use it to do just that.

But okay, there's still a lot of information Kamala doesn't know, like where is this "home." Also, what are they? Najma explains that they're Clandestines, and though they've gone by many names before, they're more commonly referred to as djinn. Well, that's not a word Kamala wanted to hear.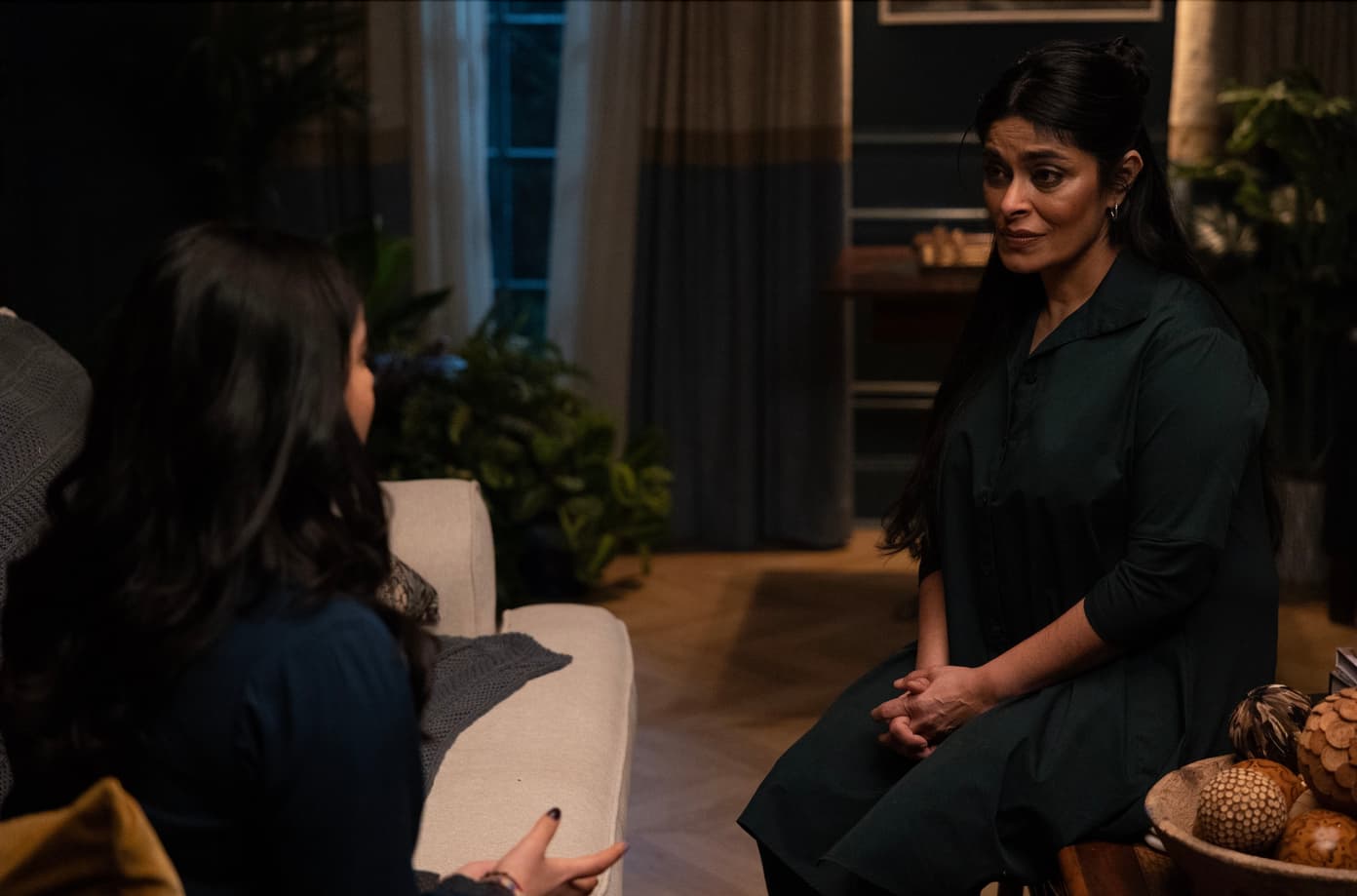 With this much information to process, there's only one person Kamala wants to talk to: Bruno. Except that the night before all she texted him was "I'm alive" and then went radio silent for eight hours — also don't forget, Bruno, she's trying to drop the name "Night Light" since it sounds like she's a hero for little kids.

Bruno himself has got a lot to unload, but Kamala's got even more and collapses onto his couch. She tries to explain to him that she's not Asgardian, or alien, or anything cool like that, but rather "the stuff of my childhood nightmares." And since the Clandestines need Kamala's help, henceforth she needs Bruno's help sorting it all out. But that's not all. Kamala also needs to know about interdimensional travel so does Bruno by any chance know anything about the Noor dimension off the top of his head…?

Surprisingly, Bruno might know something.

Meanwhile, over at the mosque, Agent Deever has arrived with a handful of D.O.D.C. agents. Though she instructs them to fan out and search the area, Nakia stops them with a bunch of legal jargon she learned from watching TV and knows they can't comb the area without a warrant.

Back at home, Kamala finds herself searching through social media for "Night Light" when Nakia bursts in. Kamala is just about to confess to her best friend about being Night Light when Nakia spots the new Super Hero on her computer and completely unloads. Nakia's pretty upset about D.O.D.C. coming to the mosque, while Kamala is pretty upset to hear that D.O.D.C is even looking for her in the first place. Maybe now isn't the best time to tell Nakia her secret…also because Nakia's got more news, which is that she's the latest board member at the mosque. The Night Light confession will have to come another time.

Downstairs at the house, the Mehndi party has begun. Muneeba sits and talks with Auntie Shirin when her mother, Sana, comes up. Unfortunately, Sana couldn't make the trip to the states, but Muneeba tries not to let it bother her — Sana didn't go to Muneeba's wedding, either. "Mothers and daughters, it is the eternal struggle," Auntie Shirin remarks, turning to Kamala, "you will be sure not to give your mother any trouble."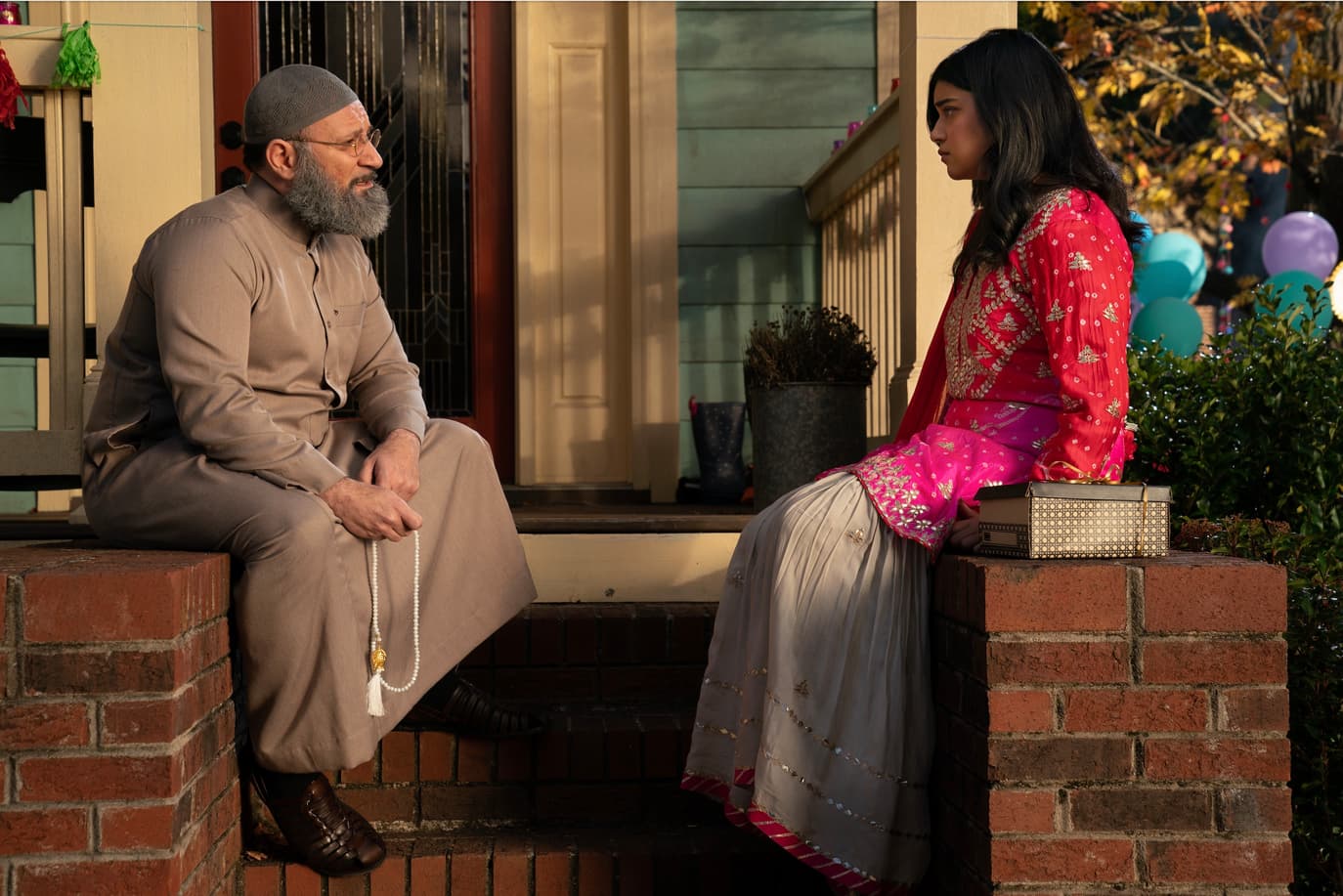 Bruno, unfortunately, can't make the party but drops a present off for Kamala. She takes it outside, but before she can open it up Sheikh Abdullah joins her. Still distressed about what Nakia told her about the D.O.D.C agents showing up, Kamala asks Sheikh Abdullah if there's anything this "Night Light" can do to show everyone that they're a good person.

"Good is not a thing you are Kamala, it's a thing you do," he tells her with a chuckle before walking away. Kamala then opens Bruno's package to find a small blue mask inside.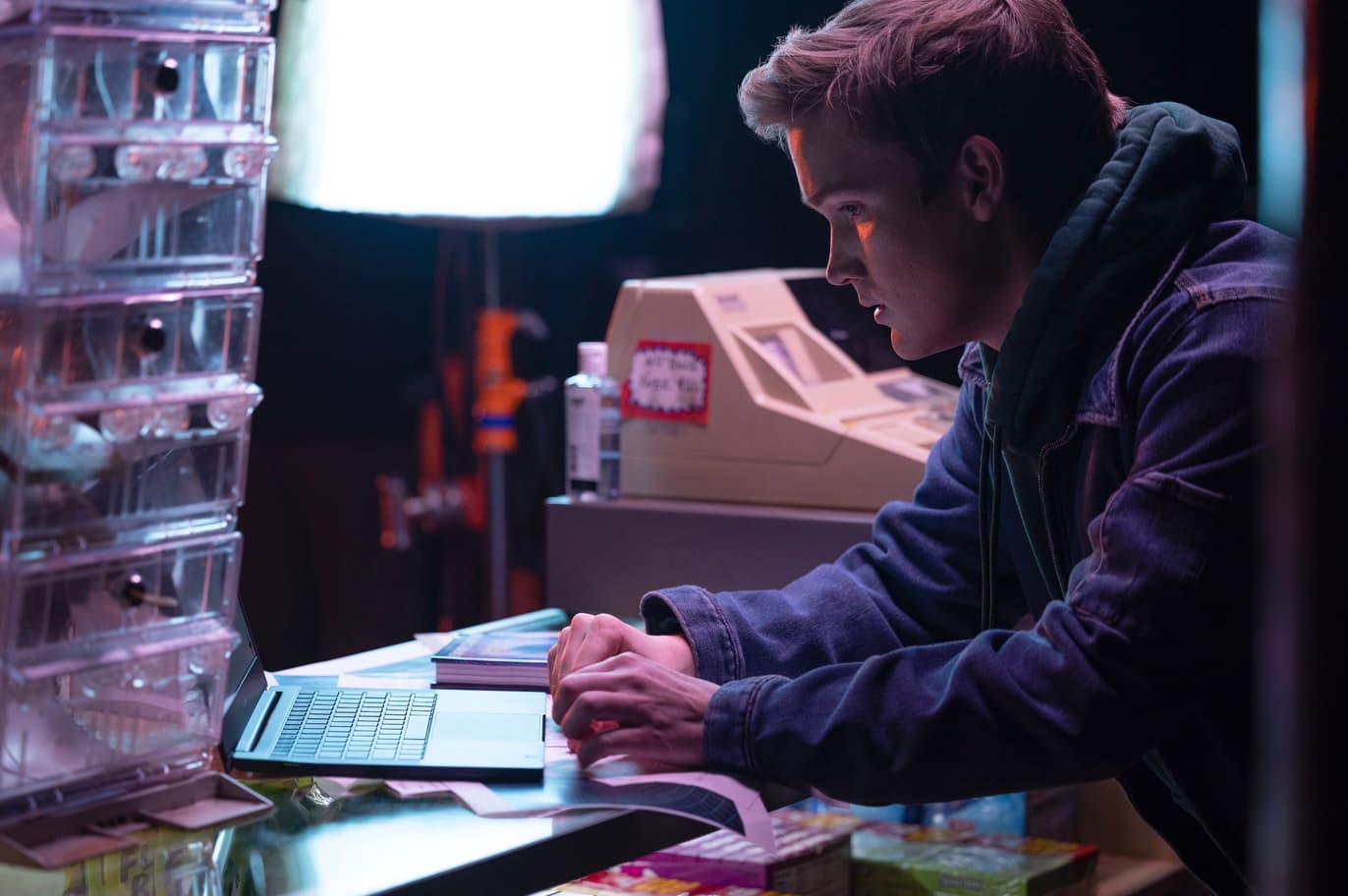 As for Bruno, he's still stuck at his Circle Q shift when Yusuf comes by for his secret stash of cherry pies. Yusuf can't help but notice that Bruno is working on, which happens to be a lot of stuff about djinn. Offering to help, Yusuf translates and reads some of it for him, and explains that there's a group of djinn who were exiled from their own home and have been forced to live out the rest of their days in ours. Completely not putting Bruno at ease, Yusuf ends his translation by saying that they need a primordial power to get home.

Now Bruno must explain this for Kamala to digest it: "if you help them go home, some things might go boom." Back in his room, Kamala paces back and forth trying to figure out what to do and Bruno blurts out that he got into CalTech, and he thinks he needs to go. But he doesn't want to leave until he knows Kamala is going to be okay. Kamala is quick to point out that she'll be fine, she just needs to help Najma — Carol Danvers wouldn't hesitate if she knew she could help someone.

Someone else who wants to help is Mumeeba, who knows that her daughter is going through something — but just doesn't know what. While bandaging her knee, Muneeba comes in and asks what's wrong, and though Kamala doesn't confess anything, Muneeba knows something is up. "Whatever mountain you are facing, you don't have to do it alone." It's exactly what Kamala needed to hear right now.

Speaking of mothers, Najma has Kamran's phone. She can see that Kamran and Kamala are messaging back and forth, and though Kamala wants to help she can't right now, she needs more time. While Kamran is okay to give her the time she needs, Najma is not.  She's done asking Kamala for help; she's going to make Kamala help them.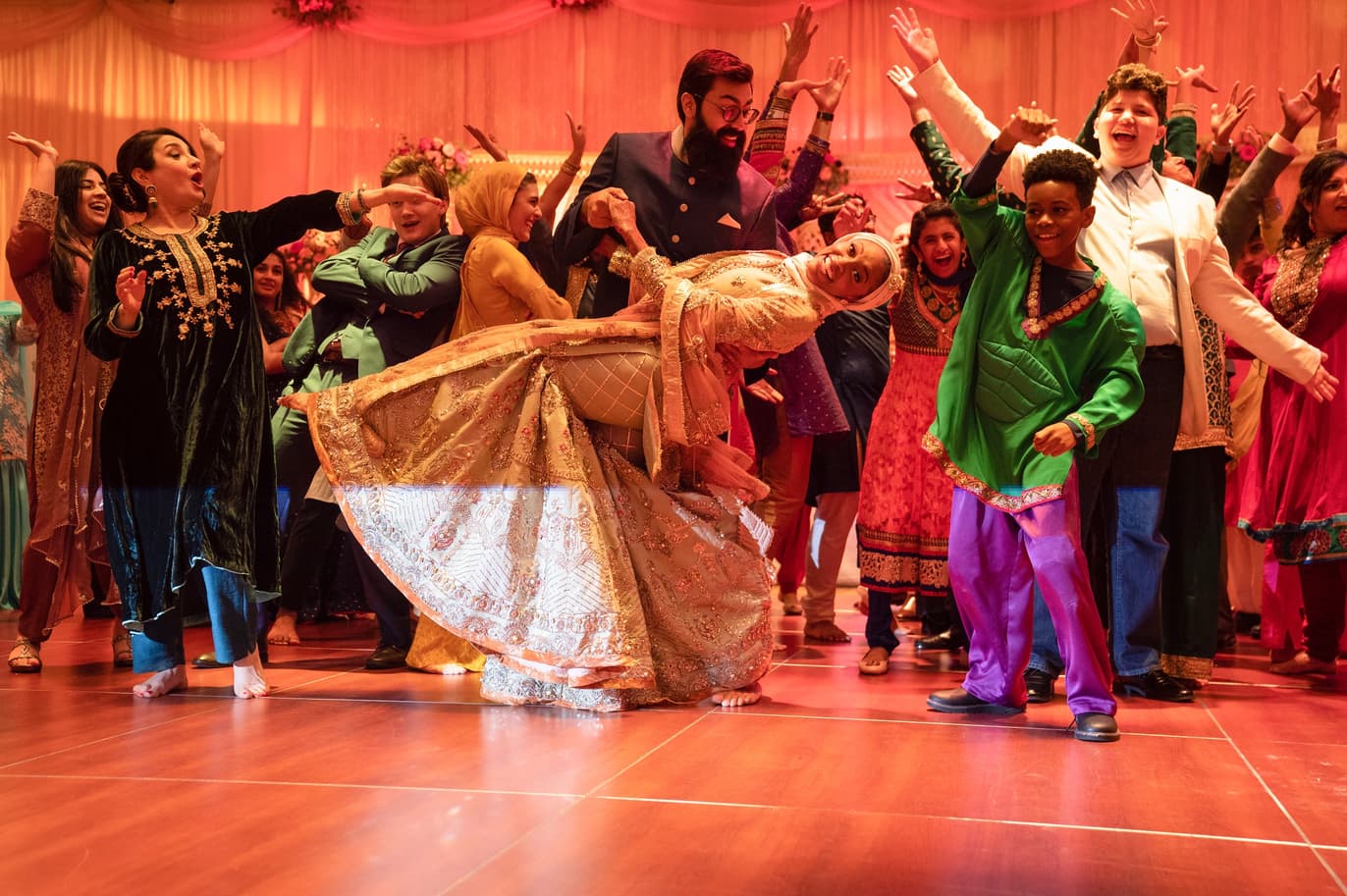 However, there's no time for that, because Aamir is getting married! It's finally wedding day and he and Tyesha tie the knot. All those dance lessons that Kamala and Nakia were talking about are finally paying off, as the whole family (and extended family) has a surprise for the happy couple: a huge dance number involving everyone. Even Aamir, which is a surprise for Tyesha!

This then leads into a slow dance, and Kamala asks Bruno if he wants to. Just when we think these two are going to have a moment with Brown Jovi playing in the background, Kamran rushes in to warn Kamala that his mother's coming, and she's mad. Everyone is in danger.

Not knowing what else to do, Kamala sticks to the classics and pulls the fire alarm, sending everyone out of the banquet room. Bruno's now in charge of getting everyone out, while Kamran tries to reason with his mother one last time. Kamala, meanwhile, heads through a service door and races down the back hallways trying to avoid the Clandestines.

Arriving in the kitchen, Kamala gives chase trying to avoid them, but it's no use. They're all much stronger than Kamala, and all she can do is shoot out hard light to try and stop the blows. Najma then turns off all the lights and picks up a frying pan and smack, hits it as hard as she can against the wall to reveal Kamala's location.

She falls back into the ballroom as the four Clandestines attack her from all sides, using their weapons (and wedding tablecloths and chairs) to try and slow her down. That's when Bruno appears to try and help, but he's immediately hit with a wedding chair and is thrown backward. As a Clandestine closes in on him, Kamala uses more hard light to punch him square in the face and protect Bruno, if only for a second.

Kamran arrives as backup, siding with Kamala in the fight. He tries to stop his mother and the rest of the Clandestines as best he can, but even he's not strong enough to hold them back. The fight spills into the lobby, where Kamala quickly realizes she's surrounded. Najma makes a move for the bracelet and grabs Kamala's wrist when another vision appears…
A train is suddenly barreling down the tracks at both Kamala and Najma as they stand there, frozen, and it's just enough of a distraction for the D.O.D.C. agents to move in. They manage to knock out all the Clandestines as Kamala and Bruno hurry off to safety outside. Reaching the loading dock, Kamala turns back and sends some hard light to keep the door closed…

And that's when Nakia turns the corner and sees what Kamala just did. Both stunned and shocked, Nakia wants answers but there's no time for them. Bruno insists that Kamala must get away from here since D.O.D.C is looking for her. Nakia has no choice but to let her best friend go, as Kamala promises to explain everything.

Things go from bad to worse for Kamala, as she arrives him to her family that is both worried about her and furious. Muneeba immediately asks if she was the one who pulled the fire alarm, but Kamala won't answer. Kamala can't answer. All Muneeba wants is the truth, but Kamala can't bring herself to say it. She heads up to her room to sulk, alone.

Lying in bed her phone rings with a call from Nanni in Pakistan. Kamala answers but says she can't talk right now — but Sana is insistent. "Did you see it?" her grandmother asks. Kamala's confused, see what? Nanni explains that Kamala and her mother must come to Pakistan now, because she saw the train, too.
MS. MARVEL IS NOW STREAMING EXCLUSIVELY ON DISNEY+. 
 
Looking for more Kamala? Follow Ms. Marvel on Twitter, Facebook, and Instagram, and find Marvel on TikTok! 
The Hype Box
Can't-miss news and updates from across the Marvel Universe!