TV Shows
Published July 6, 2022
'Ms. Marvel': Bridging the Generational Gap Between Kamala, Muneeba, Sana, and Aisha
"There is something very special in quiet conversations that women have with each other."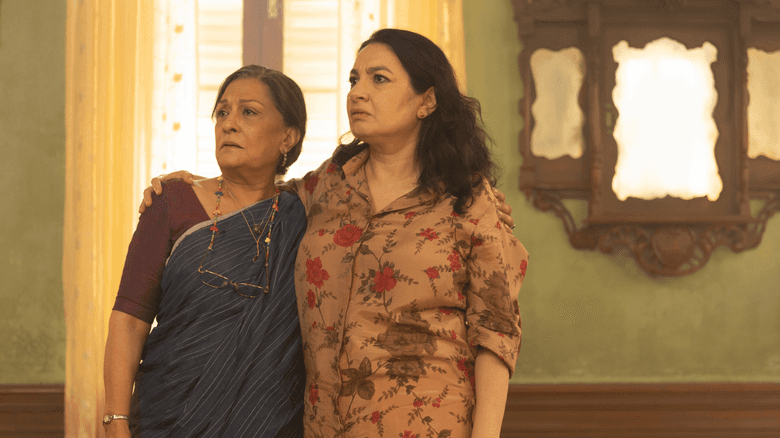 Marvel Studios' Ms. Marvel is all about young Kamala Khan going throw growing pains while also becoming a Super Hero, but there's another added thread running throughout the whole series: four different generations of women in her family learn more about the past, bringing them closer together for their future.

Episode 5 of the series is largely a flashback, told through the eyes of Kamala's great-grandmother, Aisha, and her husband, Hasan (and eventually their young daughter Sana — Kamala's grandmother!). Aisha has run away from the rest of the Clandestines and is living a happy new life, but when Najma returns and threatens everything she knows they must escape. All this is told against the backdrop of Partition as Aisha struggles to get her family to safety, no matter the cost. Her whole life, Kamala has heard the story of how Sana was separated from Hasan on the train platform but managed to find her way back to her father via a "trail of stars." When Kamala accidentally finds herself on this fateful night, too, she realizes that she was the one who helped create the trail of stars — Sana has always said that her family was magic.

When Kamala returns back to the present-day, she finds her mother, Muneeba, and Sana waiting for her, and for the first time in a very long time all three women realize that they are more alike than they are different. It's a breakthrough that's taken years — if not decades, in the case of Muneeba and Sana — to come to, as the three women look at each other in a brand new light.

The forefront of the show is all about Kamala, these powers and figuring out how to harness them, but according to executive producer Sana Amanat, the relationship she has with her mother her grandmother, and even her great-grandmother is "the heartbeat of the show, this intergenerational connection."

"The focus is on them and their connection, the concept of identity, and what these women have been through, and how that affects not only their own dynamics but affects their relationship with themselves and what they want to put out into the world, and how it ultimately affects Kamala…that's really what the show is about," Sana continues. "It's sort of this idea of epigenetics and how your past and your history do influence who you are."

While always part of the show's DNA, according to head writer Bisha K. Ali, just how deep this thread goes came out of the writer's room, especially for the Pakistani women in the room. They looked to their own familial relationships in hopes of strengthening Kamala's. 

"We talked about intergenerational trauma and how we wish we could have these kinds of conversations with our own parents and with our grandparents, and the things that we keep hidden and we don't talk about and the pain of that, and how that leads to us being unable to connect with each other," she explains. "It felt so important to me personally, and to all the writers in the room."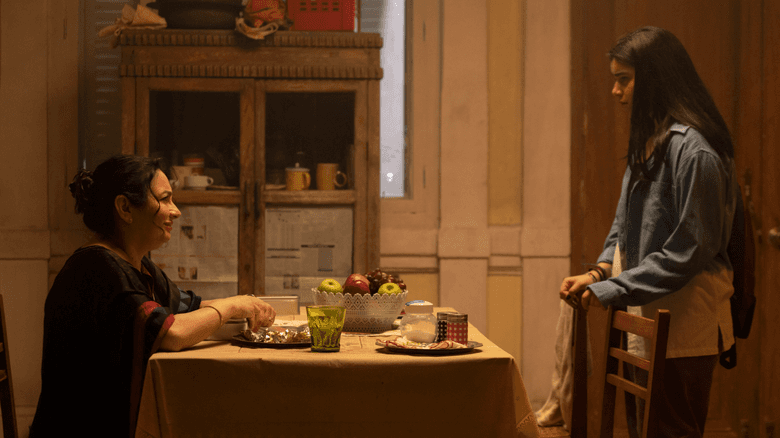 Ali points out that doing this through Kamala's lens leads the story not to a place of judgement, but rather healing. Specifically, "Kamala healing her matrilineal line." It might not be the journey she intended to take, but by the end of Episode 5, Kamala is able to bring closure to her mother, her grandmother, her great-grandmother, and also herself.

Kamala's grandmother Sana might sum it up best in the episode: "Perhaps this was the journey I am intended to take, one that would bring me back to you."

"It felt different and new, and we haven't seen this before, and it's speaking to power in women… and also the beauty of being able to see your parents as people and who had to survive a thing. These women had to survive a thing, and that gets in the way of their relationships, and Kamala can be the one to piece all of that back together and heal everybody," Ali adds.

"I think there is something very special in quiet conversations that women have with each other," the director of Episode 5, Sharmeen Obaid-Chinoy, explains. "When you see Muneeba and Sana talk you understand that the relationship is fraught in identity… and Kamala has the same traits as a mother. This is the story of four incredibly brave women who are powerful in their own way and so in telling this four generations story, it's unpacking a different facet of Kamala Khan and her life because she is drawn from all of these other women."

Star Iman Vellani knows the importance this newfound bond means to her family on-screen, and also the impact it'll have on viewers. "So many times, Muslim teenagers are shown that, oh, they need to separate themselves from the culture to become an individual. It felt so icky to me because that's not how I grew up. It's just this beautiful amalgamation of cultures and everything marrying together…you don't want to forget everything that you grew up with, and you want your kids to have a similar upbringing, but also to have more experiences."

Vellani also sings the praise of her costars, Zenobia Shroff and Samina Ahmed, because they embodied their characters and made everything on-screen so much more natural. In terms of Ahmed, according to Vellani, when she first joined for an audition it was similar to the video chat scene that we see in episode 102 because the actress couldn't figure out how to turn her camera on to talk.

But in addition to that, "her being Pakistani, we immediately bonded. She's constantly telling me stories of her life while we're on set. And having Zenobia in between all of that, it felt very similar to my real-life family. My mother and her generation is that sandwich generation of, you immigrate to a different country for a better quality of life for your kids." 

"It just felt very natural for all three of us to be those characters because it's a very real thing," Vellani continues. "South Asian families are quite close with each other, and showing that tight-knit relationship was super important for us and just showing children of immigrant parents who are proud of their culture. Like how often do we get to see that?"

Looking back on it, Ali is simply proud that they got to share these relationships throughout the season, especially Episode 5. "It means so much to every creative who was on this project, because it's the only character in the MCU we could go to this place and it was with Kamala. The only place we could honor ourselves was with Kamala, and the only place we could do it from a place of love and from joy was with Kamala. It feels really like a gift that we all got to tell this story."
Looking for more Kamala? Follow Ms. Marvel on Twitter, Facebook, and Instagram, and find Marvel on TikTok! 
The Hype Box
Can't-miss news and updates from across the Marvel Universe!