TV Shows
Published July 5, 2023
'Secret Invasion': Samuel L. Jackson on Nick Fury's 'Skrullmance'
"It's good that the audience knows that Fury has someone and he's not alone in the fight or in the world."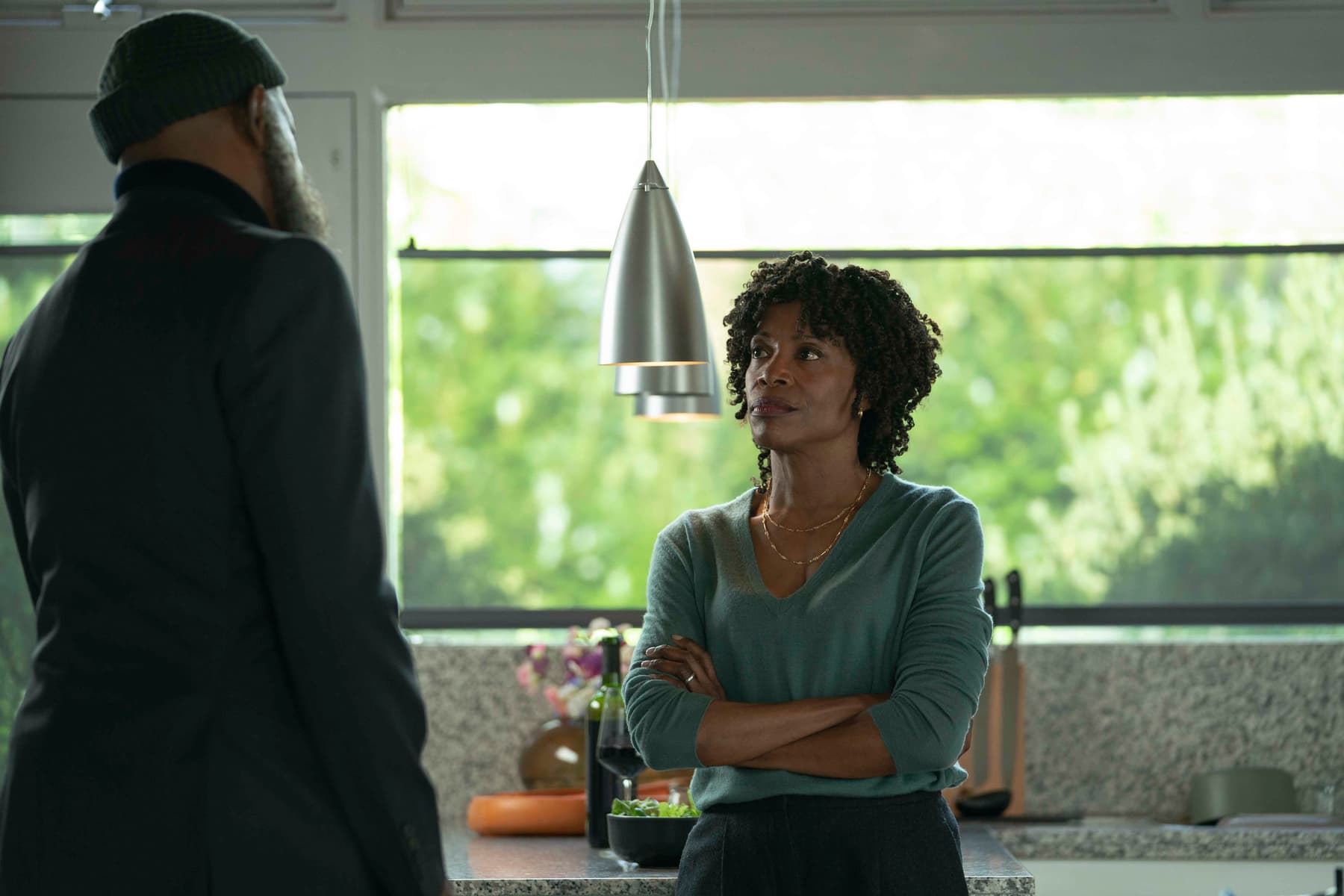 At the end of Marvel Studios' Secret Invasion Episode 2, viewers are let in on a huge Nick Fury Secret — he's married. And not only that, but he's also married to a shape-shifting Skrull.
Episode 2 begins with a flashback to 1995 after the events of Marvel Studios' Captain Marvel where Fury has been clued into the existence of the Skrulls. Fury, along with Talos, is hard at work trying to find a new, permanent home for the displaced population with the assistance of a Skrull named Varra who introduces them to Gravik (but that's a story for another day).
Some decades later, with the Skrull Invasion fully happening, Fury returns home after a long day trying to thwart it. Literally, home. All this time watching the serious, stoic Fury command Avengers and save the world and universe he's had another top-secret mission on his hands: Husband.
When asking Jackson about this and suggesting that viewers are now about to see Fury's "softer side," he's quick to jump in: "[Being a husband] might be harder than that other life he has! That is not an easy person living in that house with him, apparently."
In Episode 3, viewers learn more about Fury and Varra's life, including that in human form she goes by the name Priscilla. Their history together dates back decades, with Priscilla joining Fury's vast network of connections over the years. Off-screen, Jackson and Charlayne Woodard have the same decades-long friendship, having worked together many times previously in the past.
"Charlayne and I have known each other for quite a long time from our New York theater days when she was a hoofer and dancer, singer, and doing all this other stuff," Jackson explains, "We've known each other for quite a long time. She's an amazing actor. When they cast her, I was very happy to know that she's very, very good friends with my wife, so she didn't have to worry about that whole set romance thing," he chuckles.
For viewers, this might be a lot to process considering everything Fury has seen and done over the years, and all along it was assumed he didn't have anyone waiting for him. Turns out that's not the case, and Jackson is happy that this part of Fury's life is coming out into the open.
"It's good that the audience knows that Fury has someone and he's not alone in the fight or in the world, and it could be even better that they know that someone is a Skrull. My Skrullmance."
However, it's clear that Fury and Priscilla are far from marital bliss now. She mourned him when he was lost in the Blip, and even though he returned home to her he then left, physically and emotionally, for the S.A.B.E.R. station. Years have passed and both have changed — can they even still trust one another?
That will play out over the rest of the season of Secret Invasion, and Skrull Invasion aside, Jackson confesses that regardless of whatever else is going on in their lives, Fury does love Priscilla. 
"Everybody loves something or someone, hopefully, or someone loves them that gives them an opportunity to let their defenses down, to open themselves up to the pain of loss or the joy of belonging, and she's that person, even though it's a tortured kind of romance," Jackson continues. "Nick Fury loves someone, and he does suffer loneliness when she's not there."
No backup. Just Fury. Secret Invasion is now streaming on Disney+. 
The Hype Box
Can't-miss news and updates from across the Marvel Universe!