TV Shows
Published June 4, 2019
The Stars and Creator of 'Marvel's Cloak & Dagger' on the Season 2 Finale and Where We Go From Here
Olivia Holt, Aubrey Joseph, and Joe Pokaski talk all things Cloak, Dagger, #Tyrandy, and more!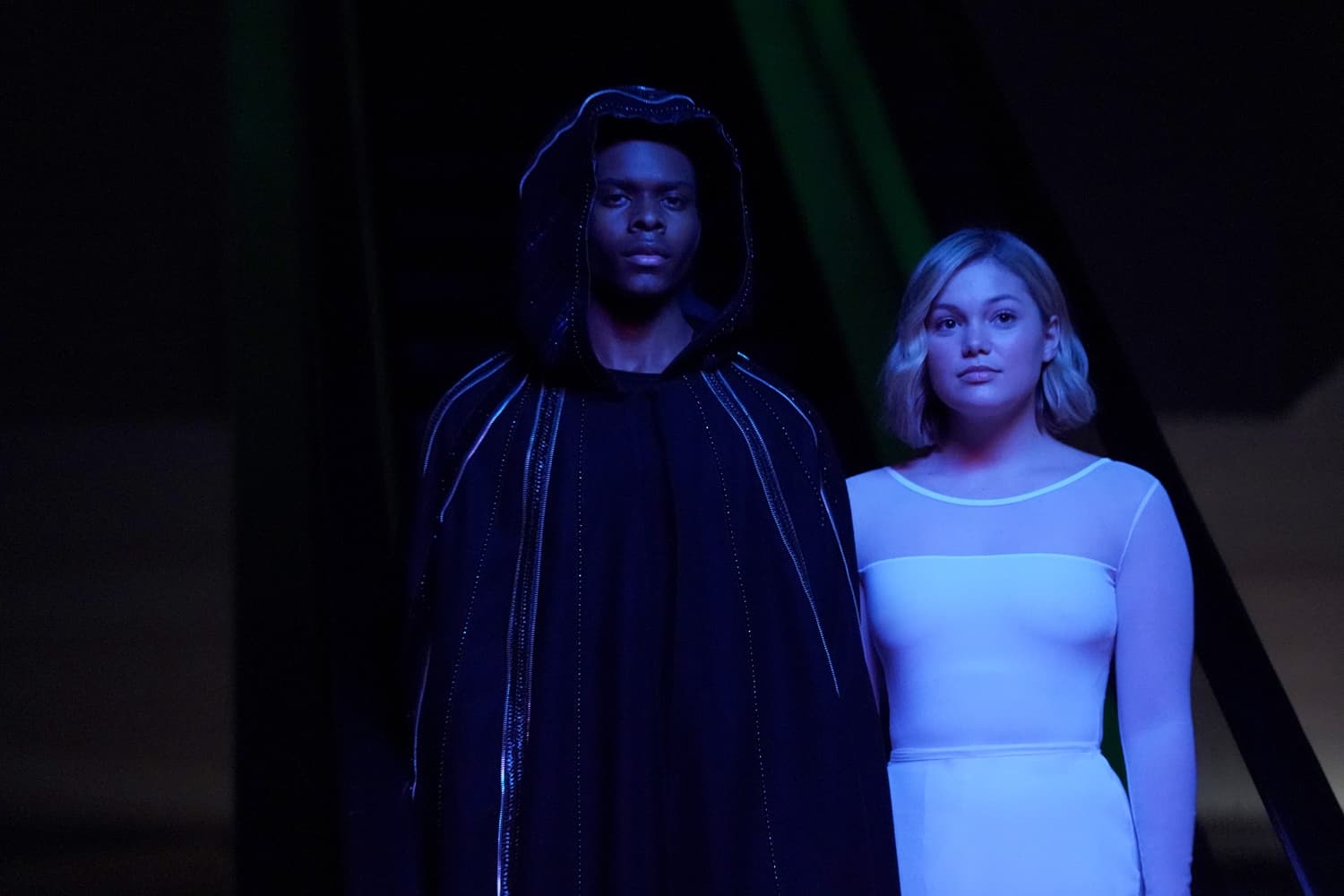 NOTE: If you haven't watched the Season 2 finale of "Marvel's Cloak & Dagger," there are unfiltered SPOILERS ahead!
What happens when you've done all that you've can to save your city? For Tandy Bowen and Tyrone Johnson, you hop on a bus and find out where else you can bring hope and do good. Our Divine Pairing have finished this chapter in New Orleans and they're ready to start fresh elsewhere.
In the Season 2 finale of "Marvel's Cloak & Dagger," titled "Level Up," Andre ascended to a god-like entity. As D'Spayre, he realized he could extend his reach; not ease his migraines and let his gifts wither away, feasting on trafficked women's despair and hopelessness from time to time. As a Loa, he set his sights on all of New Orleans, causing people to disappear out of thin air. However, Andre is not the only one to level up; our two young heroes had to step up to take on a Loa.
Upon arrival to Andre's Loa dimension, Tandy questions her abilities and the daunting task ahead of them.
In that moment, this conversation mirrors the one they had last season. "Ever since Season One, Tandy has always been so self-sufficient, confident, and feisty," reflected Aubrey Joseph (Tyrone Johnson). "She tells Ty to take control of his situation and to remember who you are, which is cool that we had that scene in Episode 10 where she was like, 'You're Tyrone freakin' Johnson. You know who you are. Stop being so down on yourself all the time. Tandy is one of Ty's biggest motivators. It was cool this season to have Ty tell Tandy 'You're Tandy freakin' Bowen!'"
"What we've been waiting to see on this show is their powers working in tandem," said showrunner and executive producer Joe Pokaski. "Tandy throws a dagger and Tyrone is able to direct it. Episode 9 has nothing on Episode 10. We're going to see something new from Tandy, and something fairly new from Tyrone as well because they're fight a god; this is ten times as hard."
After facing their darkest fears, we witness Tandy harness light bombs and awaken Andre's victims with her daggers by filling them with hope. However, the ultimate evolution of Tyrone and Tandy's powers working in tandem was the incredible epic final battle where Tyrone is able to use his powers to hurl Tandy, now in possession of a light sword, from his cloak.
"We take it to a whole new level this season," exclaimed Olivia Holt (Tandy Bowen). "We really do. The powers we developed, the way that we use those powers together, it's just intensified."
Leading up to the finale, Pokaski had tweeted, "You do not want to hear about the last two minutes on your feed." He was right. In the final scene, we see Tandy and Tyrone on a bus leaving New Orleans, pursuing a lead from Detective Brigid O'Reilly. They've restored as much realistic order as they can in NOLA, and there are girls washing up on the beach in another part of the country. With a new mission ahead of them, our two heroes hold hands and ride off into the sunset on a Greyhound.
"The very ending is intentional," stated Pokaski. "Fans have been very patient waiting for their romance to bloom. It was important for me, the writers, and for Aubrey and Olivia, to make sure we earned it. Now we can move forward and understand Cloak and Dagger as a love story a little better."
With the series so rooted in New Orleans, the city often serving as another leading character, Holt , Joseph, and Pokaski shed a little light on this decision. "I don't think that they want to stop there," shared Holt. "They want to continue finding people and things to help. They are so driven and ambitious, and they are both very intelligent. They're not going to stop. No matter what they are going to keep searching and looking for things that could be helped and saved. They want to use their powers for good."
"They realize that that they have these powers for a reason," revealed Joseph. "They're just embracing the fact that maybe they're the ones that can help stop this problem, maybe they're the people that can be these young heroes. I'm just so glad that we had a season like this and I just can't wait to see where it goes."
"Part of growing up is understanding yourself in a different context," added Pokaski. "The idea of when you move, you really have to understand who you are. And I love the idea of putting Tandy and Tyrone together in a different place for a little bit so they can appreciate who they are. It's part of the hero's journey, and when they return back, they're a little bit changed."
But what about Brigid/Mayhem, Mina, and Evita? Luckily before wrapping the interview, Pokaski reassured us that's not the last of these characters. "What we're going to see on the Evita side is that she's been given a resonsbility," said Pokaski. "The next time we see her, she'll be digging into that responsibility, and the shoes will fit a little better."
"What we really wanted to do as Tandy and Tyrone were leaving town was to deepen the relationship between Mina and Mayhem," explained Pokaski. "That MRI scene was one of my favorite scenes; to see such vulnerability from Mayhem and Mina. One of our secret plans is called #Minhem. When you work with Emma Lahana or Ally Maki, you don't let them go."
Interested in hearing more about Season 2 of "Marvel's Cloak & Dagger"? Might we recommend The Marvel After Show podcast? Catch up on Season 2 of "Marvel's Cloak & Dagger" on Freeform.com, Hulu and On Demand! Then listen to The Marvel After Show podcast, available for download now at www.marvel.com/aftershow, Apple Podcasts, Spotify, and your favorite podcast app.
Stay tuned to Marvel.com for the latest on "Marvel's Cloak & Dagger" and Marvel Television! Be sure to follow @CloakandDagger on Twitter and like the official "Marvel's Cloak & Dagger" Facebook page!
The Hype Box
Can't-miss news and updates from across the Marvel Universe!