TV Shows
Published April 18, 2019
Tandy Enters Ty's Loa Dimension in Brand New 'Marvel's Cloak & Dagger'
A new episode airs tonight, Thursday, April 18 at 8p/7c on Freeform.
Last week's episode of "Marvel's Cloak & Dagger" left our heroes Tandy and Tyrone with a decision of the kind of hero they wanted to be, especially when faced with Mayhem, whose brutal tactics delivered results. Unable to allow Mayhem to put innocents in harm's way in her pursuit of justice, Ty swallows up Mayhem inside his Loa Dimension.
In tonight's episode, "Rabbit Hold," Tandy is still determined to find out more about the sex trafficking ring targeting young women in New Orleans. The only person who may have the answers she's looking for is Mayhem, who is currently subdued in the Loa Dimension. In the clip above, Ty and Tandy once again put their powers to the test, determining its limits. In order to talk to Mayhem, without her volatile ways harming others, Tandy must take a dangerous trip in Ty's Loa Dimension.
Ty's Darkforce knows how to protect him during times of duress, i.e. facing Connors and Mayhem. The clip above demonstrates Tandy and Ty have worked out a way for him to transport others into the Loa Dimension knowingly. With her dagger drawn and their intentions clear, Ty's cloak allows Tandy to enter beyond its veil.
Speaking to our heroes, Olivia Holt (Tandy) and Aubrey Joseph (Tyrone), we get a little more insight into the trials this season put their characters through. To Marvel.com, Holt revealed, "They are so driven and ambitious, and they are both very intelligent. They're not going to stop. No matter what they are going to keep searching and looking for things that could be helped and saved."
Something as new and dangerous clearly won't hold our heroes and their fears back. "They want to learn how to use their powers. We'll go on that journey with them and see exactly what they get themselves into," continued Holt.
Tyrone's power set has grown immensely this season. In the first two episodes, he's able to transport people. Now, he's able to work with Tandy to take her into the Darkforce. Despite that, Ty still isn't entirely confident in his abilities. "He's really scared of it," shared Joseph. "He doesn't really understand how much power he has." However, his latest ability resonates well with Joseph. "This is the moment he realizes the power that he has and what they need to do," continued Joseph. "In that moment for me, it's just like, 'We're super heroes.' I told Liv, 'We're super heroes. This is crazy!' It's cool to see how far we've come."
But let's talk about the woman they're after–Mayhem.
In the second clip above, Tandy finds Mayhem in the Darkforce, and she's put off by how much she looks like Brigid. Tandy states, "You're the toxic side [of Brigid]. The pain, the anger. The Mayhem." This doesn't phase Mayhem, who retorts, "There's nothing wrong with a little mayhem. It's one way to shake up the status quo."
Speaking to Marvel.com, Emma Lahana, who plays double duty as both Brigid O'Reilly and Mayhem, talked about the duality of the two roles, "Brigid's not really coping. She's dealing with PTSD, and not at all an effective cop. She wants to be, but she's really held back. Then you have the Mayhem side who is 0% held back. There are elements in that that Brigid would admire and wish she was more like. It's like those people who frustrate you because they have the characteristics you wish you have yourself."
Take a look at this brand new episode 204 art poster from Marvel artist, David Nakayama!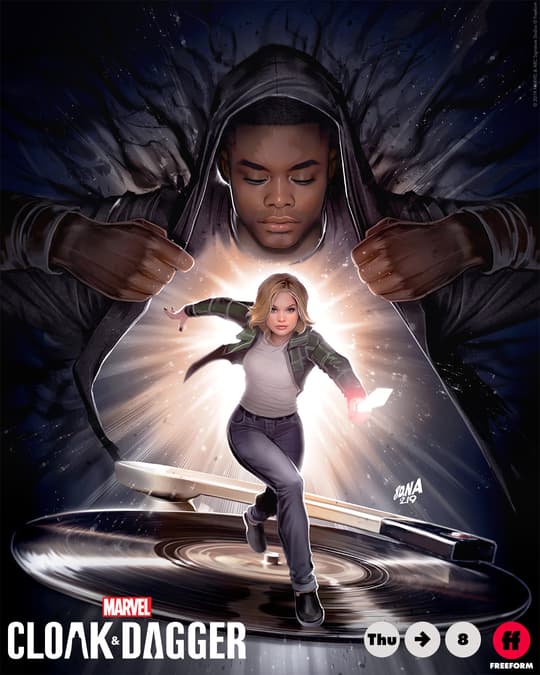 What lies beyond the veil inside the Loa Dimension? Will Mayhem willingly provide Tandy with the info she's pursuing? Tune into tonight's episode to find out! "Marvel's Cloak & Dagger" – "Rabbit Hold" airs tonight, Thursday, April 18 at 8p/7c on Freeform! You can stream new episodes the next day on Hulu, On Demand or Freeform.com.
For more in-depth behind-the-scenes knowledge of the making of "Marvel's Cloak & Dagger" Season 2, don't miss out on The Marvel After Show, the official companion podcast. New discussions will be available for download at www.marvel.com/aftershow, Apple Podcasts, Spotify, and your favorite podcast app directly after each episode of "Marvel's Cloak & Dagger" airs on Freeform.
Stay tuned to Marvel.com for the latest on "Marvel's Cloak & Dagger" and Marvel Television! Be sure to follow @CloakandDagger on Twitter and like the official "Marvel's Cloak & Dagger" Facebook page!
The Hype Box
Can't-miss news and updates from across the Marvel Universe!