TV Shows
Published July 26, 2018
'The Gifted' Cast on Season 2 and the Aftermath of the Mutant Underground Rift
Sean Teale, Blair Redford, Natalie Alyn Lind, Stephen Moyer, Emma Dumont, and Skyler Samuels discuss what's to come when Season 2 begins September 25 on FOX.
At San Diego Comic-Con this past weekend, cast and executive producers from "The Gifted" gathered to debut the trailer for Season 2 of the FOX series at a panel that also included big info about the new season, including the introduction of the Morlocks to the series.
Shortly before the panel, Marvel.com spoke to "The Gifted" cast members Sean Teale ("Eclipse"), Blair Redford ("Thunderbird"), Stephen Moyer ("Reed Strucker"), Natalie Alyn Lind ("Lauren Strucker"), Emma Dumont ("Polaris"), and Skyler Samuels ("Esme Frost / Sophie Frost / Phoebe Frost") about where we find their characters in Season 2. Read on to see what they had to say about the big rift caused at the end of Season 1, as Polaris and Andy Strucker (Percy Hynes White) were among those who abandoned the Mutant Underground to follow a new, more militant path in the struggle between mutants and humans. 
Marvel.com: Last season ended with this split for the Mutant Underground. How are they dealing with it? This has major personal consequences for Eclipse, of course… 
Sean Teale: I don't know why! I tell him to care less. It would be easier, wouldn't it? No, I think they're dealing with it the best they can. But I think with this time jump there's been a general… I was fearful coming back into the show having the parallels that we had last year. "Oh, he's looking for Lorna again, the lady that he loves, the child that he doesn't have yet…" Those parallels already existed. So when we talked about the storyline for Season 2, it needed to be further down the line. It needed to be a different type of despair, a denser one, a more bitter one. Because of this chase, they've been searching and trying to track them down… They're just trying to keep their head above water but it's not in the same, quick, reactionary way like last year was. It's this battle of attrition that has just become their nature. I think it's deeper and it's darker. It's heavier and it's harder. 
Marvel.com: Thunderbird's been trying to be a strong leader. Now he's had a bunch of people leave. Has that disillusioned him or made him even stronger in his resolve?
Blair Redford: I think the answer is both, really. It's really shaken his resolve a lot. I think he's questioning himself, questioning his ability to lead. 
Sean Teale: Eclipse had to pick up the pieces!
Blair Redford: [Laughs] I think he's going to try to naturally double his efforts, see if he can right his wrong, fix his mistake and lead these people to some sort of happiness, or at least closure, with the family being split up. 
Sean Teale: They have taken a beating though, haven't they?
Blair Redford: Yeah. It's tough. That's what makes a good story, is one thing after another having to make them pivot on their plan. You'll see a lot of that right in the beginning [of Season 2], seeing Thunderbird struggle and grapple with those ideas.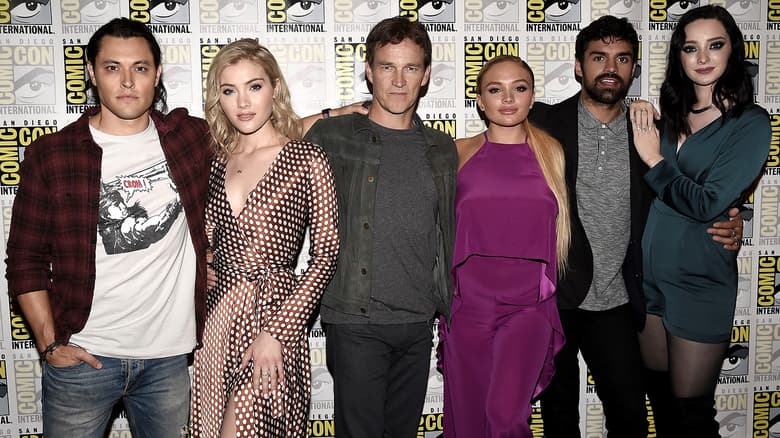 Marvel.com: How are the Strucker family reacting to Andy taking off in the way he did?
Stephen Moyer: They're searching for him. Some are more understanding of him wanting to follow his own path than others. That's causing conflict within the family, but as a family, they've decided to try to find him and bring him home. The thing is, that we have to remember, is as much as he's decided to do that, he's only fifteen. So he's a minor. But there are signs within our following [him], because we're trying to track him down and work out where he is, that he doesn't want to be found. 
Natalie Alyn Lind: At the end of last season, you kind of see Fenris happen in its full power for the first time. But what we're exploring this season is that it's not just the power that links these two. They have feelings that they give each other, so I think that's also cool. You're kind of seeing my character feel what he's feeling, but they're not in the same place. 
Marvel.com: With the Mutant Underground, are both your characters finding their place within this group? Especially with Reed having now discovered he's a mutant as well?
Stephen Moyer: I think Reed is having to accept the fact that his life will never be the same again and he will be living underground. Therefore, he's accepted that he's one of them. It's more difficult for Caitlin, in a way, because she doesn't share that gene. But also, he feels, in some way, that he was stopped from being who he was supposed to be. So he's got that conflict. Because his father removed what his destiny would have been, so he's fighting that as well. 
Marvel.com: Is Lauren forging her own path as she discovers more about her powers?
Natalie Alyn Lind: I think that Lauren finding herself is definitely one of the biggest goals that I have for this season. But like I said earlier, until she finds Andy, she's not really complete. So it's just about the path of finding them and using who he is and maybe finding out a little bit about Lauren's dark side. You know that she's from the Von Strucker twins so they definitely have their own darkness inside. So we're seeing where she goes from there…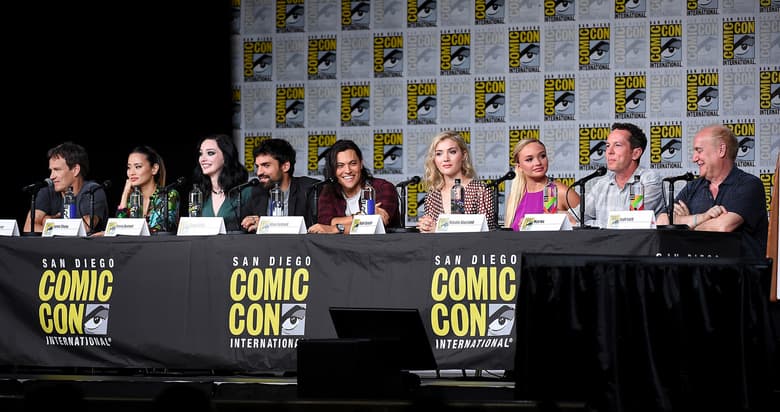 Marvel.com: Polaris and the Frost sisters decided they shared the same overall approach when they left together, but it feels like there's still room for a good amount of conflict between them.  
Skyler Samuels: There's definitely a lot of conflict. We've not only broken up the Strucker family but we've broken up the Mutant Underground. So naturally, I feel like Frost and Friends -- as I so fondly call them -- have really made a big disrupt by separating Polaris and Eclipse and the whole dynamic. But I think one my favorite things that comes up in Season 2 is how Polaris and Esme's relations evolves.
Emma Dumont: It's odd! 
Skyler Samuels: Because Polaris is straight up so suspicious of Esme when she arrives, naturally. I was doing a lot of sketchy things! But I think it's sort of nice that they have this… They don't always like each other and I would say that they don't always really agree, but they have a really deep respect for one another and I think it's a really cool female bond we haven't seen on the show before. 
Emma Dumont: Yeah. It's just that they're two alpha females, these characters. 
Skyler Samuels: In different ways, which is cool. 
Emma Dumont: And the fact that we're women, we're both [mutants], minorities in the show… we just have a respect for each other. We can't deny that. I have to give her props, as much as my character hates her. 
Skyler Samuels: And I think as things progress throughout Season 2, and we see tensions rise, we get to see sort of an evolution of Polaris and Esme's relationship, especially with the baby in play. It gets really juicy. 
Marvel.com: Polaris left a lot behind…
Emma Dumont: [Gasps] Did she?!
Marvel.com: [Laughs] Just a bit! How conflicted does she feel about that?
Emma Dumont: She believes that doing the right thing for the greater good comes first always. Yeah, she left the love of her life and her baby's father. But she believes that her destiny in life, similar to her father, is that she needs to right wrongs and do justice for minorities and people that are being abused and neglected and judged and hurt. So everyone is saying she made this big sacrifice, but to her, it's really black and white. She knew what she had to do. 
"The Gifted" Season 2 premieres Tuesday, September 25 on FOX.
The Hype Box
Can't-miss news and updates from across the Marvel Universe!