TV Shows
Published March 30, 2018
The Legion Chamber Brings 'Legion' Fans Inside the World of the Series
Those in the Los Angeles area can experience the Legion Chamber through Sunday, April 1.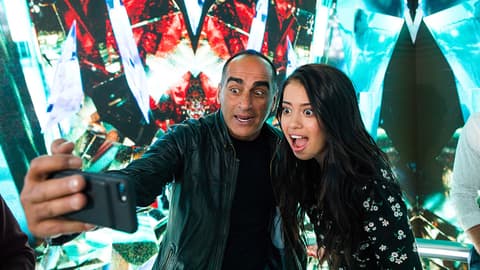 With "Legion" Season 2 debuting Tuesday night on FX, fans in the Los Angeles area who are awaiting the show's return have the chance to check out a really cool and unique experience this weekend – the Legion Chamber.
Located at Goya Studios in Hollywood, the Legion Chamber is an artistic video installation that allows fans to step inside a 360-degree micro-theatre featuring a one-of-a-kind presentation from the internationally-acclaimed Marco Brambilla Studio.
Marvel.com had the opportunity to visit the Legion Chamber and it's a really fascinating and immersive experience that feels very much at home within the world of the TV series.
Visitors walk inside the small chamber with a few other people and, after the door is closed, all around you the visual space fills up with a moving kaleidoscope of imagery from the series, backed by music, showing glimpses of characters like David (Dan Stevens), Syd (Rachel Keller), and Lenny (Aubrey Plaza), including some glimpses from Season 2. Mirrors above the 360-degree screens add to the experience, reflecting the imagery, and helping it completely envelope you in a very trippy, very "Legion" manner.
The experience is free and runs from Friday, March 30 through Sunday, April 1. You can reserve a time slot to visit the Legion Chamber by going to thelegionchamber.eventbrite.com.
I got to check out the #LegionFX Chamber experience at Goya Studios in Hollywood and it's really cool! LA-adjacent Legion fans, you should visit it this weekend if you can! https://t.co/8u8Aw9flgC pic.twitter.com/3iS9CEL59E

— Eric Goldman (@TheEricGoldman) March 30, 2018
Visitors to Goya Studios while the Legion Chamber is open can also take a photo with a series of mirrors, evoking the imagery seen in the "Legion" Season 2 cast photos – check out the photo gallery above for a glimpse!
"Legion" Season 2 premieres Tuesday, April 3 at 10:00pm ET/PT on FX. 
The Hype Box
Can't-miss news and updates from across the Marvel Universe!