TV Shows
Published October 8, 2017
The NYCC 2017 Marvel Animation Panel Brought Surprise Guests And Sneak Peeks
'Marvel's Spider-Man,' 'Marvel's Guardians of the Galaxy,' and even more exciting reveals!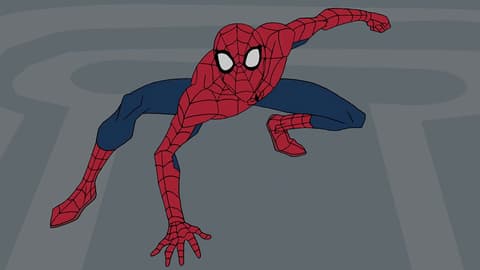 Marvel fans at New York Comic Con were treated to one surprise after the other during the Marvel Animation panel. Hosted by SVP, Animation & Family Entertainment Cort Lane, fans got exclusive sneak peeks of unaired episodes, special guest appearances, and more.
"Marvel's Spider-Man" is in its first season and the audience was treated to a sneak peek of an upcoming episode of titled, "Venom" which doesn't air until October 21!
"Marvel's Guardians of the Galaxy" is a big hit with fans thanks to great writers like Mairghread Scott who came to talk about the upcoming season. In the third season the Guardians will travel to new universes, stage a massive sting operation inside the Nova Corps, and expose a Secret Invasion years in the making. Along with a surprise appearance by "Marvel's Guardians of the Galaxy's" own Gamora, Vanessa Marshall, GotG fans were shown special videos that included a never before seen clip of Stan Lee's cameo.
It's always exciting to get to know the voices behind favorite characters and "Marvel's Avengers: Secret Wars" fans were excited to see the voice of Ms. Marvel/Kamala Khan, Kathreen Khavari, on the panel.
Following last year's success of animated shorts, once again Marvel is collaborating with Funko to create eight brand-new 90-second shorts that showcase team ups and face-offs with some of your favorite Marvel super heroes. Spider-Man, Star-Lord, Thor, Hulk, Black Widow, Ant-Man, Captain America, Doctor Strange, Venom, Loki, and last, but not least, Baby Groot, all get the Funko treatment! The second season of Funko shorts is animated by A Large Evil Corporation and launches this summer across various platforms, with new episodes debuting all the way into 2018.
Lego fans were thrilled to see the premiere trailer for "Marvel Lego Super Heroes GOTG: The Thanos Threat." Even as a Lego piece, Baby Groot is irresistibly charming! As if that wasn't enough excitement, Marvel announced another special treat for Lego lovers, "Lego Black Panther!" Thanos, Ronan, Nebula and the Ravagers seek to possess the Build Stone– a powerful and creative relic –and the fate of the universe depends on the Guardians of the Galaxy to protect it.
Last but not least, Marvel is excited to announce a brand-new destination on YouTube for all things Marvel kids called, MARVEL HQ! Today Marvel launched MARVEL HQ, a digital destination for kids and families, available on YouTube and the YouTube Kids App. Marvel HQ gives viewers the opportunity to experience their favorite Marvel heroes through hundreds of episodes of Marvel adventures.
Marvel HQ features full-length, family-friendly episodes, shorts, and behind-the- scenes content from the most popular titles in the Marvel kids and family library including: "Marvel's Guardians of the Galaxy," "Marvel's Avengers Assemble," "Marvel's Spider-Man," Marvel Funko animated shorts, and "LEGO MARVEL Super Heroes: Maximum Overload," with even more titles to be added.
For all the up to date Marvel news and information, check out Marvel.com and @Marvel on Twitter!
The Hype Box
Can't-miss news and updates from across the Marvel Universe!