TV Shows
Published May 30, 2019
Tyrone and Tandy Must Put An End to Evil in Season 2 Episode of 'Marvel's Cloak & Dagger'
Brooklyn McLinn and Joe Pokaski shed light as we head into the Season 2 finale, which airs tonight, May 30 on Freeform!
Can the Divine Pairing stop a godly evil?
Last week's penultimate episode of "Marvel's Cloak & Dagger" had the devastating realization that Tandy and Tyrone were unable to stop Andre despite leveling up their powers. While they were able to stop his physical body, Andre was able to transcend into a new level of power as a Loa.
Brooklyn McLinn, who plays Andre/D'Spayre, gave us insight into the mind of the character he plays and his rationalization and justification for his actions. Andre was a talented musician whose passion and career was cut short due to crippling migraines. "In his mind, he's not hurting anybody," said McLinn. "He's not causing new pain. He's tapping into people's existing misery and despair and hopelessness. He's 'I can do that, and I just hope I can get back to playing my horn; it's all good.' Music is everything. He's trying to become legendary as far as his trumpet playing is concerned."
In fact, "He was doing it the right way," continued McLinn. "He went to the doctors; he tried everything where he's ready to give it up and end it all. To have his gift taken away from him. Then, because he was granted this power, this ability, to alleviate it. To him, he didn't ask for this; it was bestowed upon him, and it allowed him the ability to play his horn. These people are already in pain and in misery. He's not causing it; he's tapping into whatever despair was already there. In his mind, he's like, 'Yo, where don't they do that in America? Come on, I'm not the bad guy.'"
As seen in last week's episode, Andre got close to ending his migraines for good. All he had to do was hit the blue note. "Nobody attempts these notes because it could cause damage," revealed McLinn. "The idea of getting rid of the migraines, so he could become godlike, legendary, he's willing to go to the ends of the earth. If that means becoming a god, if that means living in people's misery and despair, he's willing to do it."
What does that mean for Tandy and Tyrone, who got so close, who've gone through hell, but couldn't stop him in the end. Speaking to showrunner and executive producer Joe Pokaski, he shared, "It's going to be ten times as hard [compared to last season]. We're going to put them through an emotional ringer." Last season, they had to deal with a town of people going crazy, but now they're up against a god.
Get ready for tonight's fight!
In the sneak peek above, we see an intimate discussion between Tandy and Tyrone that mirrors one last year. Tandy fears she's not strong enough; that she's not the hero the city deserves. Confident in remaining by her side, Tyrone reminds her that she's the strongest person he's ever met; "you're Tandy Freakin' Bowen."
With an epiphany, Tyrone believes she can master space and time like he can. However, they won't be able to do it alone; they'll need Evita, Mina, and Brigid's help as they head into the Loa Dimension.
To round out our creative art poster series, here's our season finale poster by Marvel artist Emanuela Lupacchino and colorist Jason Keith.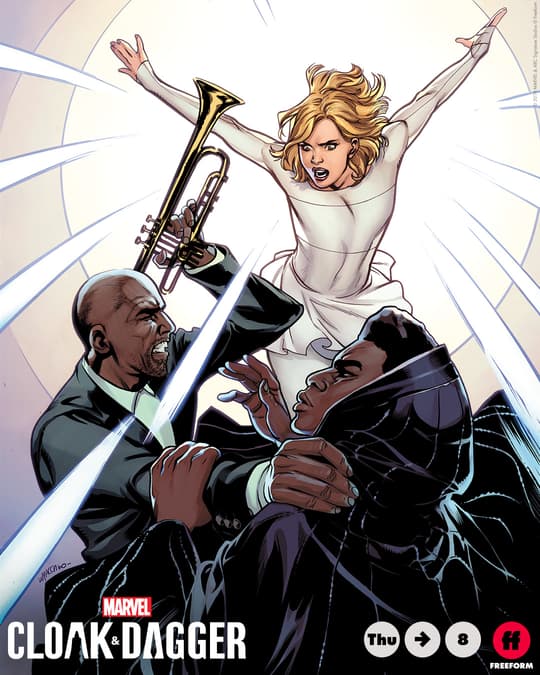 Watch the season finale of "Marvel's Cloak & Dagger" TONIGHT, May 30 at 8|7c on Freeform! Stream new episodes the next day on Hulu, On Demand or Freeform.com.
A brand-new episode of The Marvel After Show podcast will be available for download at www.marvel.com/aftershow, Apple Podcasts, Spotify, and your favorite podcast app directly after each episode of "Marvel's Cloak & Dagger" airs on Freeform.
Stay tuned to Marvel.com for the latest on "Marvel's Cloak & Dagger" and Marvel Television! Be sure to follow @CloakandDaggeron Twitter and like the official "Marvel's Cloak & Dagger" Facebook page!
The Hype Box
Can't-miss news and updates from across the Marvel Universe!