TV Shows
Published December 31, 2018
Virginia Gardner and Julian McMahon Discuss 'Marvel's Runaways' Season 2 And Their Characters' Journey to Self-Discovery
Embracing your powers and learning to evolve is a way of life, not just for super heroes!
NOTE: If you haven't watched Season 2 of "Marvel's Runaways," there are unfiltered SPOILERS ahead! 
Subscribe to the podcast at Apple Podcasts.
The Marvel After Show: "Marvel's Runaways" Season 2, the official companion podcast, takes a deep dive into the hit Hulu series and helps you find out more about the episodes and your favorite characters!
Good vs. bad, are you the hero of your own story? And is your identity forever fixed? On Episode 6 "Identity," hosts Lorraine Cink and Angélique Roché have a discussion with Virginia Gardner (Karolina Dean) and Julian McMahon (Jonah) about the evolution of their characters' relationship and their own sense of self, the push and pull relationship between Earth and the stars, and how the Runaways are finding themselves by rejecting, or embracing, the actions of their parents (Pride).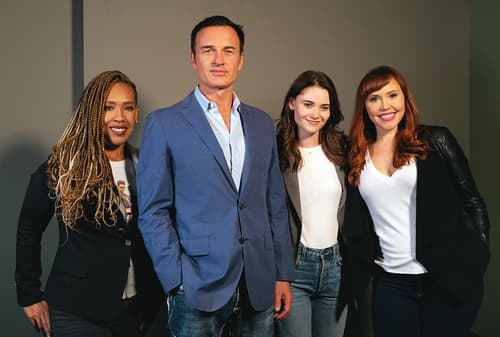 Over the thousand years that Jonah has been around, he's inhabited many different people. Changing bodies throughout time takes its toll; Season 2 tackles how the character maintains his identity while his environment affects his personality.
In the same way, when Karolina finds out that Jonah is her biological father at the end of Season 1, suddenly who she thought she was shifts, and the imbalance creates questions of her own individuality. Coming to terms with her powers and her alien blood is something that helps her regain her sense of self.
Evolving and finding your place is a universal desire, and the journey of self discovery is a winding one for the Runaways throughout Season 2.
Listen to The Marvel After Show podcast, above, to hear more about how identities are shaped on "Marvel's Runaways." All nine episodes of the official companion podcast, packed with character deep dives, behind-the-scenes secrets, and a look at how the new season relates to the real world, is available for download at Marvel.com/podcasts, Apple Podcasts, Stitcher, and your favorite podcast app.
Stream Season 2 of "Marvel's Runaways" exclusively on Hulu now! If you haven't caught up on Season 1 yet, what are you waiting for - stream it now.
Be sure to follow @MarvelsRunaways on Twitter and like the official "Marvel's Runaways" Facebook page!
The Hype Box
Can't-miss news and updates from across the Marvel Universe!