TV Shows
Published March 15, 2021
'WandaVision' Director Matt Shakman on How Authenticity Was the Secret Ingredient of the Show
Read more about how the show's sitcom styles were like "lightning in a bottle" in shaping the story of Wanda and Vision!
The first Disney+ series set in the Marvel Cinematic Universe is officially in the books -- and it's fair to say that Marvel Studios' WandaVision has truly set the stage for the next phase of Marvel movie stories. The truly magical show sent viewers on a trip through several television eras, culminating in a battle royale between the newly-minted Scarlet Witch (Elizabeth Olsen) and Agatha Harkness (Kathryn Hahn). But what goes into such a unique and powerful story?
WandaVision's director Matt Shakman was a guest on This Week in Marvel, where he talked about his approach to the show and how to set a cinematic stage on the small screen.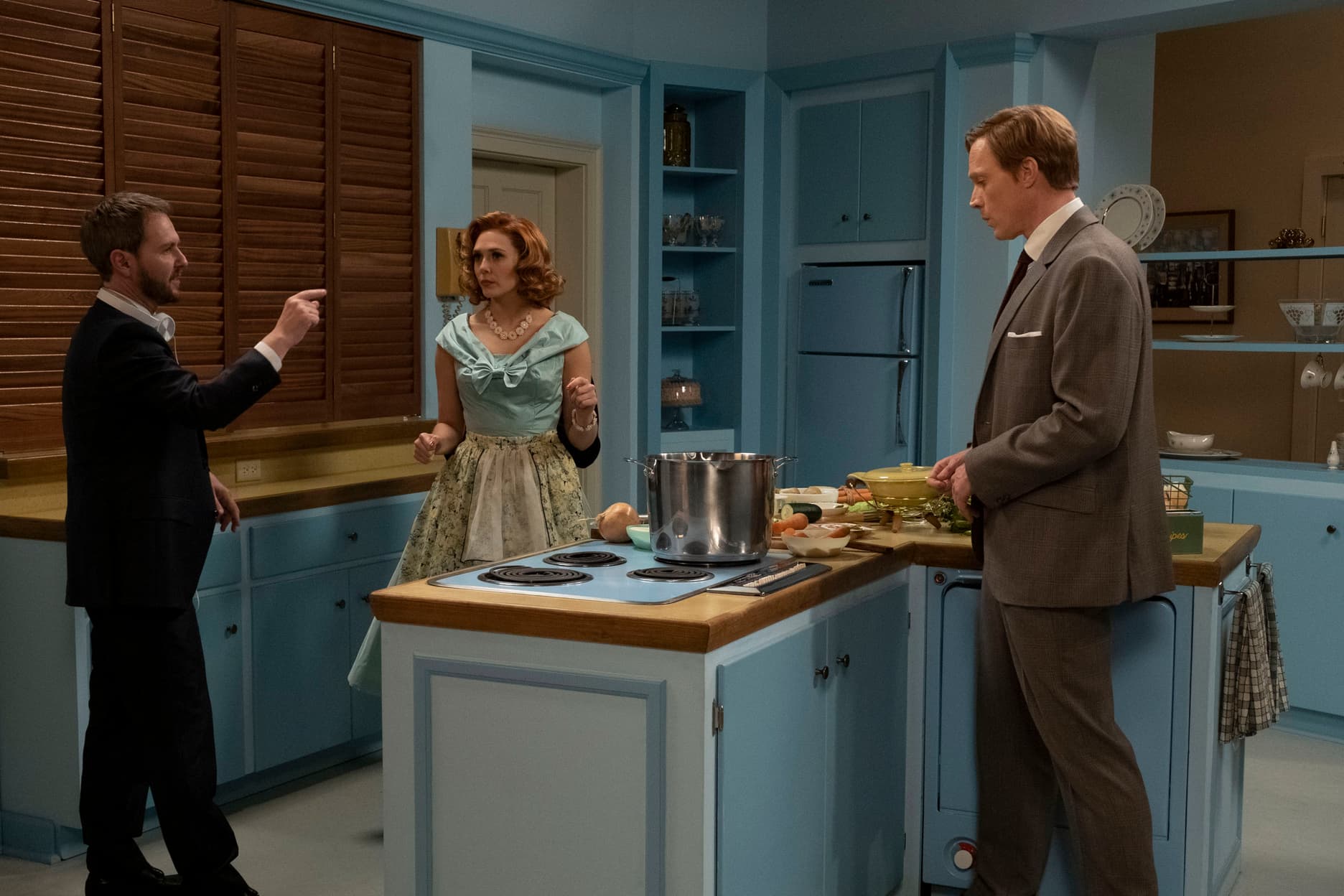 "When we started WandaVision, we had no idea that we would be the first thing after Avengers: Endgame. A worldwide pandemic wasn't in anybody's idea of the future at that point. And we were just thrilled to tell the best possible story about Wanda and Vision, two characters that have been much loved members of a very large ensemble for many years, but now coming into close focus in this show, telling the story of Wanda becoming the Scarlet Witch, telling the story of where Vision has gone after Avengers: Infinity War that most people are curious about and that will be revealed in our show.
"There's really a beautiful love story at the heart of the show and a story about a person in Wanda, who has had more trauma and suffered more grief than almost anyone in the [Marvel Cinematic Universe]. And it's a story about coming to terms with that grief, and that's really the emotional heart of our show. And then its comic book story, the heart of it, its comic book heart, is about really introducing Wanda as the Scarlet Witch."
When asked about his approach to the directing style of the show, Shakman said that as a limited series, directing WandaVision was a bit different from an ongoing series.
"It's a wonderful opportunity to tell a story from beginning to end. And as an episodic director in television, you don't get that joy of seeing something through. Directing pilots for something -- like The Great, starting a show off, casting it, building the world, setting a tone, setting a style -- that is deeply satisfying. But again, you step away and that train is off, and you're no longer a part of it as it heads off into its future. But doing a limited series like this is a joy for a director. I mean, it really is.
"And a show like WandaVision, which plays around in so many different tones and styles, from big Marvel action to quirky vintage television… Every day was its own unique challenge. No day was like another day. [You're] doing bits and pieces from six hours of content. But it's really fun to know that you're able to kind of pull all of that through from beginning to end, and that there will be a consistent tone and style, or at least a consistent approach to different tones and styles as you go along."
Shakman also detailed what went into turning a thoroughly modern series into a string of episodes shot in the style of several classic sitcom genres.
"Authenticity has always been the sort of guiding thing for our approach to these sitcoms. We wanted to make sure that it didn't feel like parody, that we were playing around with different eras, but that we were approaching them with the same rigor that they did back in the day, that to make a great episode of The Dick Van Dyke Show was a lot of work. It took a lot of brilliant people working together to make those episodes. And they last for generations because they have something common at their core, which is that they are trying to tell real stories about our everyday life. They just do it through this prism of comedy.
"We met with Dick Van Dyke before we started the show, and we asked him, 'What would you say the governing principle of The Dick Van Dyke Show was? If you could boil it down, what was the secret sauce?' And he said, 'Well, Carl Reiner would start every week of rehearsal saying, tell me what happened in your life. What did you do this weekend? What terrible thing happened to you? What wonderful thing happened to you? And he would just shamelessly steal it all.' And so if it couldn't happen in real life, it wouldn't happen on the show. So if you're doing something that is grounded and could happen in real life, you can then do a silly pratfall over an ottoman and bounce back up. You can do all sorts of things as long as it's grounded.
"So authenticity was key. And The Dick Van Dyke Show, I Love Lucy, they were filmed in front of a live studio audience. If we're trying to do a show set in the '50s, it would have been shot in front of a live studio audience. So let's go do that, which, of course, Marvel had never done. And with NDAs and all that sort of stuff, it posed a lot of logistical challenges.
"But what it offered creatively was this lightning in a bottle, this performance aspect that's almost like theater where you rehearse, rehearse, rehearse, and then you unleash it. And all of the sudden, you encounter the final actor in your show, which is the audience. What do they find funny? It's really those wonderful moments where they 'Awwwww' organically or where they laugh so much that it stops the action. Those kinds of things are key to when you watch The Dick Van Dyke Show and I Love Lucy. And we needed to try to find those organically."
You can listen to the full audio interview from the latest episode of This Week in Marvel – find out more about Shakman and the WandaVision crew going through "sitcom boot camp," the magical chemistry of Elizabeth Olsen and Paul Bettany as the title characters, and what makes him compare Kathryn Hahn to Robin Williams.
You can stream every episode of Marvel Studios' WandaVision exclusively on Disney+, and see more about the story behind the scenes of WandaVision in Assembled: The Making of WandaVision, also streaming now on Disney+!
And the new phase of the MCU has just begun! Tune in this Friday, March 19 for the premiere of Marvel Studios' The Falcon and The Winter Soldier, streaming exclusively on Disney+!
The Hype Box
Can't-miss news and updates from across the Marvel Universe!