TV Shows
Published January 18, 2021
'WandaVision': Exploring Our Favorite Moments in Episode 2
The new Marvel Studios series is now streaming on Disney+!
Episode 2 of Marvel Studios' WandaVision dives further into the lives of Wanda Maximoff and Vision, especially their time outside of the house. Both are trying to seamlessly fit into Westview, with Vision off to a neighborhood watch meeting, and Wanda off to the town's planning committee ahead of the big talent show. What could possibly go wrong for either of them, aside from a rogue piece of gum and unusual noises on the radio?
There are some big surprises in store for the couple in the end, one being that Wanda is expecting (!) and their world goes from black and white to bright, bold color. But that's not all!
Stream Episode 2 of WandaVision now on Disney+, and read on to find out some of our favorite moments!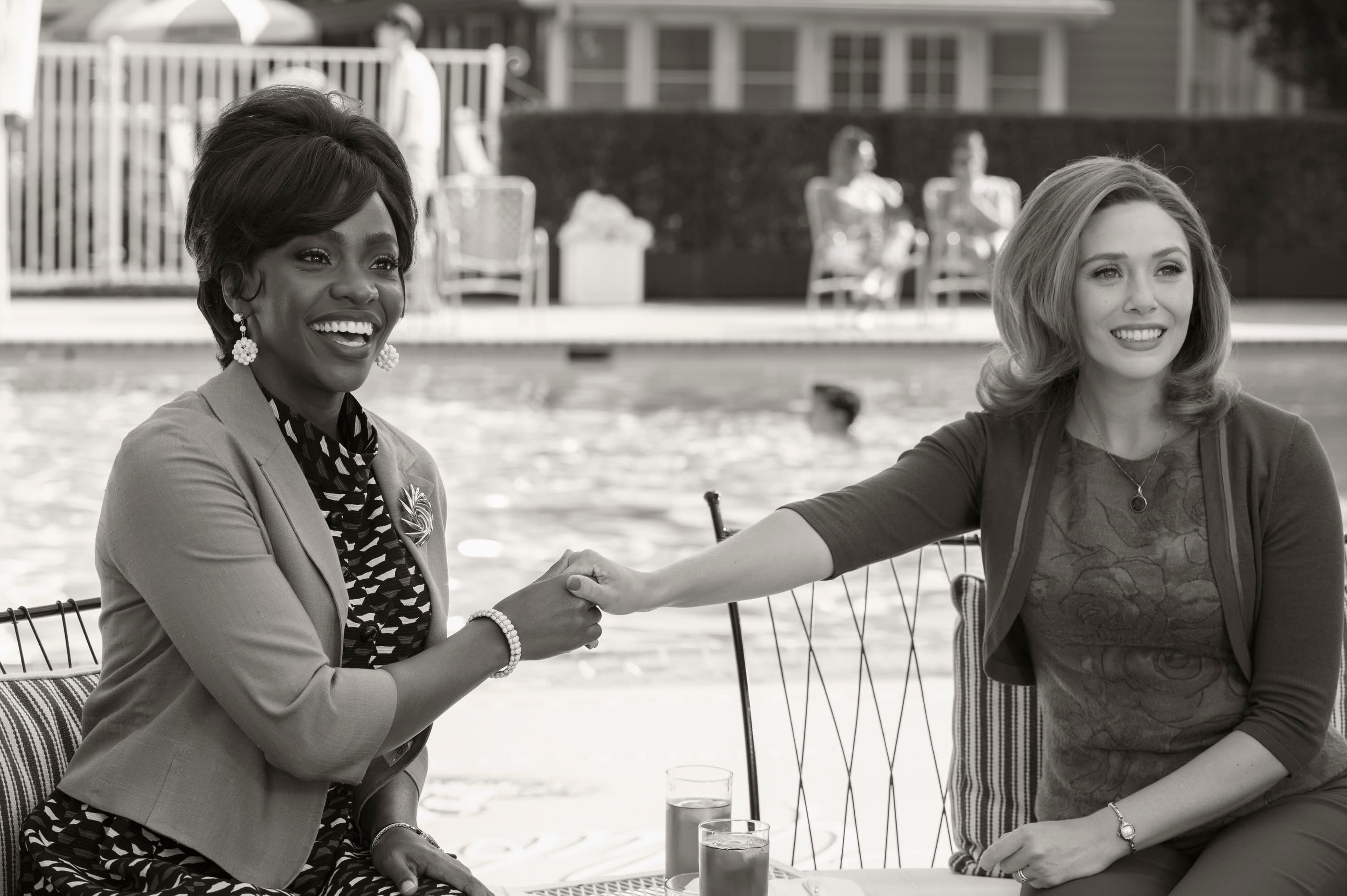 Gummed up the works
Don't you just hate it when you accidentally — well, for lack of any better expression — gum up the works? That happens literally to Vision, after he chews a piece of gum and accidentally swallows it. The sticky substance gets completely stuck in him, causing all sorts of lagging, and foolishness later at the town talent show. This will teach Vision to accept gum in the future!
Help me...Wanda?
A meeting of the town's planning committee throws Wanda for a loop — and not because Dottie is clearly the town's Queen Bee. A nearby radio starts to broadcast an alarming message, one that catches both Wanda and Dottie by surprise. But no sooner do they realize the noise that it's gone in a flash, leaving both of the women stunned for different reasons.
Señor Scratchy
It's Agnes to the rescue again, this time to pull a rabbit out of a hat! Well, Agnes isn't going to pull the rabbit, Vision is — but Agnes supplies the floppy ears! Meet Señor Scratchy, Agnes' little furry friend. It sure seems like he's going to steal the show, but nothing can actually stop Vision from taking center stage (whether Wanda wants him to or not).
A New Friend
Wanda's slowly rounding out her circle of friends in Westview, and it's time to add Geraldine to the mix! The two meet at Dottie's planning committee party and after whispering back and forth (something Dottie does not approve of), the two become pals. Geraldine also steps in to assist both Wanda and Vision at the talent show — though she doesn't realize she's going to be the grand finale of their magic act!
Bun in the oven
Surprise! Wanda and Vision's family is growing as there's going to be a baby on the way! It takes both Wanda and Vision by surprise at first, but that quickly turns to excitement as they get ready to welcome the newest member of their family.
Now, in living color!
Hints of color start popping in in Westview, and eventually, it washes over Wanda and Vision's life. Neither one of them can believe their eyes as it's slowly happening, transforming their monochrome look into bright, bold hues. Isn't it wonderful?
Commercial break
Are you ever fully dressed without a Strucker? Cutting to commercial, complete any outfit with a stunning gold and green wristwatch. Plus, you can wear this one yourself! 
Want more exciting information about Phase 4? Find the latest Marvel Cinematic Universe news right here — and stay tuned for more!
This is just the beginning of the Phase 4 news. Stay tuned to Marvel.com for more details! And be sure to follow Marvel on Facebook, Twitter, and Instagram.
Looking for more Marvel movies and shows to stream? Check out everything on Disney+, Hulu, and ESPN+ right here, and where to find all your favorite Super Heroes right here. Sign up for Disney+ and start streaming now!
The Hype Box
Can't-miss news and updates from across the Marvel Universe!