TV Shows
Published January 25, 2021
'WandaVision': Exploring Our Favorite Moments in Episode 3
The Marvel Studios series is now streaming on Disney+!
Wanda Maximoff and Vision's family is expanding! At the end of episode 2, "Don't Touch That Dial," of Marvel Studios' WandaVision, the duo learned that they were expecting a new bundle of joy — and with this unusual couple, get ready for some pregnancy surprises!
At the beginning of episode 3, "Now in Color," Wanda's pregnancy is progressing at an alarming pace. Like, faster than she can conjure up an item out of thin air. After Wanda accidentally cuts power for the entire Westview neighborhood, her water breaks causing it to storm inside the family home, forcing Vision to rush off to find the doctor. But don't worry, Wanda's not left alone, as new friend Geraldine stops by to borrow some office supplies, and ends up stepping in to help Wanda with the birth of her twins! 
While the delivery is smooth sailing, as Wanda herself says, they just don't know what to expect what might happen next!
Stream Episode 3 of WandaVision now on Disney+, and read on to find out some of our favorite moments!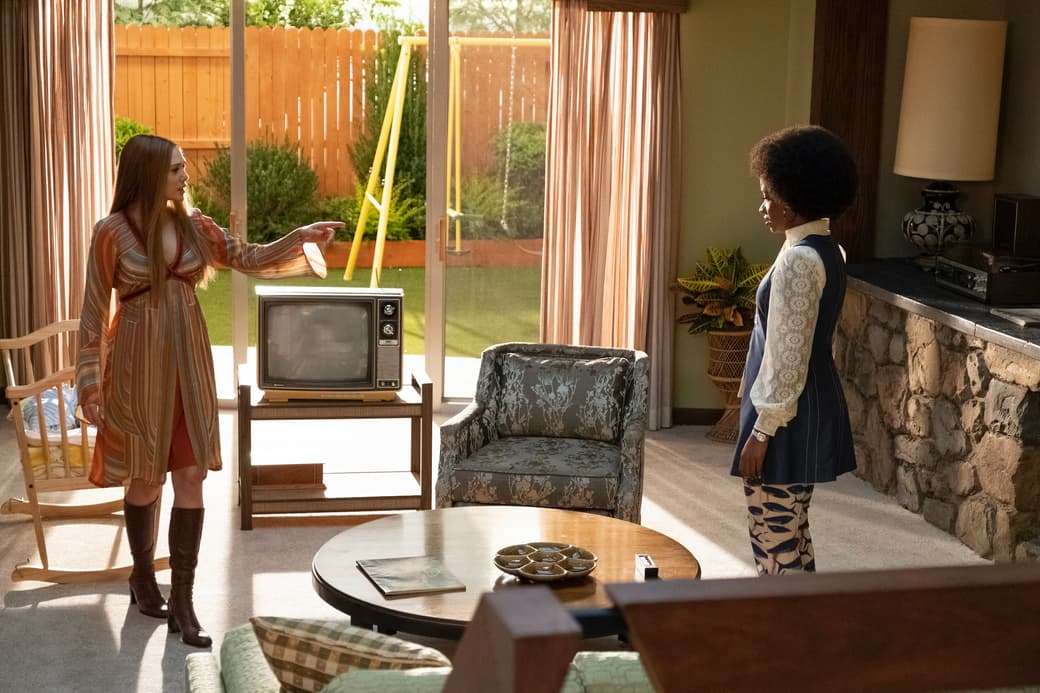 Vision embraces the dad life
While he might still have a way to go before he masters putting together a backyard swing set, Vision's at least mastered one art of fatherhood — really bad jokes and overall dad humor. Whether it's cracking jokes at Wanda's rapid-pace pregnancy, or learning how to master diaper duty, he's got being a dad down pat.
Out of this world looks
Things are getting groovy in Westview, which means it's time for everyone to step into some sensational outfits! Wanda is rocking a bright, striped earth-tones maternity outfit while Geraldine looks stellar in fantastic fish pants and a matching blue vest. As for Vision, who knew a synthezoid would look so good with long, shaggy hair?
It's raining, Wanda
It's not surprising to say that pregnancy can bring about weird cravings, but for Wanda, she's instead dealing with haywire powers. Going from barely pregnant to very pregnant in the blink of an eye, her contractions cause a major power outage, and her water breaking resulted in a downpour indoors. Try talking to your primary care physician about how to manage that!
Geraldine to the rescue
Though she initially stops by to chat and gossip, Geraldine ends up being the exact person Wanda needs when she goes into labor. Without any hesitation, she springs into action getting Wanda comfortable and helping her through childbirth. Get out of the way, stork!
The name game
Billy, or Tommy? Tommy, or Billy? Wanda and Vision go back and forth trying to figure out what to name their new baby, but oh boy, are they both in for a surprise. Turns out they don't need to decide on just one name, as Wanda gives birth to twins!
What did she say?
There are a lot of feelings after birth, and for Wanda and Geraldine, it's anger and confusion, respectively. While looking over newborns Billy and Tommy, Geraldine happens to mention Ultron, barely registering how she knows the name herself. But Wanda knows it for sure. Whatever friendship they had is quickly shattered, as Wanda makes it clear she doesn't want Geraldine around her new babies, or even in her life.
Outside the boundary
What's beyond Westview? That still remains to be seen, but that's where Geraldine finds herself hurtling towards at the end of the episode. No sooner does she hit the ground, still in her retro outfit, that a group of mysterious soldiers surround her.
Commercial break
Need a break? escape to a world all your own. When you want to get away but don't want to go anywhere, pick up some Hydra Soak! 
Wondering what happens next? Catch a brand-new episode of Marvel Studios' WandaVision this Friday, streaming exclusively on Disney+!
Want more exciting information about Phase 4? Find the latest Marvel Cinematic Universe news right here — and stay tuned for more!
This is just the beginning of the Phase 4 news. Stay tuned to Marvel.com for more details! And be sure to follow Marvel on Facebook, Twitter, and Instagram.
Looking for more Marvel movies and shows to stream? Check out everything on Disney+, Hulu, and ESPN+ right here, and where to find all your favorite Super Heroes right here. Sign up for Disney+ and start streaming now!
The Hype Box
Can't-miss news and updates from across the Marvel Universe!