TV Shows
Published February 1, 2021
'WandaVision': Exploring Our Favorite Moments in Episode 4
Don't touch that dial! We're serious; Jimmy Woo and Darcy Lewis are watching.
Who's watching WandaVision? Short answer: Darcy Lewis and Jimmy Woo, complete with snacks. Long answer: Everyone at the S.W.O.R.D. base as they try to figure out what's going on.
The fourth episode of Marvel Studios' WandaVision, "We Interrupt This Program," introduces us to the world just outside of Westview. Just beyond the boundary, S.W.O.R.D. has set up a mobile command station to try and figure out what's going on, how they can stop it, and how they can reach Wanda Maximoff and Vision on the inside. This certainly sounds like a job for only the finest in their fields — Captain Monica Rambeau of S.W.O.R.D., FBI agent Jimmy Woo, and doctor of astrophysics Darcy Lewis.
What starts off as a routine enough mission takes a wild turn as Monica is sucked into Westview and S.W.O.R.D. is left scrambling trying to figure out what's going on.
Stream Episode 4 of WandaVision now on Disney+, and read on to find out some of our favorite moments!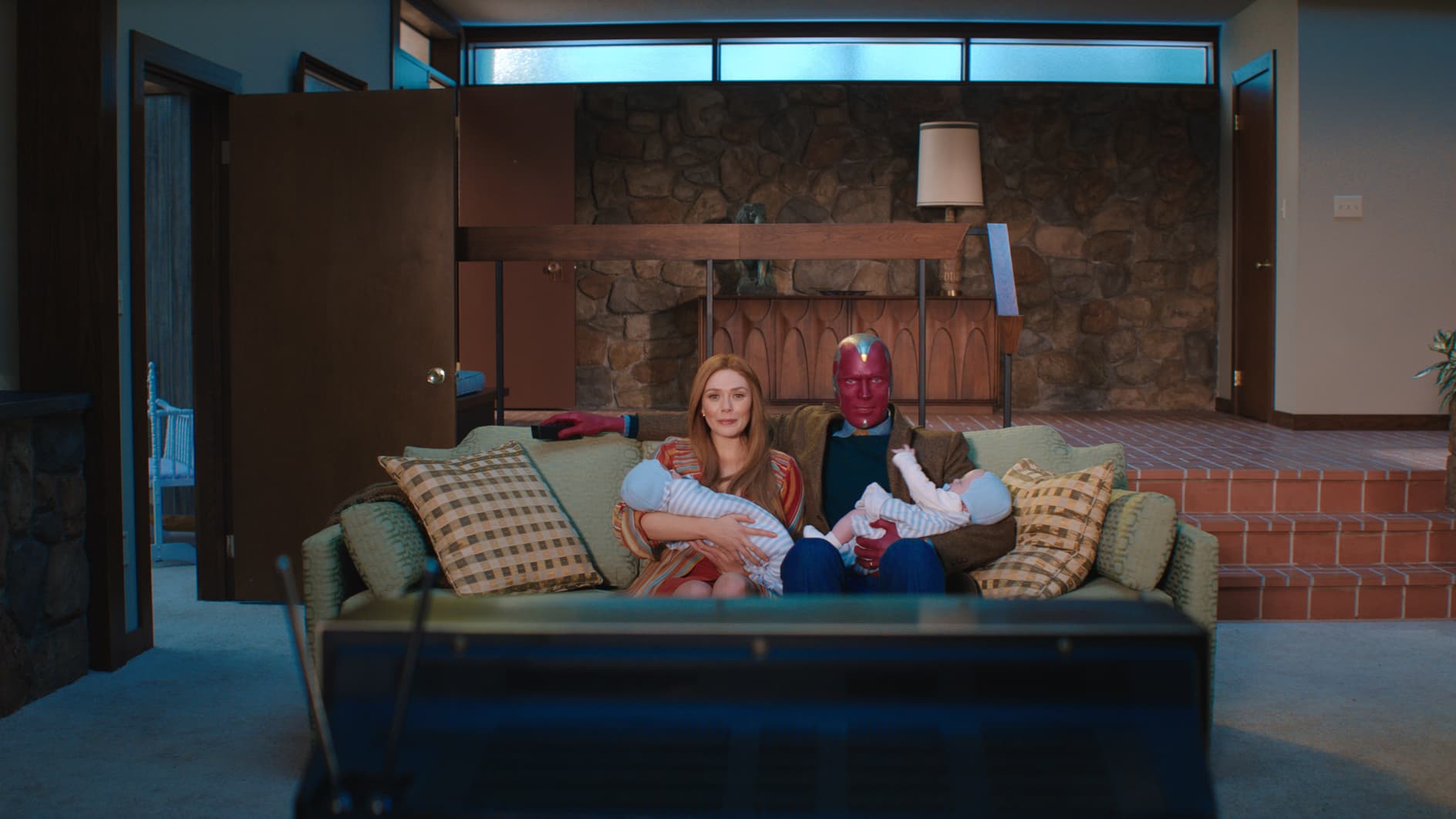 Monica and Maria Rambeau
This is by no means a favorite moment, but it's the most heartbreaking one – the aftermath of the Blip for Monica and her mother Maria. While Monica Blipped, Maria did not. Sadly, two years into the Blip, Maria passed away.
Close-Up Magic
When you need a crackerjack FBI agent and close-up magician, you call in Jimmy Woo for the job. It's clear that he's been practicing his tricks since the last time we saw him, as evident when Jimmy first meets Monica, he reveals his business card to her with an ever so sleight of hand. Flourish!
That's Doctor Darcy Lewis
What has Darcy Lewis been doing since we last saw her? Well, for starters, the intern has now graduated with a doctorate specializing in astrophysics, and she's brought her fancy equipment along with her. While no one else has been able to figure out what's going within Westview, it takes Darcy barely ten minutes to crack the radio waves the "bubble" is emitting, and dial in to the right station to watch a sitcom starring Avengers' Wanda and Vision.
Beekeeper Unmasked
Have you been scratching your head over the mysterious beekeeper that popped up in Episode 2 — the one Wanda sent away with a firm "no"? We finally learn how he came into Westview, and that he's not really a beekeeper after all. S.W.O.R.D. sent in the agent through the sewers under Westview, but the second he crossed over the boundary lines, he was transformed into an era-appropriate beekeeper, toting along a jump rope.
Monica Steps in to assist
After Monica is accidentally sucked into Westview, S.W.O.R.D. agents frantically begin looking for her, only for Darcy to spot her in an episode of WandaVision. Eventually, she lands a "speaking role" on the show, clearly gaining some sort of trust from Wanda — and is then upgraded to a featured character, as we watch her help Wanda in giving birth to the twins!
Jimmy Woo-isms
No malarkey here — Jimmy Woo is on the case! And with that, comes the agent's trademarked sayings and slangs like, "Something seemed hinkey to me," "I got diddly squat," and wondering if what's ever going on in Westview is "Some cockamamie social experiment."
What Should We Watch on TV Tonight?
Not only is the beginning of the episode a rollercoaster of emotions, so is the end of the episode! Inside their Westview home, Wanda loses control for a second after seeing Vision with a caved in skull — just like when Thanos ripped the Mind Stone out of his forehead. Shaking off her own feelings, Vision's got an uneasy one himself as he settles in with his wife to watch TV.
Meanwhile, outside the boundary, Monica crashes down into a nearby field with a startling realization: It's all Wanda.
Wondering what happens next? Catch a brand-new episode of Marvel Studios' WandaVision this Friday, streaming exclusively on Disney+!
Want more exciting information about Phase 4? Find the latest Marvel Cinematic Universe news right here — and stay tuned for more!
This is just the beginning of the Phase 4 news. Stay tuned to Marvel.com for more details! And be sure to follow Marvel on Facebook, Twitter, and Instagram.
Looking for more Marvel movies and shows to stream? Check out everything on Disney+, Hulu, and ESPN+ right here, and where to find all your favorite Super Heroes right here. Sign up for Disney+ and start streaming now! 
The Hype Box
Can't-miss news and updates from across the Marvel Universe!