TV Shows
Published February 8, 2021
'WandaVision': Exploring Our Favorite Moments in Episode 5
New signal incoming – we've got an afterschool special moment and a new guest!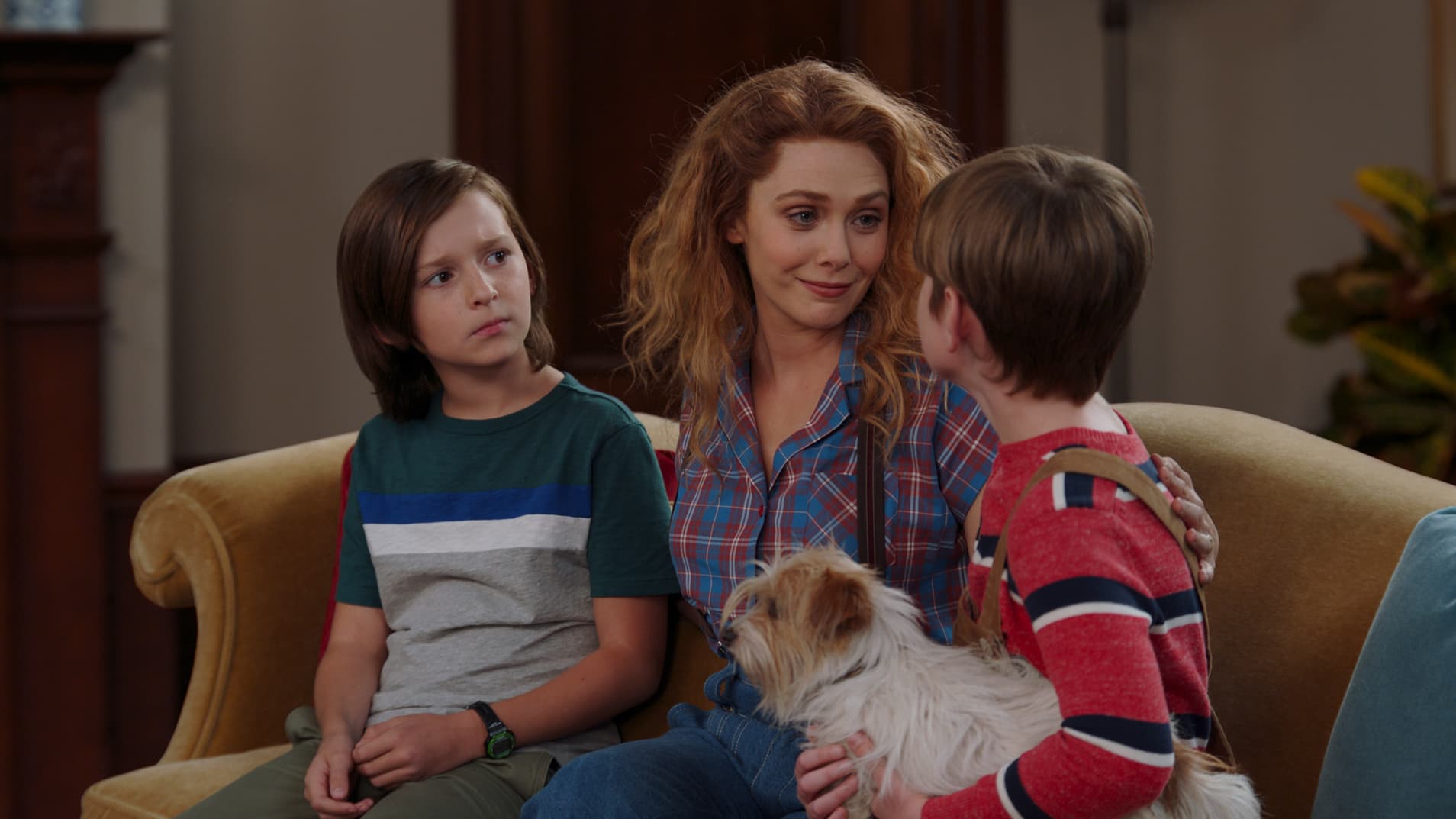 You wander the world with a vision of what life could be...and that brings us to Episode 5, "On A Very Special Episode…" of Marvel Studios' WandaVision! We've got big hair, big sweaters, big bold colorful prints, and also a big attempt from S.W.O.R.D. to try and contact Wanda Maximoff.
Now outside the boundary, Monica Rambeau is trying to figure out a way to get back in and talk to Wanda. While her plan succeeds, it also backfires at the same time. Leaving Westview for the first time, Wanda ventures outside to stare down the S.W.O.R.D. agents, and also Director Hayward. She's got everything she wants in Westview, and no one is ever going to take it away from her again.
Meanwhile, inside Westview, Vision is starting to suspect that something is...off. But what? He can't exactly put his finger on it, and just when he's about to figure it all out, he's saved by the bell. The doorbell that is, as a surprise guest shows up and you know he's going to shake things up.
Stream Episode 5 of WandaVision now on Disney+, and read on to find out some of our favorite moments!
Synthezoid in the suburbs
Vision is completely embracing dad life in every aspect — dad outfits? Check. Dad jokes? Check. Walking in on your family doing something crazy, and making sarcastic remarks about it? Check. Synthezoid knows best!
Auntie Agnes to The Rescue!
Having a neighbor to the right certainly has its perks, as Agnes is more than willing and ready to step in and assist new parents Wanda and Vision with the twins. Also, if there's anyone who can stop a fussy baby, it's someone with buns of steel! Agnes is also there for all the sad moments, too, as she's the one to break bad news about Sparky...
Meet Sparky!
After the 5-year-old twins find a dog outside, Billy and Tommy beg Wanda to let them keep the pup. At first, she's hesitant since, "dogs need food, exercise, training, belly rubs, cuddles, and kisses between his little ears…" and that's how the family gets a dog (after Billy and Tommy aged up to responsible 10-year-olds, that is)! With a wave of her hand, she's got a collar for the pooch and a name to go with it: Sparky!
No Funny Nicknames Here
In a S.W.O.R.D. briefing, Acting Director Hayward quizzes Jimmy Woo on Wanda's backstory — doesn't she have an alias or an Avengers-inspired nickname? According to FBI Jimmy Woo, "not a one," even after she earned the Avengers' trust and became one herself. All along, she's just been Wanda.
An Insane Amount of Power
Jimmy, Monica, and Dr. Darcy Lewis realize that Wanda is rewriting reality in her own way, and actually creating real things within Westview. And things that enter the town that Wanda didn't create? They're reformed to fit the narrative, meaning that Monica's groovy fish pants from the third episode are actually made of bullet-proof material from the vest she was wearing when she entered Westview. That also means Wanda decides what makes it onto her show, and what ends up on the cutting room floor.
The Hex
Considering that Wanda's boundary is six-sided, Darcy has started calling it the "Hex" — and it's starting to catch on! (No, it isn't.)
Stay Out of My Home
S.W.O.R.D. decides to send in an era-appropriate armed drone to observe Wanda, which she is not thrilled about. Dragging the drone outside the boundary, she tells the agents, with their guns drawn on her, that she has what she wants, "and no one will ever take it away from me again." Returning back inside, she tears at the barrier with her hands, turning it from vaguely static to bright red.
When Mom and Dad Fight
After a strange incident at work for Vision, he suspects that something is off in Westview, and that Wanda's behind it. He just can't put his finger on what it is. Vision can't remember his life outside or before Westview, and why is that? What is Wanda hiding? Before the fight escalates even further, the doorbell rings. This argument will have to wait for another day.
Commercial Break
Got a big spill? Then you need Lagos Paper Towels — for when you make a mess you didn't mean to.
Wondering what happens next? Catch a brand-new episode of Marvel Studios' WandaVision this Friday, streaming exclusively on Disney+!
Want more exciting information about Phase 4? Find the latest Marvel Cinematic Universe news right here — and stay tuned for more!
This is just the beginning of the Phase 4 news. Stay tuned to Marvel.com for more details! And be sure to follow Marvel on Facebook, Twitter, and Instagram.
Looking for more Marvel movies and shows to stream? Check out everything on Disney+, Hulu, and ESPN+ right here, and where to find all your favorite Super Heroes right here. Sign up for Disney+ and start streaming now!
The Hype Box
Can't-miss news and updates from across the Marvel Universe!