TV Shows
Published February 15, 2021
'WandaVision': Exploring Our Favorite Moments from Episode 6
Happy Halloweeny!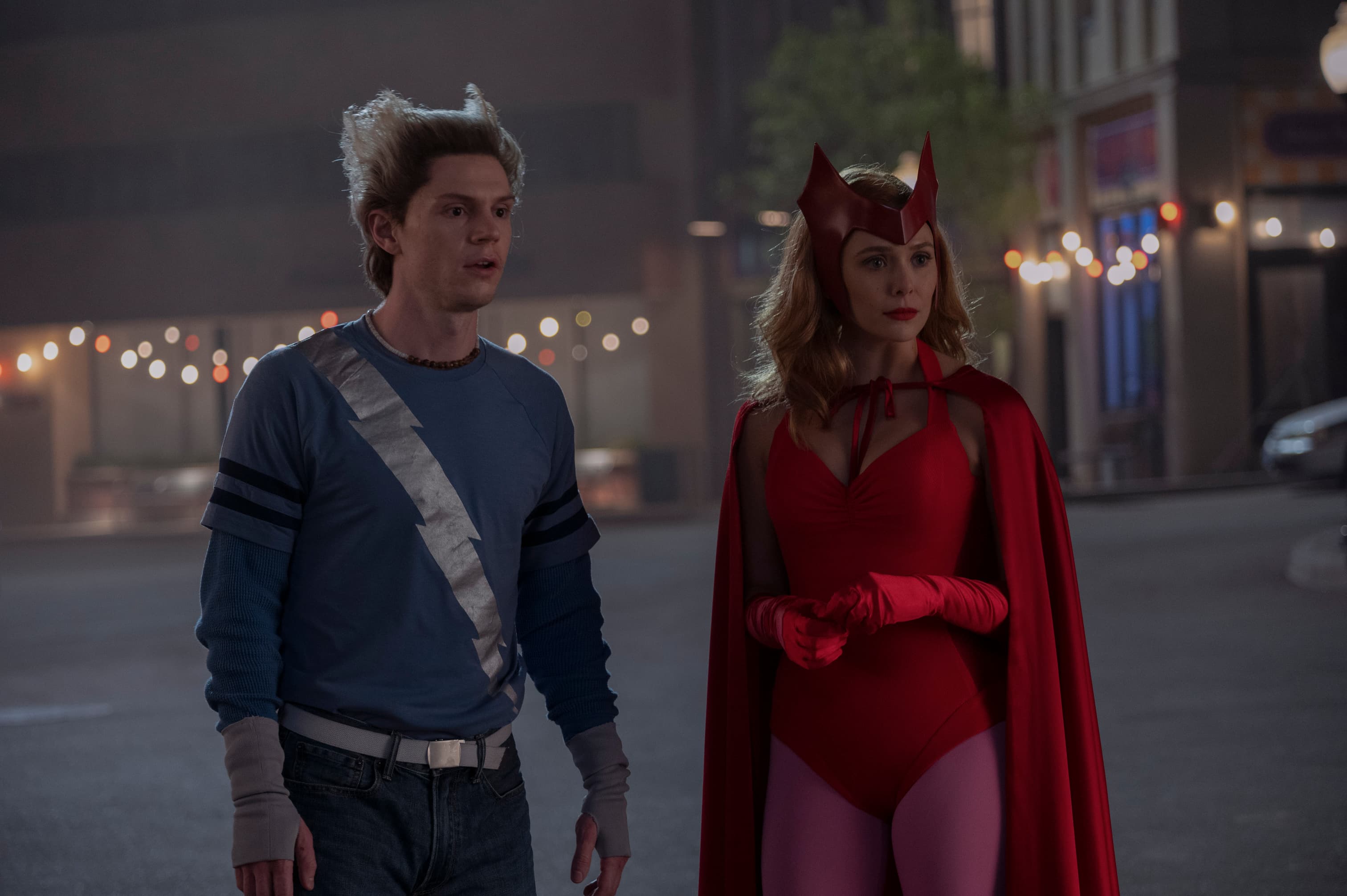 Get ready for spooks and scares, because it's Halloween time in Westview! The holiday comes to town in the latest episode of Marvel Studios' WandaVision, "All-New Halloween Spooktacular!," and the whole Vision family has dressed for the occasion. Oh, don't recognize their costumes? Wanda Maximoff is a Sokovian fortune teller and Vision is a Mexican wrestler...obviously.
Outside Westview, S.W.O.R.D. is having problems of its own after the confrontation with Wanda at the boundary. Refusing to let Captain Monica Rambeau go over his head, Director Hayward orders her, along with FBI Agent Jimmy Woo and Dr. Darcy Lewis, off the base. This trio has other plans as soon they're fighting their way back into a secure location to get to the bottom of what's going on, once and for all.
Stream Episode 6 of WandaVision now on Disney+, and read on to find out some of our favorite moments!
Halloween Town
Wanda and Vision are dressed in some classic looks for the candy occasion, but as for Billy, Tommy, and Pietro? Tommy first announces that he's dressed as the "cool twin" before dressing in a matching all-blue with a silver stripe design (and slicked back hair!) just like Uncle P. As for Billy, catch him wearing a headband with a matching red cape.
Flashbacks Galore
Now firmly planted in the 1990s era, this means two things: everyone is going to talk directly to the camera on 'WandaVision,' and we're also going to get some jarring flashbacks from yesteryear.
Pietro: The Man Child
For Wanda, it's an added speed bump now that Pietro is staying with them. For Billy and Tommy, it's great! As Vision notes, it appears that Pietro is great with kids...as he shotguns a soda, teaching the twins to do the same. At least he's around to help Wanda out with trick-or-treating, even if that means soon all the candy's gone, the pumpkins are smashed, and everything in Westview ends up covered in silly string.
Monica and Hayward Square Off
It was only a matter of time before the S.W.O.R.D. agent and the S.W.O.R.D. director's relationship came to a head, and it happened following the incident at the boundary. Monica's furious with how Hayward handled it, since he's making Wanda out to be a weapon herself. Hayward, on the other hand, feels that Monica is now hindering the mission, alluding to the Blip with, "All you people who left still have the luxury of optimism." Refusing to let Monica and Co. derail the mission anymore, Hayward orders them gone.
Jimmy Woo's Moves
We've seen the FBI agent master close up magic, but he also packs a punch — literally! When Darcy, Monica, and Jimmy are being taken away by S.W.O.R.D. agents, it's the latter who springs into action to get out of the tight squeeze ("Why didn't anyone tell me the plan!" Darcy cries).
While this might be surprising to the audience, this skill of Jimmy's wasn't a shock to Randall Park. "I thought it was really cool for the audience to see, especially coming from Jimmy — you know, because he is so sweet and so sincere and such an earnest kind of guy," Park explained to Marvel.com. "To see him in action like that, I think it's a bit unexpected, but also it's a testament to, 'Yeah, this guy is really good at his job. He's well trained.' There's a reason why he's [on the S.W.O.R.D. base]. It's because he deserves to be here." He's also a whiz at hotwiring cars!
What's An Avenger?
Under the guise of helping the neighborhood watch, Vision heads out on his own to try and figure out just what's going on in Westview. Flying high above the town, he spots a handful of residents seemingly "frozen," one of them being Agnes. Approaching her in her parked car, he brings his neighbor back to reality with a quick zap of his fingers, and she's just as confused as he is as to what's going on. Namely because, well, last Agnes knew of the outside world, Vision was dead. She calls him an Avenger leaving Vision to ask the scariest question of the whole Halloween episode: "What's an Avenger?"
Don't Do It, Monica
Free of S.W.O.R.D.'s watchful eye for a second, Monica, Jimmy, and Darcy regroup to figure out what to do next. Monica is ready to go charging back into Westview to try and help Wanda, but Darcy advises against it. She's finally cracked the S.W.O.R.D. firewall and has Monica's lab results back and things are looking odd for the captain. "The energy inside has rewritten your cells, on a molecular level twice," the doctor tells her, advising Monica not to try and return back inside. Who knows what will happen to her cells if she goes through for a third time. 
Just Past Ellis Ave
Wanda tells Billy and Tommy to not travel past Ellis Ave on the far side of town. However, Vision doesn't heed these words himself. Traveling past the street, for the first time, he comes face to face with the boundary and tries to pass through it. It's easier said than done as fighting through the field tears him to bits, literally, but manages to make contact with the S.W.O.R.D. agents on the other side, explaining that everyone needs help inside Westview.
The Kids Are Back in Town
After Vision made a comment about the MIA children in "On A Very Special Episode…" Wanda has, apparently, brought them all out for Halloween — something that's not lost in Pietro. Getting her to drop her guarded walls for a second, Pietro asks her how she did it. Cue the swelling music, as for the first time Wanda is honest with someone, and herself, about what's going on and she's not entirely sure herself as to how she's managed all of this.
Commercial break
YoMagic! It's the snack for survivors!
Wondering what happens next? Catch a brand-new episode of Marvel Studios' WandaVision this Friday, streaming exclusively on Disney+!
Want more exciting information about Phase 4? Find the latest Marvel Cinematic Universe news right here — and stay tuned for more! 
This is just the beginning of the Phase 4 news. Stay tuned to Marvel.com for more details! And be sure to follow Marvel on Facebook, Twitter, and Instagram.
Looking for more Marvel movies and shows to stream? Check out everything on Disney+, Hulu, and ESPN+ right here, and where to find all your favorite Super Heroes right here. Sign up for Disney+ and start streaming now!
The Hype Box
Can't-miss news and updates from across the Marvel Universe!