TV Shows
Published March 18, 2021
'WandaVision': How Monica Rambeau Becomes a 'Leader Among Heroes' in Westview
Teyonah Parris, Mary Livanos, and Jac Schaeffer talk about where the character's been, and where she's going next.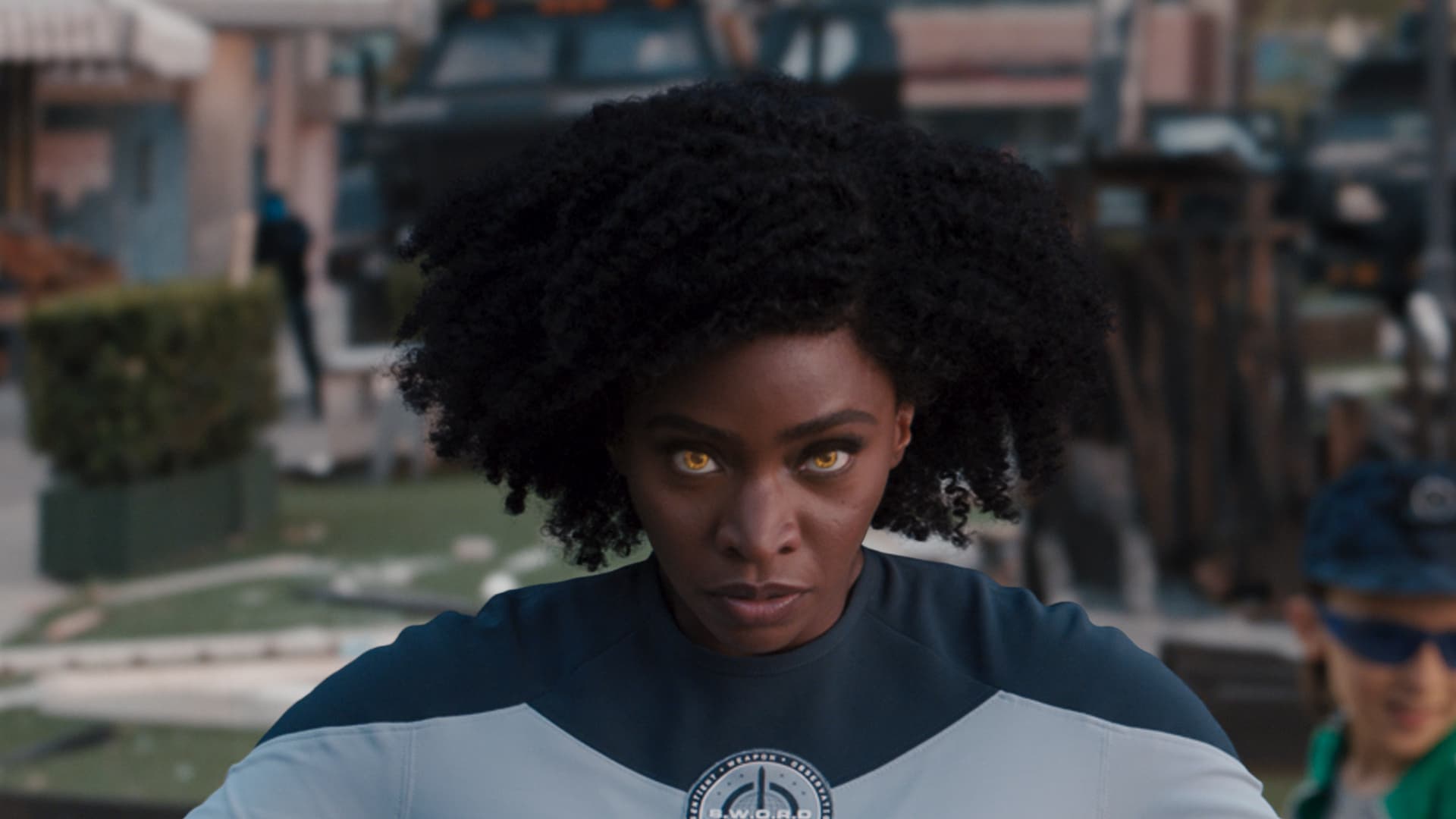 Marvel Studios' WandaVision just didn't give us one Super Hero stepping into their powers, it gave us two. Though the series ends with Wanda Maximoff assuming the title of The Scarlet Witch, Monica Rambeau has her own moment in Episode 7, "Breaking the Fourth Wall," when she travels back into Westview, moving through the boundary for the third time. In an emotional scene, Monica makes it through to the other side a completely changed person, literally, because her cells have been rewritten on a molecular level. Again.
But even before her transformation, Monica becomes a friend for Wanda when she needs it most. After being accidentally sucked into the Westview anomaly, Monica ends up playing "Geraldine" in the sitcom world. It might seem like a sheer coincidence, but "On a subconscious level, Wanda knows that Monica is here to help," co-executive producer Mary Livanos tells Marvel.com "And at the core of it, Wanda needs an advocate on the outside."
"I loved the idea that we would meet [Monica] in the sitcom and that she would fulfill the best friend trope," head writer Jac Schaeffer explains. "Monica knew there were aliens from outer space when she was 10. No one else in the MCU has that, really, and so she has an inherent empathy that others don't. She was taught very early on experientially that there is a side to every story. She's a soldier, and she's an astronaut, and she follows orders, and is inclined to find a 360 degree [view] of any scenario, and that makes her the perfect ally. That was really what we wanted to draw out for her, that she would want to solve the situation that is the Westview anomaly, but she would also know that the way to do that is to talk to the woman who's doing it, not by attacking her."
"Monica is a character who's incredibly optimistic, and empathetic, and unusually wise beyond her years," Livanos continues. "I think what we see Monica really do in WandaVision is rise to the occasion in whatever situation she is set in. She's an incredibly adaptable character and person who — I think I've probably said this before, but she's a leader among heroes, and she understands other people."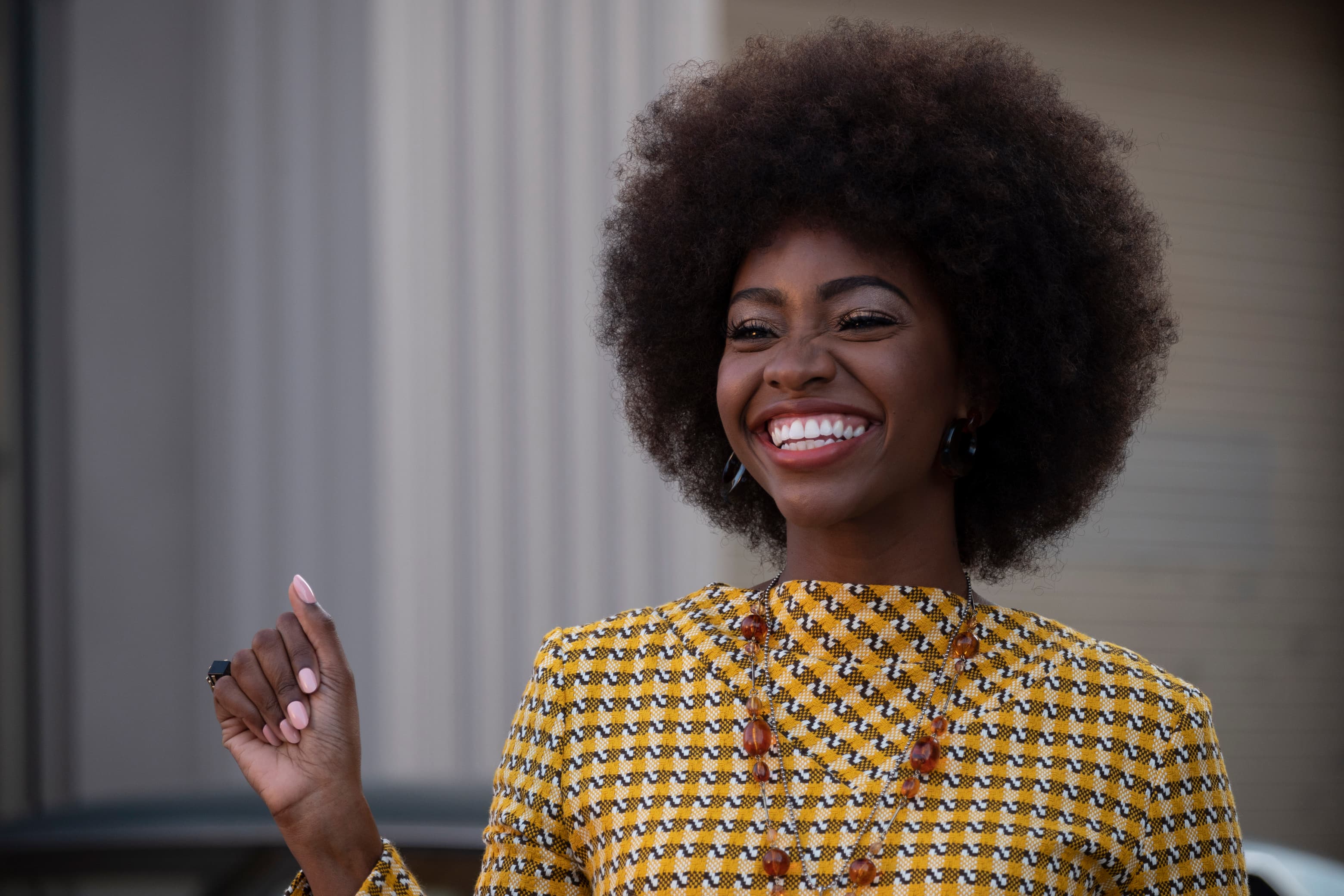 Monica desperately tries to connect with Wanda (who's just given birth) in Episode 3, "Now in Color," but is unable to, which leads to her being expelled from Westview. Determined to get back in, it's the moment in Episode 8, "Breaking the Fourth Wall," that changes everything for her when she pushes through the boundary again. Monica knows something is off, but she doesn't have time to stop and figure it out — she's got to go help Wanda because that's her mission, no matter what.
Though they come from different backgrounds and corners of the Marvel Cinematic Universe, Monica is willing to risk it all to help her sitcom best friend.
"Monica has connected with Wanda on a basic level of just grief," Teyonah Parris tells Marvel.com. "They're both grieving a loved one; Monica grieving her mother's passing and even not being there for the passing. Then she's watching Wanda go through this trauma of losing her love, the love of her life, and connecting with her on that level. [She has] the empathy and compassion that [Wanda needs]."
Monica supporting Wanda — both inside and outside of Westview — is inherent to her nature. She certainly has the option to side with S.W.O.R.D. Acting Director Hayward on his operation to neutralize the perpetrator, but instead chooses to help Wanda in whatever way she can.
"Having the opportunity to be a woman supporting another woman, and them growing this connection has been really, really exciting and dynamic," Parris continues. "It's a huge compliment to Jac Schaeffer, a woman leading the writers' room, and just making sure that those stories don't get lost where oftentimes, as women, we feel that we've seen and witnessed [doesn't] always get the opportunity for fully fledged characters and story arcs."
"But that's not the case here," explains Parris. "Not only do you have one woman with a full story arc, you have a couple of women that have their own points of views, and ambitions, and goals, and that we're getting to watch [that] be fully fleshed out!"
Parris believes that in the end, the two women come to a "common ground," because "Monica understands what Wanda was doing — she may not agree with it. I don't think she agrees with it, but she understands."
Every episode of Marvel Studios' WandaVision is now streaming on Disney+.
Want more exciting information about Phase 4? Find the latest Marvel Cinematic Universe news right here — and stay tuned for more!
This is just the beginning of the Phase 4 news. Stay tuned to Marvel.com for more details! And be sure to follow Marvel on Facebook, Twitter, and Instagram.
Looking for more Marvel movies and shows to stream? Check out everything on Disney+, Hulu, and ESPN+ right here, and where to find all your favorite Super Heroes right here. Sign up for Disney+ and start streaming now!
The Hype Box
Can't-miss news and updates from across the Marvel Universe!