TV Shows
Published February 10, 2021
'WandaVision': Paul Bettany's Plan to Take Over the MCU Is Working
The Vision actor talks his long journey to the sitcom world, and what might be next for the synthezoid.
Are you scratching your head, just like Vision, wondering what might be going on in Marvel Studios' WandaVision? Good — Paul Bettany is so excited to see everyone trying to pick apart the show while coming up with theories as to what's going to happen next, because yes, he's reading them.
The long-time Vision actor, who started out in the Marvel Cinematic Universe voicing J.A.R.V.I.S. in Marvel Studios' Iron Man, is thrilled to be back in the purple paint, telling Marvel.com, "It's such a delight to come and revisit this character." He's enjoying the weekly episode drops on Disney+ just as much as everyone else and though he knows where the season is going, watching it unfold for everyone else is a thrill.
From how a favor in 2008 turned into where Bettany is today, read on to find out who and what he channeled for Vision's sitcom demeanor, new dad advice, and why every Friday feels like Christmas day.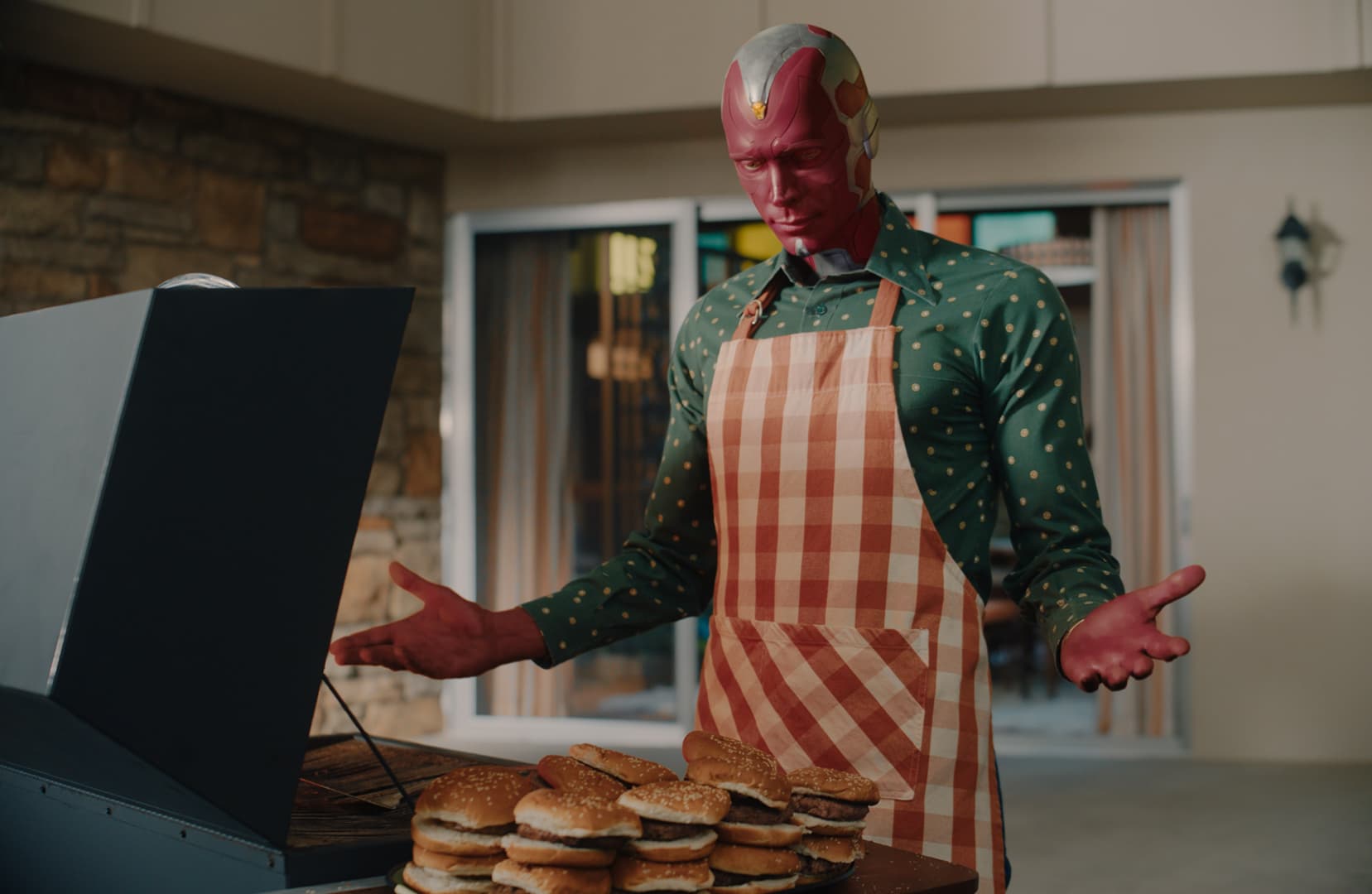 Marvel.com: How much fun you are having with the show right now, because it looks like you are having just a blast with everything.
Paul Bettany: I'm loving it. I'm loving it being disseminated to the fans. And I love how frustrated they are of not being able to see it all in one fix. I love reading their theories of what might happen. And some of them are incredibly accurate, actually. I keep thinking, "Marvel should give that person a job."
It's been a whole lot of fun watching them go through this. I mean, I know they've been waiting a long time. So, have we. It's really special to watch it on the platform without my name across the middle of it [on early screeners]. So yeah, it's been really fun.
Marvel.com: When you signed on to voice J.A.R.V.I.S. all the way back in Iron Man, did you ever think you would end up here, a Marvel sitcom dad with two twin boys?
Paul Bettany: Yes, it was part of my plan, my dastardly plan. [laughs] No, I, of course, had no idea. I mean, I was kind of— it sort of started out as a favor to Jon Favreau thinking, "Well, that'll be fun." I've never done that before. And in fact, it turned out to be so much fun. And I really, really, really liked the people involved and really felt aligned with them creatively I found it really fun to be around fun people.
Then, slowly but surely, I've wheedled my way into the Marvel company. And slowly but surely, I'm plotting to take over. I read on social media the other day— somebody really surprised me [when they said] that I have been [involved with] Marvel spanning two decades!
And I was like, what? And it's true. I mean, it's true. And so lovely to be doing that.
Marvel.com: Did you know every step of the way with WandaVision what was happening? I've talked to other cast members, and were kept in the dark about a lot of things. But I assume you knew right away the beginning, middle, and end of the show.
Paul Bettany: Well, right away, no. Kevin Feige's pitch was very abstract and much more about feelings and [what the] big, grand ideas [were] about—and, indeed, sitcoms.
So [Kevin] pitched this idea. It was sort of a bonkers mashup between two ideas with sitcoms thrown in. It just felt so crazy. I wanted to be a part of it. But yes, very early on, I understood where it was. I knew where it was going.
And it was always exciting. It was like Christmas day. Frankly, that's what the rollout has been for each of the episodes. It feels like Christmas day every Friday. You get to see people's reactions and stuff, you know, real people's reactions. I don't read reviews. But it is lovely to see the fan reactions.
Marvel.com Have you been watching them every Friday when they come out?
Paul Bettany: I have, every Friday or Saturday, with my kidlins.
Marvel.com: You're not waking up at 3:00 AM like the rest of the internet to watch as soon as they are up on Disney+?
Paul Bettany: You know what? The truth is I'm not because I have seen them. But I am watching them with my kids without my name emblazoned over them and with all of the effects finished. Sometimes I've been watching episodes where I still have white dots all over my clothes.
Marvel.com: You've been playing Vision for so long. When you got the scripts was there any point where you were like, "Ooh, Vision wouldn't do that. Vision wouldn't say that." I know it's a new sitcom television world, but did you offer any input?
Paul Bettany: Sure. But mostly, it was about syntax and Britishisms and stuff. Because that was a hard thing to find was the paradigm for a British person in an American 1950s sitcom because it is different. Once there was a lot of study of people like Dick Van Dyke, and et cetera, et cetera. There was also a study of John Cleese and well, lots and lots and lots of British comedians.
Marvel.com: Can you tease what's coming next on WandaVision?
Paul Bettany: I'm not going to answer it because I am highly superstitious. The amount of times I've talked about things that then don't happen, so I'm going to keep my mouth shut. And I'm going to keep my mouth shut and my digits crossed.
I love it. I love this journey. And it's such a delight to come and revisit this character and such a privilege to work-- you know that when you're going to work, you're going to be working with the greatest technicians that the industry has to offer. And that is so, so exciting to somebody who loves film and learning about film and seeing all the new processes and gadgets and tricks is just fascinating to me. I love it.
Yes, and I just can't— it's weird, though, isn't it? I mean, I don't know. I find it really moving. I'm really excited for it to end and for people to get to the ending. And then it's out there. You know what I mean?
It's been a really interesting, different feeling spreading this out over eight weeks.
Marvel.com: All right, and I've got one last question. It's kind of a fun one. You're a dad. Vision's a dad now. Do you have any kind of wise, sage Vision advice for new dads?
Paul Bettany: Oh, yeah, my advice for new dads is this. And it's for the first year, your partner is always right about absolutely everything. Just accept it.
Wondering what happens next? Catch a brand-new episode of Marvel Studios' WandaVision this Friday, streaming exclusively on Disney+!
Want more exciting information about Phase 4? Find the latest Marvel Cinematic Universe news right here — and stay tuned for more!
This is just the beginning of the Phase 4 news. Stay tuned to Marvel.com for more details! And be sure to follow Marvel on Facebook, Twitter, and Instagram.
Looking for more Marvel movies and shows to stream? Check out everything on Disney+, Hulu, and ESPN+ right here, and where to find all your favorite Super Heroes right here. Sign up for Disney+ and start streaming now!
The Hype Box
Can't-miss news and updates from across the Marvel Universe!