TV Shows
Published March 5, 2021
'WandaVision': Paul Bettany Explains What It Was Like to Play Two Visions
Plus, the "surprise actor" is finally revealed.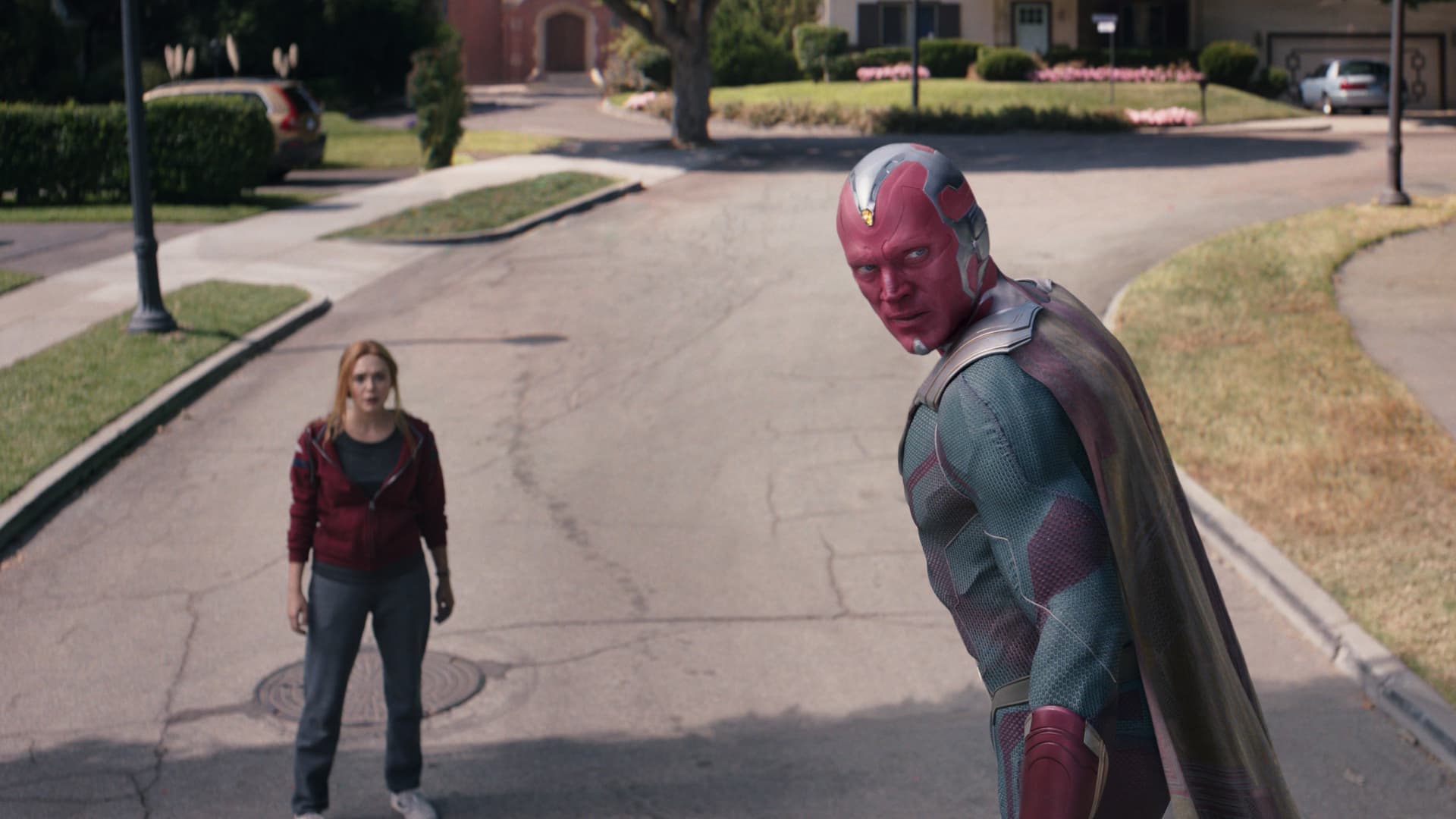 Do not adjust your television sets — you really are seeing double Vision. The season finale of Marvel Studios' WandaVision, "The Series Finale," introduces a second, The Vision, and this one has been sent to the New Jersey city to neutralize the threats there, namely Wanda Maximoff and Vision. It also brings about the end of a long-running joke Paul Bettany has been making for the last few weeks, teasing a "surprise actor" who he would share "explosive scenes" with.
Turns out, it was Paul Bettany all along.
"I've been saying in interviews that I've been waiting to work with this actor," Bettany explained to Marvel.com with a laugh. "[I've been saying,] 'There's a surprise piece of casting with this brilliant, amazing actor that I've been longing to work with. And we get to go toe to toe in these really explosive scenes.' And it was me!"
Episode 9 involves a climactic battle high above Westview, culminating in Vision vs. The Vision. They're trading punches and blasts, trying to overpower the other and stop the fight. Eventually, the battle heads back to the ground as the two careen into the library. It's only then that the Vision we've come to know and love over the years is able to reason with The Vision, and the two have a conversation — synthezoid to synthezoid. 
On-screen it looks completely seamless, with Bettany easily slipping in and out of character for both Visions. But behind the scenes, he found the process really intimidating, not just the character itself, but also playing him.
"To differentiate between the two characters in a way that didn't just feel superficial... I mean, of course, one is purple, and one is white, so you have that going for you," he explained. "But I wanted [The Vision] to be familiar and yet at the same time kind of intimidating. And for some reason, I was really intimidated by the idea. I kept putting off dealing with it because I knew we weren't shooting it till later. I was letting some ideas percolate because he has a very quick arc for where The Vision needs to go. He has a big turn to get through. I was really frightened of it!"
Filming both the mid-air fight scene and the scene where the two Visions discuss the Ship of Theseus required Bettany to learn multiple script pages for both characters, with his stunt double stepping in to work opposite him for filming.
"I have to learn his side of the fight. He would have to learn my side, and then we'd swap. It was all very confusing," continued Bettany. "And then it was really confusing with the — I don't know it must be a three, four-page dialogue scene, which is [a lot]. We had this huge scene together. I couldn't learn it. I'm good at learning lines. I couldn't learn. And then I realized, 'Oh, I'm trying to learn both things at once.'"
Taking a step back, Bettany realized he had to "learn it from Vision's point of view and then relearn it from The Vision's point of view because things become much easier... to learn when you understand why the person is saying it and what they want. And I realized I couldn't learn it because I had these two opposing objectives and desires in my head. And it was just impossible."
In short, Bettany summed it up with a laugh, "I was super intimidated by myself."
Playing two characters also meant Bettany was alternating days playing them, really allowing him to try keep things straight in his mind.
"I would come in one day and I would be Vision or The Vision," he explained. "Then Adam [Lytle], my stunt guy, would play Vision. And he learned all of the dialogue and for both parts — he was brilliant. We would play the scene like that. And then the next day, he would come in. And he would get The Vision. Then I would get Vision. And then we would play the scene like that and the same to the fights so that they could always have my bella faccia on camera, at some point. It was more confusing than I had sort of allotted. It used up all of my brain."
In the end, what viewers see is a stunning scene shared between two Visions.
All episodes of Marvel Studios' WandaVision are now streaming on Disney+.
Want more exciting information about Phase 4? Find the latest Marvel Cinematic Universe news right here — and stay tuned for more!
This is just the beginning of the Phase 4 news. Stay tuned to Marvel.com for more details! And be sure to follow Marvel on Facebook, Twitter, and Instagram.
Looking for more Marvel movies and shows to stream? Check out everything on Disney+, Hulu, and ESPN+ right here, and where to find all your favorite Super Heroes right here. Sign up for Disney+ and start streaming now!
The Hype Box
Can't-miss news and updates from across the Marvel Universe!