TV Shows
Published March 8, 2021
'WandaVision': Paul Bettany Talks Vision's Latest Goodbye
"It's bad luck to say goodbye in the dark."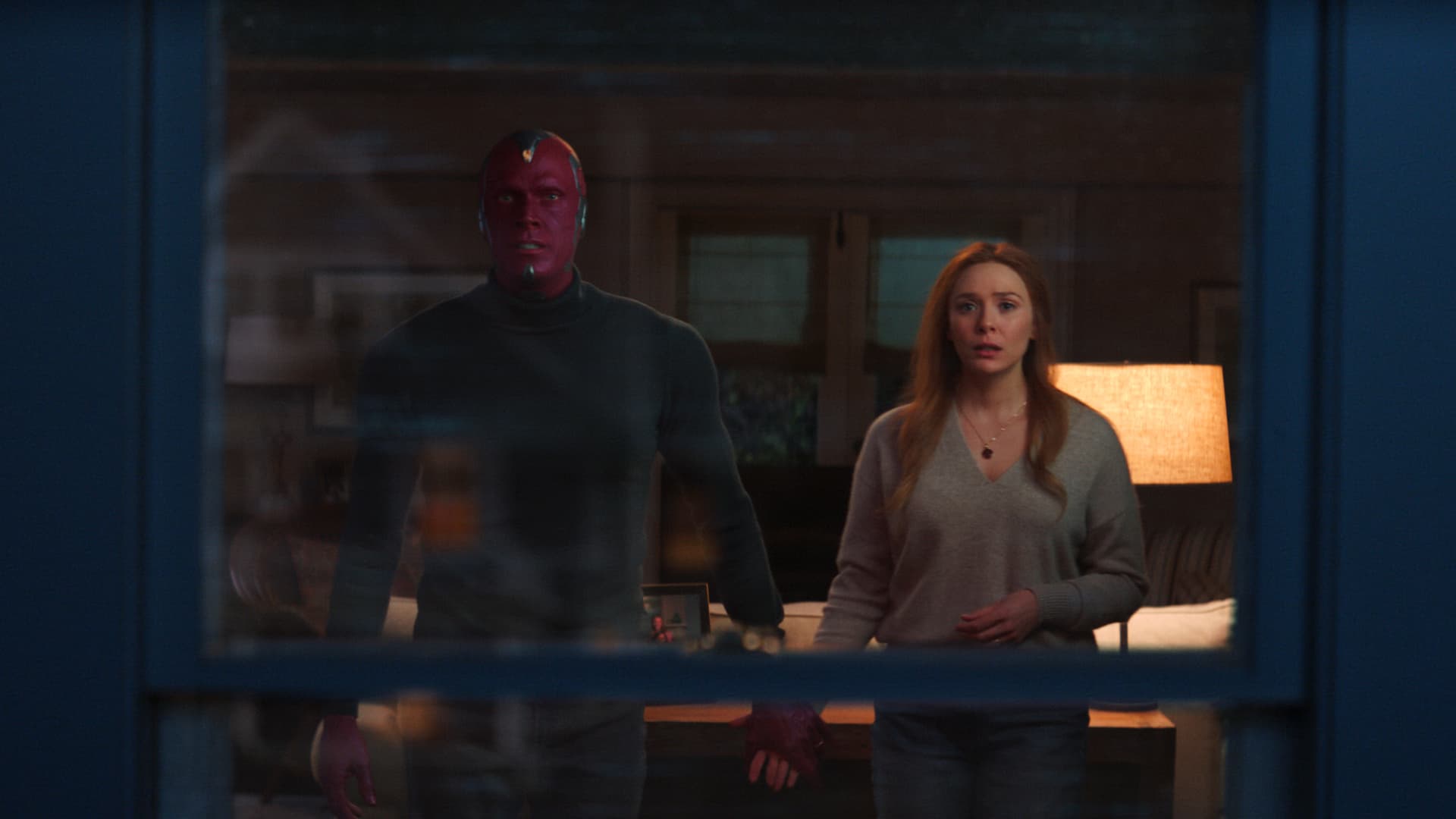 As if saying goodbye to Vision twice in Marvel Studios' Avengers: Infinity War wasn't hard enough (and that's not even including saying goodbye to JARVIS at the beginning of Marvel Studios' Avengers: Age of Ultron), viewers are now faced with the same conundrum again. At the end of Episode 9, "The Series Finale" of Marvel Studios' WandaVision, Wanda Maximoff realizes that she can't sustain her perfect, fictional world forever. Undoing all that she's done in Westview, New Jersey, Wanda now must say goodbye to her husband, once again turning him into nothing more than a memory. It's difficult for Wanda to do, and heartbreaking to watch unfurl on screen.
Talking to Paul Bettany ahead of Episode 9 of the series, the long-time Vision actor opened up about saying goodbye. Again.
In a heart-wrenching scene, Vision asks Wanda what he is, before musing, "I have been a voice with no body, a body but not human, but now, a memory made real. Who knows what I might be next?"
"It's really nicely written, right? It's a hard thing to do," Bettany told Marvel.com, recalling the moment between the on-screen husband and wife. "There's a lot of pressure on this moment. And you can feel it. [Head writer] Jac Schaeffer and I talked about it a lot, and Kevin [Feige] was very involved and very focused on what this ending was going to be like… and there's only so many [possible] endings. Is he dying? Is he disappearing? Where is he going? Is there a bit of him that survived and passed into The Vision? Because we know very little about him."
Bettany also contributed his own input to the scene, too, knowing that this goodbye was bringing VIsion's story full circle.
"I realized [the scene] was missing a trick, which was the [reference], 'Even the androids can cry,' which is this famous frame from a VISION [comics run] where he realizes that he's crying," elaborated Bettany. "I thought, if his journey has always been a journey towards humanity, the realization that he is crying is 'I'm a real boy.' Jac loved the idea of it. I realized that if [Wanda] looked [at him] and [they both realized] that there is joy in the ending of him. He has completed his journey, as it were."
"So that was my only contribution to the entire show," he finished with a laugh. "Otherwise, it had been so fully and perfectly written that I really didn't have that much to do!"
But is this really the end of Vision? As he tells Wanda before fading away, "We have said goodbye before, so it stands to reason-" before she jumps in and finishes, "We'll say hello again."
While Bettany offers up no additional information, hints, or teases as to what's next, he completely trusts where the Marvel Cinematic Universe is headed.
"We have to trust in Kevin; Kevin's always right," stated Bettany. "That's what I've really noticed over the last few years. I have noticed that Kevin is always right. So trust in Kevin."
All episodes of Marvel Studios' WandaVision are now streaming on Disney+.
Looking for more WandaVision? Follow @WandaVision on Twitter, WandaVisionOfficial on Facebook, and WandaVision on Instagram! 
Want more exciting information about Phase 4? Find the latest Marvel Cinematic Universe news right here — and stay tuned for more!
This is just the beginning of the Phase 4 news. Stay tuned to Marvel.com for more details! And be sure to follow Marvel on Facebook, Twitter, and Instagram.
The Hype Box
Can't-miss news and updates from across the Marvel Universe!