TV Shows
Published February 17, 2021
'WandaVision': Randall Park Has More Tricks Up His Sleeve for Jimmy Woo
Did you know Jimmy can hotwire a car?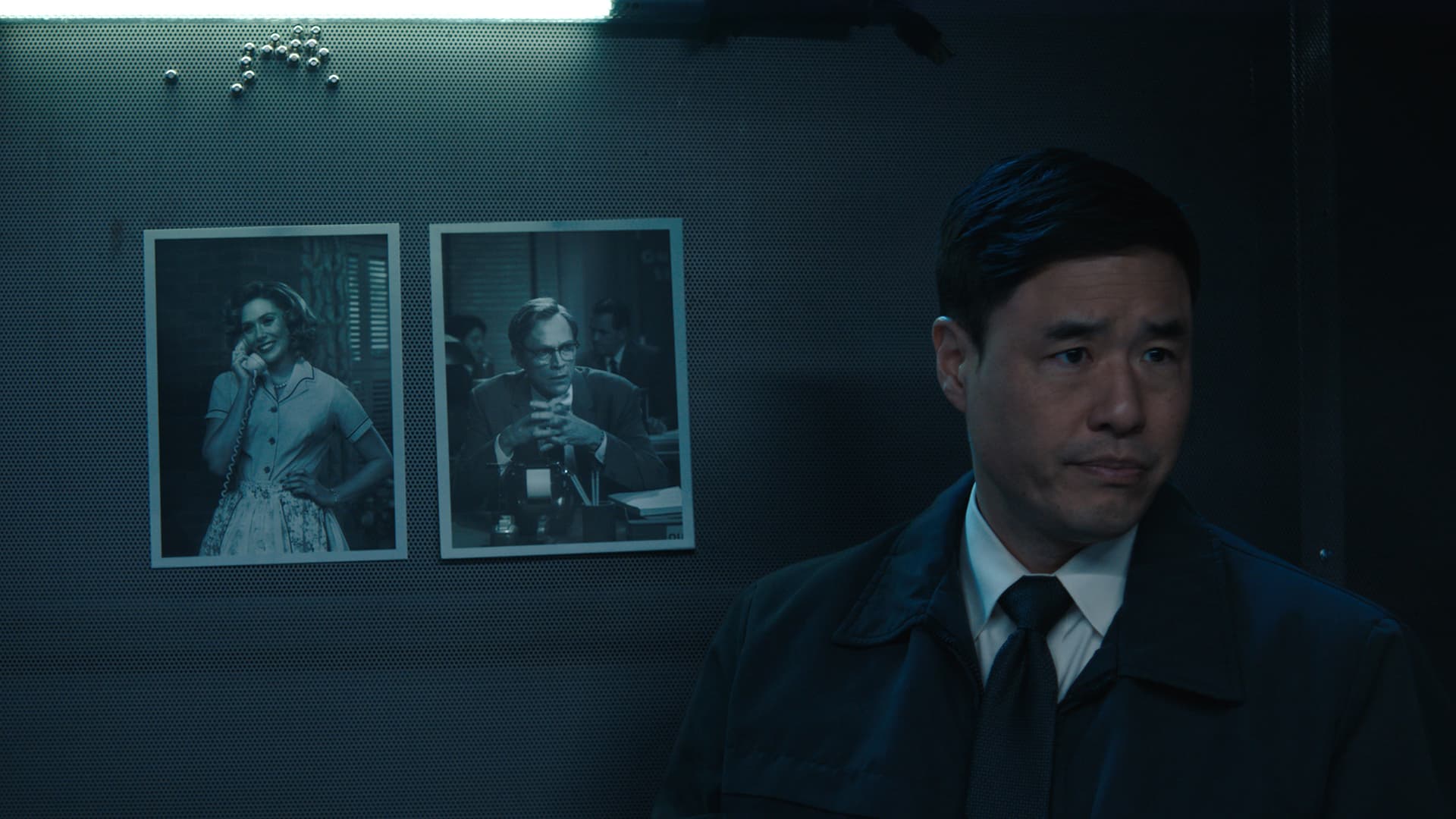 When he's not playing softball back at Quantico, Jimmy Woo's been keeping busy in other ways, like finally learning sleight of hand — thanks, Online Close-Up Magic University! But that's not all the FBI Agent brings to the table in Marvel Studios' WandaVision, because as Randall Park explains, there's a reason he's has been called to assist with the anomaly.
Returning back to the Marvel Cinematic Universe for the first time since Marvel Studios' Ant-Man and The Wasp, viewers are now seeing a different side to the loveable agent. He's teaming up with Captain Monica Rambeau and Dr. Darcy Lewis on the S.W.O.R.D. base to first assist, and then evade the agents there to try to get to the bottom of everything. Marvel.com talked to Park about his return to the MCU, card tricks, and how Jimmy actually packs a punch!
Marvel.com: I'm a big fan of Jimmy Woo. I know the internet is a big fan of Jimmy Woo. And since his first appearance on WandaVision, he's kind of turned into an 'internet boyfriend' of sorts—
Randall Park: Really? I'm not on social media. So, I don't catch a lot of this. I do catch a few things, because friends will forward me some posts. But I really don't know what's going on [laughs].
Marvel.com: The Internet's very impressed Jimmy finally mastered close up magic. Twitter's calling it the greatest MCU character arc of all time—
Randall Park: It might be!
Marvel.com: Did you ever think you would be so closely associated with this?
Randall Park: Never in my life. But I am genuinely fascinated by it. When we were on Ant-Man and The Wasp, we had a magician there who was teaching Paul [Rudd] magic tricks. And in between some of the set-ups, he would do little magic shows for us. I remember just thinking, "I want to learn this one day," you know. It's kind of crazy that for WandaVision, I got to learn some card tricks.
Marvel.com: Did you have a magician teaching you, too?
Randall Park: I did! For WandaVision, they brought out a magician, a local magician in Atlanta, and he was great. I learned a little bit. My learning curve was pretty huge. I don't have the nimblest fingers. But I was able to pull that one off, the one that you see in my intro, which is pretty cool.
Marvel.com: I want to dive back to the beginning of WandaVision. When this story was pitched to you, what were you told about it? What did you think the show was before you started filming?
Randall Park: Well, when they first reached out to me, to tell me that they were interested in having Jimmy Woo back, I was just like, "Yes. No questions asked, I'll do it." But I didn't know what the show was about.
Then Kevin Feige called me in to meet with Jac Schaeffer, the head writer of the show. I was sitting in a conference room and all around the walls were photos, these classic sitcom little posters, and the neighborhood with this hexagon thing. It was just so detailed. I mean, the walls were covered with this story.
She basically broke it down. And with every section, I was just like, "Whoa. Oh my god, no. Really? You're going to do that?" It was just so mind blowing that they would even attempt to try something so risky.
I just think it's so smart how they did it. And yeah, it's so cool to be a part of. And from sitting in that conference room that day, I was really, really just fascinated with how it would unfold. Now I get to see it along with the audience.
Marvel.com: Do you have a favorite Jimmy Woo-ism? I personally love his fun, old-timey slang. I like 'hinky' and 'diddly squat.'
Randall Park: He says 'hinky' [and I know he says] 'malarky,' which is a very classic phrase that I love. Yeah, I just love that about him. There is a throwback quality to Jimmy. All of them. All of them are pretty cool to me.
Marvel.com: One of my favorite lines that you give early on is just your very deadpan response about how you're not missed back at Quantico, because softball season is over.
Randall Park: That's right. That's right. It's another little tidbit about Jimmy Woo. He's pretty good at softball, which I think is super cool.
Marvel.com: You, Kat Dennings, and Teyonah Parris kind of team up and form your own little team to try and get to the bottom of what's really going on. What was it like working with the two of them?
Randall Park: Such a joy. Such a joy. I mean, they are both incredibly talented people, but they're also just super kind, super fun. Just a joy to be around. Because we are a team throughout pretty much the show. So to be able to work closely with two people who are just so amazing, it was really, really just a pleasure.
Marvel.com: In Episode 6, we actually see Jimmy throw some punches to take out some S.W.O.R.D. agents!
Randall Park: I got to fight, which I thought was really cool for the audience to see, especially coming from Jimmy of all — you know, because he is so sweet and so sincere and such an earnest kind of guy. To see him in action like that, I think it's a bit unexpected, but also, it's a testament to, "Yeah, this guy is really good at his job. He's well trained."
And there's a reason why he's [at the S.W.O.R.D. base]. It's because he deserves to be here. So that scene was super cool.
Wondering what happens next? Catch a brand-new episode of Marvel Studios' WandaVision this Friday, streaming exclusively on Disney+!
Want more exciting information about Phase 4? Find the latest Marvel Cinematic Universe news right here — and stay tuned for more!
This is just the beginning of the Phase 4 news. Stay tuned to Marvel.com for more details! And be sure to follow Marvel on Facebook, Twitter, and Instagram.
Looking for more Marvel movies and shows to stream? Check out everything on Disney+, Hulu, and ESPN+ right here, and where to find all your favorite Super Heroes right here. Sign up for Disney+ and start streaming now!
The Hype Box
Can't-miss news and updates from across the Marvel Universe!