TV Shows
Published March 29, 2018
Watch the Music Video for Trish Walker's 'I Want Your Cray Cray' Off 'Marvel's Jessica Jones' Season 2
The 'Marvel's Jessica Jones' Season 2 soundtrack is now available digitally!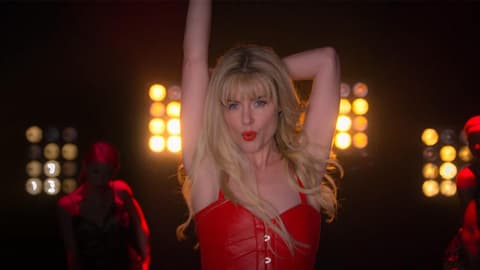 Jessica Jones' past isn't the only one with a past who comes back to haunt her. From the vault, we've unearthed Trish Walker's music video for the single, "I Want Your Cray Cray," (as performed by Rachel Taylor and Kandi Marks) above!
"I Want Your Cray" is off the "Marvel's Jessica Jones" Season 2 soundtrack, available now, from Marvel Music and Hollywood Records. The album features original music from the Netflix original series' second season composed by Sean Callery, as well as a new version of the composer's main title theme.
Catch the official track listing below:
[1] Jessica Jones Main Title (Double Shot Version)
[2] The Experiment Room
[3] Malcolm Suits Up
[4] The Bear on the Wall
[5] Alisa's Theme
[6] Run Whizzer Run
[7] I Want Your Cray Cray – Rachel Taylor & Kandi Marks
[8] Hogarth's Unexpected News
[9] Malcolm and Trish
[10] Gunpoint
[11] Rooftop Movie Night
[12] Alisa Surrounded
[13] It Didn't Have to Be You
[14] Hogarth Getting Even
[15] Roadside Assistance
[16] The Abandoned Lab
[17] Cheng Window Shot
[18] Escaping the Fire
[19] The Ferris Wheel
[20] Starting at the Beginning
Travel back in time to when pop-up videos were a thing and Trish Walker was a star. 'I Want Your Cray Cray' and the rest of the album is now available.
Don't say we never gave you anything!
Watch the first two seasons of "Marvel's Jessica Jones" streaming now only on Netflix, and stay tuned to @JessicaJones and the official Jessica Jones Facebook page for the latest!
The Hype Box
Can't-miss news and updates from across the Marvel Universe!