Comics
Published January 2, 2020
10 Predictions for the Year 2020 from 'Machine Man'
The future is wired in this cyberpunk fantasy, available to read in Marvel Unlimited!
It was the mid-80s. Creators Herb Trimpe, Tom DeFalco and 'Weapon X' writer/artist Barry Windsor-Smith embarked on a four-issue quest to breathe new life into a Jack Kirby creation from nearly a decade prior. MACHINE MAN (1984) represents this vision. Aaron Stack, a sentient automaton sanctioned by the U.S. military, re-programmed his own coding under the influence of a human father. As Machine Man, he became an enlightened version of human, more so than any flesh and blood counterpart he would meet amongst the Avengers.
After nearly 40 years on comic book canon ice, Machine Man returned in this punky, sci-fi series. Set in a fluorescent-tinged world of computerized cities, we're given a future where "C-10s" through "C-28s" police the public, and Tony Stark's distant cousin is the morally bankrupt Iron Man 2020. He's still highly entertaining of course, and in fact, you can read the latest from Arno Stark in his current run in print and digital today.
What do we have to look forward to this year? According to a prophecy from the year 1984, a handful of things...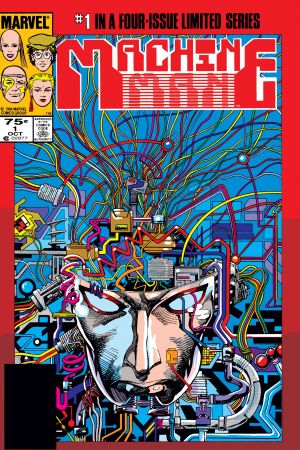 Machine Man (1984) #1
published

added to marvel unlimited

penciler

letterer

writer

colorist

inker

penciller (cover)
What is Marvel Unlimited?
It is September, 2020. Humanity has lost its private rights to the machine. A monopolizing tech company demands our co-dependence. And (almost) all of us are hardwired to obey.
1) ANARCHIC ACCESSORIES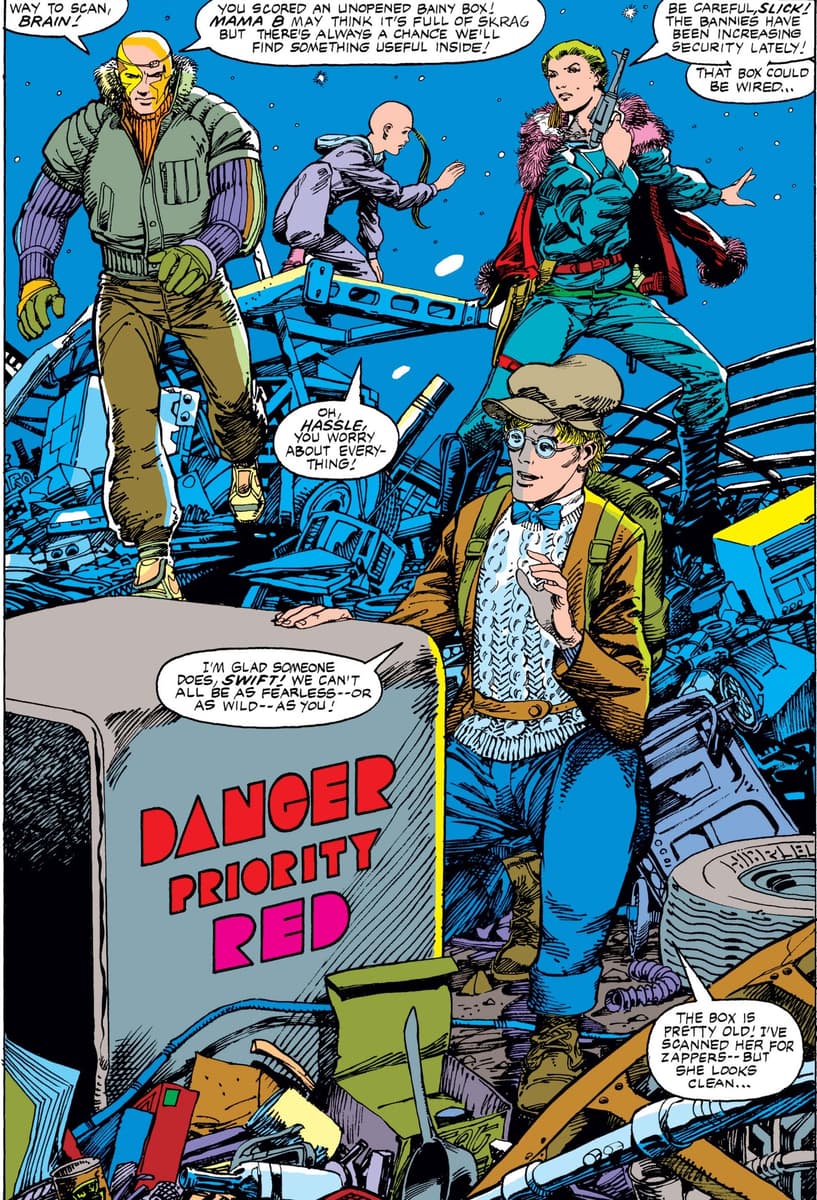 Meet our likable renegade heroes, the "Midnight Wreckers".
True to their name, this pack of tech-scavenging vagabonds were only interested in wrecking the status quo. "Brain", "Swift", "Slick" and "Hassle" uncovered the Machine Man 'bot' amongst decades of detritus in a Baintronics dumping ground. This core of four were also responsible for his re-assembly. They are also responsible for embodying glam rock values. However, we do think Brain throws off the team vision with his "newsie meets Professor Casual Friday" vibe.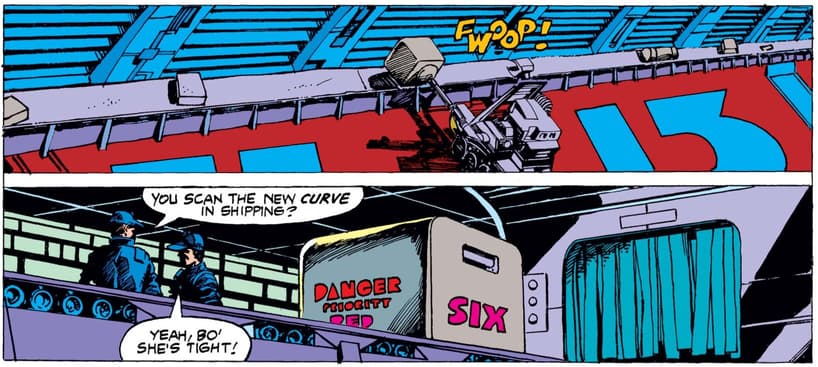 There's a ton of future-speak gems in this series. We particularly enjoyed "scanners" and all variations thereof, along with "Mama B". Plus frequent shouts of "Skrag"! Sure to become this year's expletive we never knew we needed.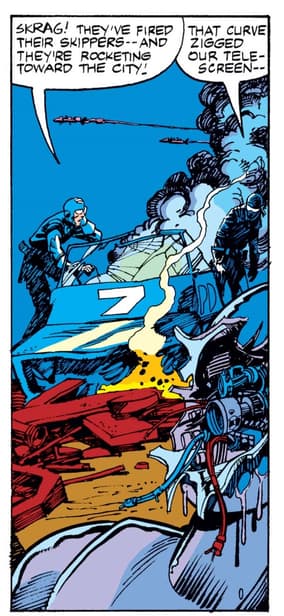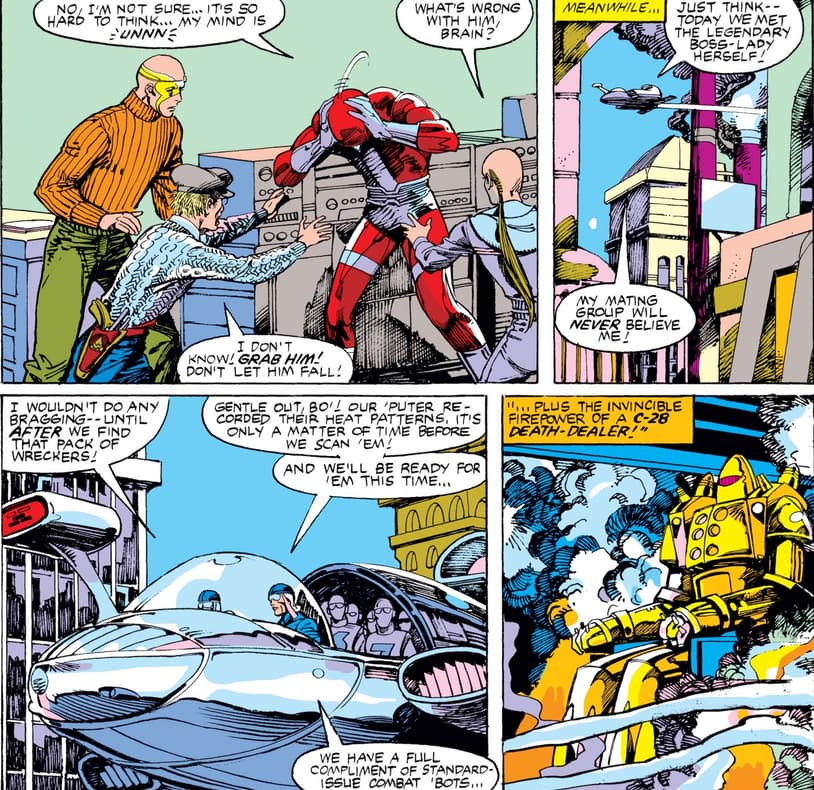 No clue as to what this "Bainy" is talking about after he meets "Mama B" herself, but we have a feeling you can probably scrounge this up on unnamed message boards/Tinder.
4) DYSTOPIA OF A MONOPOLIZED MACHINE
Familiar with Sunset Bain? She's a sometimes-love interest but more frequent rival of Tony Stark, Iron Man. Conniving and utterly ruthless, Sunset Bain of 2020 is the corrupt C.E.O. of Baintronics, an uber-industry that's plugged into every current of our brainwaves. Baintronics doesn't just singlehandedly outfit society with A.I., they also enforce their own paramilitary with an elite army of "C-model" 'bots.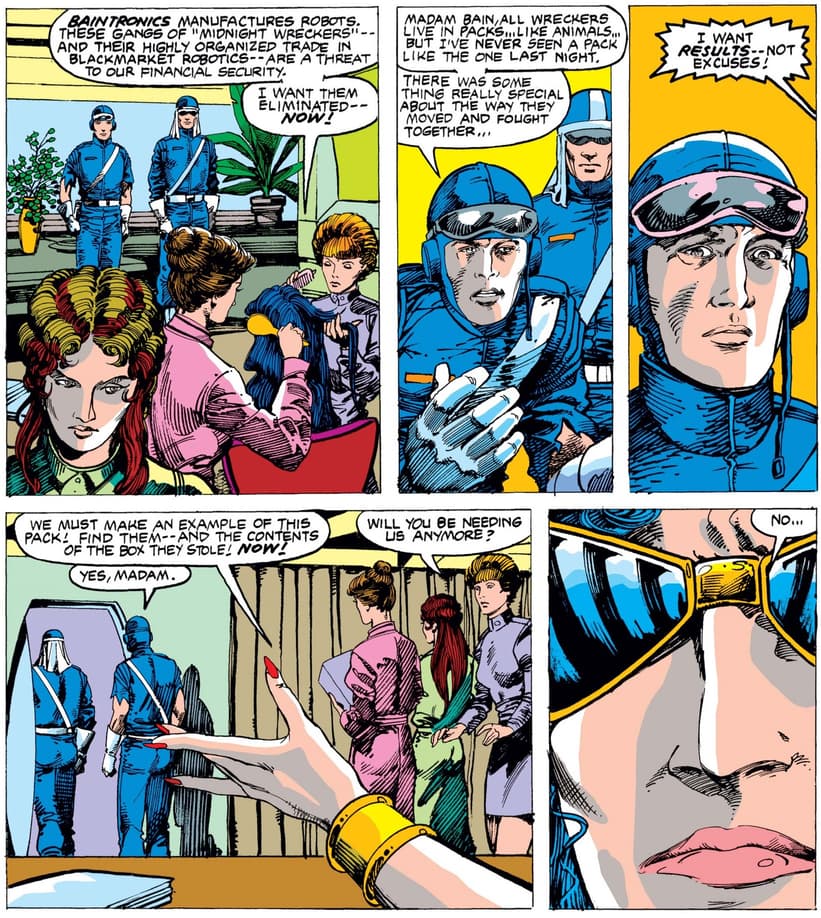 The Bainies and their ilk are scan-seeking scum. With the re-emergence of the independently-minded Machine Man though, the Wreckers are inspired to think outside 2020's limited understanding of sentience. I mean, after they exploit their new 'bot a couple of times...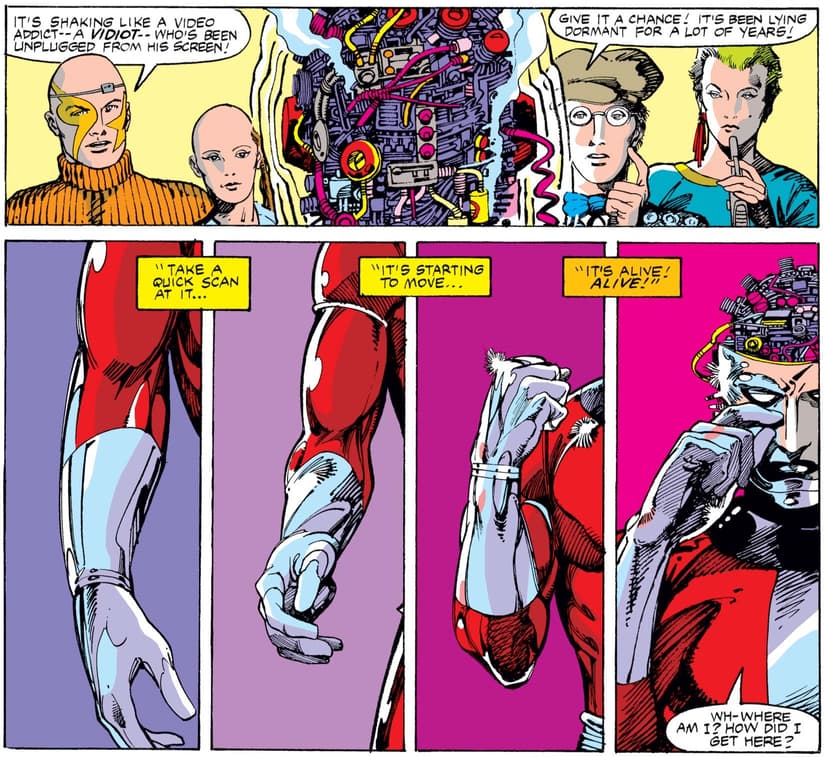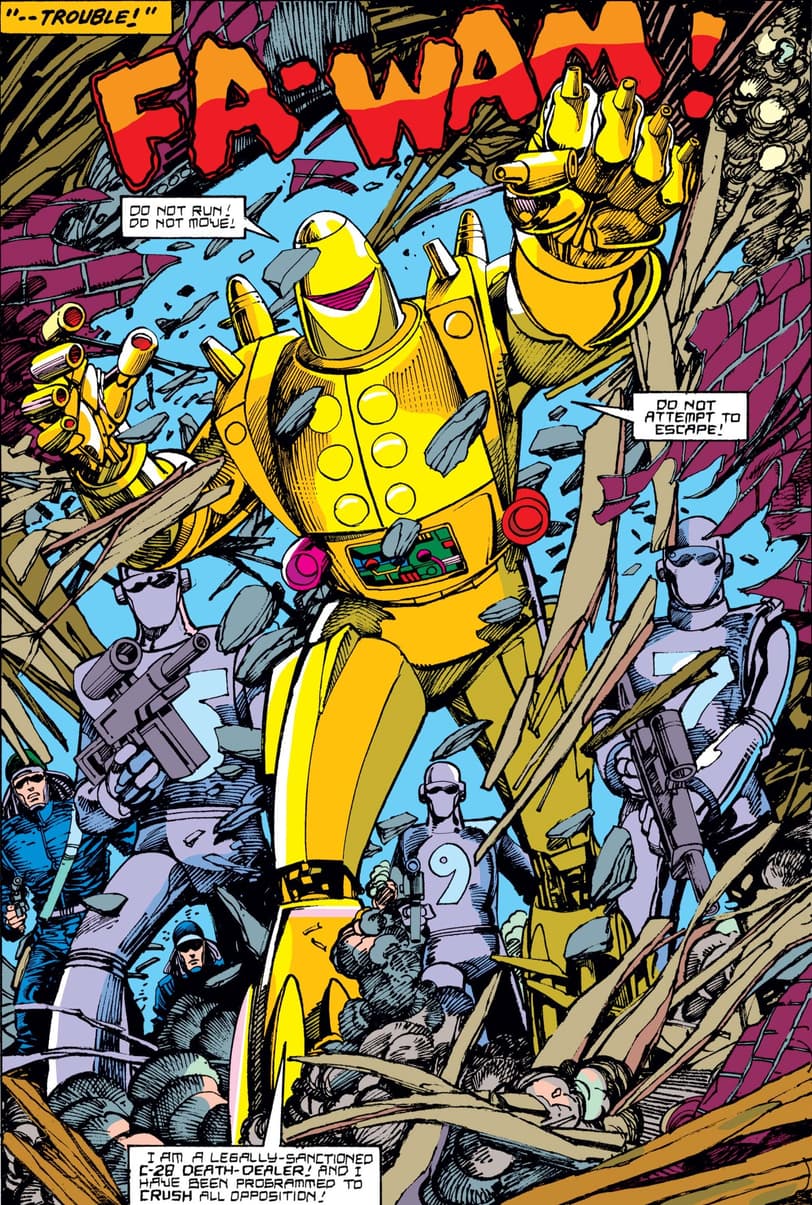 Spoken about as a top threat of its day, the C-28 Death-Dealers were the apex of Baintronics' military-industrial potential. Terrifyingly cool in design, but scary for everyday use…
6) "VID PARLOURS"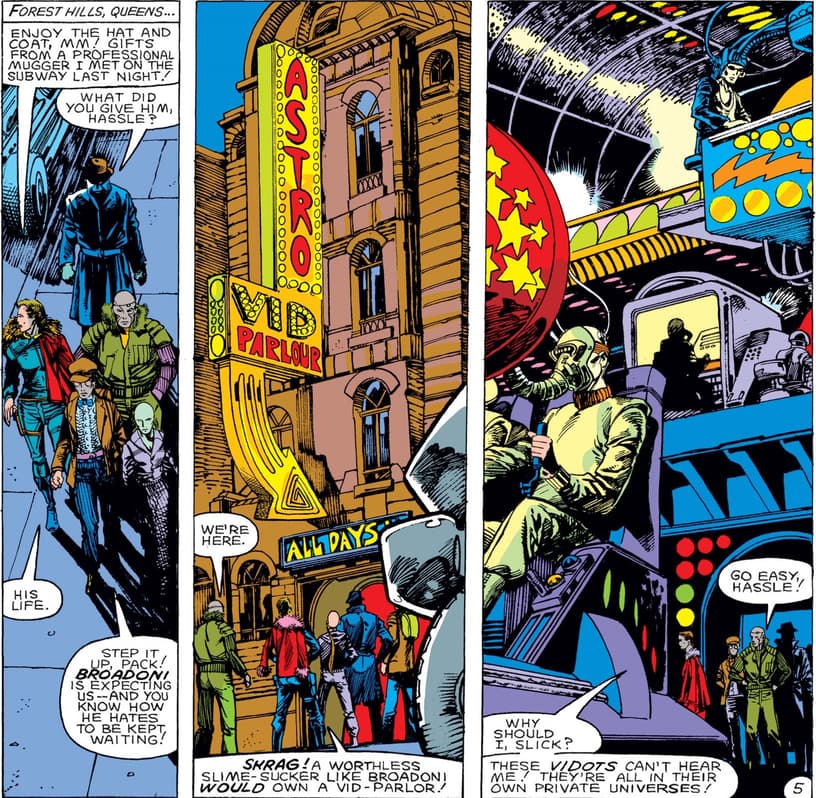 Sure, we'll see plenty more VR and digital world-building in 2020, but you know what we don't have yet? Surgical implants that sync directly from a neural system to computer terminal. We'll give this until 2025.
Gotta beware those Vid Parlours, kids. Sexy bright lights, but easy to get hooked.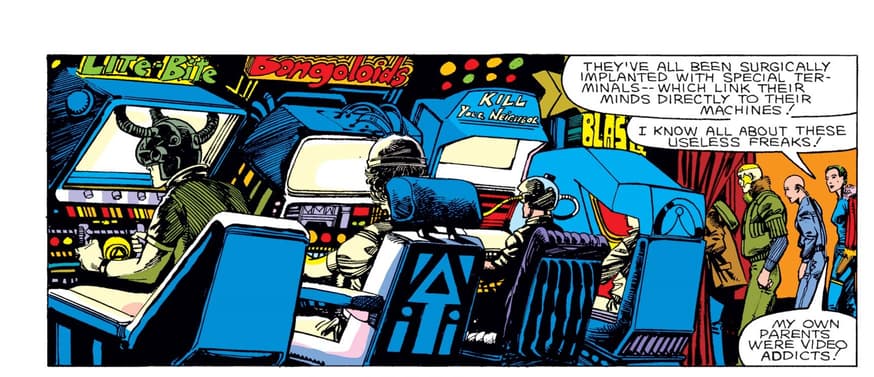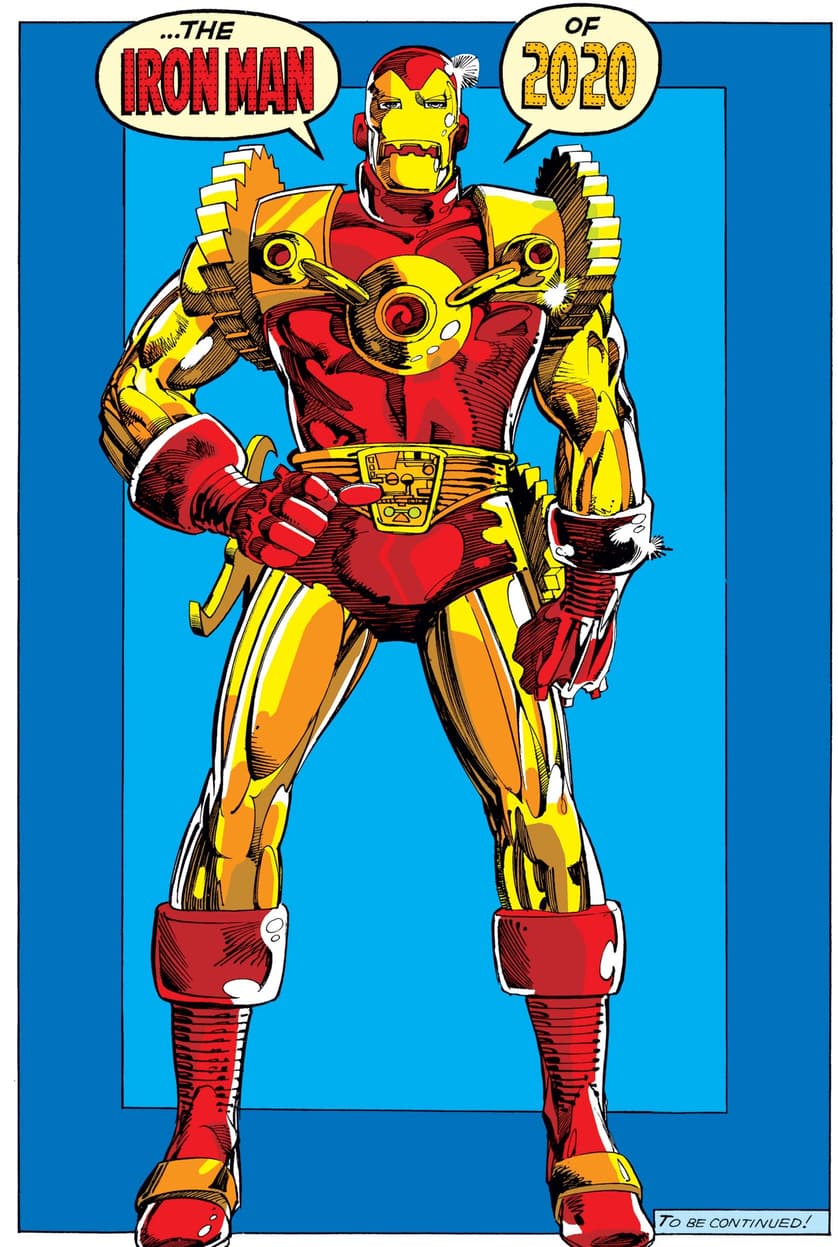 Yep, this is the series that gave us Arno Stark! Iron Man 2020 is a Baintronics "specialist" and actual corporate head hunter. Also known as a nasty human being. After waking up from his lengthy slumber in 2020's Earth-8410, Machine Man finds that Sunset Bain is older but none the wiser. And that her new "Iron Man" is still the head of Stark Enterprises, only with more time on his hands.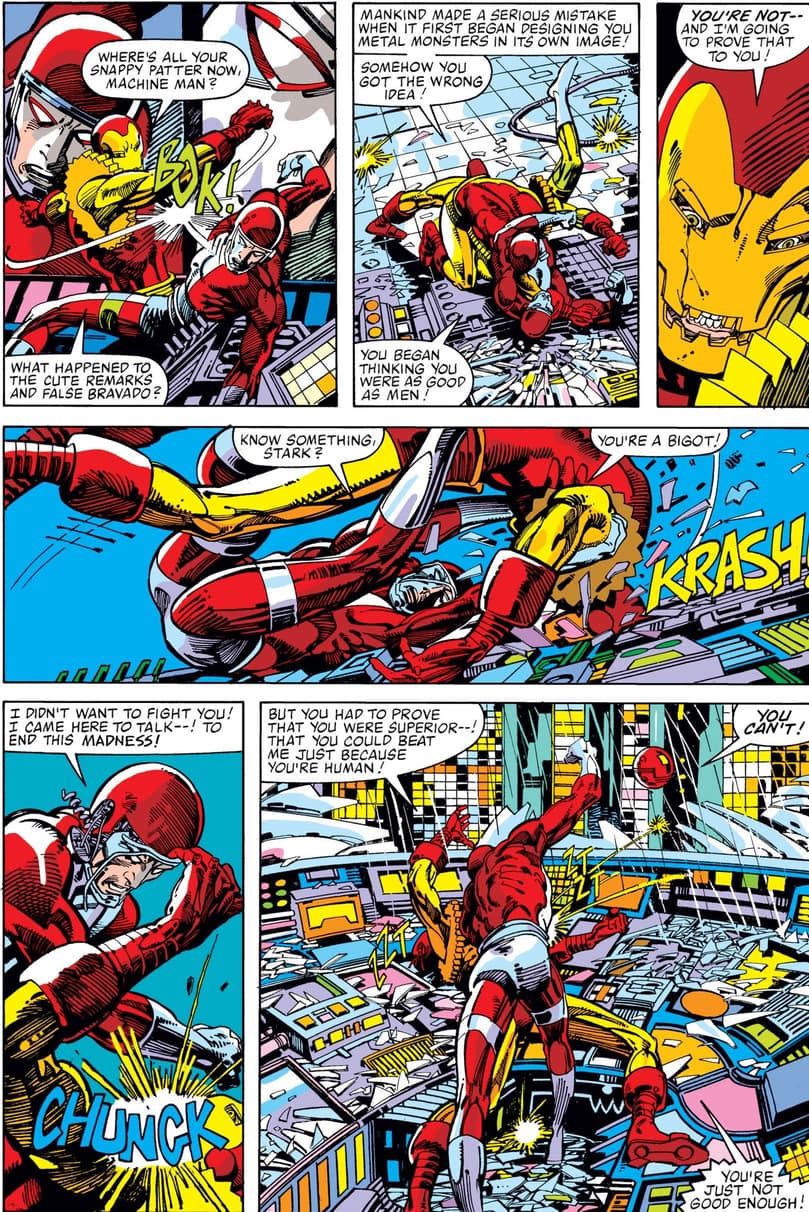 8) ANTI-ESTABLISHMENT SCREAMO ROCK CONCERTS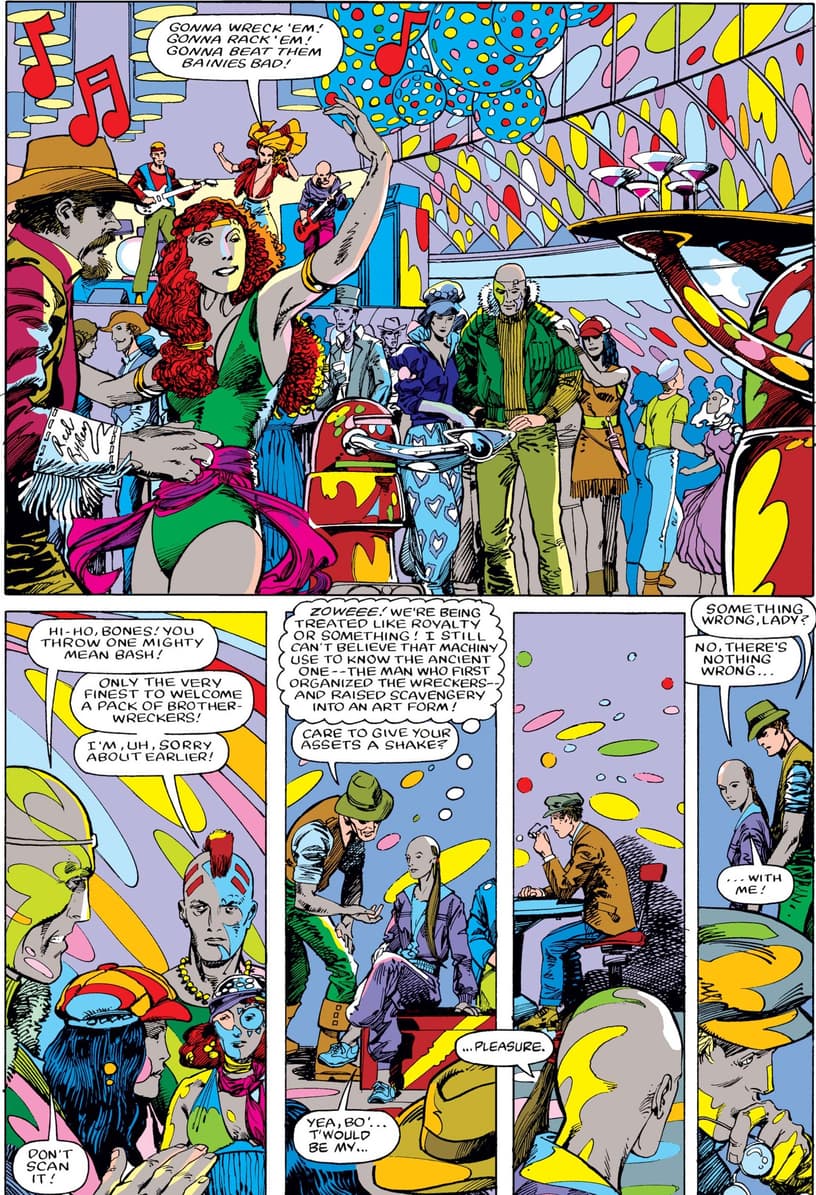 Imagine. Sometime this year you'll be going out with your guys, gals or people, to check out a Jackson Pollock-themed sky concert where you will Rage Against The Machine amongst kookily dressed weirdos. But please, whatever you do, don't "scan it".
9) HOVER CAR CITYSCAPES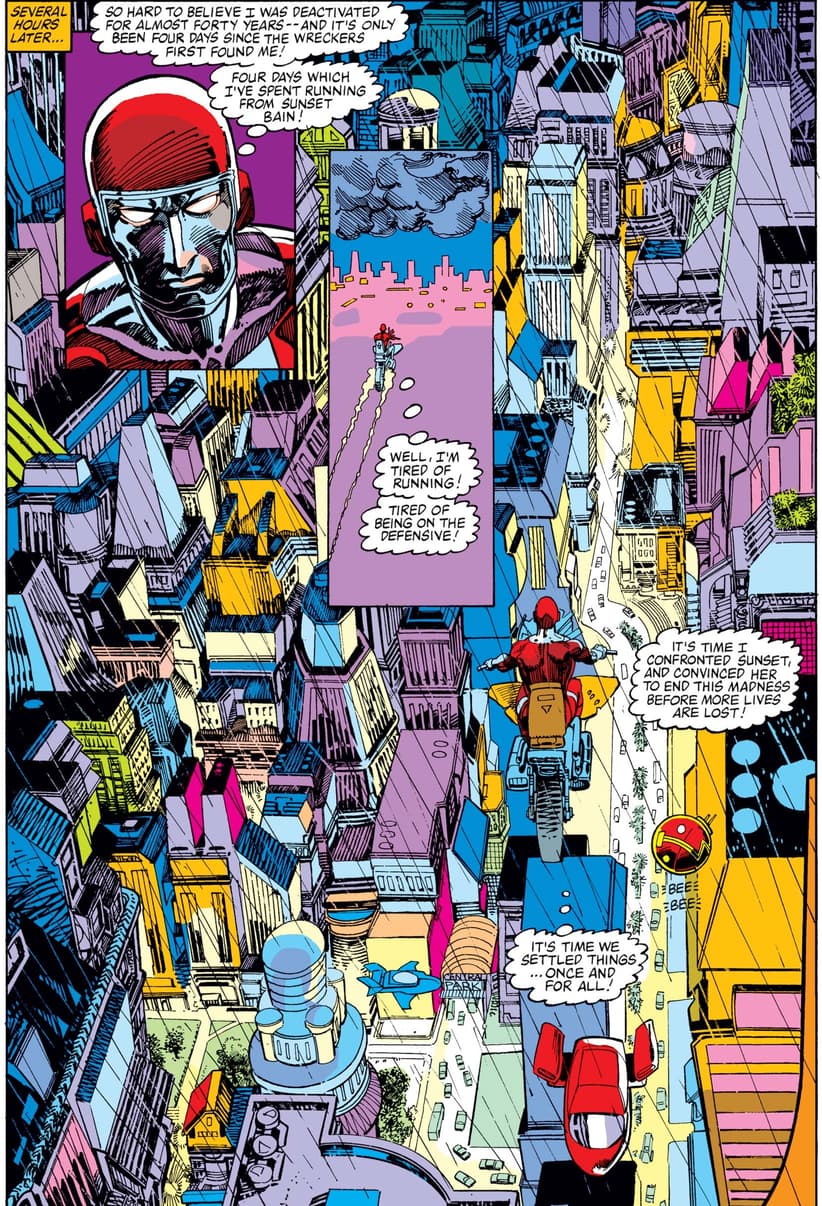 Artist Barry Windsor-Smith gives us a bird eye's view of the a-symmetric networks and tunnels of 2020's New York City, as complex as the inside of a CPU. Minus the hover cars, this could be a Tokyo, or even Seoul. Either way, we're not far off.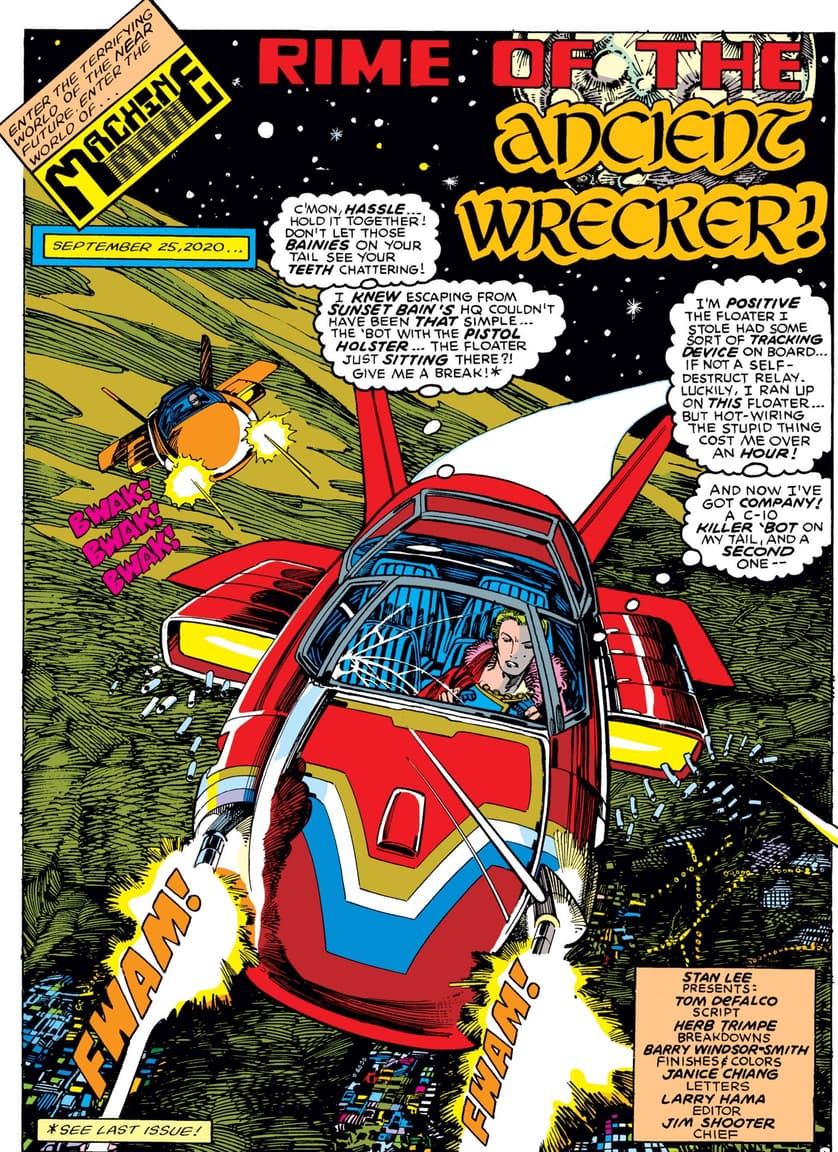 10) A PLACE CALLED "SANCTUARY"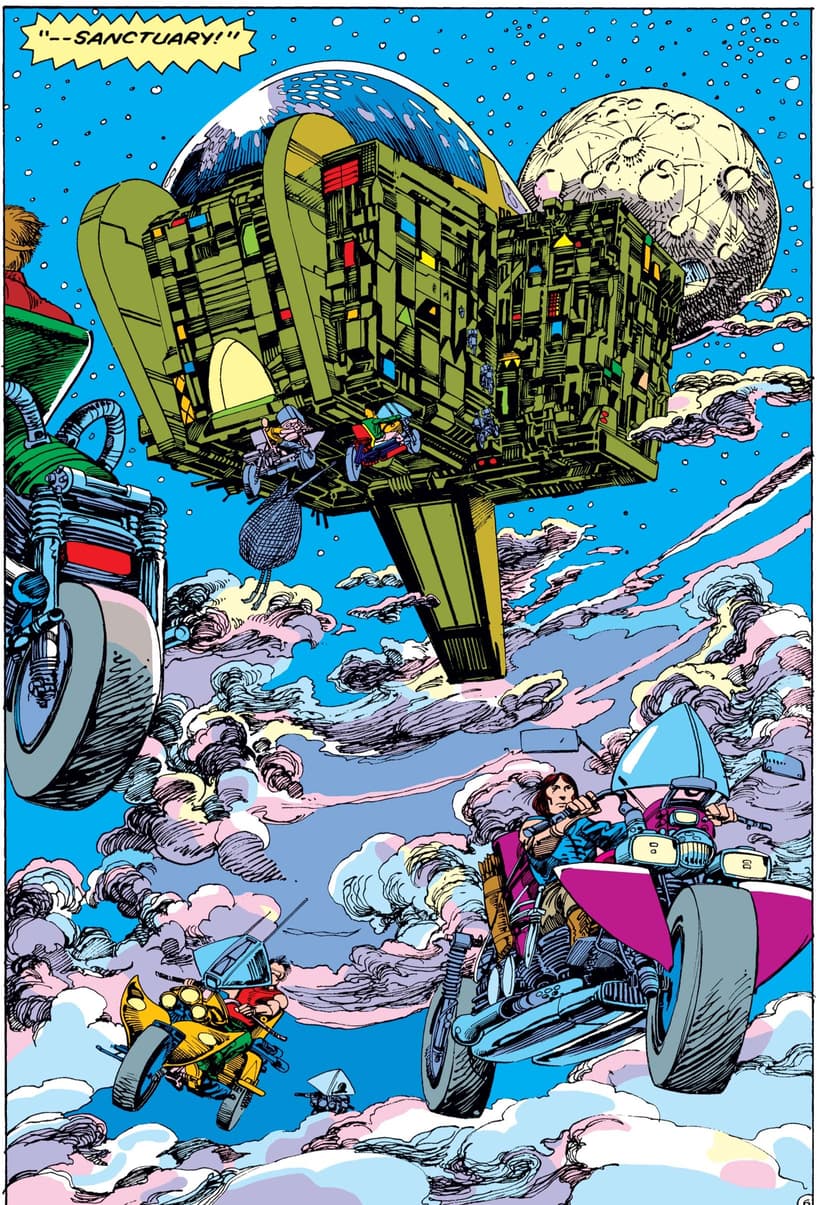 The place the Midnight Wreckers call home. If and when we need to tune in by dropping out, hopefully we too have a floaty sky-base stronghold that's open to any and all anti-Bainies. However, only reachable by "sky-cykes".
OUTRAGEOUS SUBWAY FARES

Need more tales from 2020? Read the latest lineup with IRON MAN (2020), on sale now in print and digital! It's Arno Stark vs. a Robot Rebellion. 'Nuff said.
Want to read MACHINE MAN (1984) #1-4 in full? Get a glimpse at our future with Marvel Unlimited, your all-access pass to the Marvel Universe. Gain instant access to over 25,000 digital comics at your fingertips, and chime in on the conversation with #MarvelUnlimited. And, stay posted to Marvel's Twitter and Facebook channels for weekly announcements and updates!
The Hype Box
Can't-miss news and updates from across the Marvel Universe!