Comics
Published May 3, 2023
An Inside Look at Marvel's AAPI Heritage Month Titles
This month, Iron Fist, Nico Minoru, Taegukgi, and Sister Dagger will star in team-up stories written and drawn by AAPI and Asian creators.
This Asian American, Native Hawaiian, and Pacific Islander Heritage Month, we celebrate the characters, and creators, who have made an outstanding impact on the world of Marvel Comics!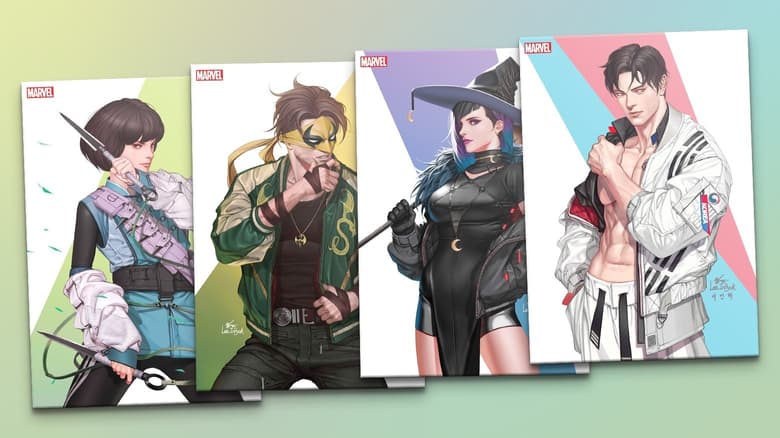 Across four issues coming out in stores this month, (all with variant cover editions by best-selling cover artist, InHyuk Lee), read extra team-up stories featuring three breakout characters—and Nico Minoru of Runaways fame—as they join forces with Daredevil, Wolverine, Ghost Rider, and Doctor Strange! Written and drawn by a diverse lineup of creators, these stories reflect some of the many cultures, histories, and backgrounds from the AAPI community. And celebrate the contributions of AAPI artistry in Marvel history!
We spoke to the creators about their team-up tales starring Iron Fist: Lin Lie, Sister Dagger, Taegukgi, and Sister Grimm (Nico Minoru), in an exclusive look ahead at this year's AAPI Heritage Month titles.
[RELATED: Marvel Comics Celebrates AAPI Heritage with New Variant Covers by Inhyuk Lee and New Stories by All-Star Creators]
DAREDEVIL #11 (OUT IN COMIC SHOPS MAY 10!)
Writer Jason Loo and artist Lynne Yoshii come together for a supernatural team-up starring Iron Fist: Lin Lie and none other than the Devil of Hell's Kitchen. Before becoming the new Iron Fist, Lin Lie's legendary Sword of Fu Xi was shattered. In DAREDEVIL (2022) #11's backup story, Daredevil and Iron Fist will find themselves face-to-face against a pair of water demons who've come to claim the shards of the sword that are embedded in Lie Lie's body and soul.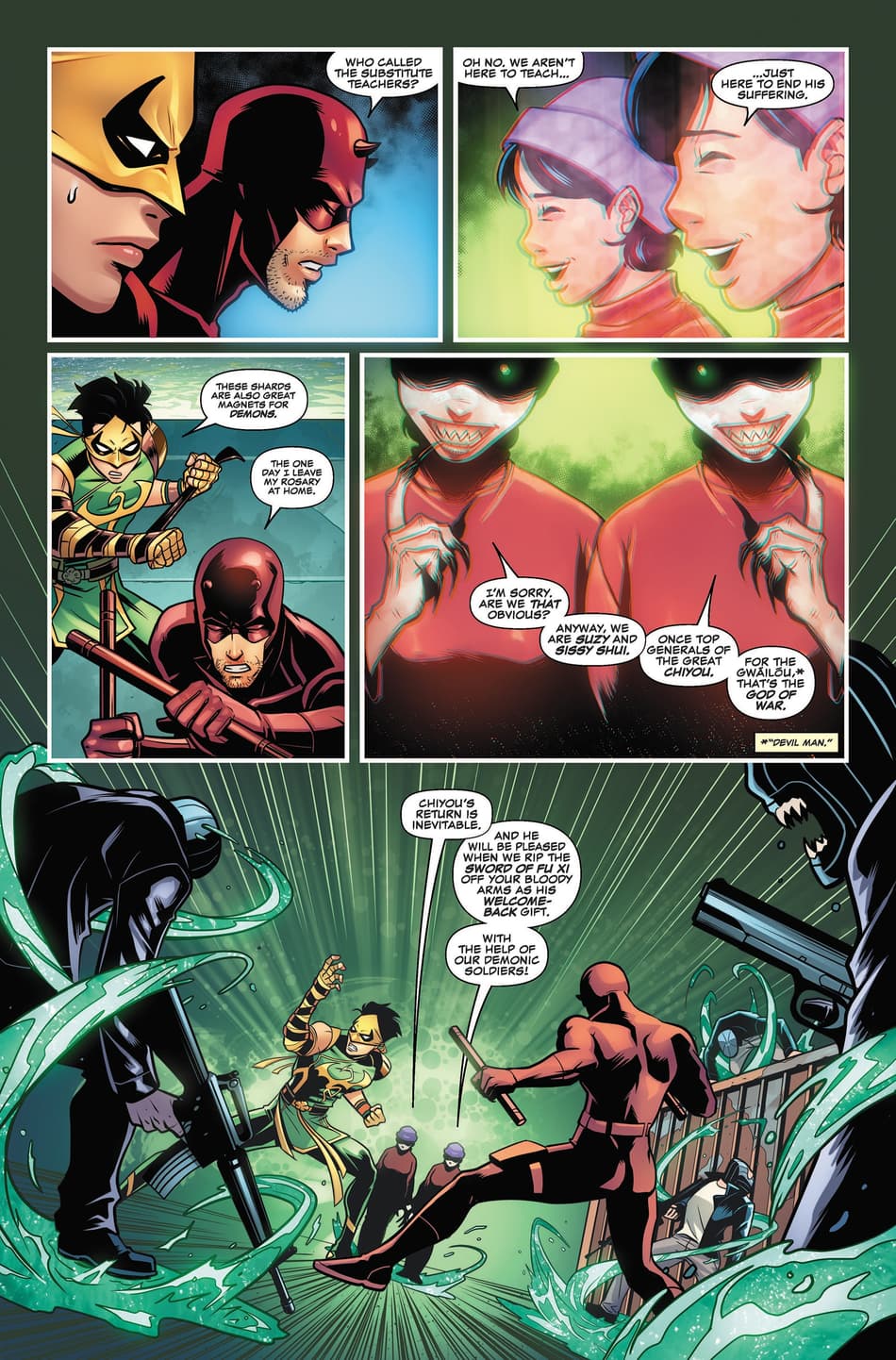 "I did a lot of research on Lin Lie," says writer Jason Loo. "I went to my local comic shop (shout-out to The Beguiling in Toronto!) and got all the issues of SWORD MASTER (2019) and IRON FIST (2022) that they had and spent an entire weekend reading them. All his stories have a sweet mix of martial arts action and supernatural horror, with some light-hearted moments [too]. That's what I wanted to continue to deliver in Lin Lie's team-up with Daredevil."
"I think it was a brilliant match to make Daredevil a mentor figure, especially considering [his] relationship with Iron Fist [Danny Rand] in DEFENDERS (2017)," adds artist Lynne Yoshii. "Plus, drawing Iron Fist and Daredevil is always fun but getting to draw creepy monsters like [the] Shui twins was a delight! More monsters, please."
GHOST RIDER (2022) #14's AAPI Heritage Month story, written by Jon Tsuei and drawn by Tadam Gyadu, stars Taegukgi—South Korea's greatest Super Hero. Fresh off his thrilling adventures with South Korea's super-response team TIGER DIVISION, Taegukgi, AKA Taewon, comes to California to investigate a series of mysterious and supernatural deaths that have ties to his past. But when a ghostly threat emerges, he'll have to team up with Ghost Rider: Johnny Blaze to take it down!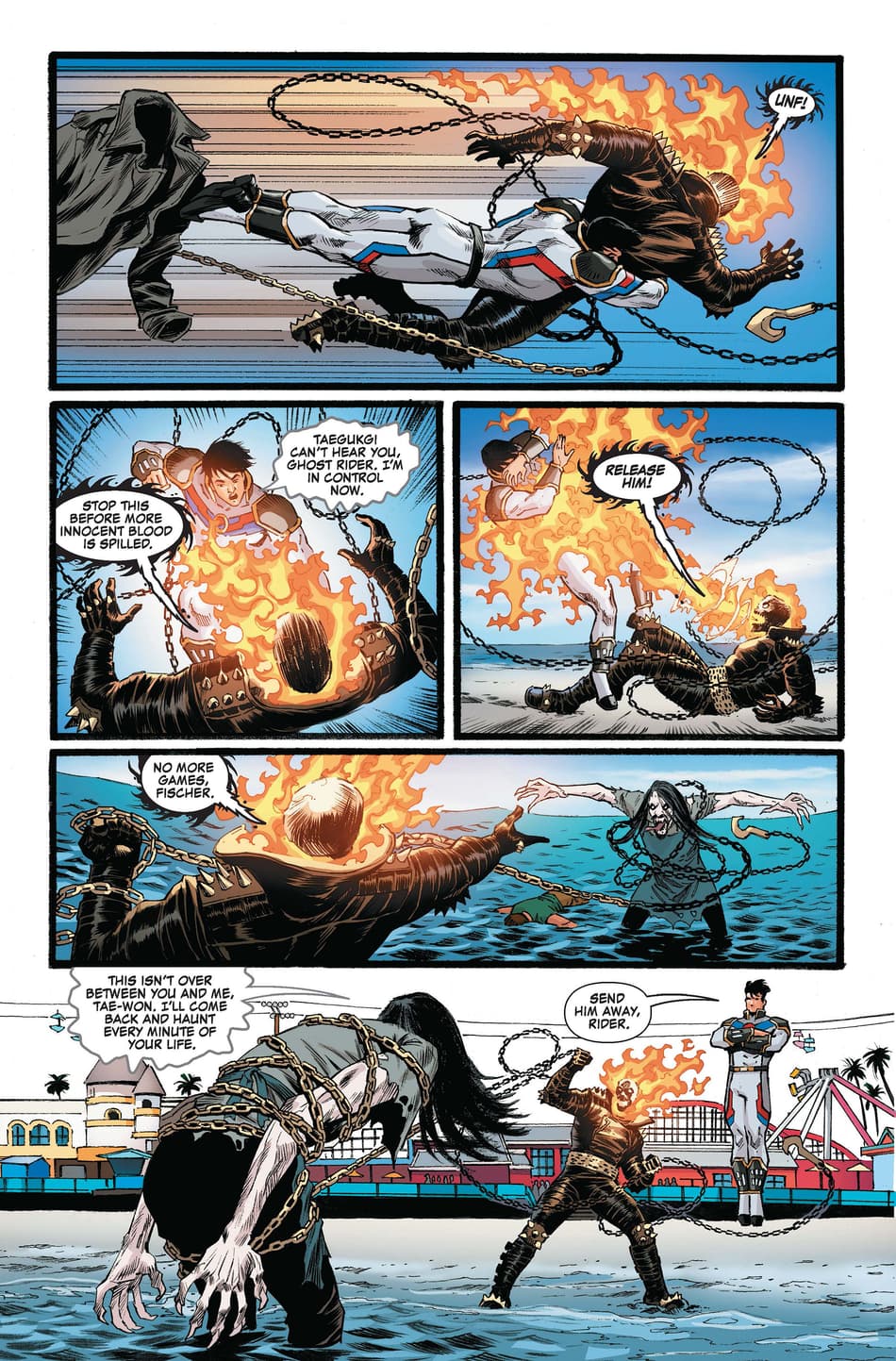 "Taewon [hears] about some mysterious disappearances and deaths happening in the Bay Area that reminded him of a case he had many years ago," teases writer Jon Tsuei. "So, he decides to perhaps find some closure to a past failure. It's one of those memories that keeps him up at night, replaying what happened and how he could have done things differently.
Also, with this story releasing during AAPI Heritage Month, I wanted to feature California because that's where some of the first Asian immigrants to the United States came to. Between 1904-1907, roughly 1,000 Koreans came from Hawaii to San Francisco and became laborers for farms, mining companies, and railways throughout California. I wanted to honor that history."
"I think the most interesting aspect of their team-up is how their powers and personalities are so different from each other and yet they come together to beat up the bad guy," says artist Tadam Gyadu. "And how!"
"It's always fun bringing two characters from seemingly disparate worlds together and finding a throughline," adds Tsuei. "I hope readers enjoy the story, because we had a lot of fun creating it!
WOLVERINE #33 (OUT IN COMIC SHOPS MAY 10!)
By award-winning writer Gene Luen Yang—known for his acclaimed work on SHANG-CHI (2021)—and artist Peter Nguyen, WOLVERINE (2020) #33 will revisit a recent contribution to Shang-Chi's legacy: Sister Dagger. Shang-Chi's fierce younger sister is after a mysterious creature terrorizing the streets of Paris…and so is Wolverine! Witness their daggers and claws cross paths as two of Marvel's deadliest fighters do what they do best.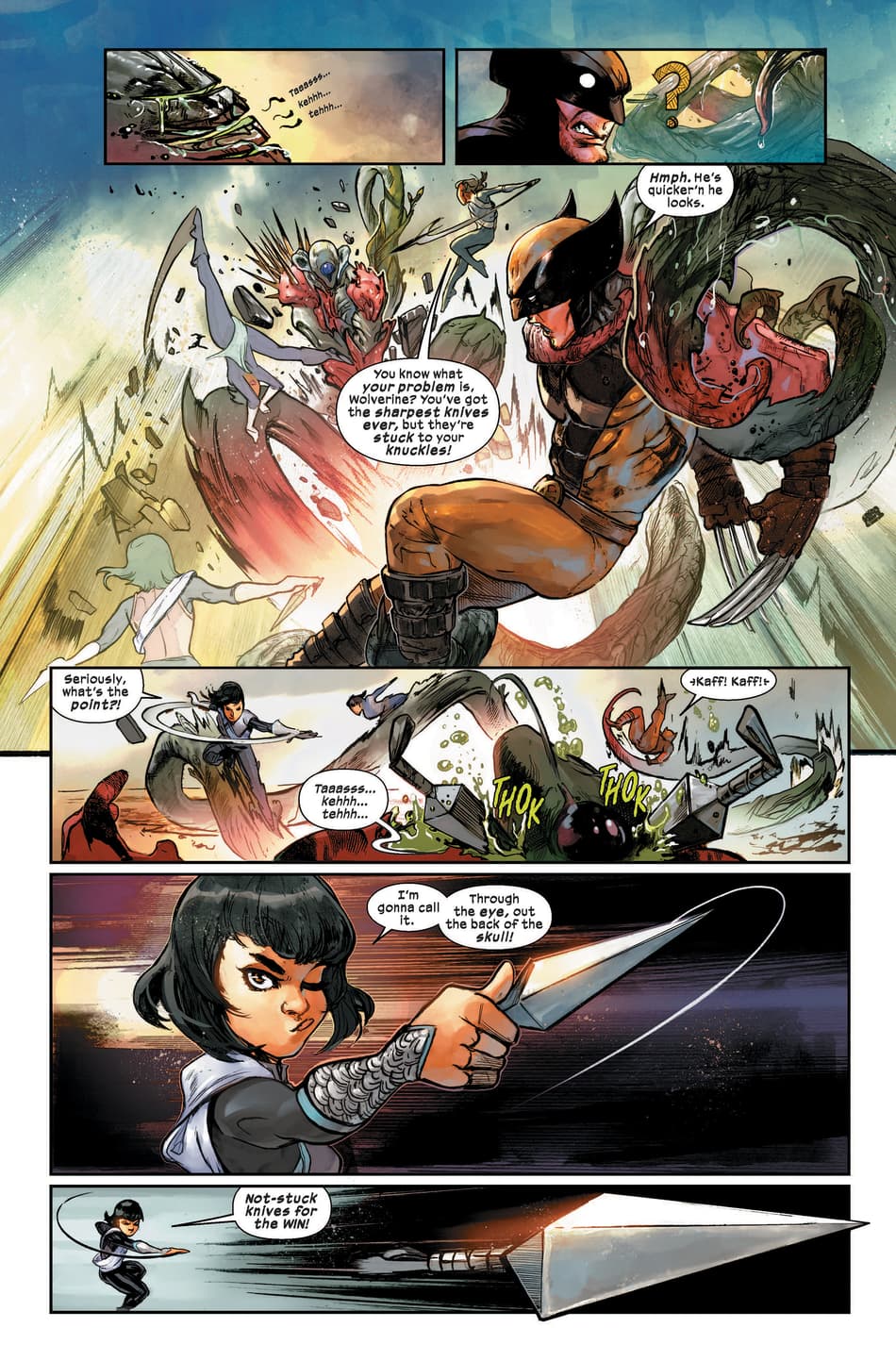 "Logan has a ton of obvious history of mentoring and teaming up with younger heroes and I wanted to play off that legacy a bit with distinct silhouette shapes between the two," teases artist Peter Nguyen. "[Plus], Sister Dagger comes with so many fun things to draw built into her original design. Strong action lines and [a] graceful flow with her costume and fighting style."
"Sister Dagger's definitely brattier in comparison to his other mentees, which made the dynamics between them all the more fun to write," adds Gene Luen Yang. "Despite his gruff nature, we all know deep down Wolverine is a true hero, willing to sacrifice himself for the sake of others, which means he has something to teach a girl who grew up in a super villain cult."
Hitting comic book stores on May 31, DOCTOR STRANGE (2023) #3 will feature a story written by Amy Chu and drawn by tokitokoro. Readers have seen Nico Minoru's mystical skills grow in recent titles like STRANGE ACADEMY (2020) and MIDNIGHT SUNS (2022). But this issue flashes back to her days as a teenage Runaway, including her first meeting with future ally and mentor, Doctor Strange!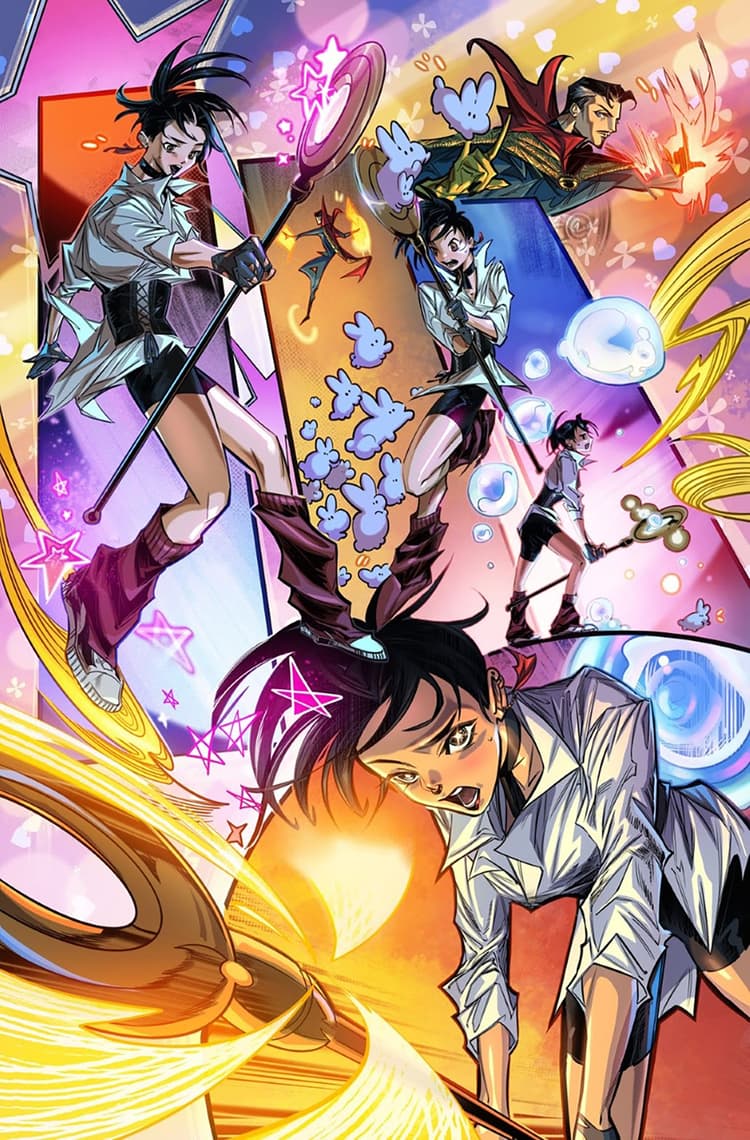 "Nico is one of my favorite characters," says artist tokitokoro. "She seems like a steadfast person, but she sometimes shows a [looser] self which I like. Especially when I see her with Karolina Dean. When they are together, it makes me so happy.
It was fun to draw many faces of Nico from serious to antic. And, since this was part of the AAPI [lineup], I made the artistic effects cute like 'Magical Girls' or Mahou Shoujo. I hope everyone enjoys it!"
Celebrate AAPI Heritage Month and pick up all four of these titles in comic shops this month!
Grab these comics and more at your local comic book shop! Or redeem then read your digital copy on the Marvel Unlimited app by using the code found in your print comic. Find and support your local comic book shop at ComicShopLocator.com.
The Hype Box
Can't-miss news and updates from across the Marvel Universe!