Comics
Published October 26, 2020
5 Things We Learned From 'Lords of Empyre: Emperor Hulkling'
The making of a space emperor. Continue 'Empyre' weekly on Marvel Unlimited.
Have you tried Marvel Unlimited yet? It's your all-access pass to over 28,000 Marvel comics, all available at your fingertips. Sign up now to enjoy your favorite stories sooner, just three months after they're in stores!
WARNING! THIS ARTICLE CONTAINS SPOILERS FOR LORDS OF EMPYRE: EMPEROR HULKING #1, SO READ ON AT YOUR OWN RISK!
EMPYRE, the cosmic event which sees the formation of the Kree/Skrull Alliance, changes the path of Marvel's intergalactic community, and all of Earth, once the Avengers and the Fantastic Four are swept into the conflict. The complete event is unfolding weekly on Marvel Unlimited, your one-stop digital destination to read Marvel stories just three months after they're in stores. Now united against the plant-based Cotati who want to regrow the universe in their image, the Kree and the Skrull find themselves under a young Earthling's guidance with ties to an imperial throne.
[RELATED: Crash Course to 'Empyre']
Teddy Altman, also known as the Young Avenger Hulkling, finds himself as the leader of worlds who, up until recently, wanted to destroy the other into oblivion. We last saw Teddy leading the Alliance in 2019's INCOMING!, but we weren't sure of his intentions. EMPYRE #1 made it clear: Hulkling must stop the Cotati, or all of planet Earth will be consumed.
[RELATED: Hulkling: The Fast Facts]
New on Marvel Unlimited: LORDS OF EMPYRE: EMPEROR HULKING #1 by Chip Zdarsky, Anthony Oliveira, and Manuel Garcia, the inside story of how Teddy Altman found himself in the precarious position as Emperor Dorrek VIII. While delving into this issue, here are some of the critical takeaways we learned about the son of Mar-Vell and Princess Anelle.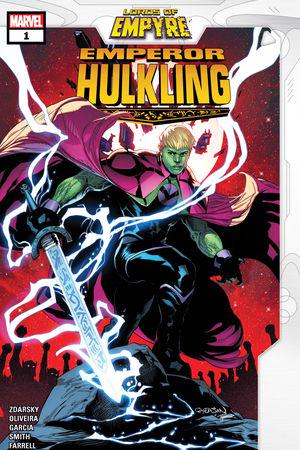 Lords of Empyre: Emperor Hulkling (2020) #1
published

added to marvel unlimited

inker

penciler

colorist (cover)

inker (cover)

penciler (cover)

editor

writer

letterer

colorist
What is Marvel Unlimited?
HULKLING IS NOT TRYING TO CONQUER EARTH. HE'S TRYING TO SAVE IT.
INCOMING! had us all fooled. For months, fans thought we had the latest incident of a hero turning in his Avengers ID for a life of villainy. After SECRET EMPIRE, how could it happen again? The good news is, it didn't. Yes, Hulkling is the ruler of the Kree/Skrull Alliance. Yes, they are about to wage war. But not just against Earth. The ancient, telepathic Cotati have begun to unleash their plan to turn universal life into plant-based life forms, and the Alliance is a last-ditch effort to stop them. You had us going there for a second, Teddy!
HULKLING HAS "THIRD WHEEL SYNDROME."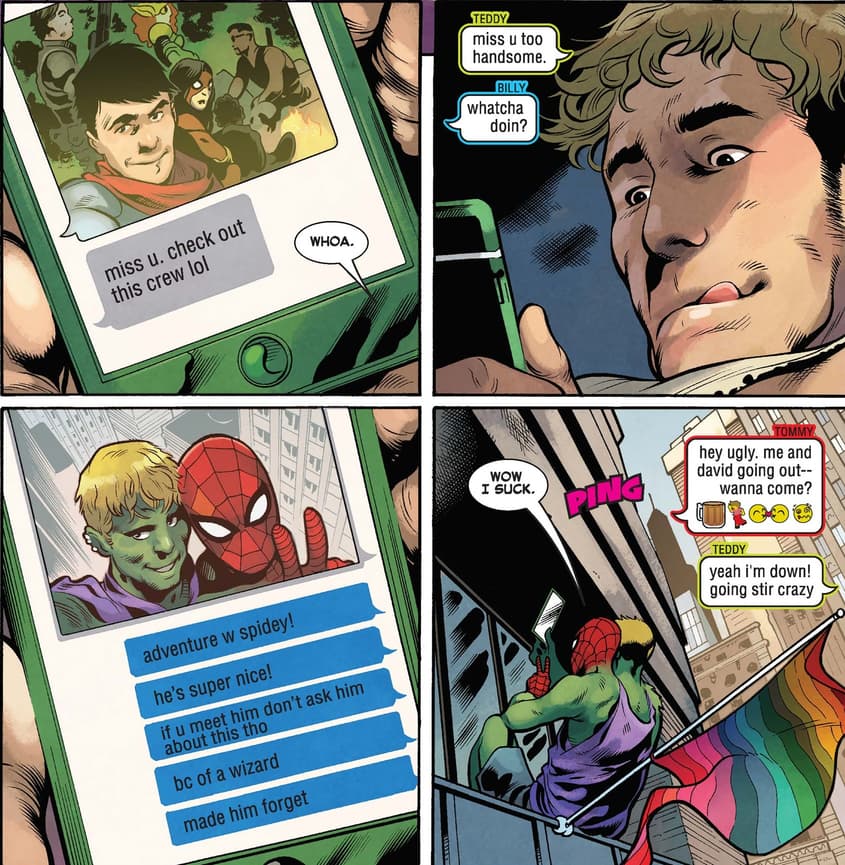 Before Teddy's space spanning adventure begins, he's having a text conversation with his fiancé, Billy Kaplan, AKA former Young Avenger Wiccan. Billy is showing off selfies with his new STRIKEFORCE team. Teddy feels left out by his partner's super-heroics, but doesn't want Billy to know, so he fakes a team-up with Spider-Man using the shapeshifting abilities he inherited from his mother's Skrull side. Had it been any other Super Hero, Billy might have seen through the ruse, but since Spider-Man will team with EVERYBODY at least once, it's not too far-fetched.
That night, when Teddy goes out with former Young Avengers teammates Speed and Prodigy, he again feels out of place since he knows that he'll soon be enjoying his drinks alone...
HULKLING UNDERSTANDABLY HOLDS GRUDGES.
When Teddy first learned of his alien heritage, it was at the cost of his adopted mother. In his first attempt to bring Teddy into the Skrull Empire, Kl'rt, the Super-Skrull, murdered Mary-Jo Altman, who, in reality, was the chambermaid of Teddy's biological mother. Kl'rt is now a part of Hulkling's royal guard and is loyal to the Alliance. That doesn't mean Teddy is going to let his actions stand. With one well-placed punch to the face, Teddy makes sure Kl'rt understands their relationship.
Read Hulkling's first encounter with the Super-Skrull in YOUNG AVENGERS (2005) #9-12, Teddy's origin arc.
HULKLING WANTS TO LIVE UP TO HIS FATHER'S LEGACY.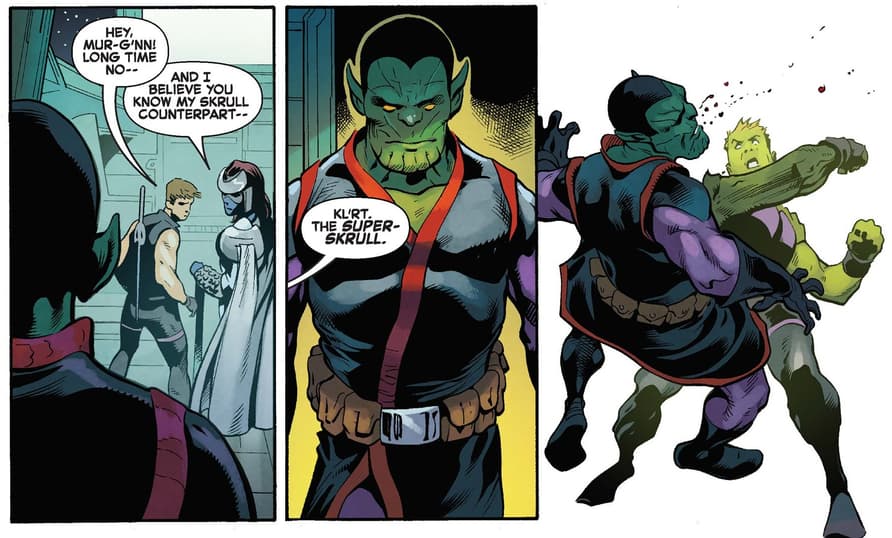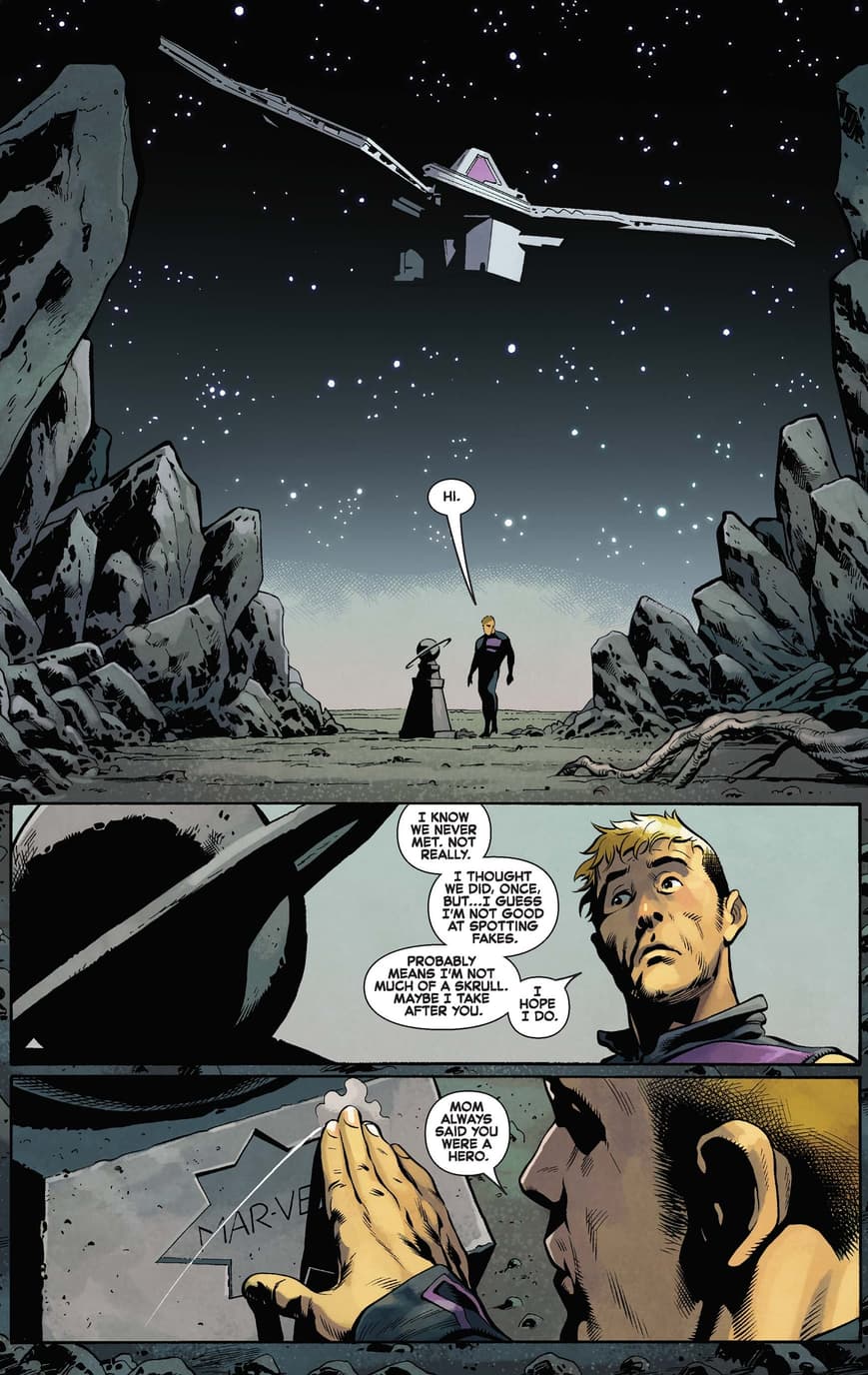 Teddy now knows who his biological father is, and it scares him quite a bit. Mar-Vell, also known as Captain Marvel, was once the Kree's greatest warrior and a defender of the cosmos. Carol Danvers now carries the name so she can honor the fallen hero. Even though Teddy never had the chance to meet Mar-Vell, he understands the ideals for which his father stood. As he takes the throne of the Kree/Skrull Alliance, Teddy talks to his father, hoping he will do him proud as leader. The irony is, even if Teddy didn't have two worlds waiting on his every word, Mar-Vell's legacy is already in good hands.
HULKLING HAS THE POWER.
As Skrull rebels attempt to kill Teddy to prevent the Alliance from forming, a fight breaks out in the club where he, Tommy, and David are hanging. To put a kibosh to the battle, Teddy unleashes his ancestral blade, the Star-Sword, transforming fully into his green-tinged Hulkling persona. If you are a fan of '80s cartoons, then you know this scene looked awfully familiar: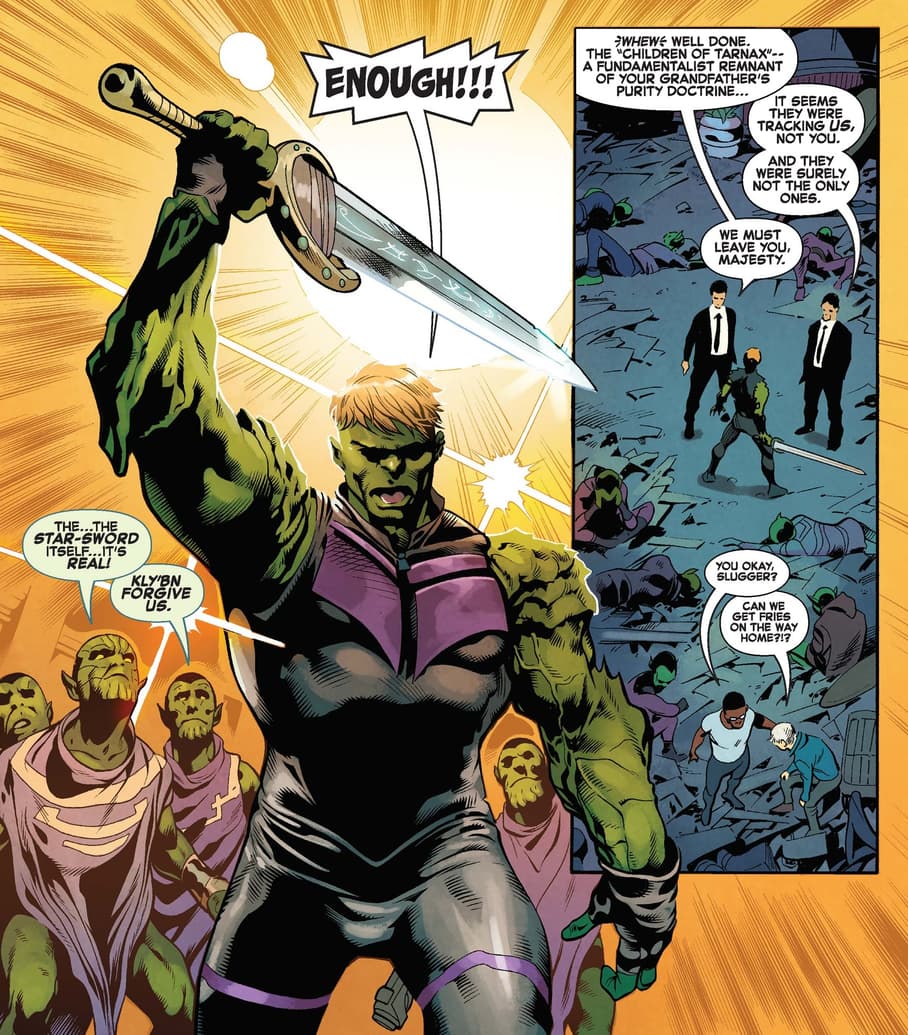 See the full slate of this week's MU additions here, including a handful of Throwback Thursday arrivals, hitting the library October 29.
WEEK OF OCTOBER 26
WEEK OF OCTOBER 29
Marvel Unlimited, Marvel's digital comics subscription service, offers members unlimited access to over 28,000 issues of Marvel's classic and newer titles, delivered digitally through your desktop web browser and the award-winning Marvel Unlimited mobile app.
Follow Marvel Unlimited on Twitter and Facebook to stay tuned in to weekly announcements, articles, and more, all at @MarvelUnlimited. Follow us today to join the conversation with thousands of fellow fans, and let us know what you're reading!
The Hype Box
Can't-miss news and updates from across the Marvel Universe!