Comics
Published August 21, 2020
6 Times Miles Morales and Peter Parker Were the Perfect Team-Up
Read their first meeting in 'Spider-Men' today, complete on Marvel Unlimited.
Have you tried Marvel Unlimited yet? It's your all-access pass to over 27,000 Marvel comics, all available at your fingertips. Sign up now and get your first year for $60!
Today, the idea of seeing Peter Parker and Miles Morales team-up might seem somewhat common. They've starred on the big screen together in Spider-Man: Into the Spider-Verse, saved reality a couple of times, and swing into each other's books on the reg. But that wasn't the case in 2012 when creators Brian Michael Bendis and Sara Pichelli produced SPIDER-MEN. This five issue series—which can be read in full on Marvel Unlimited— brought the Web Warriors together for the very first time!
To give this must-read series a little context: Spider-Man investigates some weirdness caused by Mysterio that sends him through a portal to the Ultimate Universe (Earth-1610 if you're keeping track) which facilitates a meet-up between Spider-Man: Peter Parker and his interdimensional counterpart Miles Morales. Prior to the events of 2015's SECRET WARS, Miles lived in another reality where he took on the mantle of Spider-Man after the Peter Parker of that world seemingly died. Eventually, Miles wound up living on Earth-616 alongside his fellow Wall-Crawler after his own timeline imploded.
Okay, with the finer points covered, let's get into the fun stuff and count down Peter and Miles' best moments which certainly inspired the two characters' chemistry in all things moving forward!
A LESS THAN AUSPICIOUS INTRO
Upon finding himself in a familiar-yet-different New York City, Peter Parker swung around trying to figure out what the deal was. He eventually landed on a rooftop where Miles Morales was ready and waiting! Not sure if he was facing a clone or an illusion, the pair fought, tried to lift each other's masks, and ultimately worried about the damage they may have caused each other since they're both good guys. When Peter removed Miles' mask, the younger Spider-Man used a Venom Blast to knock his elder out, and was forced to activate Parker's web shooter to save them both from concrete impact.
Not a team-up per se, but a successful first encounter since neither became a stain on the street!
A ROYAL ROGUE RUMBLE
Piloting an avatar from Earth-616, Mysterio attacked the Spider-Fellas with an army of villains that turned out to be the chemical-based embodiments of their greatest fears. Because of course.
Peter and Miles showcased a true sense of teamwork and improvisational talent, but this battle did end in a giant explosion that separated them both for a bit.
MILES SAVES PETER'S SKIN
After finding out that his alternate reality-self had died, Peter went to see two of the most important women in his life: Aunt May and Gwen Stacy. Far from happy to see someone wearing Peter's face, May slapped him and Gwen kicked him in the guts!
This scuffle could have gotten way out of hand had Miles not swooped in and smoothed things over. He's got your back, Pete!
STORY-SWAPPING
After nearly getting curb stomped by the alternate reality version of his first love, Peter went inside May's house with Gwen and Miles. During this brief respite from all the craziness, everyone swapped stories between the Multiverse, and Peter apologized profusely for showing up the way he did. He even managed to make peace with Aunt May, giving her some closure in the process.
Miles and Peter are excellent communicators—a dimension may stand between them, but these Spider-Heroes get each other. Weird things happen, ya know?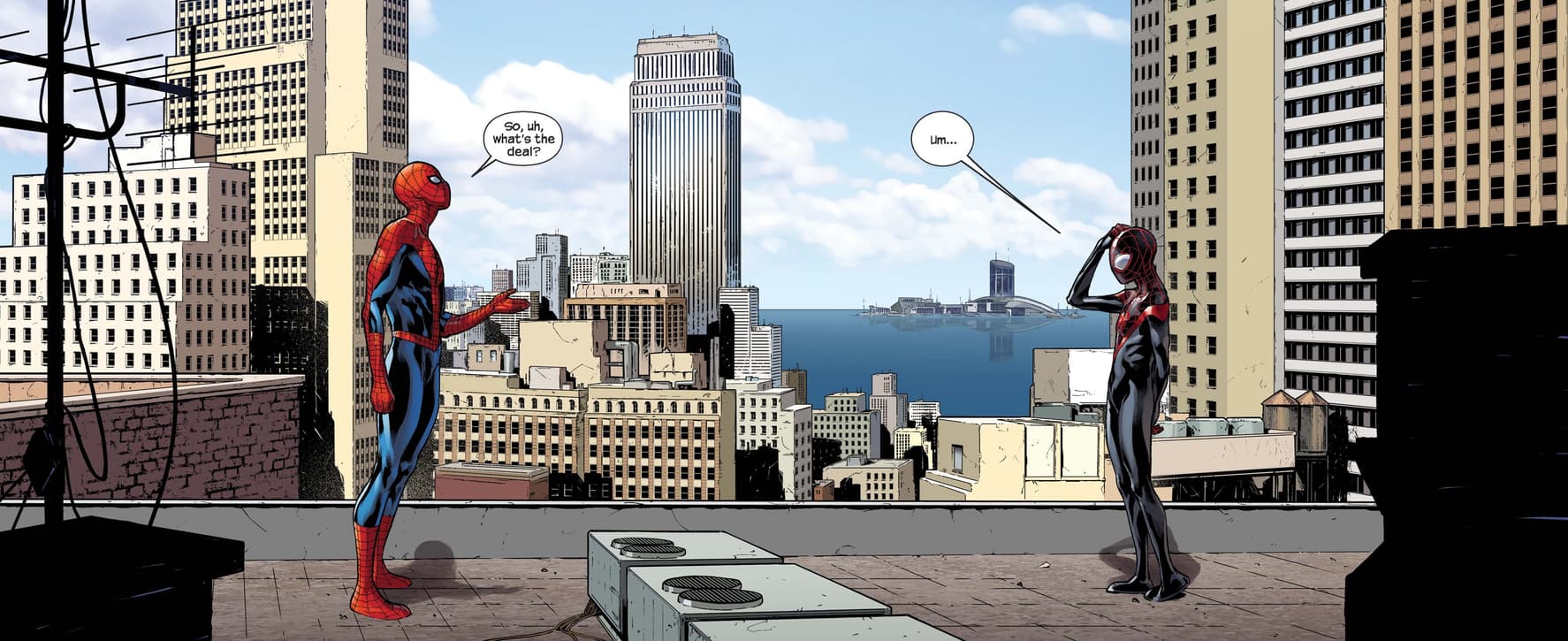 BAD GUY BASHING
With some help from the Ultimate Universe's Iron Man, Thor, Nick Fury and a contingent of S.H.I.E.L.D. agents, the Spiders discovered Mysterio's location and easily captured him. However, he did break free to cause a bit more trouble. Miles jumped into action, battling the villain back and forth through the reality gate into submission! 
The best team-up partner is the partner that lets you shine!
SPIDER-WISDOM
With Mysterio captured and set to be incarcerated, Peter knew it was time to return to his own reality. However, before going, he gave Miles a fond farewell as well as his blessing to continue on as Spider-Man! As Peter faded from one Earth to the other, he gave Miles all sorts of life advice ranging from the practical to the (seemingly) obvious.
This mentor-mentee dynamic is an important element to the Miles/Peter team-up. Pretty soon though, it will be Miles dishing out the advice.
To see all of these moments and more, head on over to Marvel Unlimited to read SPIDER-MEN (2012) #1-5 today!
Marvel Unlimited, Marvel's digital comics subscription service, offers members unlimited access to over 27,000 issues of Marvel's classic and newer titles, delivered digitally through your desktop web browser and the award-winning Marvel Unlimited mobile app.
Follow Marvel Unlimited on Twitter and Facebook to stay tuned in to weekly announcements, articles, and more, all at @MarvelUnlimited. Follow us today to join the conversation with thousands of fellow fans, and let us know what you're reading!
The Hype Box
Can't-miss news and updates from across the Marvel Universe!