Comics
Published December 24, 2020
7 Things We Learned About the Eternals
Who are the Eternals? Find out in their 1985 series, now on Marvel Unlimited.
Have you tried Marvel Unlimited yet? It's your all-access pass to over 28,000 Marvel comics, all available at your fingertips. Sign up now and get your first year for $55, or, give the gift of Marvel Unlimited with promo code GIFTMU here!*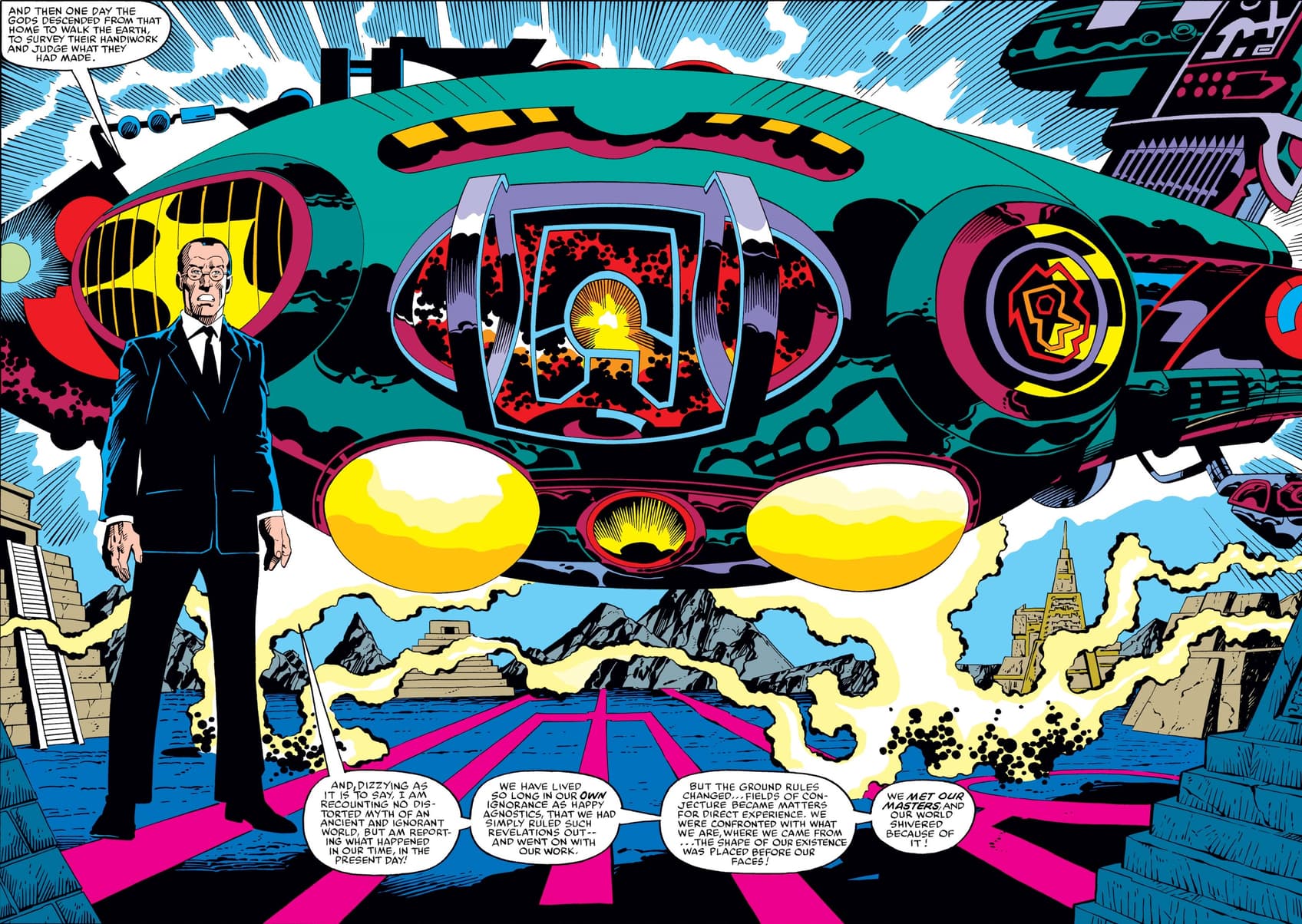 Now on Marvel Unlimited: the classic ETERNALS (1985), a splashy 12-issue limited series by legends Peter Gillis and Sal Buscema! Told in the expansive, otherworldly style as original creator Jack Kirby, this ideal entry point offers key background on the hidden society of the Eternals, immortal beings with power incomprehensible to humans. And, we've also added two one-shots from the Eternals' complete omnibus saga: ETERNALS: THE HEROD FACTOR and NEW ETERNALS: APOCALYPSE NOW!
We went back through this backlist tale, and learned a few important facts about these forever people!
THE ETERNALS ARE GOD-LIKE BEINGS
That's right, the Eternals are a race of omnipotent people that possess immortality as well as strange, vast, and sometimes monstrous powers. Since the Eternals were created from experiments performed by ancient entities the Celestials, they contain cosmic energy, and have harnessed constant mental control over every molecule of their bodies. These experiments also made them virtually immortal, allowing them to be restored to life, even if the molecules of their bodies are scattered.
The Celestials originated the Eternals. But they are not their only creation…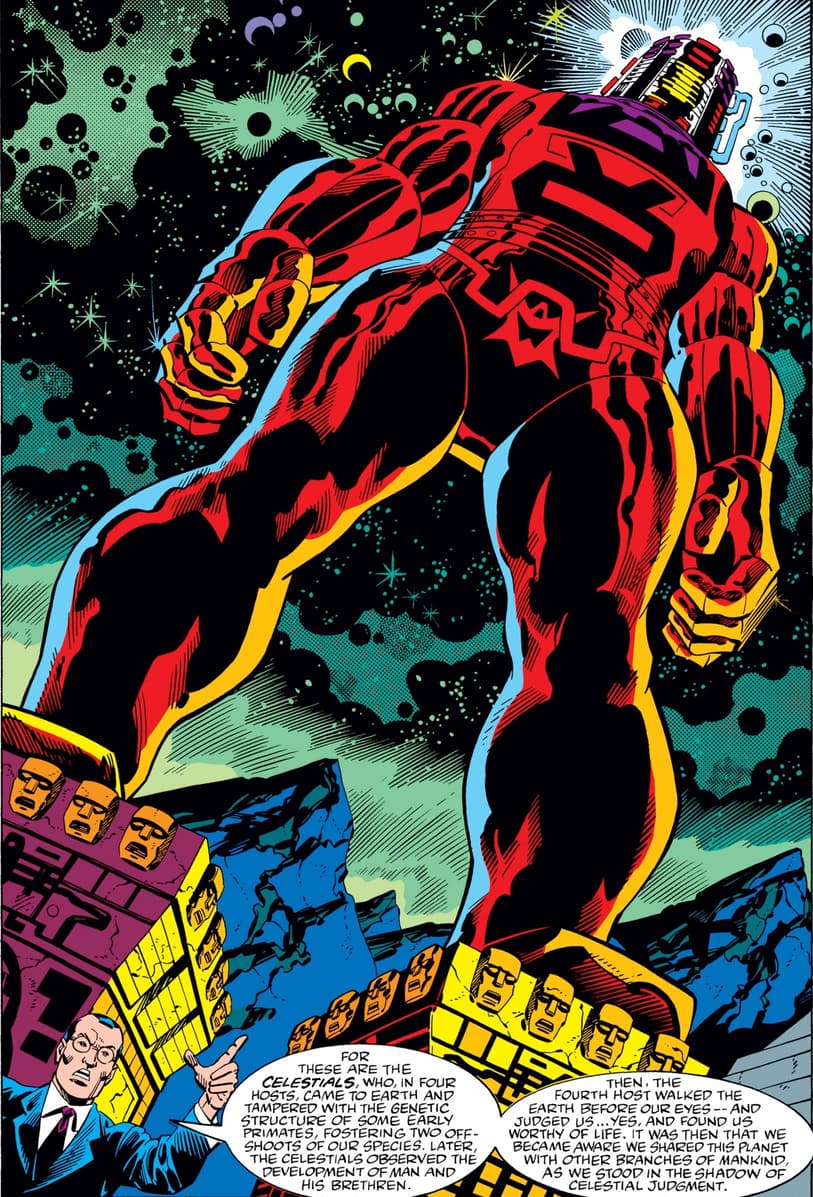 THE ETERNALS WERE ONCE HUMAN… KIND OF?
The Eternals are one of two evolutionary offshoots of humanity produced by genetic experimentation around one million years ago during the Celestials' "First Host" on Earth. Shortly after their conception, the Eternals established their own, insular society, separate from their distant relatives, the Deviants and humankind. In fact, they went out of their way to have little to do with either race for many centuries.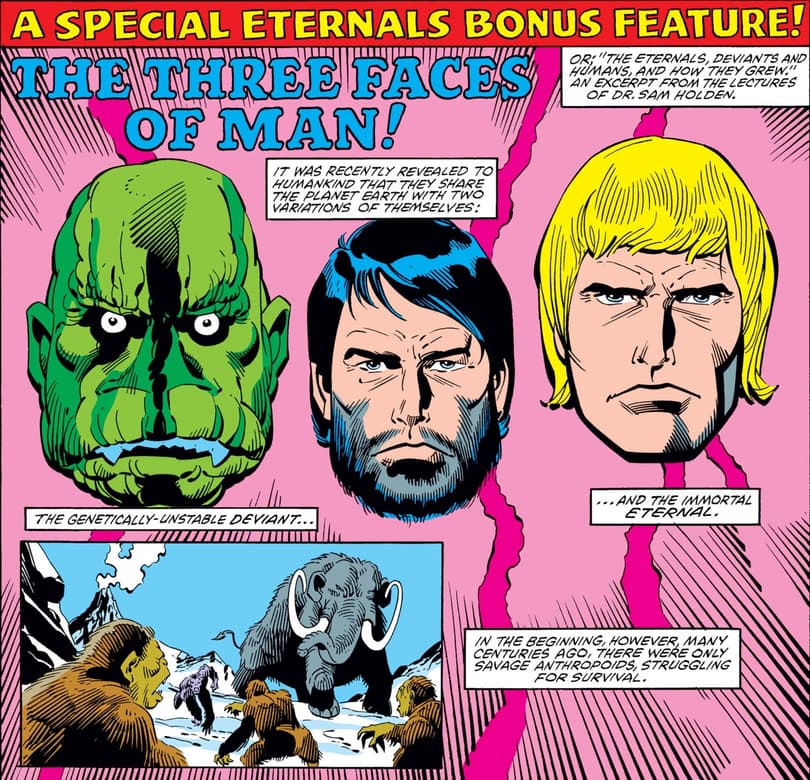 THE PRIME ETERNAL IS NOT ALWAYS A HEREDITARY ROLE
The Eternal who serves as Prime Eternal not only leads their society, but is imbued with additional powers. They can generate blue flame that will merge anyone who passes through it into a Uni-Mind, a powerful psychic entity which embodies the collective power of every individual who created it. The Uni-Mind is rarely accessible to any non-Eternal.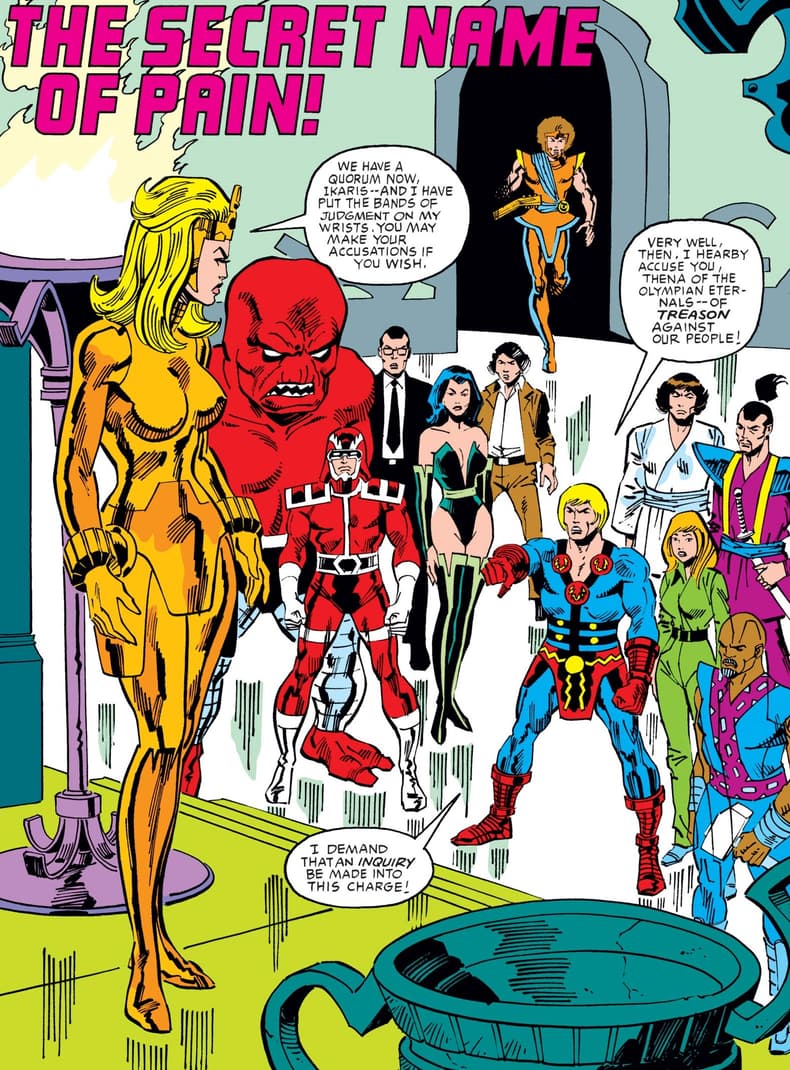 Prime Eternals have included Kronos and his son Zuras. When Zuras perished temporarily, his daughter Thena served as Prime Eternal, but this leadership position is not restricted to an inherited line of succession. In this specific run, fellow Eternal Ikaris came to believe that Thena was committing treason. He accused her, and while it was true to a certain extent (with Thena having been under the control of Deviant warlord Kro), she eventually relinquished her title to Ikaris who had no familial relation to her.
THEY KNOW HOW TO HOLD A GRUDGE
The Eternals are perpetually locked in millennium-old conflicts!
Over their immortal lives, the Eternals go up against their "less" evolved relatives, the Deviants, who believe that their "primitive" relatives, the humans, should be conquered. As such, the Deviants' threat to humanity led the Eternals to protect humankind. When the Celestials returned to Earth during the Second Host, they annihilated the Deviants' nation of Lemuria, plunging the Deviants into further conflict with the Eternals and their parent race.
Since Deviants possess an unstable genetic code resulting in mutations and powers that do not always match the abilities of the Eternals, their people have turned to science. By creating mutates and technological advances like "Brain Mines," they have gained equal footing with their rivals.
THEIR ENEMY KRO IS COMPLICATED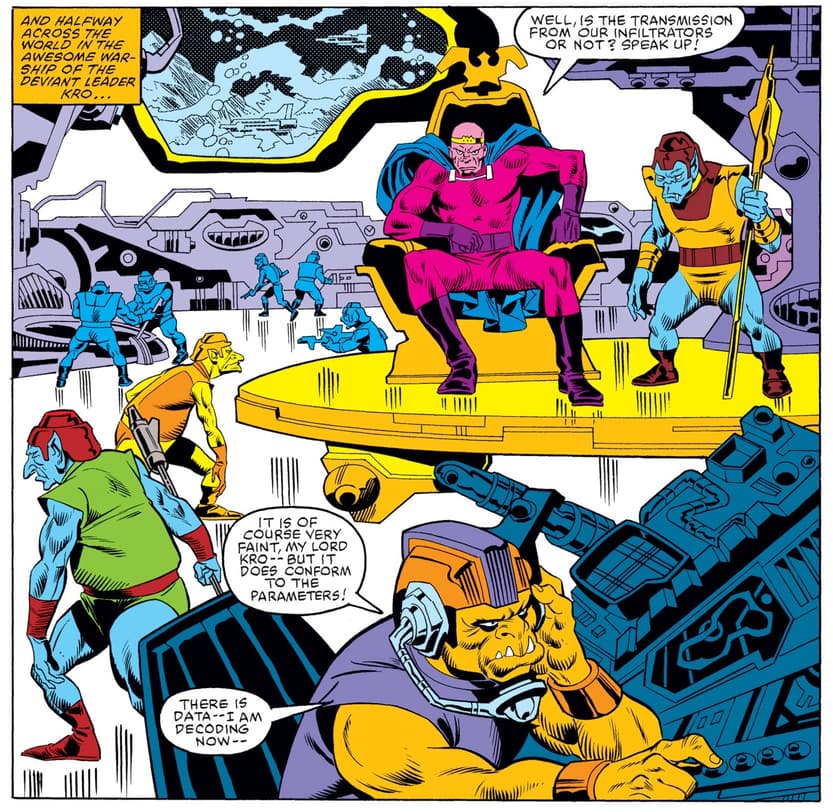 Most often, the Eternals face the Deviant threat through the machinations of the warlord Kro, who is typically controlled by Lord Ghaur, a high priest in Deviant society. When Kro tried to become sovereign and was given a crown marking Deviant rulership, one of Ghaur's guards destroyed it. The ensuing laughter from the priests created feelings of resentment in Kro, and led him to enter a tumultuous relationship with his higher-ups. Adding to Kro's internal conflict is his love for the Eternal Thena, despite using her often to fulfill his mischievous ends.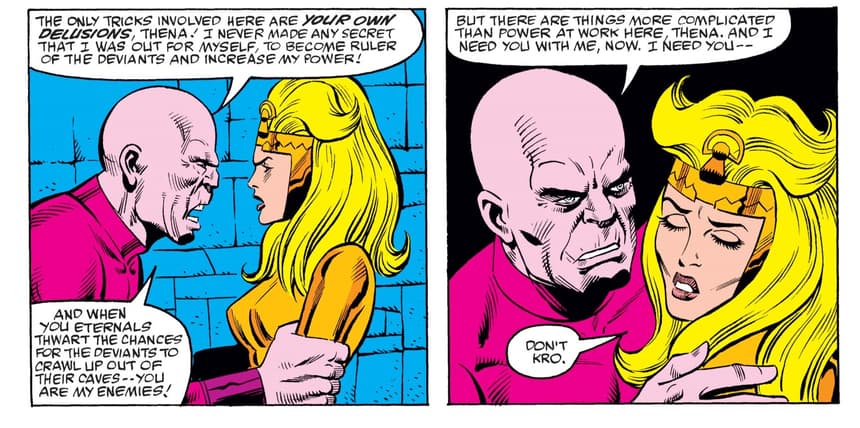 PART OF A CELESTIAL IS BURIED ON EARTH
Part of the reason the Deviants and Lord Ghaur butt heads with the Eternals is because of the vial thought to house the essence of a Celestial. Ghaur sought to obtain its powers (and succeeds), after discovering it beneath the base of a mountain on Earth.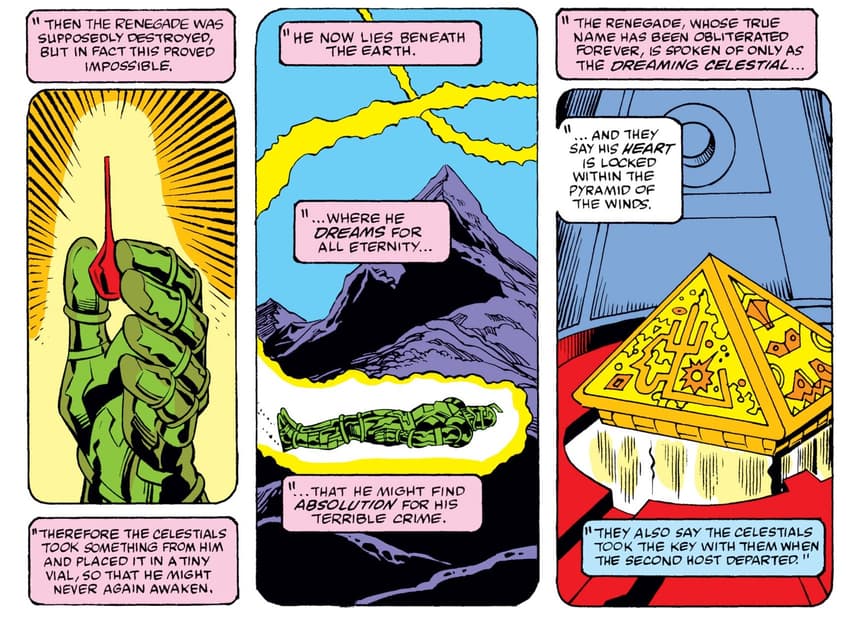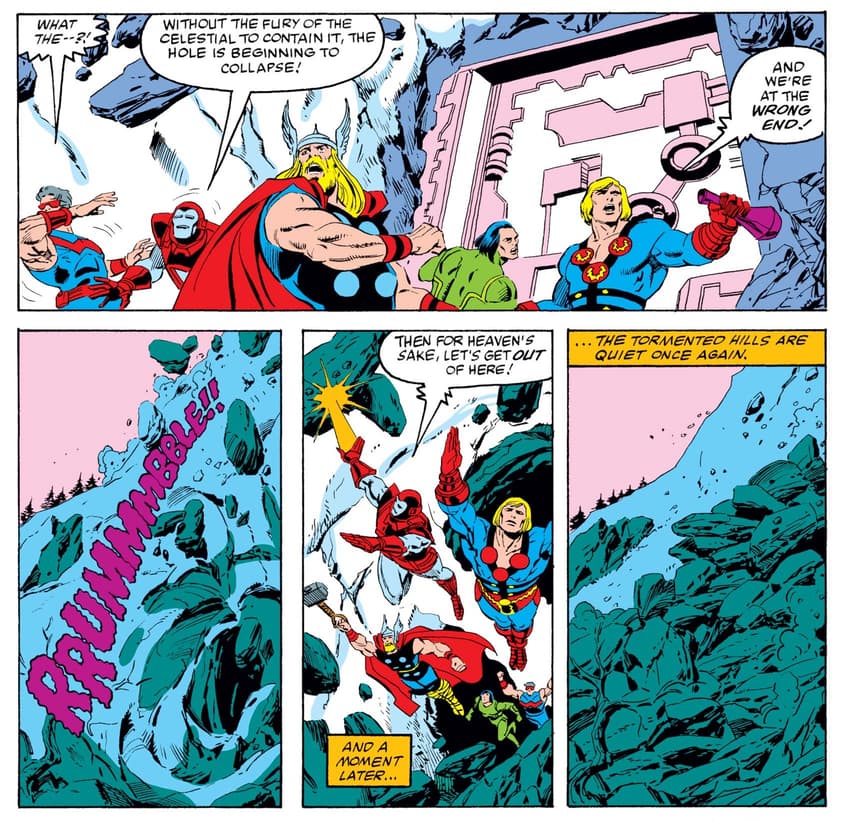 Now that you know a handful of fun tidbits about the Eternals, read their classic adventures in ETERNALS (1985) #1-12, THE HEROD FACTOR, and NEW ETERNALS: APOCALYPSE NOW!, all available on Marvel Unlimited. Or, try our Character Close-Up reading guide here!
Follow Marvel Unlimited on Twitter and Facebook to stay tuned in to weekly announcements, articles, and more, all at @MarvelUnlimited. Follow us today to join the conversation with thousands of fellow fans, and let us know what you're reading!
*Code Valid from 12/22/20 12:00 AM ET – 12/31/20 11:59 PM ET. Plus tax where applicable. Valid only for U.S. residents. Gift is valid for redemption only at marvel.com/gift. Gift is redeemable by new and former (now-cancelled) Marvel Unlimited members. Gift subscriptions do not auto-renew; gift purchaser pays a one-time fee upfront. No expiration date for gift redemption code. Terms and conditions apply; see Marvel Unlimited Subscriber Agreement.
The Hype Box
Can't-miss news and updates from across the Marvel Universe!