Comics
Published May 1, 2019
A Guide to Marvel's Mental Health Practitioners
Talk it out! Meet the therapists of the Marvel Universe!
Finding a good therapist can be hard. When you are gigantic, muscled, green, and prone to acts of massive property damage, it only gets harder. Just ask the Hulk, who was recently seen trying to open up to Doc Samson in IMMORTAL HULK. He can tell you all about it.
Don't fret though – what follows is a comprehensive guide to the therapists working in the Marvel Universe!
John Cereus (Jack Serious)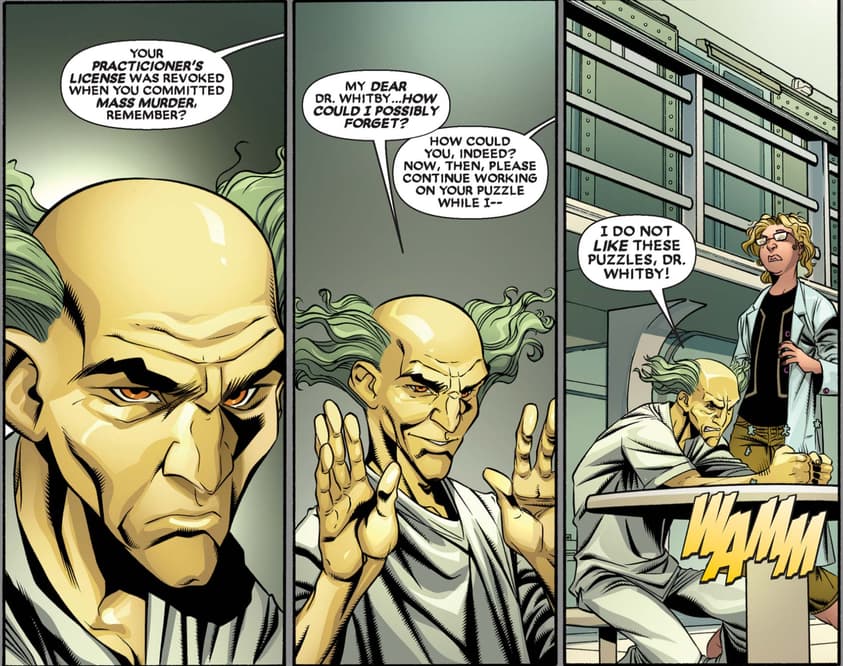 Who better to treat someone for significant mental health issues than someone who knows an asylum inside and out? John Cereus, known to fans as Jack Serious, currently lives as a resident of the Crossmore Asylum. He is so committed to helping patients, he lives among them!
For clients who prefer their therapists with some practical research experience, Dr. Cereus is also a well-known (if not well-respected) researcher who developed the now patented Serious Gas. While some have labeled it "a horrifying potion capable of causing terrible harm," Dr. Cereus is so confident about its health benefits that he used it on himself! Who doesn't want a Doctor who is willing to do everything he'll ask his clients to do? And since his license has been suspend, he is able to offer significantly less costly treatment!
Previous Contacts Who Will Provide Reference: Doctor Whitby (currently deceased), maybe Deadpool? Let's say Deadpool.
Jericho Drumm (Doctor Voodoo)

Dr. Drumm is multi-lingual and capable of practicing across a multitude of dimensions. For a more superstitious client, Drumm can verify if they are in fact possessed and take care of the demon. If the client is mistaken, Drumm can shift modes easily to a cognitive-behavioral approach. He is a double threat with years of experience. Plus if you like your therapists with a bit of bragging rights, Drumm spent some time as the Sorcerer Supreme, and there are roughly no other therapists that can claim the same.
Previous Contacts Who Will Provide Reference: The Avengers
Dr. Emmet
Faith-informed psychiatrist of non-Abrahamic religions, especially ancient Egyptian. So if that's your faith tradition, Dr. Emmet is your psychiatrist.
Previous Contacts Who Will Provide Reference: Sun King
Johann Fennhoff (Doctor Faustus)
Who wouldn't want to work with the psychiatrist who provided therapy for the likes of Captain America and Agent 13? No one! Hire the bad boy of psychiatry today!
Previous Contacts Who Will Provide Reference: Karla Sofen
Sean Garrison
Some clients can prove harder to work with than others. Sometimes, there is a language gap. Sometimes a motivation one. Regardless, Dr. Sean Garrison has the know how and additional abilities to "reach" the difficult client. Utilizing a combination of talk therapy and pheromone "treatment," Garrison has proven to deliver incredible results time and again when others fail. Some have labeled him "highly manipulative," but that sounds like sour grapes from lesser therapists. Sometimes, people are just as good as they seem.
Previous Contacts Who Will Provide Reference: Emma Frost, Kevin Ford (Wither)
Ashley Kafka
Some therapists are so dedicated they will come in on their day off. Others, like Dr. Kafka, come back from the dead for their clients. That is the kind of commitment in a therapist you deserve!
Previous Contacts Who Will Provide Reference: Spider-Man, Scarlet Spider
Rebbecca Kaplan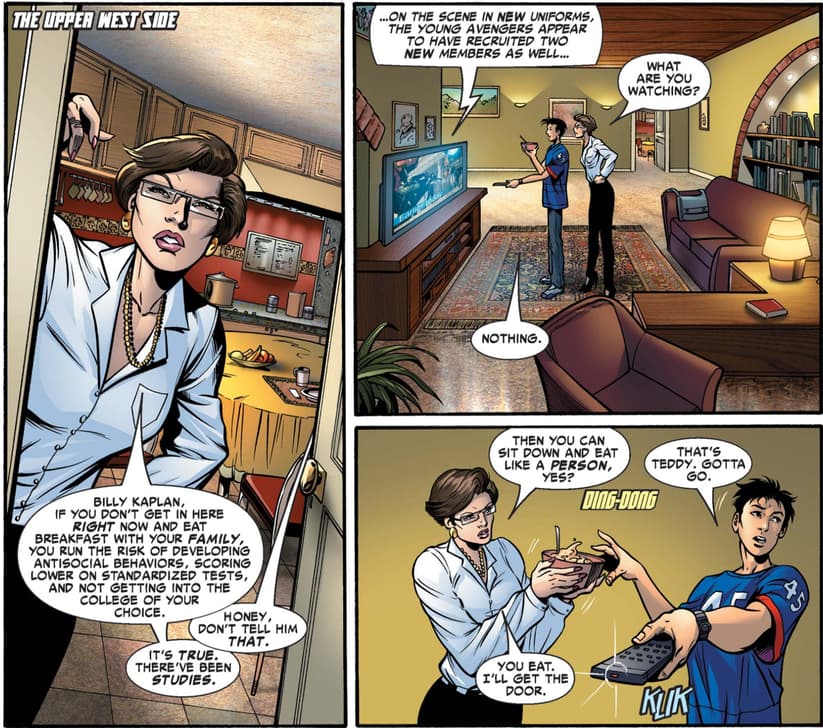 As the number of Super Heroes rises, families increasingly find themselves dealing with one or more siblings developing super powers while one or more do not. Other times, the parents have powers but their children don't. Or the kids do but their parents don't. And so on.
Dr. Kaplan understands this because she has lived it herself. She know the joys and the pains of raising a Super Hero and several other non-super powered children. She has learned how to balance the needs of being a professional with the needs of being a family woman, the needs of being a spouse with the needs of being a parent. As a result, she is an ideal family and couples therapist for mixed-powers families.
Previous Contacts Who Will Provide Reference: The Young Avengers
Gregory Salinger (Foolkiller)
Changing your life can be so hard. Even for the most motivated to change, patterns of behavior can feel impossible to break. Worse, if people around you expect you to act a certain way, they may decide you are the same person even if all your behavior indicates otherwise. Gregory Salinger, due to a misspent youth, understands how it feels to be judged based on past actions, and he knows how past actions can make you feel like you have no other choices. He is a relatively new therapist, but for people looking to leave lives of bad choices, he may be the best possible choice.
Previous Contacts Who Will Provide Reference: Spider-Man, Deadpool
Leonard Samson (Doc Samson)

No single psychiatrist of the modern era has achieved so much. His work on the Hulk alone has changed the world and the world of therapy for the better. It may have been beauty that slain the beast, but here in our world, it is Doc that soothed Hulk.
Fresh off a period of being evil, Sampson is back and anxious to prove himself. The most respected psychiatrist of a generation and more motivated than ever? Sounds like a recipe for incredible therapy to me!
Previous Contacts Who Will Provide Reference: Hulk, the United States Army, Captain Marvel
Karla Sofen (Moonstone)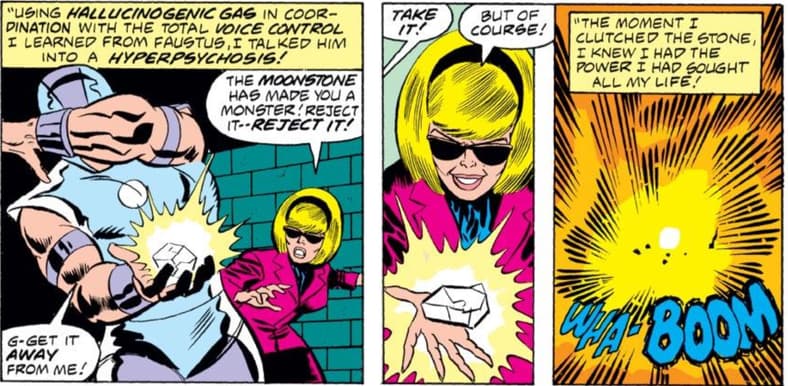 With her credentials, Dr. Karla Sofen is a one-in-a-million therapist who is nearly impossible to get an appointment with. However, if you are in her care, she promises that she will change you. No matter how strong your resistance, no matter how low your trust, Sofen will break through and you will leave very different than when you arrived.
Previous Contacts Who Will Provide Reference: Doc Sampson, Blackout, Baron Helmut Zemo, Man-Thing
Peter Spalding
Psychiatrists who will provide years of therapy rarely exist in this day and age. To do so means passing up on massive financial rewards for less work by focusing on meds. Peter Spalding, however, is exactly that kind psychiatrist.
Moreover, Spalding has not just spent his career solely working with human beings. His experience with a mix of humans and androids makes him uniquely suited to provide excellent therapy for nearly any kind of client with nearly any identity related concerns.
Previous Contacts Who Will Provide Reference: Machine Man
Andrea Sterman
A celebrity psychiatrist that still takes clients? That feels impossible, right? Well, Dr. Andrea Sterman must be impossible then!
Smart and fearless, Sterman has written at least one best-selling book, made multiple television appearances, and became the therapist in residence at the V-Battalion. Even when faced with death threats, Sterman refused to stop working.
Previous Contacts Who Will Provide Reference: Nomad, V-Battalion
Judas Traveller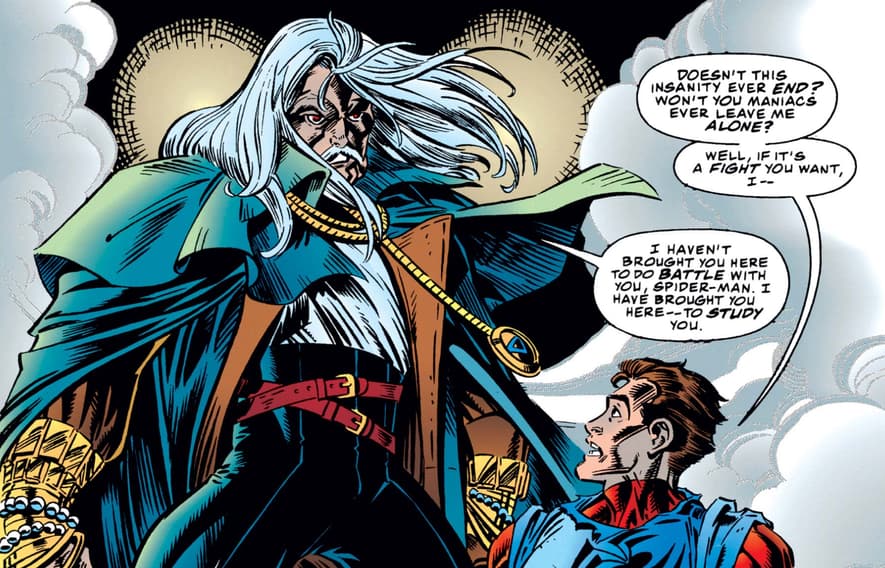 An elite doctor who prefers to run experiments than do therapy, he saves his skills for the elite and especially interesting amongst us. If you qualify to be Traveller's client, it is like joining an exclusive club of the best and brightest therapy-seeking individuals. You can feel your self-esteem increasing already, can't you?
Previous Contacts Who Will Provide Reference: Gaunt, Chakra, Doctor Kafka
Lester Verde (Doctor Bong)
Some doctors go immediately from college to grad school to practicing. But some of us prefer a therapist with a little more mileage on them, who have a bit more life in the real world in their proverbial veins. Verde has been a journalist, a professor, and a rock star! This man knows about living a well-rounded life.
Previous Contacts Who Will Provide Reference: Deadpool, Porcupine, Boomerang, Grizzly, Looter, Hippo, Mirage
Terrence Ward (Trauma)
Everyone wants the best of care, but the best of care can be so expensive. That's where therapist trainees like Mr. Ward come in. Fresh, young, and motivated, what he lacks in experience he makes up for in unlimited energy and no distractions.
Ward specializes in the treatment of phobias. His approach involves a brand-new version of flooding that academia cannot wait to study. Get in as a client now before his star rises too high!
Previous Contacts Who Will Provide Reference: Cloud 9, Penance, Mirage, Doctor Strange
Cornelius Worth
Notoriously private, Worth has long developed a reputation for handling some of the most difficult dissociative and delusional disorders with a remarkable bedside manner. If you think your pain is strong enough that you need a therapist who faced down the Void, Worth will be your doctor.
Previous Contacts Who Will Provide Reference: The Sentry
Charles Xavier (Professor X)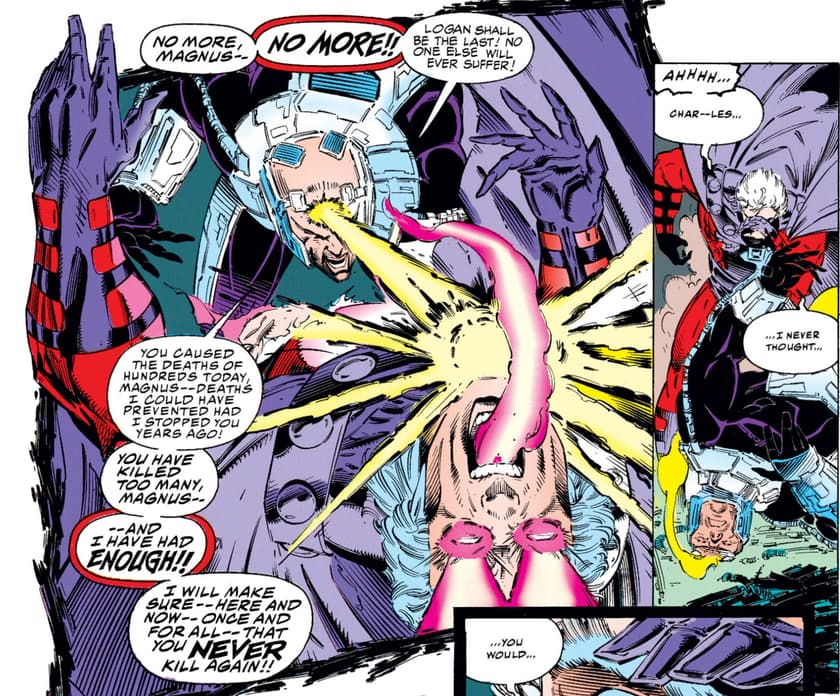 The premiere therapist for mutantkind. Professor X has taken non-mutant candidates from time to time as well, but if you are a mutant with mental health issues, there is literally no better individual on Earth to seek treatment from.
Previous Contacts Who Will Provide Reference: X-Men, X-Force, New Mutants, X-Factor, Captain Marvel
The Hype Box
Can't-miss news and updates from across the Marvel Universe!