Comics
Published August 9, 2019
"A Haunting Start": The Reviews Are in for 'Absolute Carnage' #1
See what critics are saying about the beginning of the 'Absolute Carnage' event!
ABSOLUTE CARNAGE hit the Marvel Universe this week, and it's getting the attention of comic critics everywhere! The first issue hit stands this Wednesday, treating fans to a terrifying new tome by Donny Cates and Ryan Stegman. Here's a taste of what the critics are saying:
On Comics Ground: "...[T]he art is the best I've ever seen from Stegman, [J. P]Mayer, and [Frank] Martin. Each page is filled to the brim with so much detail, and even the spaces between the panels are used to fantastic effect. ... Cates uses each page to the fullest, to the point where you never ever want to put it down. The story, much like the art, sets up the tone and dread perfectly and plays up the fears about the end being just around the corner. The threat is so great, and so astronomical, that it genuinely makes me curious as to what's gonna happen, and how it's all gonna end. Usually, with any given event, I kinda have a feel for where it's going, but with this one, I have absolutely zero clue, and that's the best thing this issue does."
AiPT!: "Equal parts heartfelt, terrifying, hilarious and hyper-violent, this first issue's narrative fine-tuning and tightness can't be dismissed. Cates writes with an urgency that heightens scenes like Carnage walking down a dark and damp prison hallway towards Eddie and Peter Parker with a hole in his chest — no heart to be found, symbiotic worms only... Primary series artist Ryan Stegman, joined by inker J. P. Mayer, colorist Frank Martin, and letterer Clayton Cowles have created one of the most visually stunning and exquisitely produced first issues, let alone event comics, I have ever seen."
ComicBook.com: "Stegman is at his absolute best in this book, mainly because Cates doesn't offer any opportunity for his partner to be locked down. Some of the ideas for these panels are so bold that Stegman has no choice but to swing for the fences and access every corner of his imagination. The result is a gritty, but surprisingly smooth ride from page to page. It's not often that flipping through a book feels this good. Donny Cates is the mad engineer to Ryan Stegman's hallucinatory conductor and one couldn't work without the other."
Newsarama: "Every single sequence has its own unique tone and goals, and the way that Cates is able to shift so seamlessly between these different modes really cements him as one of Marvel's most engaging writers right now. ...  And it's a testament to artist Ryan Stegman's endurance that he's able to pull off a 60-page opener like this without skipping a beat. ... [T]here's a level of polish and panache to this event's opening chapter that I haven't seen from the House of Ideas in quite some time. It's already my favorite event in years."
Monkeys Fighting Robots: "From the first page, the creative team of Donny Cates and Ryan Stegman exceed expectations in their delivery of an opening salvo to this ambitious comic event. ABSOLUTE CARNAGE #1 knocked it out of the park."
Comics the Gathering: "This is the best Carnage story we've had in a long time. ... ABSOLUTE CARNAGE #1 is an absolute must read. This is a creative team firing on all cylinders. I dare you to find a single panel in this book that isn't teeming with thought and care. The story has the payoff we've been waiting for but still takes time to set up new ideas going forward and keeping things interesting along the way, either through enthralling conversation or symbiotic madness. All of it, tied together by brutally intense visuals."
IGN: ABSOLUTE CARNAGE is a crossover event that ticks a great many boxes. It taps into the nostalgia of the symbiote-heavy '90s Spider-Man comics while also telling a clear, purposeful story about Spider-Man and Venom confronting a shared enemy. ... [T]he haunting visuals and foreboding conflict are more than enough to sell this story."
CBR.com: "... [A] mounting sense of terror and dread is fueled by Stegman, joined with inker J. P. Mayer and color artist Frank Martin. The art team is delivering career-defining work here, with moody visuals where every shadow and darkened alley feel menacing. ... From Stegman, Mayer, and Martin's atmospheric, delightfully spooky art to Cates' spellbinding script grounded with a surprising amount of emotion for its lead, ABSOLUTE CARNAGE is sure to be one of Marvel's most terrifying events in years."
Laughing Place: "Writer Donny Cates has a great handle on Eddie Brock and the dynamic between him and his symbiote. He has also taken the seemingly unbeatable pairing of Venom and Spider-Man and given them a foe that makes their situation seem unwinnable. ... On top of the excellent story, this comic includes some fantastic art. Artist Ryan Stegman has created some amazing visuals, including some truly horrifying monsters. Also, the constant red tint on just about every page is a reminder of the powerful threat of Carnage."
Comic Watch: "The inclusion of multiple elements from Cates' critically acclaimed VENOM run both interest and delight me and the inclusion of the Maker as a less moral alternative to Reed Richards makes such sense in the worst kind of way. ... The art by Ryan Stegman ... J. P. Mayer, and Frank Martin is GREAT. It's dark and scratchy and evil but so dang cool, the character design for Carnage is great and the action is awesome but the art shines equally in interactions like the diner, emotion is conveyed amazingly for a character with no visible facial features and Spidey just looks so dang good!
See what these raving writers are talking about and pick up your copy of ABSOLUTE CARNAGE #1 by Donny Cates and Ryan Stegman! Get it online or at your local comic shop today!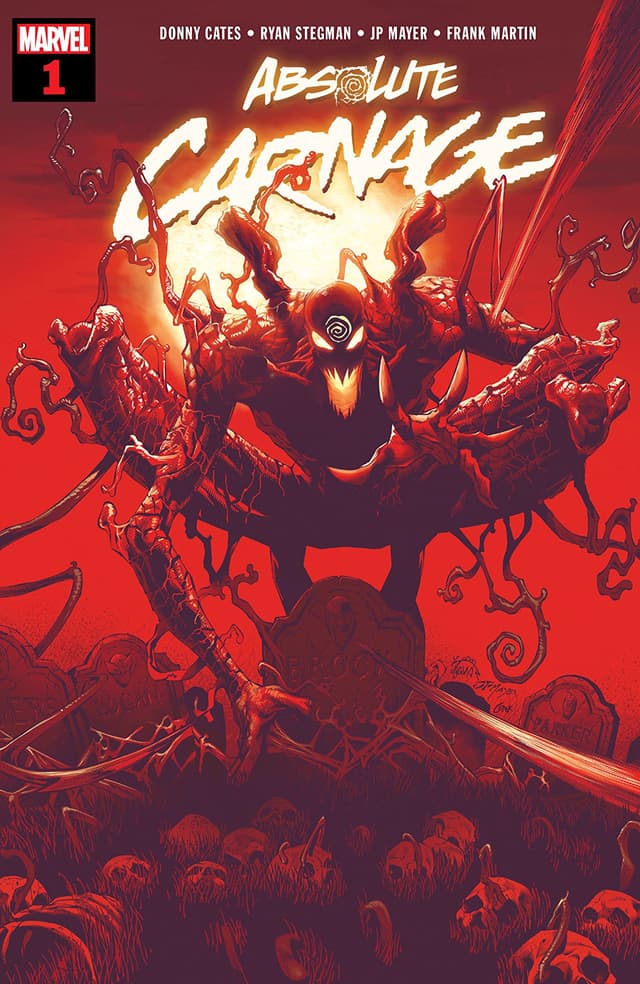 The Hype Box
Can't-miss news and updates from across the Marvel Universe!