Comics
Published April 10, 2017
Wolverine's 7 Greatest Costumes
Seven classic costumes worn by both Laura and Logan.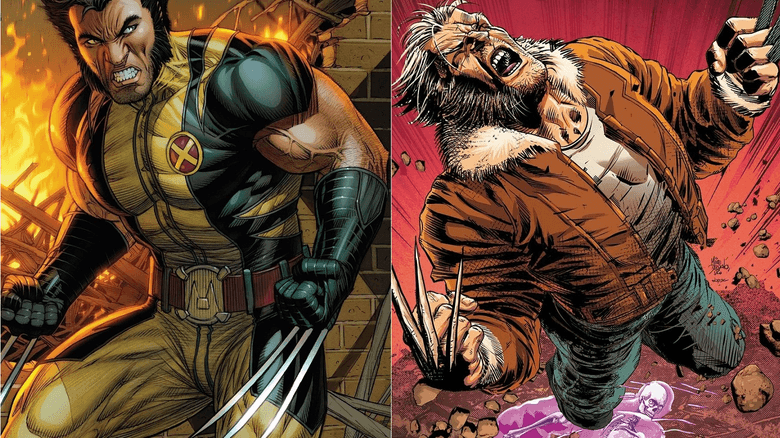 Take a look back at some classic costumes worn by both Laura and Logan over the course of their careers.
Classic Yellow
Nothing says "Wolverine" like a classic yellow-and-blue outfit, and lately Laura has honored her late father and mentor by wearing a costume similar to the one he sported for a good portion of his career. The original Wolverine debuted in the pages of INCREDIBLE HULK in 1974 with a canary-colored costume that sported shorter ears and whiskers. Over the years it would evolve based on the situation or the artist's interpretation, from Gil Kane's rendition on the cover of GIANT-SIZE X-MEN #1 to Jim Lee's reintroduction of the suit in 1992 to "nose-less Wolverine" circa 1996 to John Cassaday's ASTONISHING X-MEN run.
Brown and Tan
In UNCANNY X-MEN #139, John Byrne introduced a new version of Wolverine's costume. While it retained the basic design from the mask down to the boots, Byrne opted for a different color scheme, and the yellow and blue became brown and tan. When Laura joined the ALL-NEW X-MEN series, she sported a costume that was a similar design to her teammates, but featured brown and tan accents. Perhaps that served as a small tip of the claw to Byrne's design.
Fang!
In 1977, Chris Claremont and Dave Cockrum introduced Fang, a member of the Imperial Guard who had a feral black-and-tan costume lined with small teeth and skulls. During a battle with the Shi'Ar, Wolverine took down Fang, then stole his costume to help him sneak up on the rest of their adversaries. While short-lived, the costume became iconic enough that Laura, as X-23, once wore it as well.
Basic Black
When she debuted, X-23 wore a "basic black" outfit, and the color became a staple of her wardrobe over the years. A black two-piece, in fact, became arguably her most iconic outfit. No stranger to black himself, Logan wore a pitch-colored suit back when his solo ongoing series debuted in 1988, as a member of Team X, and then in 2001 when artist Frank Quitely outfitted all the X-Men in leather gear.
X-Force Grey and Black
Both Logan and Laura served as members of X-Force circa 2008, and like the rest of team, traded their regular costumes for the stealthy X-Force grey-and-black versions. Laura would continue to wear a variant of this costume even after leaving the ranks of X-Force, in the solo X-23 title.
Original X
The original X-Men started their careers in the traditional yellow-and-black outfits that became a staple of Professor X's school. Like many other mutants who roamed those halls, both Logan and Laura have worn a version of that costume during their careers. The original Wolverine wore it most notably in the early 1990s, as drawn by Jim Lee, while his clone sported a version in NEW X-MEN with her own flair: gigantic gauntlets and armored boots!
Old Man Look
Several times we've seen Logan in his "old man" look—starting with the iconic "Days of Future Past" storyline, where older versions of the X-Men fought a losing battle against the Sentinels. The jacket-wearing hero met his end while facing down the robotic enemy.
In OLD MAN LOGAN, our aged hero once again faces a different set of impossible odds, and his grizzled look matches the landscape of the broken Marvel Universe he originally came from.
The Hype Box
Can't-miss news and updates from across the Marvel Universe!