Comics
Published June 13, 2023
The Many Deaths of Rick Jones
The super-powered sidekick is back for a new interdimensional adventure in anthology series 'Avengers Unlimited'!
Have you tried Marvel Unlimited yet? It's your all-access pass to over 30,000 Marvel comics at your fingertips. Sign up today and get one year for just $5 a month!
Created by Stan Lee and Jack Kirby, Rick Jones debuted in INCREDIBLE HULK (1962) #1 and has been a major character in the Marvel Universe for decades. Like so many heroes, Jones has had more than his fair share of brushes with death, having both died and nearly died on numerous occasions. With Jones' return to the super hero scene in the latest arc of Infinity Comics anthology series AVENGERS UNLIMITED, we're breaking down the sidekick's history with death!
THANOS CAUSED RICK JONES' FIRST REAL DEATH
In his early years, Jones was no stranger to danger, serving as a sidekick to several major characters, most notably Bruce Banner, AKA the Hulk, and Captain Marvel, Mar-Vell. That led to a lot of dangerous situations for the young hero, and several prominent near misses. At one point, for example, Jones got diagnosed with cancer and seemed likely to die. In the end, though, cosmic being the Beyonder saved him.
Jones' ability to dodge death finally failed him in INFINITY GAUNTLET (1991) #1. That landmark series saw Thanos successfully gathering the Infinity Stones and using them in the comic's titular weapon to wipe out half the life in the universe in the hope of impressing the personification of Death. Jones was among those that died in the event. After his resurrection, the hero revealed he'd seen rock 'n' roll icon Elvis Presley in his brief afterlife. Still, despite his return, that first death set the stage for some prominent demises in the future, and a particularly odd relationship with Death herself.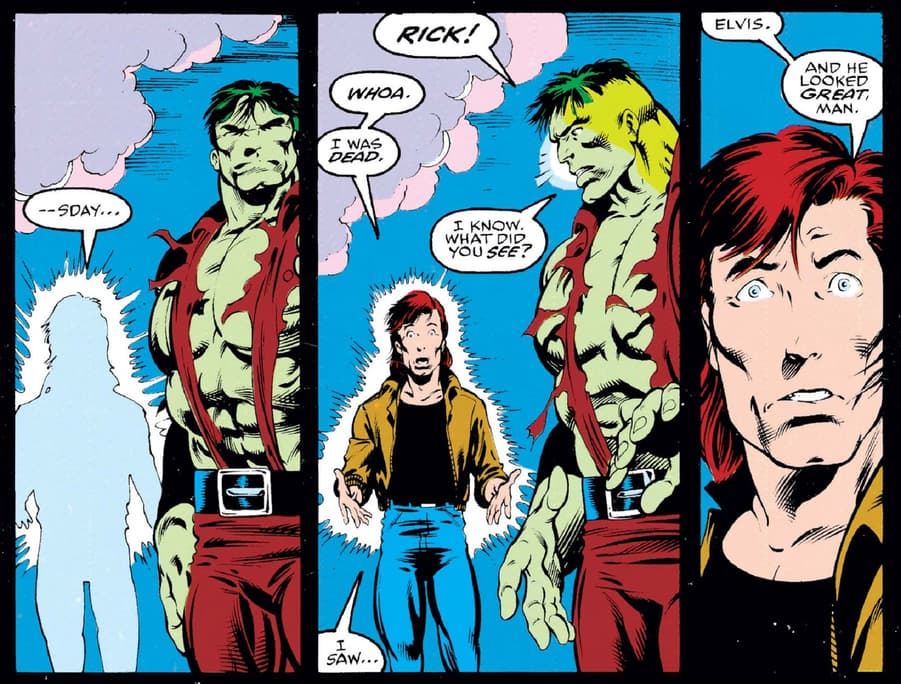 JONES TAKES HIS RELATIONSHIP WITH DEATH TO THE NEXT LEVEL
On the heels of INFINITY GAUNTLET's end, Jones played a key role in the HULK: FUTURE IMPERFECT (1992) storyline. In that two-issue series, Hulk ended up in the far future, where he was forced to take on Maestro, an evil older version of himself ruling over a post-apocalyptic Earth. An older version of Jones played a key role in HULK: FUTURE IMPERFECT, and the character even died at the hands of Maestro, resulting in the character's second death in an incredibly short time span.  
As for the regular version of Jones on Earth-616, the character continued to cheat death and played a key role in several major events. One of the most prominent examples being AVENGERS FOREVER (1998), which pulled him into a struggle between different versions of Kang the Conqueror and the incredibly powerful Time-Keepers.
The oddest part of this era for Jones, though, was that he ended up married to Death—literally. In INCREDIBLE HULK (1962) #398, a woman named Jackie Shorr murdered Marlo Chandler, Jones' girlfriend at the time. In response, Jones found a way to resurrect Chandler, and the two later married. However, unbeknownst to Jones, Chandler had become a host for Death. Their relationship proved rocky, and they eventually broke up, but Jones was still, for a time, technically married to the personification of death.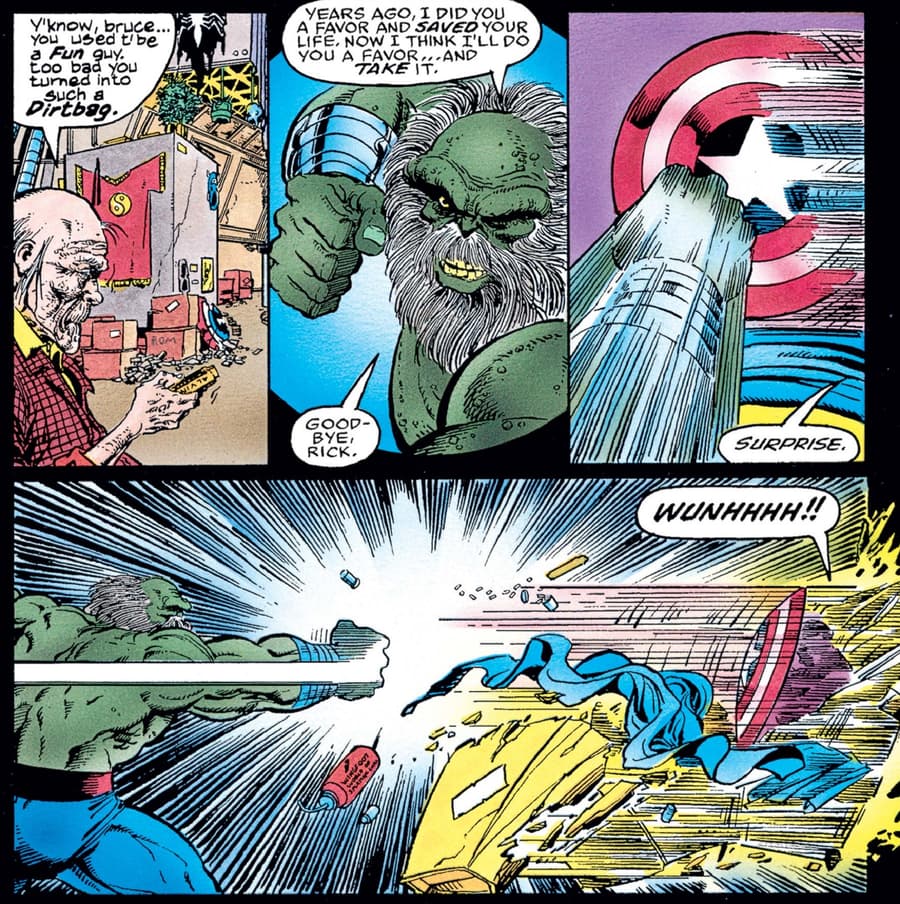 RICK JONES' BIGGEST DEATH: SECRET EMPIRE
Jones' most recent death came in the pages of SECRET EMPIRE (2017), an event that saw an evil version of Steve Rogers, AKA Captain America, and Hydra taking control of the United States and installing a totalitarian dictatorship. Prior to the start of the series, Jones had become an activist hacker known as the Whisperer. At the start of the event, Jones tried to expose the truth about this evil Captain America. Hydra caught Jones and executed him via firing squad, with his last words being "Avengers Assemble!" This time around, Jones' death wasn't something that could easily be undone.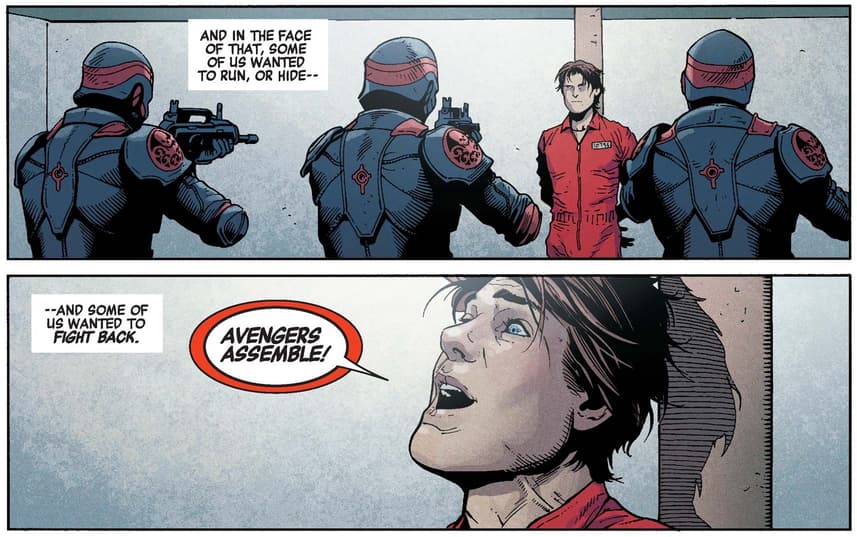 Not one to stay dead for long, Jones' next resurrection came quickly but brought with it a truly monstrous turn for the character. IMMORTAL HULK (2018) #17 revealed that the United States Hulk Operations, AKA Shadow Base, dug Jones' body up following SECRET EMPIRE and began experimenting on him with gamma radiation. This resulted in him turning into a creature resembling A-Bomb, a gargantuan transformation he was able to access following WORLD WAR HULK (2007).
As this new creature, Jones fought against the Hulk as part of a plan to destroy the Green Goliath once and for all. Readers also later learned that Jones had been fused with a college student named Del Frye, who'd been subject to gamma experimentation himself. Luckily, in the pages of GAMMA FLIGHT (2021), the two finally unmerged, leaving Jones free and clear again, his longest battle yet with death finally won.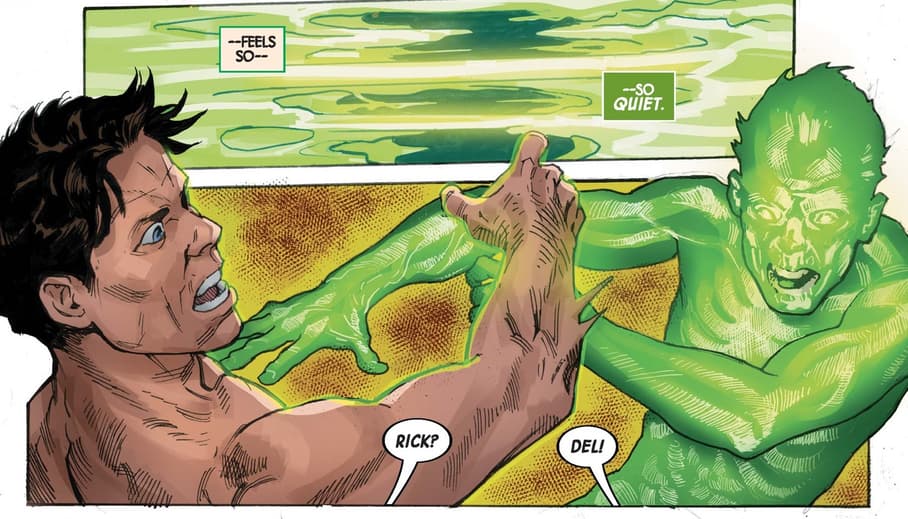 Want to find out more? Explore over 30,000+ comics on Marvel Unlimited today!
Grab these comics and more at your local comic book shop! Or redeem then read your digital copy on the Marvel Unlimited app by using the code found in your print comic. Find and support your local comic book shop at ComicShopLocator.com.

To read your Marvel comics digitally, download the Marvel Unlimited app for iOS and Android devices. Gain an expansive catalog of 30,000+ comics spanning Marvel Comics history, plus access your entire digital library including comics redeemed from print. 
The Hype Box
Can't-miss news and updates from across the Marvel Universe!