Comics
Published October 16, 2020
'The Amazing Spider-Man' #50 Brings Kindred Out of the Shadows
Has the mystery of Kindred's identity finally been solved?
WARNING! THIS ARTICLE CONTAINS SPOILERS FOR THE AMAZING SPIDER-MAN #50, SO READ ON AT YOUR OWN RISK, TRUE BELIEVERS!
Ever since THE AMAZING SPIDER-MAN #1 debuted two years ago, fans have been riveted by the mystery of the demonic Kindred. Who is the enigmatic being who could make the Kingpin bow before him? Who has the power over life and death to resurrect both Mysterio and Sin-Eater? And why does he have such an immense grudge against both Peter Parker and Norman Osborn?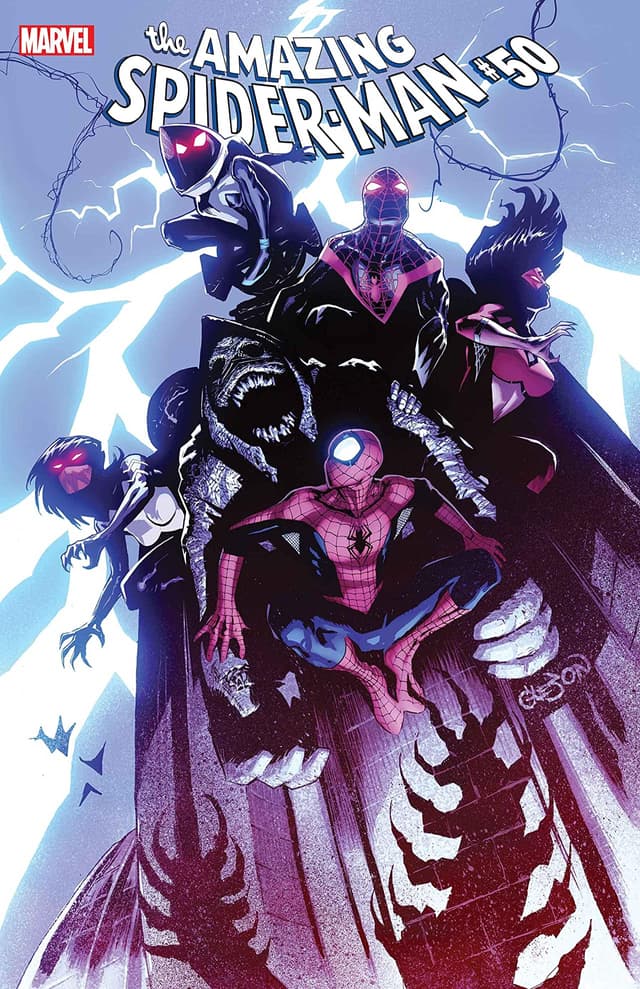 In this week's THE AMAZING SPIDER-MAN #50, Nick Spencer and artist Patrick Gleason have seemingly revealed the identity of the demon. Or have they? For now, we only have the word of a madman.
Last issue, Peter briefly teamed up with Norman to keep the Sin-Eater from "cleansing" the Green Goblin's sins and stealing his power. However, Norman pushed Peter too far when he recognized Ghost-Spider as an alternate Gwen Stacy. In a fit of rage, Peter left Norman behind. That mistake may have cost both of them dearly. When faced with the business-end of Sin-Eater's gun, Norman once again intimated that he knows who Kindred really is. He even offered to make an alliance with Sin-Eater, but to no avail. Sin-Eater killed Norman and absorbed the Green Goblin's essence.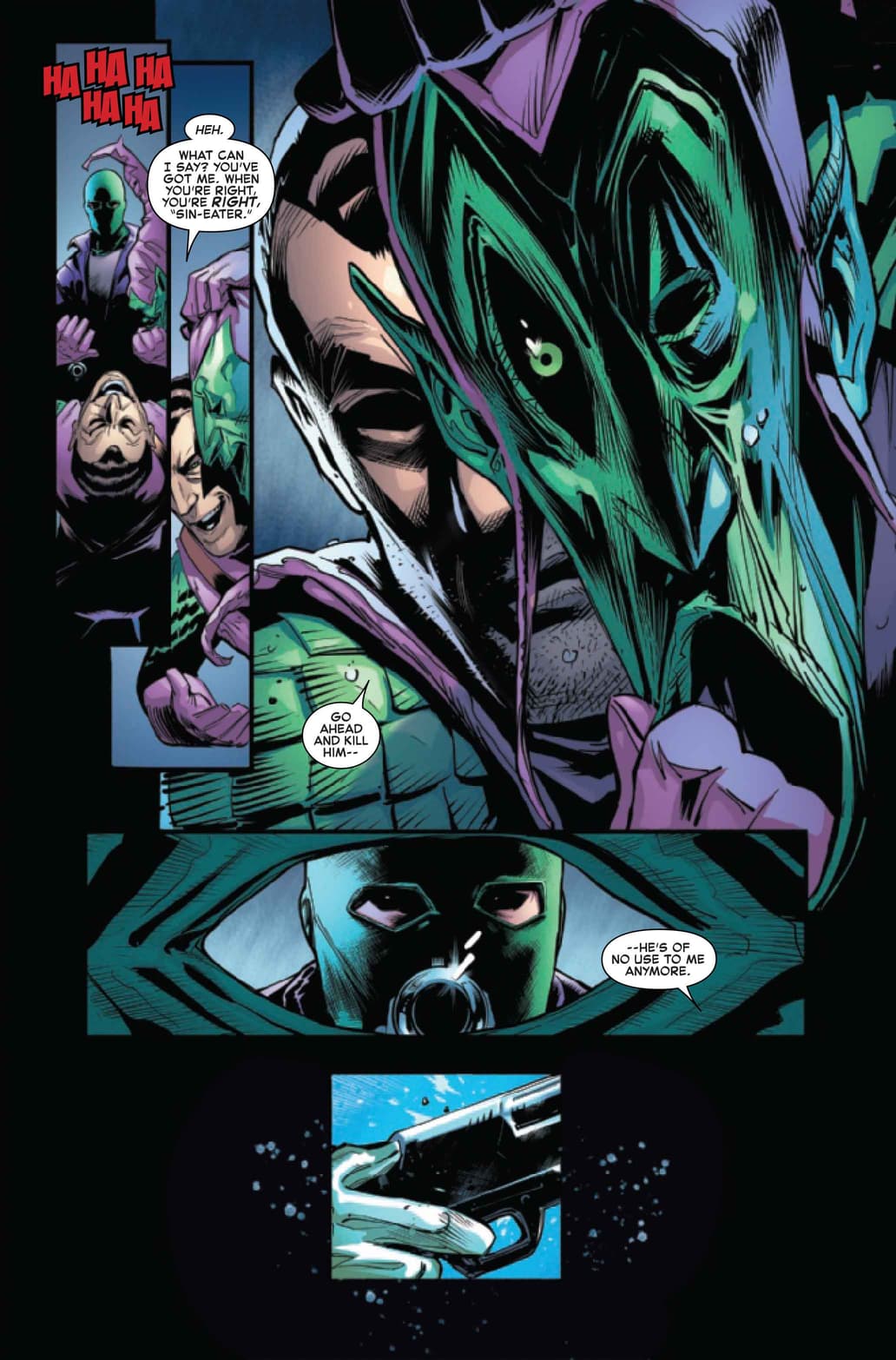 Following that, Kindred couldn't resist revealing how he had manipulated Sin-Eater for his own purposes. He took the stolen sins from Stanley Carter and cast the Sin-Eater back to his eternal damnation. But Kindred's goal was achieved, and he was able to become even more powerful. With his enhanced abilities, Kindred attacked Spider-Man and the Order of the Web. In his wake, Kindred possessed Miles Morales, Jessica Drew AKA Spider-Woman, Cindy Moon AKA Silk, Gwen Stacy, Julia Carpenter AKA Arachne, and Anya Corazon AKA Spider-Girl. That forced a beaten and battered Peter to turn to Doctor Strange for help in his Sanctum Santorum. But that respite didn't last long before Silk attacked both of them.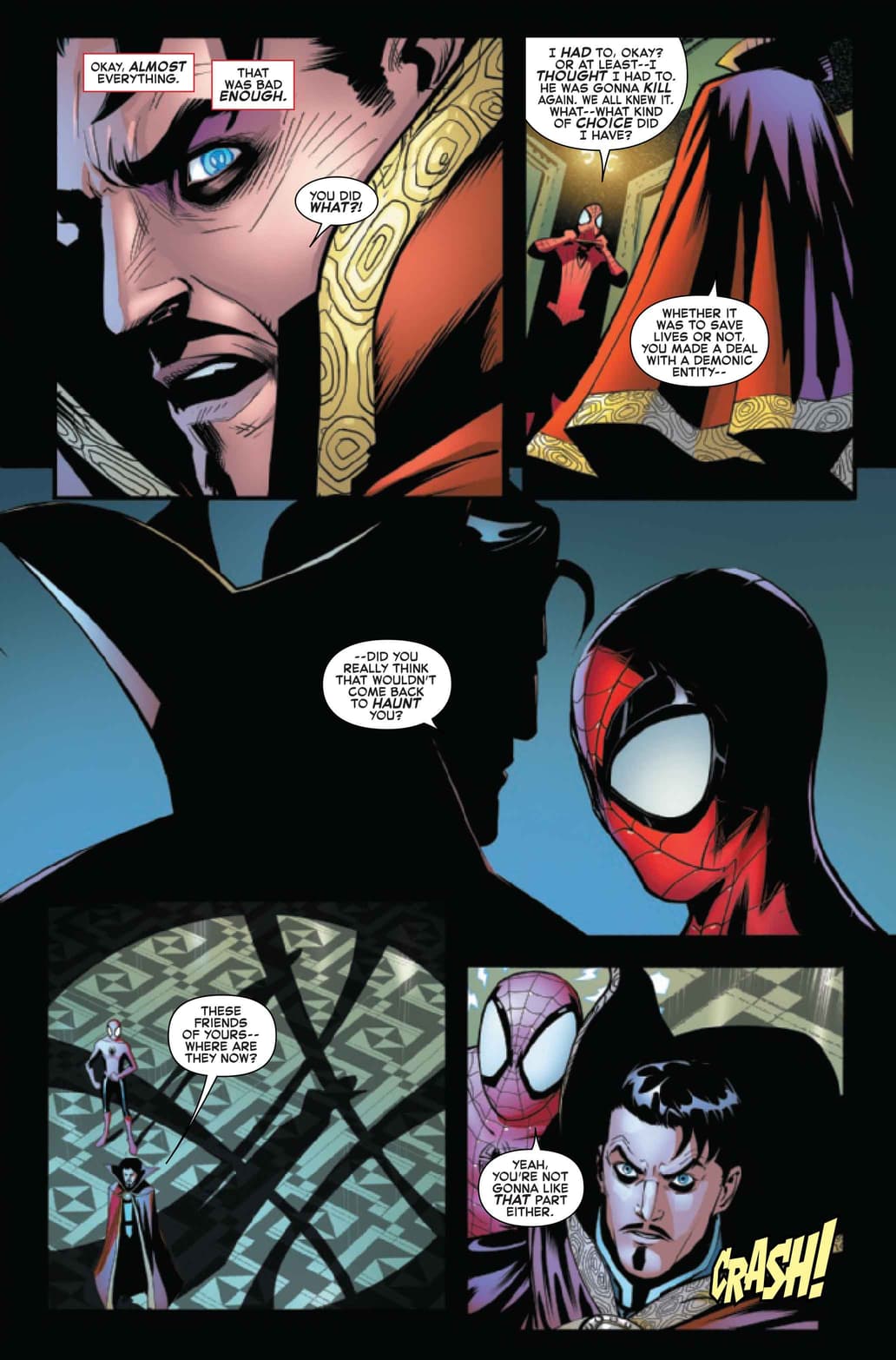 Meanwhile, Norman cheated death one more time and he seemingly emerged as a new and remorseful man. He also dropped the bombshell about Kindred's true identity. According to Norman, Kindred is his son.
Does that mean that Kindred is really Harry Osborn? You'll have to keep reading THE AMAZING SPIDER-MAN to find out!
"Last Remains" will continue in THE AMAZING SPIDER-MAN #51!
THE AMAZING SPIDER-MAN #50, written by Nick Spencer with art by Patrick Gleason, is on sale now at your local comic shop and digitally!
Be sure to ask your local comic book shop about their current business policies to observe social distancing or other services they may offer, including holding or creating pull lists, curbside pick-ups, special deliveries and other options to accommodate. Find and support your local comic book shop at http://comicshoplocator.com or by visiting http://marvel.com/lovecomicshops.
For digital comics, all purchases in the Marvel Comics app can be read on iPhone®, iPad® and select Android™ devices! Our smart-paneling feature provides an intuitive reader experience, ideal for all types of mobile device and tablet users!
The Hype Box
Can't-miss news and updates from across the Marvel Universe!