Comics
Published October 14, 2020
Kindred Spirits: Who Is Affected by Spider-Man's Latest Foe?
See how Kindred's hands have been stirring almost every pot in Spidey's kitchen!
Back in the 1990s, pro-wrestler Ric Flair took on the persona of "The Black Scorpion" to get in the head and ruin the career of his arch-rival, Sting. Similar things are happening in the Marvel Universe as the unknown Kindred is finally ready to reveal their plan against Peter Parker AKA Spider-Man. 
While we don't know who Kindred is, we know they are someone from Spider-Man's past. We also know they have been working behind the scenes throughout Nick Spencer's run on THE AMAZING SPIDER-MAN, manipulating and controlling various Spider-friends and enemies to further their plan. Before Kindred's plot comes to its fruition, let's catch everyone up on just whose strings Kindred has been pulling.
Mysterio
Quentin Beck AKA Mysterio was our introduction to Kindred, who has been in the Master of Illusion's head since THE AMAZING SPIDER-MAN #1. Mysterio was committed to Ravencroft, where he switched places with his psychiatrist to escape Kindred's grasp. It didn't work, and now this unknown demon has their grip tighter around Quentin Beck's proverbial throat. As part of their plan, Kindred had Mysterio lure Mary Jane Watson to the other side of the country under the guise of a famous Hollywood filmmaker, leaving Peter all alone.
Mendel Stromm
Mendel Stromm was once Norman Osborn's right-hand man but was jealous Osborn would always get the Super Villain cred. He thought he finally had his chance when he acquired technology that allowed him to control an army of Tri-Sentinels. It turns out that Kindred provided that tech. Stromm's usefulness to Kindred came to an end, so the centipede-like creatures Kindred controls tore Stromm to shreds.
The Kingpin
Much like the classic Andre the Giant vs. Hulk Hogan match at Wrestlemania III, this was an example of "the Unstoppable Force meeting the Immovable Object." When it comes to acquiring and maintaining power, no one does it better than Wilson Fisk AKA the Kingpin.
For months, Fisk attempted to capture Spider-Man's roommate Boomerang, who has the Lifeline Tablet's location locked in his head. Fisk was willing to do anything and hurt anyone to get what he wanted. Kindred was okay with this – as long as Fisk didn't touch "the roommate," Peter Parker. They even went so far as to force Fisk to his knees to make sure he knew the severity of the situation. 
Black Cat
While Kindred didn't directly interact with Felicia Hardy AKA Black Cat, they finally showed some cracks in the armor. They showed their anger when Peter revealed his identity to Felicia a second time following their adventure against the Thieves Guild. Kindred didn't want more people dragged into their conflict, but it was too late…
Mary Jane Watson
If Kindred wanted to hit Peter where it hurt, there are two people they would go after: Aunt May and Mary Jane. Throughout the series, Mary Jane's demise at Kindred's hands has been a tease through a series of recurring dreams Peter experienced. Regardless of what Kindred's endgame is, it looks like Mary Jane will be at the center of it all.
Norman Osborn
If Peter Parker is at the top of Kindred's "I hate you" list, Norman Osborn seems to be a close second. For a reason still unknown, Kindred has a disdain for the Green Goblin. When visiting Norman's cell at Ravencroft, Kindred gloats about how they'll be able the deliver the crushing blow to Spider-Man that Norman never could. Once again, an enigma in the world of all things Spider-Man, Norman tells Kindred he is proud of them, implying he knows the demon's true identity.
Sin-Eater
Stanley Carter was a police officer for the NYPD who had a mental breakdown, causing him to take on the identity of the Sin-Eater, a serial killer who murdered in the name of cleansing the world of those who have committed sins. Unfortunately, his definition of a "sinner" was very skewed, causing the death of many innocents, including Spider-Man's friend, police captain Jean DeWolff. 
After taking his own life, Carter was resurrected by Kindred and began a war with Spider-Man, the moral ambiguities of which have once again questioned the idea that "with great power comes great responsibility." It has put Spider-Man on a path that requires him to not only protect Norman Osborn, his greatest foe, but to be at odds with the rest of the Marvel Universe's "Spiders." 
For the last two years, Kindred has been lurking in the shadows, making sure everyone in Spider-Man's life, good or bad, is at the right place at the right time. When it comes time for Kindred to finally make their move, we can only hope the wall-crawler will be ready.
THE AMAZING SPIDER-MAN #50, written by Nick Spencer with art by Patrick Gleason, is on sale now at your local comic shop and digitally!
Be sure to ask your local comic book shop about their current business policies to observe social distancing or other services they may offer, including holding or creating pull lists, curbside pick-ups, special deliveries and other options to accommodate. Find and support your local comic book shop at http://comicshoplocator.com or by visiting http://marvel.com/lovecomicshops.
For digital comics, all purchases in the Marvel Comics app can be read on iPhone®, iPad® and select Android™ devices! Our smart-paneling feature provides an intuitive reader experience, ideal for all types of mobile device and tablet users!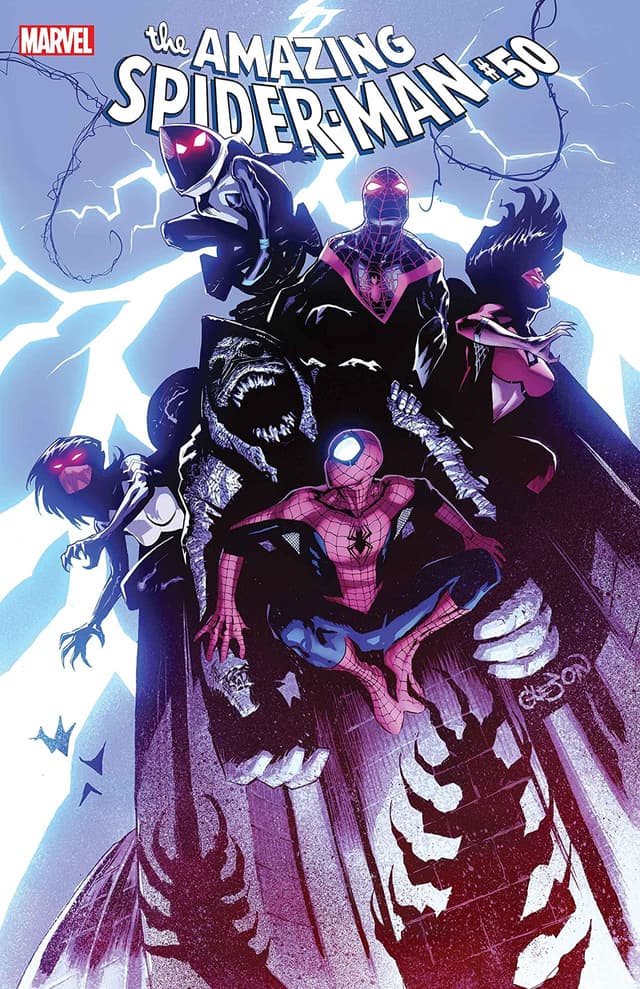 The Hype Box
Can't-miss news and updates from across the Marvel Universe!