Comics
Published June 28, 2019
Illustrator Andrew Kolb On His Love of Spidey, His Art Style, and 'Spider-Man: Far From Home'
'Spider-Man: Far From Home: Spider-Man Swings Through Europe' from Calliope Glass and Andrew Kolb is available now!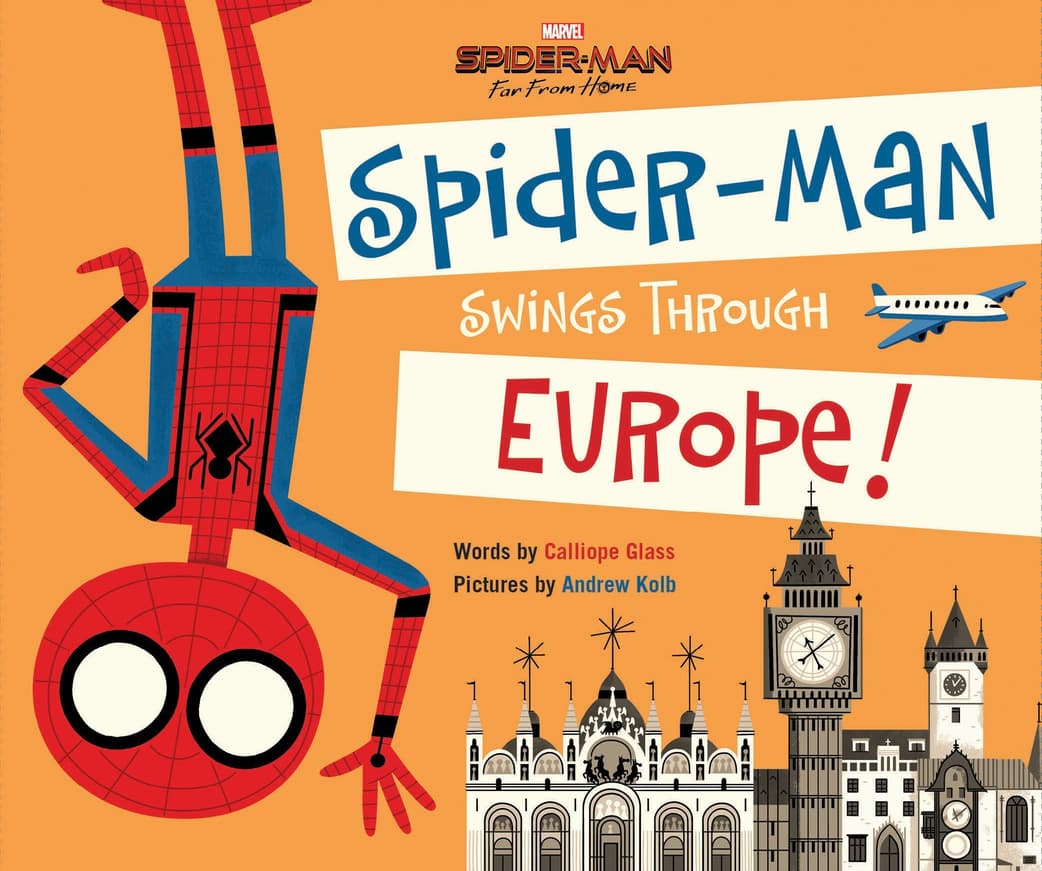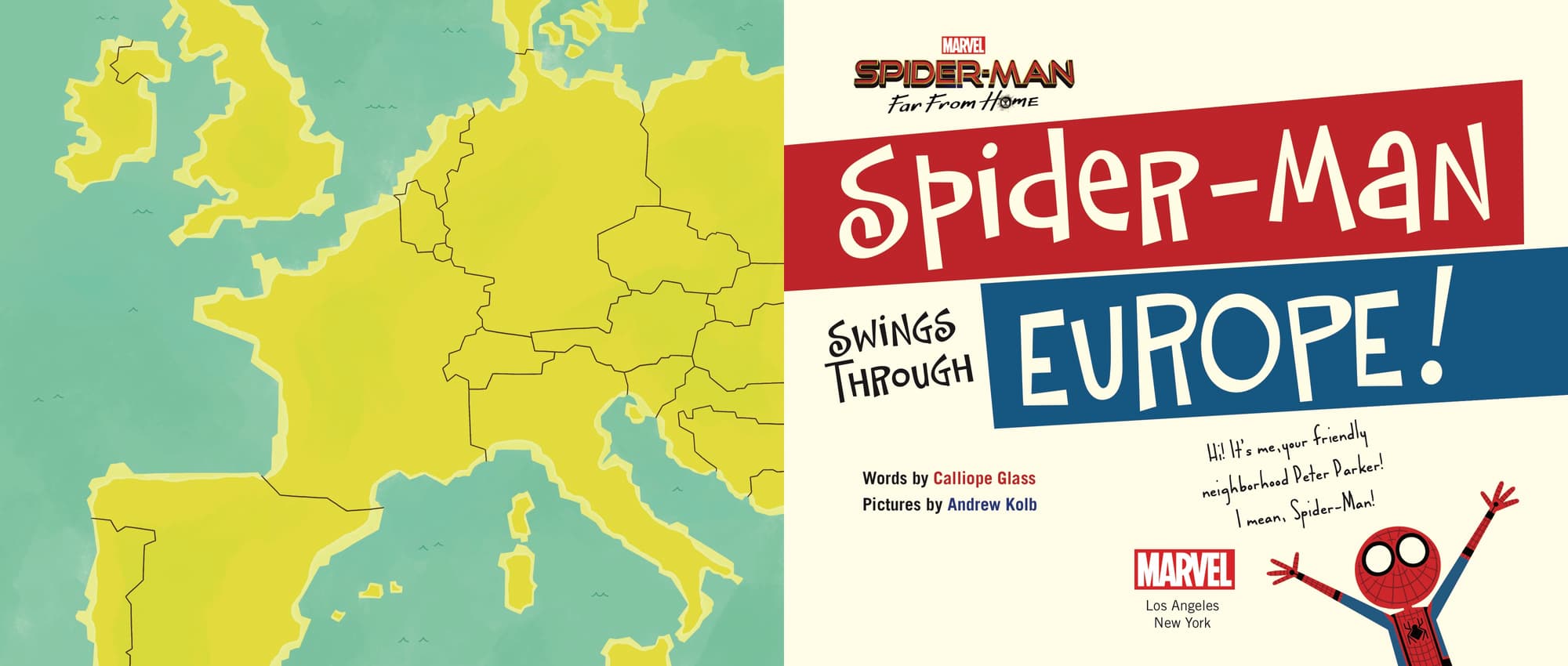 Marvel.com: I've been following you for years; you were one of my first few follows on Twitter and I was stoked to learn you illustrated "Spider-Man Swings Through Europe!"
Andrew Kolb: Oh that's great! Thanks for asking to chat and I'm excited to talk about the book!
Marvel.com: In fact, I recall your "XOXO, Gwen" / "XOXO, MJ" pieces were what cemented my love with your art. What does Peter Parker/Spider-Man mean to you?
Andrew Kolb: Well I'm a child of the nineties so I grew up watching the animated series and it was my first proper immersion in the Spider-World. It was more colourful and less serious than the other superhero shows of the time and I still gravitate towards that sense of light-hearted adventure. So to me, he's a beacon for what I love most about comics: colourful adventures, personal drama, and a sense of fun throughout it all.
Marvel.com: How did you get involved with "Spider-Man Swings Through Europe!"?
Andrew Kolb: I was approached for the book and it was immediately a dream pairing. Spidey has always been my fave hero and the pairing with classic architecture and a sort of jet setting story was almost too good to be true. I really can't imagine anything better. Maybe more cats? Anyway we did a couple of samples for what might work well and everyone was on board so I was off to the races!
Marvel.com: Your style is very distinct, colorful, playful, and mid-century. It evokes joy and reminds me a lot of Mary Blair and Shag. How did you come up with your style, and what/who would you say influences your style?
Andrew Kolb: Oh that's very kind. I still feel like my work shifts and leans within a spectrum, depending on the project. There are some constant points of inspiration (like Mary Blair and Eyvind Earle, both concept artists for Disney) but I also love modern artists like Mike Mignola. I think what I consistently gravitate towards, and I think this is what most influences my work, is the way information is economically communicated. My background is in design and advertising, so I'm always trying to get the concept of an image across as efficiently as possible.
Marvel.com: Marvel is notoriously known for its secrets. How much of the film were you and writer Calliope Glass made aware of/given access to while you were illustrating "Swings Through Europe!"?
Andrew Kolb: Oh it was a best-case scenario. The book is more of a complement to the film and not a direct interpretation of the plot, so I'm happily unaware of any major spoilers. I try to avoid trailers and any promotional stuff for movies I want to see so while the book gives light details away (some relationships, some locations, etcetera), it doesn't give away third-act twists or character arcs. I don't think there's anything in the book that you wouldn't get from the trailers, but I wouldn't know cause I still haven't watched them.
Marvel.com: What's your approach to storytelling? I love that your bio states "I draw pictures and tell stories. Sometimes my pictures tell a story and that's when I have the most fun." Was that how you approached "Swings Through Europe"?
Andrew Kolb: Yeah like I mentioned, having a background in design means an ingrained mindset to be as efficient as possible. Like any design, I try to imagine the hierarchy of the image: what's the first/most important idea, what's the secondary information, etcetera. So with the book we had the main point to communicate with each page ("Spider-Man enjoying the opera", "The kids running on the Rialto Bridge", and so on) and then I try to add extra stuff that doesn't compete with that. Sometimes it's small character moments or an added layer to the main idea, but it generally comes after we've established the main thrust of the page. It all sounds very mechanical but I promise it's a lot more intuitive and fun than it sounds!
Marvel.com: What I love about "Swings Through Europe" and its story is that it can speak to audiences of any age.
Andrew Kolb: And that's a testament to Calliope's writing. I can only make landmarks look so fun without the foundation of an interesting bit of information to support it.
Marvel.com: "Swings Through Europe" is very much like your book "Edmund Unravels" where our hero gets to venture out into the unknown. Obviously this story takes all over Europe, how did you and Calliope determine which landmarks you wanted to convey for each city? What references did you use, or have you been to all of those places?
Andrew Kolb: Well we wanted a mix of more widely known landmarks, like Big Ben, along with more human experiences, like meeting the Queen's guard or going to the opera in Prague. As for references, online searching makes research a lot easier, and Google Street View was surprisingly helpful. This is not an ad for them but does Street View really need promotion? Anyway to answer your question: no I haven't been to most of the places in the book and I'm very jealous of that.
Marvel.com: My favorite page was Peter trying to distract the Queen's Royal Guards. Do you have a favorite in the book, or was there an illustration that was the most fun for you?
Andrew Kolb: Oh that's great! The Queen's Guard page wasn't actually in the first draft of the book but we decided we needed to spend more time with Spidey having fun so I suggested the change and it immediately went in! My favourite spread is still the one with the Rialto Bridge and the gelato on the right. It was one of the first sketches I did and was an early proposal for the asymmetrical layouts. I wasn't sure how it would be received but it worked and I'm still really happy about that.
Marvel.com: Did you pepper in any Easter Eggs for Marvel fans in the book? If yes, how many do we need to search for?
Andrew Kolb: Oh of course! We made sure a certain eye-patched director appears somewhere within each spread, so keep an eye out for him. And while this isn't Marvel-specific, my late cat Fred is sleeping somewhere in Venice, so that's a little bonus as well.
"Spider-Man: Far From Home: Spider-Man Swings Through Europe!" is now available wherever books are sold. Read a preview below!
Spider-Man: Far From Home arrives in theaters July 2. Get tickets now! http://bit.ly/FarFromHomeTix
The Hype Box
Can't-miss news and updates from across the Marvel Universe!