Comics
Published May 29, 2019
Barry Windsor-Smith: Mr. Smith Goes to Marvel
In celebration of the Marvel legend's 70th birthday and Marvel's 80th Anniversary, here's a salute to this stellar storyteller!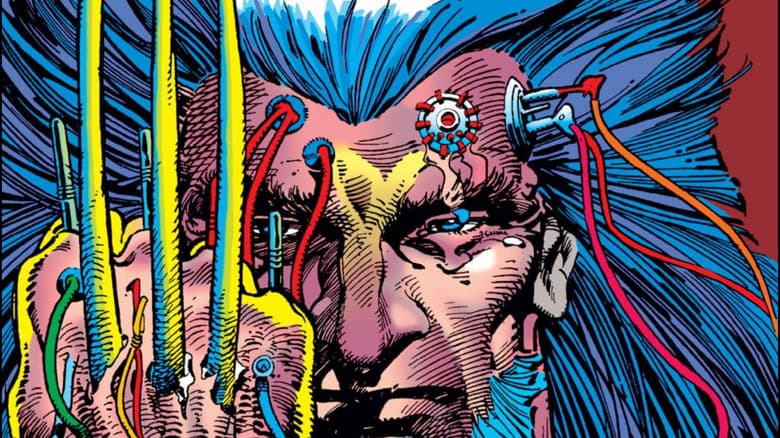 Precious few artists made an impact on the comics industry in the 1970s and 1980s of the caliber of Barry Windsor-Smith. Seemingly dropped out of the sky and into the pages of Marvel Comics, he forged a look and style of art all his own, something the industry hadn't seen before him and still haven't again to this day.
We're celebrating two important numbers for the man today: seventy and fifty. Windsor-Smith turned 70 on May 25, a landmark by itself in any person's life, but it's also 50 years since his very first work for the House of Ideas, a cause for celebration for Marvelites everywhere.
Born in 1949 in London's infamous East End, the artist then known simply as Barry Smith showed an interest in art at an early age and was pleased to gain something valuable that, unfortunately, not every creative young person possesses: the support of his parents for such a career. After achieving a degree in industrial design and illustration, Windsor-Smith then set his sights on the very large target of Marvel Comics in the United States.
Inspired and electrified by a warm note from editor Stan Lee's office in regards to samples he'd sent from England, Windsor-Smith and a friend took an immense leap of faith and flew to America for an audience with the swiftly growing publishing house. At that time, his penciling could be referred to as "Kirby-esque." Whatever its pedigree, the work caught Lee's discerning eye and the young illustrator found himself on the receiving end of yet another valuable commodity in the form of his first comic book assignment.
In scintillating, superlative Stan Lee style, the editor gave Windsor-Smith a grand 1969 "Stan's Soapbox" introduction to Marveldom Assembled:
"Everyone's talking about Bashful BARRY SMITH, the surprising new staffer we just imported from merrie old England! Barry's artwork is just not to be believed! This young, long-haired, titanically talented Britisher has a style which combines the pulse-pounding power of JACK (King) KIRBY with the off-beat improvisations of Jaunty JIM STERANKO! You've gotta see it to believe it!"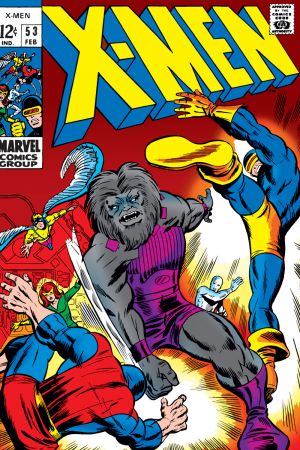 And see it everyone did in UNCANNY X-MEN #53, a story written by Arnold Drake and featuring the Fantastic Four foe Blastaar. From there Windsor-Smith experienced a whirlwind of a year of Marvel work, garnering art assignments on DAREDEVIL, AVENGERS, DOCTOR STRANGE, and NICK FURY, AGENT OF S.H.I.E.L.D. When the dust cleared, the artist returned to England to begin a long-distance relationship with Marvel, one that would soon produce his most well-known comics work of all.
Windsor-Smith counted himself a huge fan of the works of seminal pulp writer Robert E. Howard, a status he shared with Marvel's Roy Thomas. The artist and writer took a swipe at a sword-and-sorcery character with "Starr the Slayer" in 1970's CHAMBER OF DARKNESS #4, but Marvel soon procured the license to the Howard hero the two desired most: Conan the Barbarian. To say it resulted in a match made in pop culture heaven would be something of an understatement.
CONAN THE BARBARIAN #1 brought about changes for Windsor-Smith, ones that allowed for an evolution in not only his artwork, but also in his personal development as a comics professional. Working with Thomas on CONAN opened the door for the artist to take part in the actual plotting and writing of the books, and together the duo both adapted Howard's prose stories and crafted original barbarous battles all their own. The stories pleased die-hard Conan fans as well as converted an entire legion of Marvel readers to the legendary character. Windsor-Smith had truly arrived. He moved back to the U.S. with an illustrative style that grew more unique with every issue, and his name became synonymous with quality and innovation.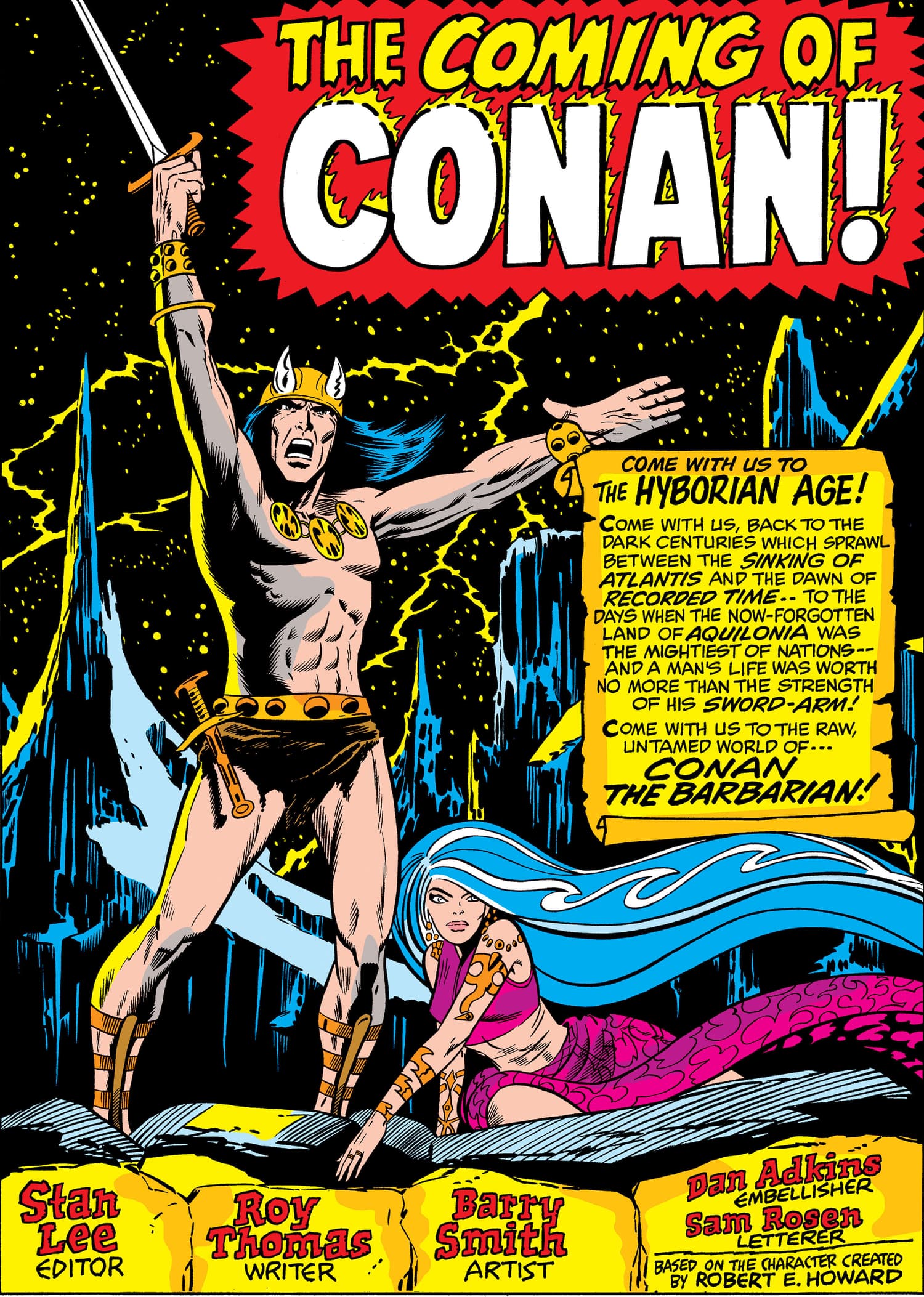 Alas, after 21 issues of CONAN and multiple other stories in series like ASTONISHING TALES, AVENGERS, IRON MAN, and MARVEL PREMIERE, the artist grew discontent with the grind of the industry by 1972 and brought about the end of what today might be considered the First Era of Barry Windsor-Smith. He "retired" to concentrate on fine art prints and self-publishing, though he maintained connections with the comics world which would prove to be valuable in the years to come.
Over the course of the latter half of the '70s, the artist gained residential status in the United States, opened a commune of sorts for creative types in New York City called the Studio, and even dabbled in the world of film. But by 1983, he seemed ready to immerse himself in mainstream comics once more and Marvel stood ready to receive him. He drew stories for EPIC ILLUSTRATED and MARVEL FANFARE, as well as one of the most popular X-Men tales ever, Storm's "Lifedeath" in UNCANNY X-MEN #186. As the decade progressed, Windsor-Smith collaborated on issues of FANTASTIC FOUR, DAREDEVIL, IRON MAN, more UNCANNY X-MEN, a MACHINE MAN limited series, and covers for reprints of his earlier Cimmerian jaunts in THE CONAN SAGA. In some ways he'd come full circle with the company.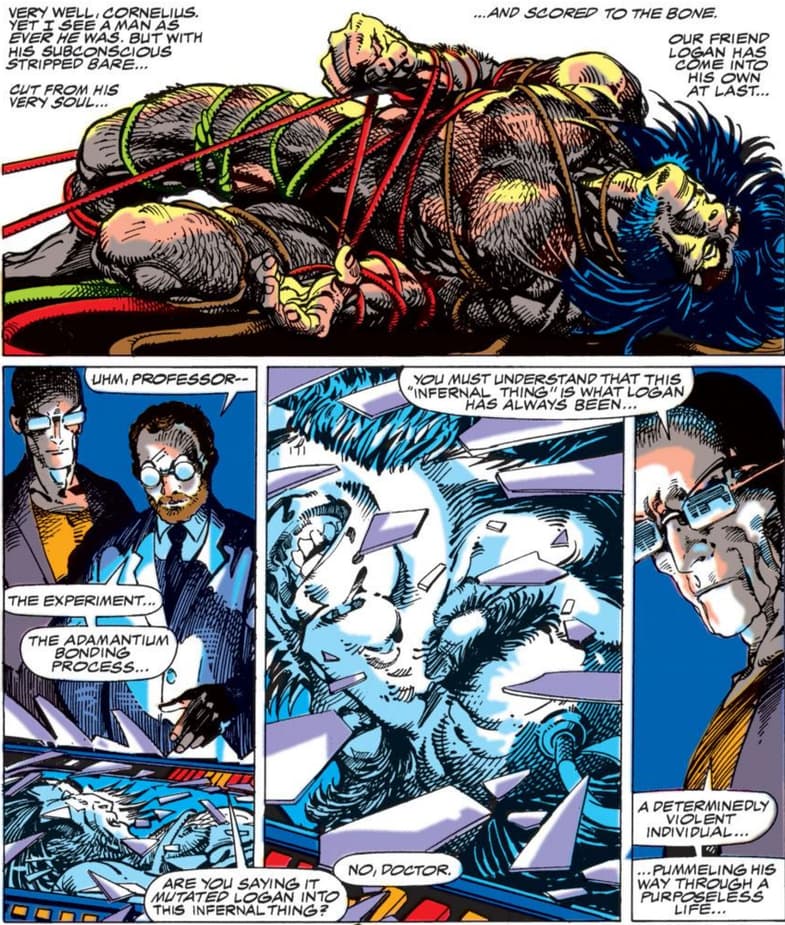 The artist's last major project for Marvel was a tour de force for MARVEL COMICS PRESENTS #72-84 in 1991. In it, Windsor-Smith presented a new tale of Weapon X which he not only wrote and fully illustrated, but also aided in its lettering. Following that, he got a call from former Marvel editor-in-chief Jim Shooter to head up Valiant Comics' art department, a position Windsor-Smith threw himself into through that house's halcyon years. By the turn of the millennium, however, he seemed more content to produce his own projects than those for others. At Marvel he finished a few more mutant-laden covers for such books as NEW X-MEN, and a special five-page segment of WOLVERINE #166 featuring Weapon X in 2001. And that, as they say, was that.
Though Barry Windsor-Smith's comic book work may be behind him now, his past artistic endeavors at Marvel can never be forgotten or diminished. There's no mistaking a Windsor-Smith page, and that's how it should be for such a singular artist.
Here's wishing him a very Happy 70th Birthday and sincere appreciations for his time in the Marvel Universe at large!
For more about Marvel's 80th Anniversary, visit marvel.com/marvel80.
The Hype Box
Can't-miss news and updates from across the Marvel Universe!