Comics
Published December 26, 2017
Black Panther: Allied Forces
Would you have what it takes to be an ally of The Black Panther?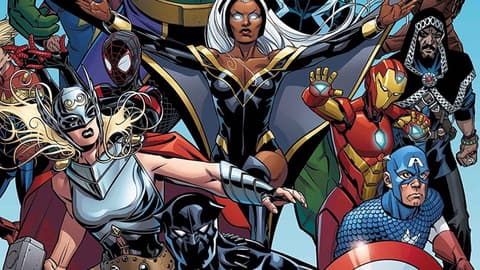 The Black Panther has always been known for stalking his prey solo, but when he finds his back against a wall, T'Challa knows he can rely on his most trusted allies to help him prevail.
Recently, however, King T'Challa's group of friends has fractured—just as the Black Panther's greatest foe, Ulysses Klaw, makes his move against Wakanda. On January 24, T'Challa must reunite those he relies on most to avert total disaster as writer Ta-Nehisi Coates and artist Leonard Kirk hand the King long odds in BLACK PANTHER #169!
As The Black Panther weighs his options, we asked series Associate Editor Sarah Brunstad to give us a peek into the mind of the Wakandan king.
Marvel.com: What qualities does T'Challa look for in a friend?
Sarah Brunstad: This is a tough question to answer because T'Challa is so powerful. But, ultimately, I would say the most valuable asset for him is honesty. Both his sister Shuri and his mother Ramonda act as his advisers, not only because they're powerful in their own right (in a very literal way for Shuri), but because they tell him truly when he's gone astray. He can trust their wisdom.
Marvel.com: How does Shuri, in particular, aid her brother?
Sarah Brunstad: Through her connection with the Djalia—the plane of Wakandan memory—Shuri can provide the historical context that T'Challa doesn't have.
Marvel.com: But not all of his allies hail from his homeland, right?
Sarah Brunstad: Right. When T'Challa seeks allies outside of Wakanda—like Thunderball of the Wrecking Crew—he's still looking for integrity. For the seed of it, in Thunderball's case. A lot of writers avoid honesty in dialogue because they think it's harder to keep tension, but Ta-Nehisi Coates doesn't shy away from it, and I think that creates some of the comic's most compelling moments.
Marvel.com: Who, among the current crew of allies in BLACK PANTHER, do you believe T'Challa values the most?
Sarah Brunstad: I think it's Shuri. She's the only living person who has not only ruled Wakanda, but has also worn the Panther mantle. She understands the pressures around him, and why certain actions are off-limits. And frankly, she's a bad-ass. Her transformations are pure mythic, she fights as well as T'Challa himself, and she's a natural leader. Yet she's also wrathful and righteous. While T'Challa nearly always stays calm and collected, Shuri shows her sleeves a little more.
Marvel.com: How do they work so well together?
Sarah Brunstad: Together, they balance the throne, even though they no longer share it. I think T'Challa is one hundred percent aware of his dependence on her. A big part of the first arc of Ta-Nehisi's run was reuniting them and reminding us of this sibling love, which is inseparable, I think, from their mutual love of Wakanda.
Read BLACK PANTHER #169, by writer Ta-Nehisi Coates and artist Leonard Kirk, on January 24!
The Hype Box
Can't-miss news and updates from across the Marvel Universe!