Comics
Published January 22, 2019
Black Panther and King Solomon's Frog
An inaugural Black Panther solo series with a time traveling adventure!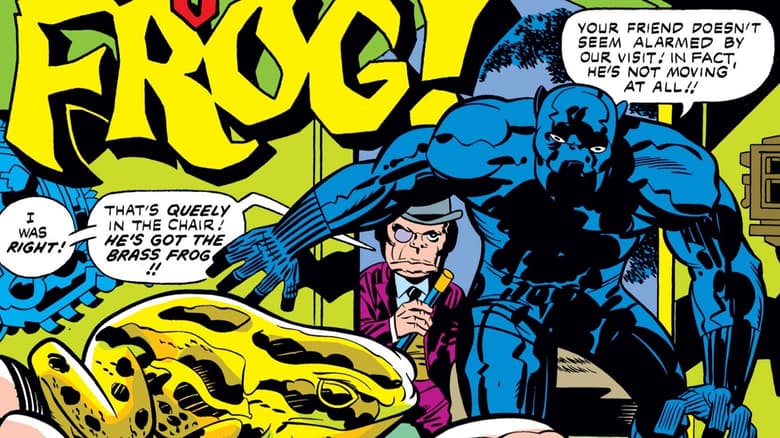 11 years after creating T'Challa and Wakanda in the pages of FANTASTIC FOUR #52 with Stan Lee, Jack Kirby launched the very first BLACK PANTHER solo series with himself in the writer's chair as well as the artist's. The first four issues of the 1977 title stand out as pure Kirby. The first issue kicks off with the Black Panther and a man known as Mr. Little trying to find an object called King Solomon's Frog.
After acquiring the relic, Little explains that it's actually a mysterious time machine that's brought strange creatures to various moments thanks to greedy individuals from throughout history. One such greedy person, Princess Zanda, ambushes Black Panther and Little with her small army of minions.
During their confrontation, the Frog brings a being from the future whose massive head grants him a variety of powers that almost best his opponents until T'Challa knocks him out. While the being dreams, his mind inadvertently offers Black Panther, Zanda, and Little a look at his far-flung future filled with underground societies and massive amorphous ships.
The group decides the only course of action remains to join the Solomon Frog with its mate, which resides in King Solomon's burial chamber. Once they reach the hidden location, T'Challa's companions make their greed known as they try to go after the incredible treasures for themselves. Luckily, they come to their senses and decide to focus on stopping the strange visitor from another time giving Black Panther enough room to join the two frogs and send him back home.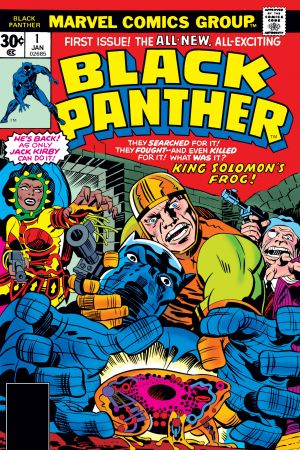 Secrets of Wakanda 
Though BLACK PANTHER marks the first instance the character starred in a book with his name in the title, he did take center stage in JUNGLE ACTION in 1973 beginning with the fifth issue, though it's actually a reprint of AVENGERS #62. JUNGLE ACTION #6 kicks off with new stories by Don McGregor and Rick Buckler with Gil Kane, Billy Graham, Rich Buckler, and a few others also pitching in. That series ended in 1976, but McGregor returned to the character with a story called "Panther's Quest" in MARVEL COMICS PRESENTS #13-37 and again in 1991 with a four issue limited series called BLACK PANTHER: PANTHER'S PREY drawn by Dwayne Turner. The JUNGLE ACTION issues will come out in a new collection called BLACK PANTHER EPIC COLLECTION: PANTHER'S RAGE in October. 
The Hype Box
Can't-miss news and updates from across the Marvel Universe!