Comics
Published July 22, 2021
Young Readers Line 'Marvel Legends' Kicks Off with T'Challa's Origins in 'Black Panther Legends'
'Black Panther Legends' #1 arrives this October from author Tochi Onyebuchi and illustrator Setor Fiadzigbey!
Wakanda Forever!
Ever want to get the young readers in your life interested in comics, and/or introduce loved ones to Prince T'Challa? You're in luck!
As announced early today with SYFY, launching this fall, the BLACK PANTHER LEGENDS miniseries dives into the legend of the Black Panther with a new origin story from acclaimed author Tochi Onyebuchi (Beasts Made of Night, Riot Baby) and New York Times-bestselling illustrator Setor Fiadzigbey (Bunheads), geared towards middle grade readers.
BLACK PANTHER LEGENDS kicks off the all-ages Marvel Legends, a "new line of stories meant to serve young readers and longtime fans alike, exploring well-loved origin stories through a new lens while also adding new layers to them," shares Marvel senior editor Lauren Bisom to SYFY. 
In BLACK PANTHER LEGENDS #1, T'Challa and Hunter are brothers growing up in the idyllic royal palace of Wakanda. Theirs goes beyond the usual sibling rivalry, though — Hunter, although older, is adopted, and T'Challa is the true heir to the throne. Both brothers wrestle with fairness and the future, readying themselves for responsibility, when tragedy strikes and takes the choice from them.
This new series, ideal for young fans and loyal readers alike, will explore the moments that make T'Challa who he is, from his adventurous upbringing to his walkabout as a teen where he meets the enchanting Ororo Munroe before she becomes the legendary Storm, to when he first invites the Fantastic Four into Wakanda! Son, Brother, Warrior, King — as each chapter unfolds, new pieces of T'Challa's character will be revealed and the Black Panther will emerge.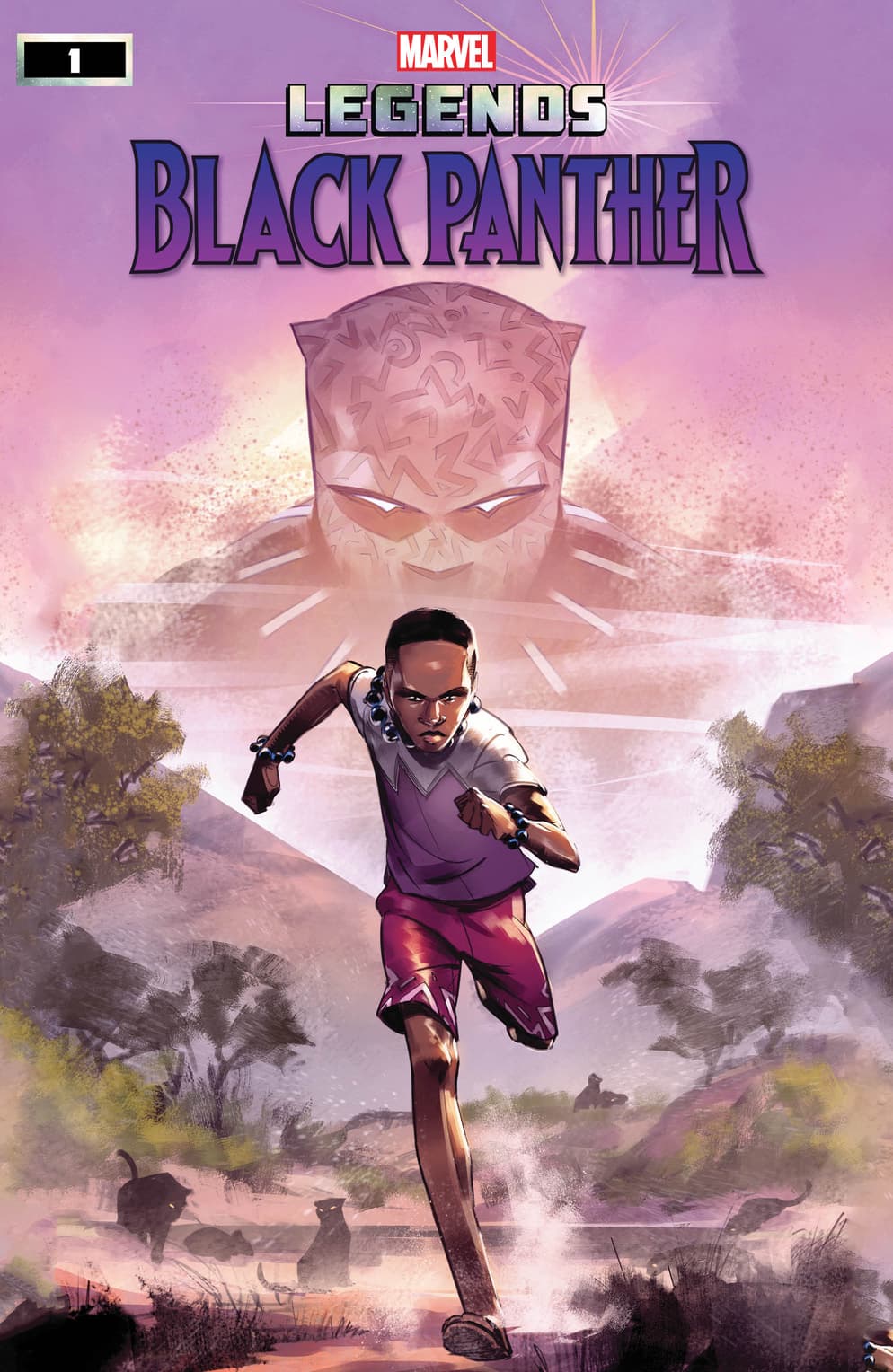 BLACK PANTHER LEGENDS #1 (of 4)
Written by TOCHI ONYEBUCHI
Art by SETOR FIADZIGBEY
In speaking with SYFY, Onyebuchi tells the outlet, "BLACK PANTHER LEGENDS is a deeply personal book, and I was given the opportunity to situate T'Challa and his family in a specific political and social context. There's some really cool stuff in here, but it's also a book about a family at a very particular time on the African continent. And I'm super grateful to Marvel for giving me the freedom to explore that and to ask, through his character, some very knotty questions about responsibility."
Bisom shares with the outlet how she approached recruiting the creative team for the series, "I have long admired Tochi's writing in both the young adult and adult space, so I knew he'd be able to help tell T'Challa's story in a way that would appeal to younger readers and long-time fans alike. He's just so great and giving us fantastical, adventurous narratives while still being able to really ground his characters in these deeper emotional moments—two things that a story about our young Black Panther really needed."
As for the artist, "With his beautiful painterly style that exudes energy in every textured stroke, we knew right away that Setor would be the perfect artist to help bring T'Challa's early adventures to life," adds Bisom to SYFY. "Having a picture book background where we've seen him incorporate panels in such unique ways, alongside his more traditional sequential stories, we knew Setor's art would be both sophisticated as well as accessible to readers who might be picking this up as their first comic. There really isn't another Marvel comic that looks quite like this one will!"
BLACK PANTHER LEGENDS #1 hits comic shelves this October!
Want to stay on top of everything in the Marvel Universe? Follow Marvel on social media—Twitter, Facebook, and Instagram—and keep watching Marvel.com for more news! 
The Hype Box
Can't-miss news and updates from across the Marvel Universe!