Comics
Published November 28, 2016
Black Panther's Pride: Back to Africa
Reginald Hudlin concludes his time with the Panther and Storm!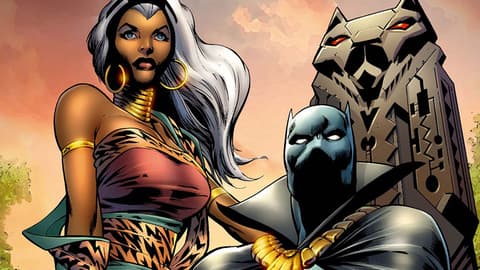 Read through some of T'Challa's most thrilling adventures on Marvel Unlimited to mark Black Panther's 50th anniversary!
Civil War and their stint with the Fantastic Four behind them, T'Challa and Ororo returned to Wakanda in the pages of BLACK PANTHER #35–38 by Reginald Hudlin, Francis Portella, Carlos Rodriguez, Kevin Sharpe, and Cafu.
While they'd been off bouncing around time and space, T'Challa's sister Shuri and a few of her pals decided to inspect a nearby battleship that led to her capture. Around the same time, Erik Killmonger made his move to take over the neighboring country of Niganda. Thanks to a combination of force and empty promises, Killmonger easily gained control and soon used that newfound power to threaten Wakanda and Black Panther, revealing that he had captured both Shuri and Monica Rambeau, whom Iron Man sent to help take him out.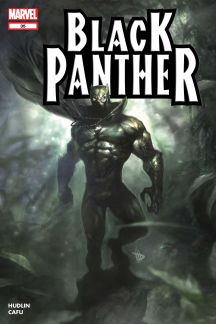 To protect his nation, Black Panther sent out forces to neutralize a variety of threats and headed to face Killmonger himself. The villain explained that he would give up hostilities if Wakanda promised to help Niganda. When T'Challa agreed, Killmonger showed his true colors and attacked. The two battled fiercely, as they had in the past. Many wondered how this encounter would differ from the previous ones, from which Killmonger walked away as the victor.
The battle raged and Killmonger gained the upper hand, raised his sword—and fell as Rambeau phased through his chest leaving him unconscious. The Panther did not appreciate the action of his ally. He intended to take a different path as a way to not just defeat his enemy but also quash the hostilities between those still loyal to Killmonger and the people of Wakanda.
Secrets of Wakanda
Though Hudlin would return to kick off the next BLACK PANTHER series, he wrapped up a great deal of stories and made nods to the issues that came before these in this arc. In addition to long-time Panther villain Killmonger appearing, so did one of the Red Ghost's primates from the "Wild Kingdoms" story. We also see the Thrice Blessed armor again along with the sword taken from the new Black Knight who first appeared in the initial story. Cannibal, the body-hopping villain from that same story also finally got spotted and removed by Brother Voodoo who turned out to be a Skrull, leading into the next arc as well as the next big event: Secret Invasion!
Next, Black Panther's Pride concludes with the most recent series by Ta-Nehisi Coates and Brian Stelfreeze launched earlier this year!
The Hype Box
Can't-miss news and updates from across the Marvel Universe!