Comics
Published November 21, 2016
Black Panther Meets Kiber the Cruel
T'Challa is pitted against a matter-manipulator!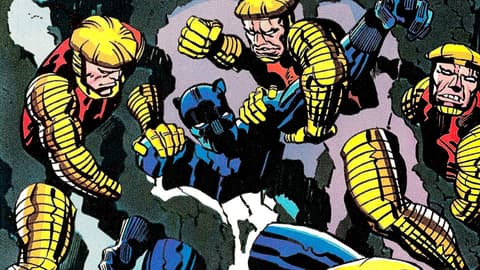 Read through some of T'Challa's most thrilling adventures on Marvel Unlimited!
In the wake of stopping Jakarra's attack on the Great Mound, T'Challa found himself dealing with a newfound power: ESP! While continuing to heal in the care of his cousin Joshua Itobo, the King suffered from horrible dreams that introduced him to his soon-to-be foe Kiber!
Their other cousin Khanata turned out to be the first of the family to meet Kiber, however. While on one of his drives, the young man stopped to mentally plan a Wakandan race track only to get captured by some of the villain's minions.
As T'Challa searched for him, Khanata witnessed Kiber's plan which involved taking human beings, putting them in a machine, and converting them into energy that the tyrant would then use to power himself.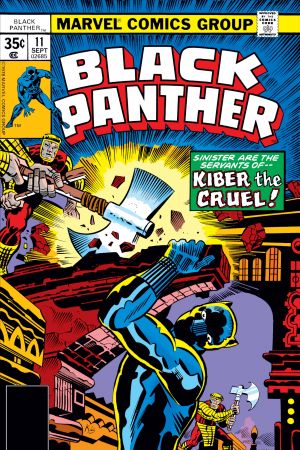 Before long, the Panther fought Kiber's henchmen who got the drop on him and took him to their leader. Once there, T'Challa used his telepathic powers to get Khanata to lead a revolt with his fellow prisoners that helped cause a huge distraction.
In the final issue, Panther discovered Kiber's true form and eventually made off with the souls of the people he converted to energy, saving Khanata and his fellow captives in the process.
Secrets of Wakanda
You probably noticed that Kirby himself didn't actually write or draw BLACK PANTHER #13. Those responsibilities fell to Jim Shooter and Ed Hannigan with art from Jerry Bingham. The series itself actually continued on for two more issues with #14 and #15 that saw Panther open a Wakandan consulate in New York City which just so happens to play home to the Thunderbolts gang and their new living weapon: Klaw! Luckily the Avengers stand ready to help out!
The Hype Box
Can't-miss news and updates from across the Marvel Universe!