Comics
Published March 31, 2022
The Tangled Web of Black Widow
Writer Kelly Thompson details the drama of Marvel's top superspy and how she has thrived against adversity in her ongoing series!
Since inheriting the reins of Black Widow with the launch of her latest series BLACK WIDOW (2020), writer Kelly Thompson has been unafraid to put Natasha Romanoff through the wringer, physically as well as emotionally. While it's been a rough fifteen issues for one of Marvel's most lethal ladies, the stories produced by Thompson in concert with interior artist Elena Casagrande and colorist Jordie Bellaire have proven a bounty for fans of the character.
With the conclusion of the four-part "Die by the Blade" arc in BLACK WIDOW #15, it seemed as opportune a time as any to take Thompson to task. On the red ledger: Items including the loss of Nat's idyllic family and the new makeshift group that may have taken its place, as well as her expanding rogues gallery and what to expect in upcoming stories.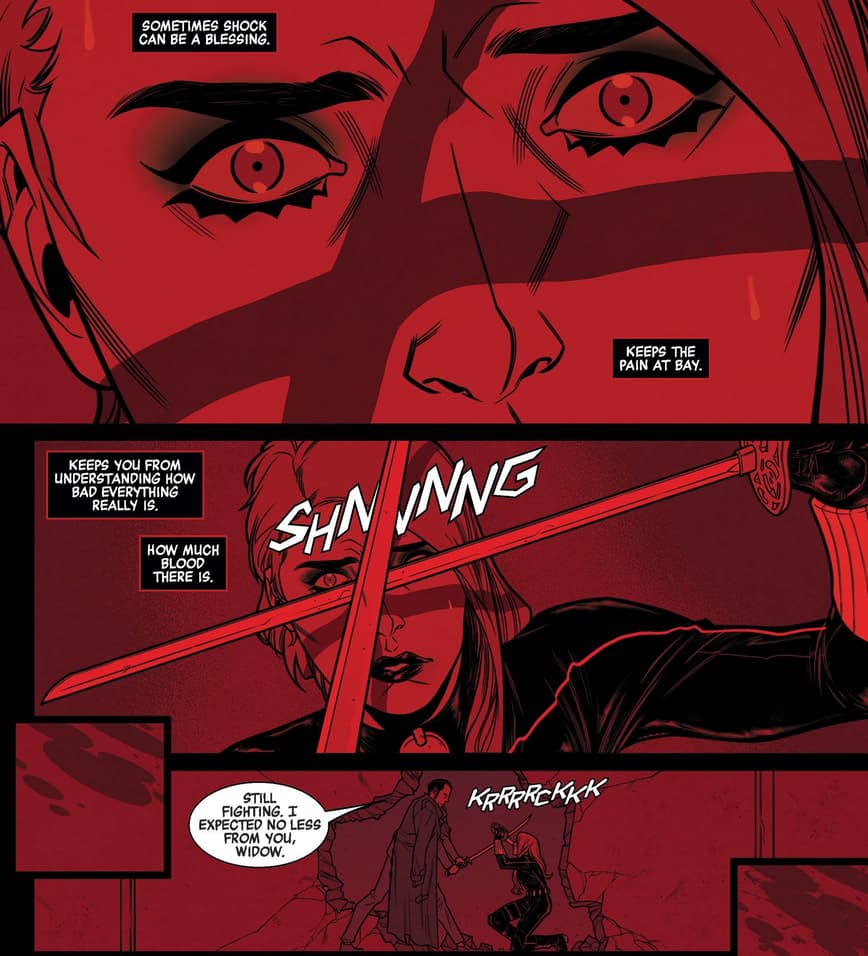 What were your goals for Black Widow when you took on this assignment?
KELLY THOMPSON: I wanted to tell a story that would fundamentally change Natasha as a person, without permanently changing her exterior circumstances—i.e. she still needed to be an active spy and Super Hero with a complicated, thrilling, dangerous life. I felt the best way to do that was giving her an emotional experience that she didn't expect but that was real for her—that would change how she viewed both herself and the world.
Why was it important to give Natasha this vulnerability of a lost family?
KELLY THOMPSON: I think it just changes the way she sees things and how she wants to connect to things. After losing them, I think a different Natasha would have gone on a personal revenge rampage—and been totally justified in doing that. But knowing she has a son still living somewhere in this world, instead she wanted to make a different choice—she wanted to make the world better and save more people from tragic ends.
As long as you're writing the character, will James and Stevie continue to weigh on Natasha in some way?
KELLY THOMPSON: I mean, I hope that her connection to them and how she feels about it all will continue to organically evolve—it will get easier for her and she'll get used to the loss, but it will always be a small piece of her that's missing—that she regrets losing, but doesn't regret having, even if it was painful.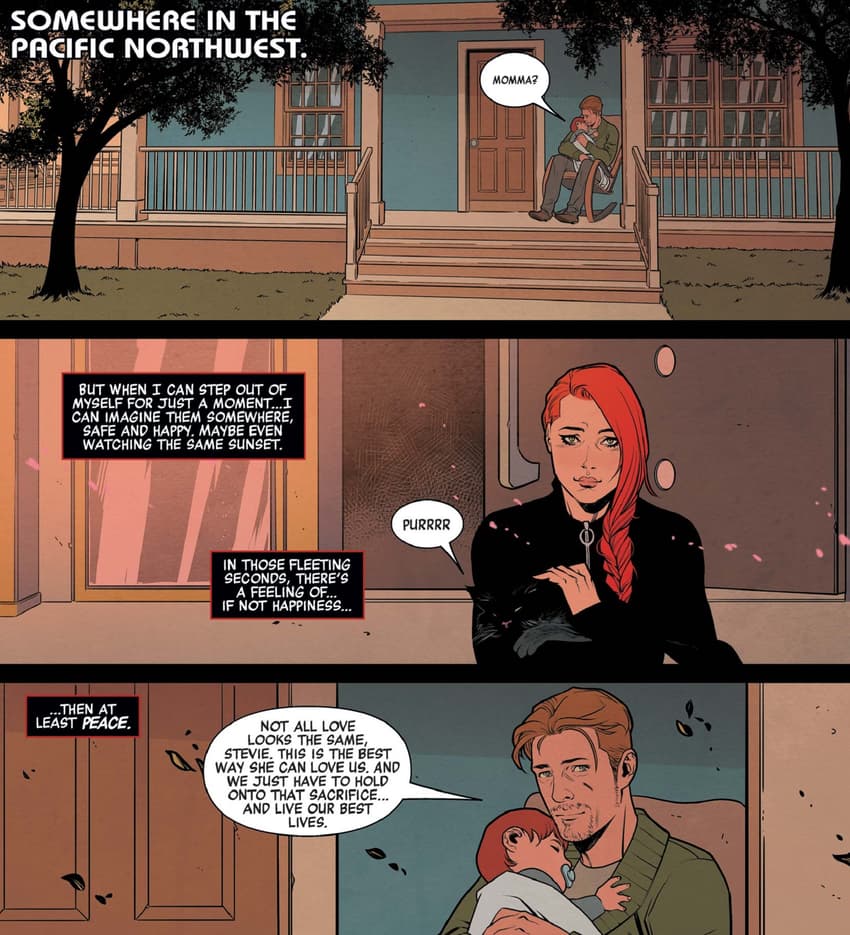 Why build a support team around Natasha? Do you feel like this still allows her to shine as a lead character?
KELLY THOMPSON: As anyone that reads my work knows, I like to build a strong supporting cast around a headlining character—but in Natasha's case, after her loss, she was literally trying to build herself a new family. She didn't do it consciously, but it is what she did, especially in how she tried to protect Lucy from her dangerous world and give her some choices that a younger Natasha didn't have. But Nat was conscious of needing to not go all lone wolf after what happened to her. When Yelena Belova decided to stay beside her in issue #5—that was huge for Nat. Yelena knew Nat needed her but it was basically left unsaid between them. I love that.
How did you select the characters who have become part of the extended cast?
KELLY THOMPSON: Yelena is the long-lost "sister," so you don't get much more family than that when it comes to Nat—she was a given. Lucy was the new face in her life, and in a way, a stand-in for Stevie—someone for Nat to protect and guide. Anya Corazon was partly because we needed a bit of levity and partly because I loved the way Kelly Sue DeConnick and Warren Ellis wrote Nat and Anya together in [2012's AVENGERS ASSEMBLE]. The chemistry there was magical, so capturing even a little bit of that was great—and I thought Anya would be an excellent "sister" for Lucy. When the boys (Hawkeye: Clint Barton and Winter Soldier) joined back up for our third arc, it honestly just felt perfect.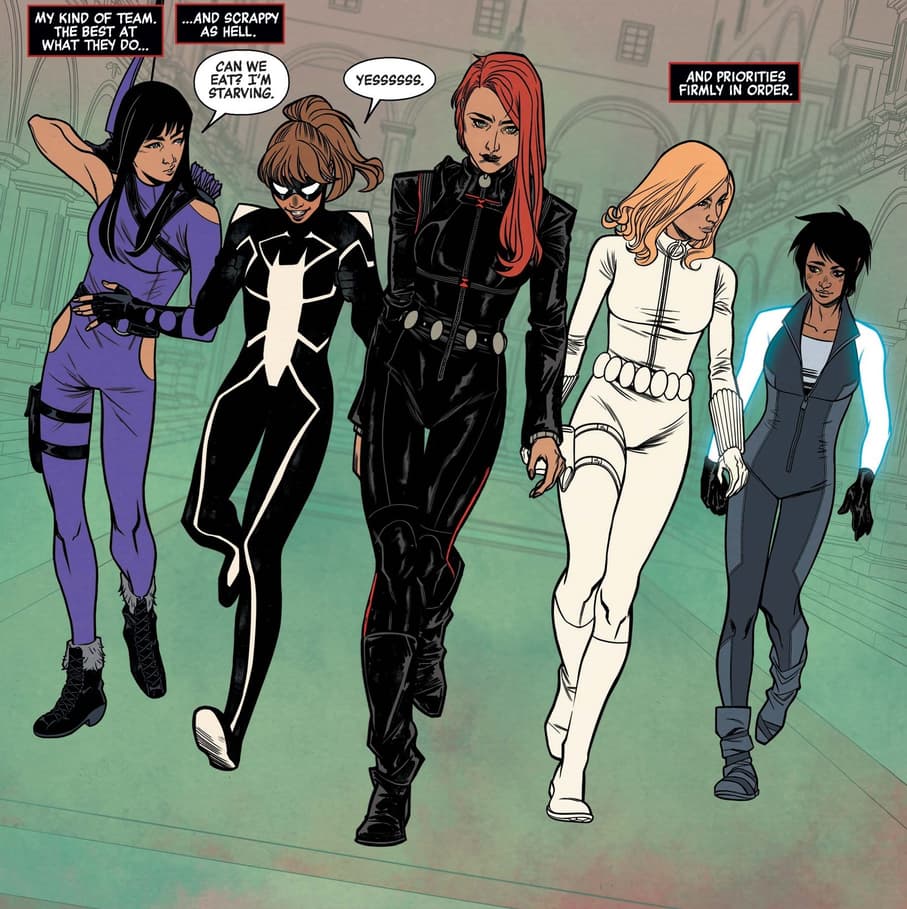 What is your favorite element that Yelena brings to the book?
KELLY THOMPSON: Everything! I love Yelena. It's always fun to write a character that says whatever they think and feels fine about it. Brutal truth. It doesn't work for every character but the ones it does work for, are very fun to write. Anything can happen in a scene with someone like that!
What added dimension does it give Natasha to have two exes as part of her circle?
KELLY THOMPSON: I love that Winter Soldier and Hawkeye draw different things out of Natasha. It's hard for me to pair her off with either of them romantically because I value the depth of their bonds together—all of them—that level of friendship and devotion even feels more intense to me than just "romantic love." In the end, Natasha needs both of these men, and I think they need her. But there's no easy answer to pairing anyone off in this scenario... which makes for good stories, but I know as a fan can also be frustrating.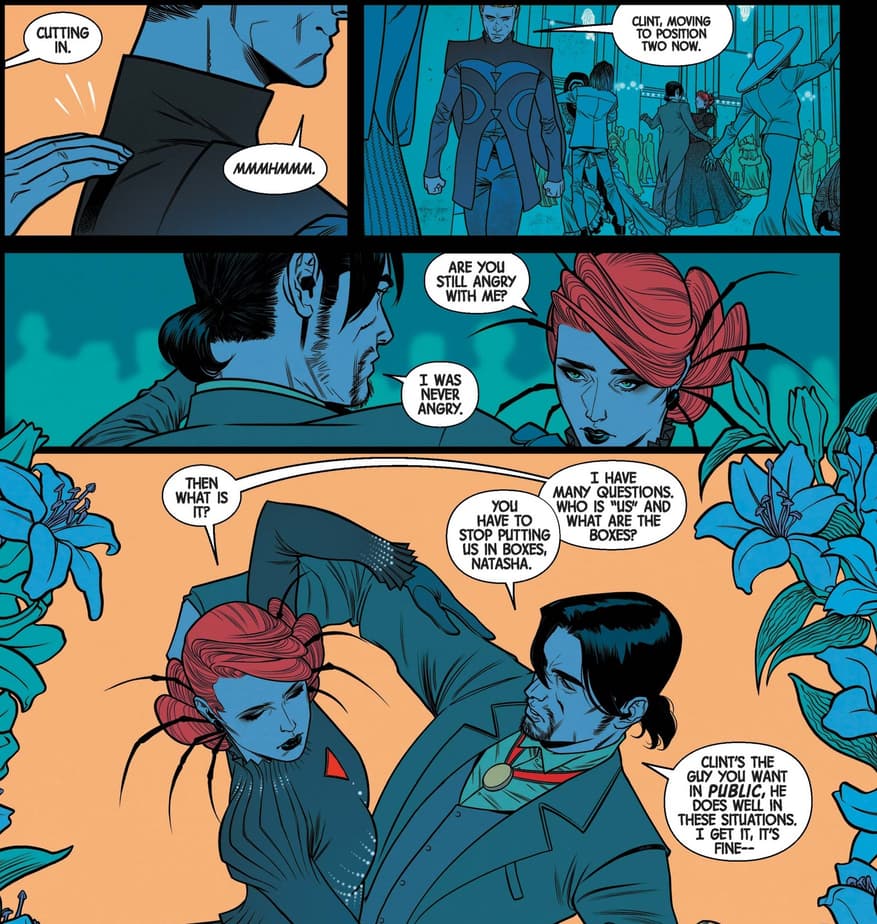 Why was it important to build a new rogues' gallery for Black Widow with additions like Apogee, the Host, and the Twins?
KELLY THOMPSON: Rogues' galleries make or break a character long term, so I'm always looking to build those up and make them stronger with any character I work on—usually by both creating new villains with good potential and picking up old ones and giving them fresh new stories. In the case of Natasha I used and highlighted a lot of old foes in the first arc, but wanted to push forward into new territory for our next two arcs, since she was literally in "new" territory with San Francisco.
Specifically, where did the idea for the Living Blade come from? He's such a neat idea.
KELLY THOMPSON: I think it was mostly two things. First, I wanted someone that Natasha was really genuinely afraid of—and in order to do that, I felt it had to have begun for her long ago—which is how we ended up doing that whole flashback issue to establish him. I think it was a really fun way to do the arc and I think it set issue #14 up to be incredibly tense—even before that shocking last page! Secondly, in action movies, the "Big Bad" is rarely the "great fighter"—it's almost always the "right hand man" that gives the better fight scene, and I wanted to play with that idea. We still had a "Big Bad" in the Host, but she's dealt with fairly easily and the Living Blade ends up being the immediate danger for our heroes.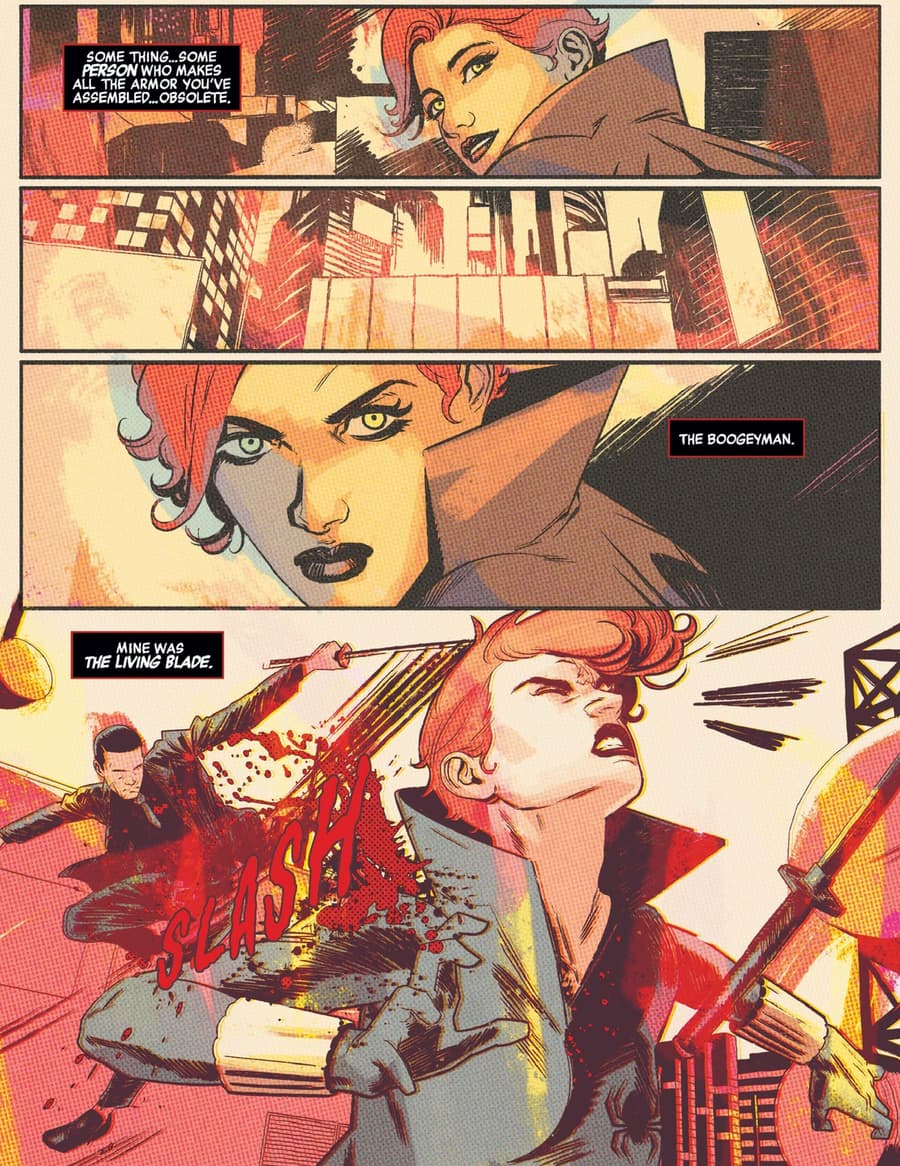 Where did the impetus to break up this arc with a flashback introducing the Living Blade emerge from?
KELLY THOMPSON: The idea was that it was an unconventional and unexpected way to introduce a villain—to do a whole issue flashback in the middle of an arc—and doing something new is exciting and we were all really into it! But the idea originally just came from a practical issue, which was that we knew Elena would not be able to do all four issues in the arc. She hadn't had enough of a head-start from the last arc. So it was a practical problem in need of an elegant solution... and I love that editor Sarah Brunstad trusted us enough to try it. Very happy with how it all turned out!
Elena Casagrande and Jordie Bellaire make for an absolutely badass art team. What are the best parts of working with them?
KELLY THOMPSON: They're incredible. The best thing about working with them, other than the fact that they're lovely and easy to work with, is that I just never have to worry about what they're going to do. I know what they do will be brilliant and beautiful and make my work so much better than it otherwise would have been.
How does your creative process on BLACK WIDOW differ from other books you've worked on?
KELLY THOMPSON: I think it's pretty similar, except that our team on BLACK WIDOW was a little more consistent. On CAPTAIN MARVEL we tend to have to rotate between artists for arcs—and we've been very lucky to get amazing artists there—but it's not the same as working with the same people over fifteen issues.
What did Rafael Pimentel bring to the table for the Madripoor flashback issue?
KELLY THOMPSON: We knew we needed someone who could bring a different look and style to the book for the flashback issue—and who could really deliver awesome energy for what we knew would be almost entirely one long fight scene—and Rafael was so up to the challenge! When you add the fantastically powerful "period" coloring that Jordie did on the issue, I think it's truly a special issue—definitely not the kind of comic you see every day.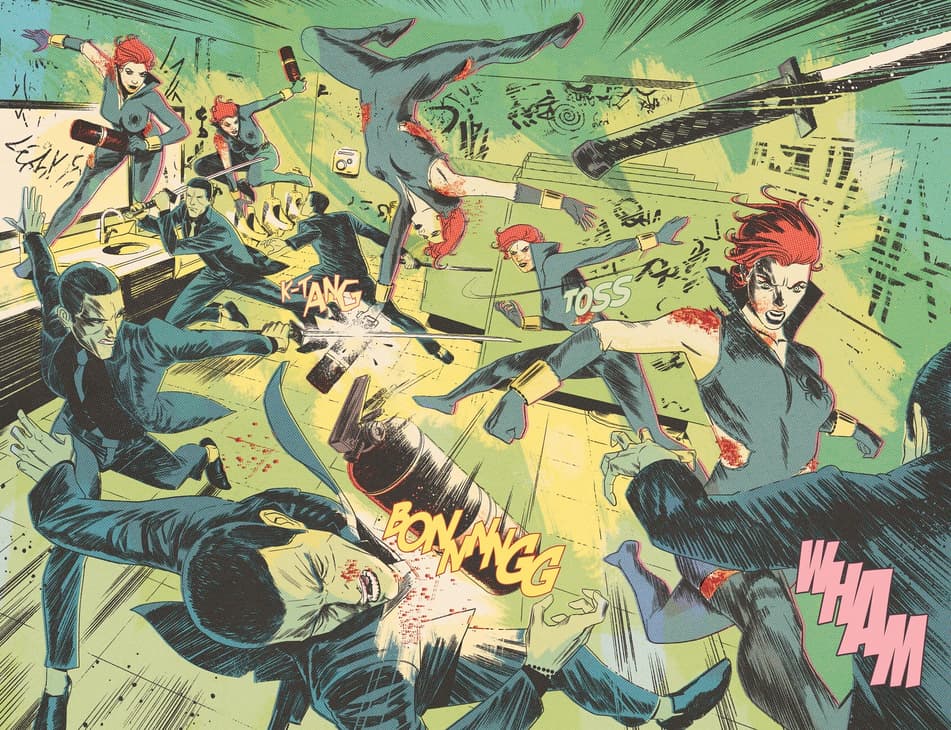 Finally, how important are Adam Hughes' gorgeous covers for this book?
KELLY THOMPSON: It's everything! Adam has so embraced us; it's been such a gift. To have Adam's stunning work as the image we present to the world is honestly like winning the comic book lottery—and for him to get so into the book that he's really paying attention to the story we're telling, and the way he's integrating text into the covers—it's all so next level.
Read BLACK WIDOW (2020) digitally or in print at your favorite local comic book shop. Be sure to ask your local shop about their current business policies to observe social distancing or other services they may offer, including holding or creating pull lists, curbside pick-ups, special deliveries, and other options to accommodate. Find and support your local comic book shop at ComicShopLocator.com or by visiting Marvel.com/LoveComicShops.
For digital comics, all purchases in the Marvel Comics app can be read on iPhone®, iPad® and select Android™ devices! Our smart-paneling feature provides an intuitive reader experience, ideal for all types of mobile device and tablet users! Download the app on iOS and Android now!
The Hype Box
Can't-miss news and updates from across the Marvel Universe!