Comics
Published November 20, 2020
Celebrate 50 Years of Conan the Barbarian Comics with 'King-Size Conan' #1
Preview the works of Roy Thomas, Steve McNiven, Kurt Busiek, Chris Claremont, and more in the oversized special!
In 1970, Roy Thomas brought CONAN THE BARBARIAN, a creation of author Robert E. Howard, to Marvel Comics. With art by the incomparable Barry Windsor-Smith, CONAN THE BARBARIAN #1 introduced the Hyborian Age to a whole new audience, paving the way for decades of comics and Conan's conquest of pop culture.
Now get ready to celebrate 50 years of CONAN with an oversize special spanning the breadth of Conan's life and times by the most dazzling array of creative talent ever assembled to tread the jeweled thrones of the Earth!
Experience Roy Thomas and Steve McNiven's all-new prelude to that original story from 1970! Thrill to a tale of revenge by Kevin Eastman (co-creator, Teenage Mutant Ninja Turtles), writing and drawing his FIRST Marvel story! Chris Claremont and Roberto de la Torre team up to unveil a turning point in Conan's career as a mercenary! Kurt Busiek and Pete Woods recount an early brush with sorcerous forces that will shape Conan's destiny! Conan and Bêlit sail together again for the first time since the 2019 relaunch, with Jesús Saiz illustrating the Marvel Comics maiden voyage of Steven S. DeKnight (Daredevil writer/director/showrunner)!
The perfect introduction for new fans, and an essential adventure for die-hards, this is the can't-miss Conan comic of the decade! Revelations, surprises, and savage action prevail in the all-new KING-SIZE CONAN #1!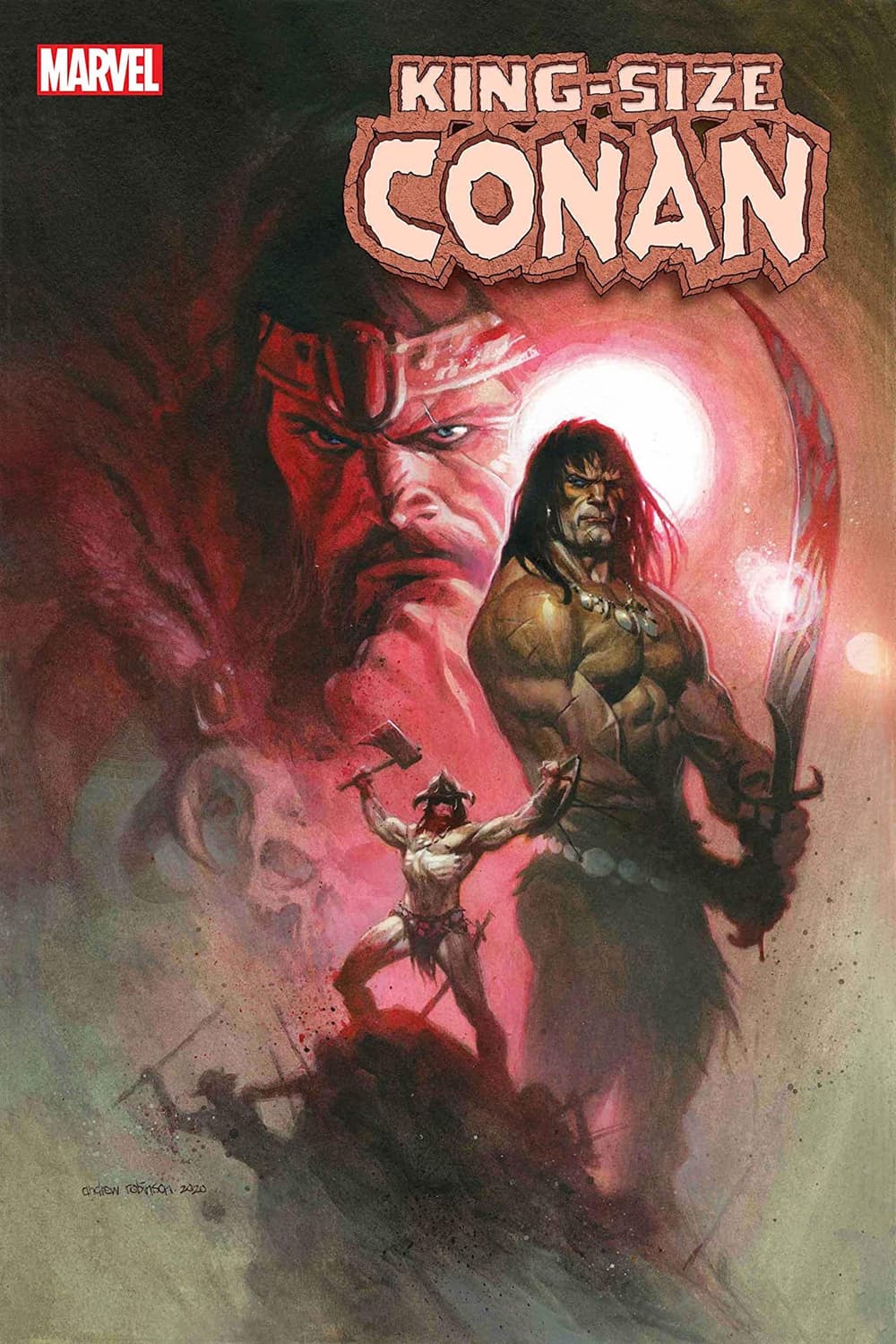 "I feel that one of the milestones of my creative life was when I stumbled into acquiring, writing, and editing CONAN THE BARBARIAN (and SAVAGE SWORD OF CONAN)," says Modern Marvel Master Roy Thomas, "so I'm very happy to be writing the character again fifty years later, even just for a ten-page story. Just for a zane, I decided to do a prequel to CTB #1... more a vignette than a story, but bridging the gap between CTB and some retroactive continuity that I added later. Hope people enjoy it... and the art by Steve McNiven should assure that they like looking at it!"
"My love affair with Marvel Comics began before I could read," adds Steven S. DeKnight in an interview with Newsarama. "I used to look at the incredible art and make up my own stories. Now, quite a few lifetimes later, I have the honor of actually writing my own story for the House of Ideas. And not just any story! Conan! Barbarian! Destroyer! King! To say this is a dream come true would be a criminal understatement. I couldn't think of a more satisfying character to make my debut with between the pages of Marvel Comics. I hope you enjoy this adventure as much as I did!"
"I bought Conan issue #1 off a drug store spinner rack," Kevin Eastman recalls to CBR, "I was eight and it cost me fifteen cents. That was a big chunk of my paper route money in those days and worth every penny. I read it so often the staples barely held it together, which Stan Lee commented on when he signed it thirty years later. As a lifelong fan I was thrilled when [editor] Mark Basso not only invited me to do a cover recently, but to contribute a short story for this collection. I was at once incredibly excited and insanely nervous, as well as grateful they still wanted to publish it after I turned the work in! Thanks for so many awesome memories!" 
Feast your eye's on the king with preview pages of each individual story below, then pre-order KING-SIZE CONAN #1 with your local comic shop before reading it on December 23!
The Hype Box
Can't-miss news and updates from across the Marvel Universe!