Comics
Published August 30, 2019
Celebrate Marvel's Birthday with 50% Off the Digital Comics Shop
Look through our 80th anniversary rewind for some inspiration ahead of the half-priced party!

We go all in for our milestone 80th anniversary…and you're invited! From the first Super Hero crossovers, to the young gods and champions of today, we invite you to travel through decades past as we enter the octogenarian archive available in Marvel's Digital Comics Shop! This weekend, you can use code MARVEL50 at the Digital Comic Shop's cart page, to Snikt your order price in half! Get 50% off your total purchase through Tuesday, 9/3 11:00 PM ET!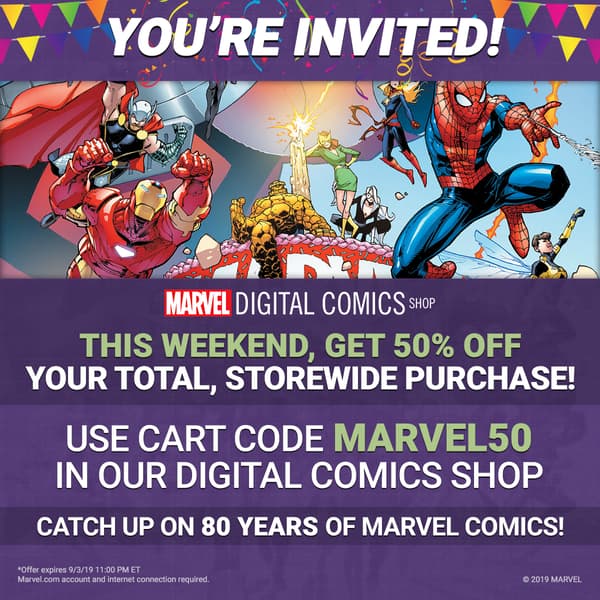 Now, make like the Whizzer, and take a turn in the True Believer Time Machine as we run through decade-defining hits! Want to read the issues spotlighted in these 80th Anniversary lists? All stories and collections are in the Digital Comics Shop, to be read anytime, anywhere!
So—starting in 2019 and heading backwards to 1939—here we go...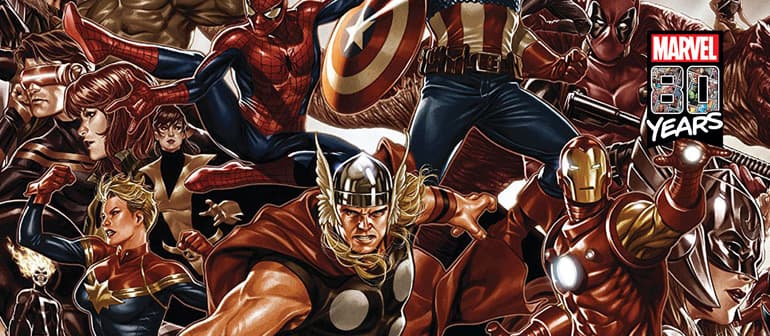 The past ten years reached cinematic scope, while introducing new mainstays like Ms. Marvel AKA Kamala Khan and Spider-Gwen. Try Jane Foster's first swing with Mjolnir in MIGHTY THOR (2015), or BLACK PANTHER (2016), where T'Challa staves off a Wakandan Civil War.
Also, comic book horror is redefined in IMMORTAL HULK (2018)—try Volume 1 today.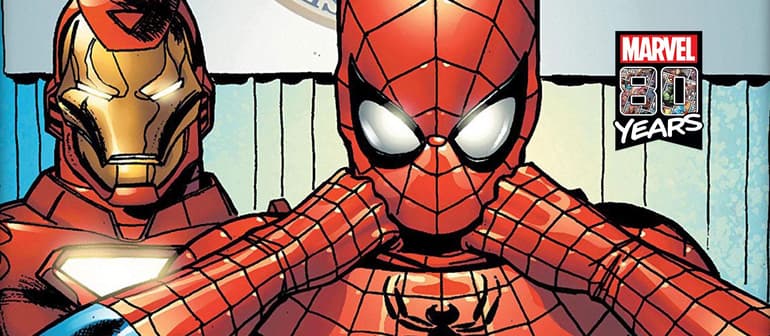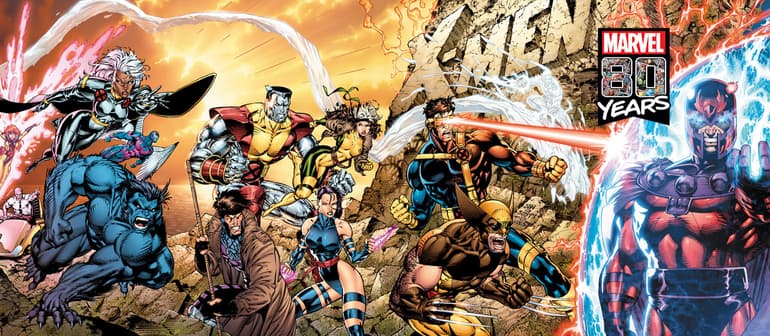 Cyborgs, clones, mutants, lasers and pouches. Oh-so many pouches.
These years reflected the grunge counterculture with the X-plosion of perennial-outcasts the X-Men, and their X-centric spinoffs. X-MEN (1991) #1 continues to hold its record as a best-seller, and the Uncanny arcs of the '90s kept the Children of the Atom at the forefront.
In addition to really short jackets, the '90s also gave us Deadpool. Then we'll make a quick jump to 2099, before we head to…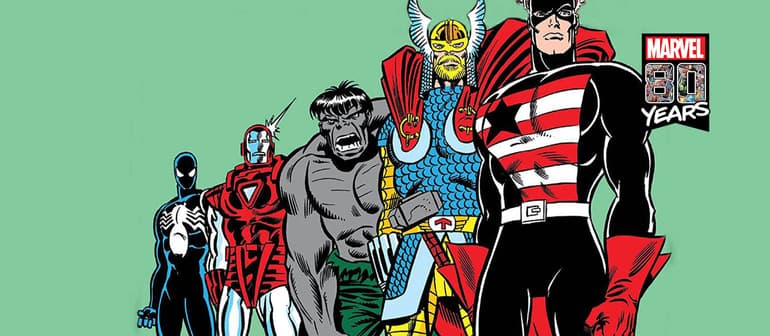 Kung fu, supernatural heroes, and monstrous storylines reigned. DOCTOR STRANGE (1974) featured lush, psychedelic settings, while muck monster Man-Thing, Ghost Rider, and teen wolf Jack Russell invited us to Adventure Into Fear.
Shang-Chi became a master of martial arts to defy his dad's legacy, while unlikely duo Iron Fist & Luke Cage teamed with Colleen Wing & Misty Knight as Heroes for Hire. Shout out to the 'Daughters' for embodying '70s flair.
Plus, in 1974, we met Wolverine, who joined the revamped X-Men a year later with fellow newbies Storm, Nightcrawler, and Colossus.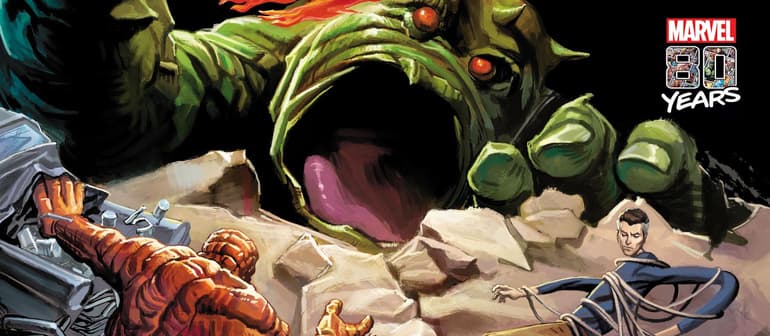 Consider this our Renaissance. The Silver Age saw the collaboration of Jack Kirby, Stan Lee, Steve Ditko, and a stable of innovative creators who laid the foundation for modern Marvel. The swingin' '60s were an explosion of output, from the introduction of our First Family, to an irradiated Man-Monster Hulk, to on-the-fringe X-Men.
AMAZING FANTASY #15 also debuted an adolescent Wall-Crawler named Peter Parker. Plus, FANTASTIC FOUR (1961) #52 presented the Black Panther, Wakanda's king and protector.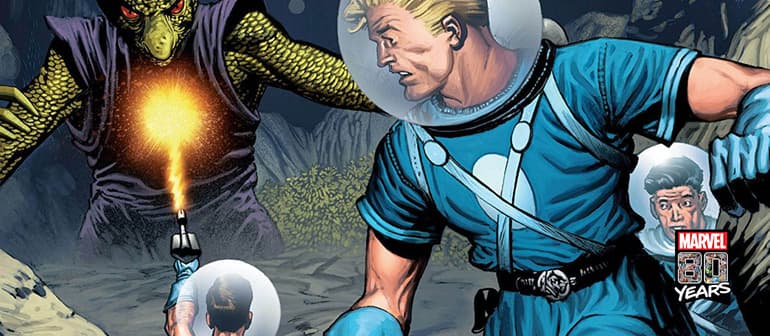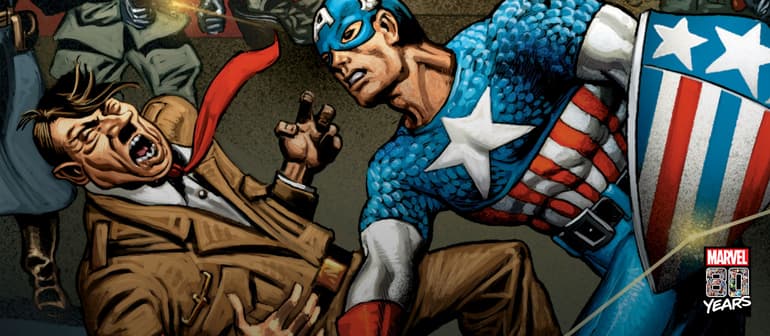 We end with our beginning!
In August 1939, MARVEL COMICS #1 hit newsstands and dime stores, taking the four-color comic world by storm with the first appearances of Namor and android Human Torch, (an honorable mention to Torch's skywriting skills during this era).
Upon decking Hitler, a hero clad in red, white and blue would also join these wartime heroes, in an intro issue that's still considered a cultural landmark.
Setting a new standard in storytelling, the Golden Age was responsible for our first Super Hero crossover in MARVEL COMICS #8, paving the way for a Universe of heroes to come...
And there you have it! Try any of these sensational stories in our Digital Comics Shop, and remember to use code MARVEL50 at the cart page for your special Anniversary savings!
The Hype Box
Can't-miss news and updates from across the Marvel Universe!