Comics
Published October 5, 2021
'Champions': Danny Lore and Luciano Vecchio on Closing Out "Killer App"
The creative team behind 'Champions' discusses steering the latest adventure of Marvel's young heroes to a digitally-fueled conclusion!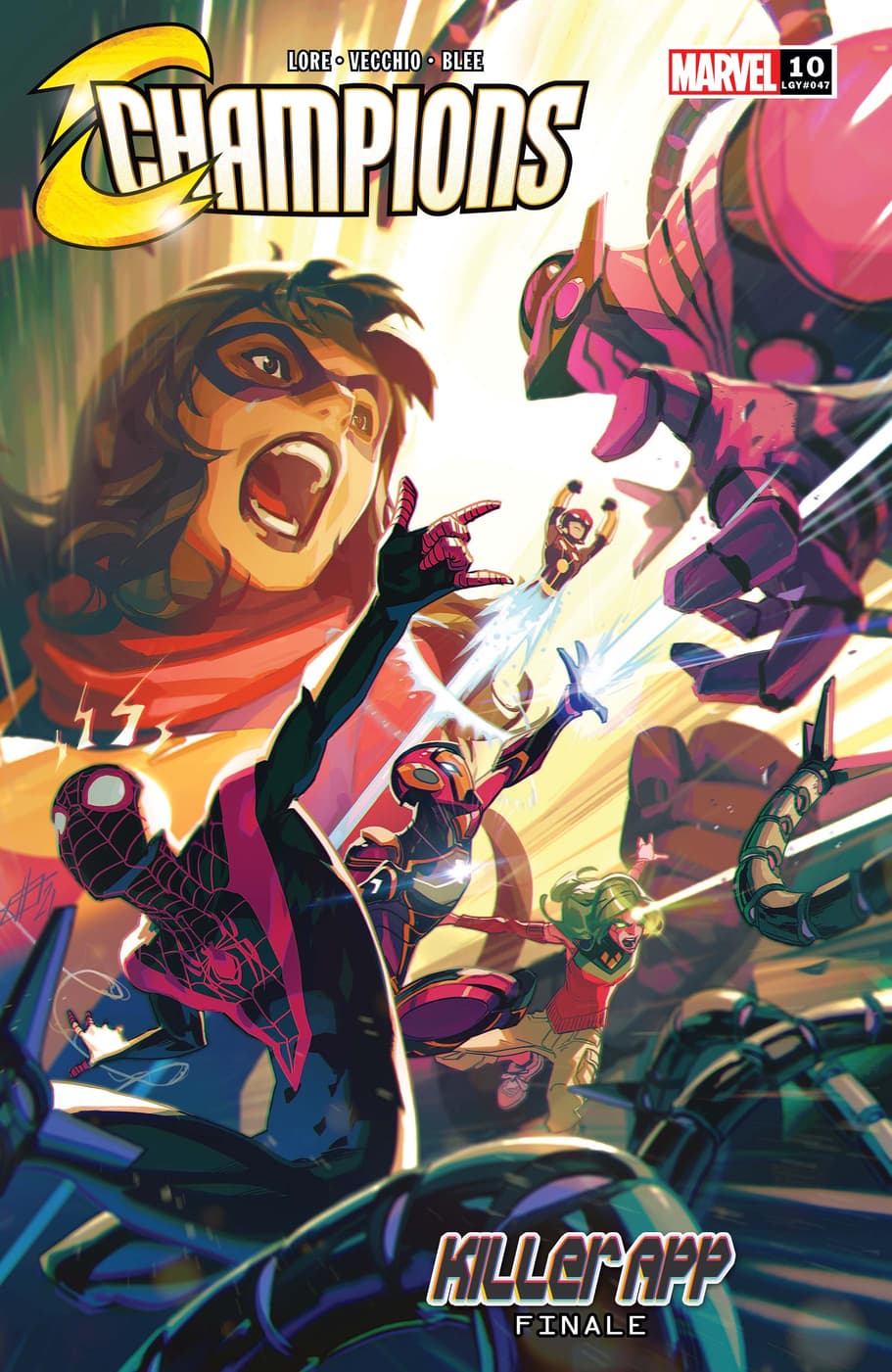 The subterfuge hits a breaking point in CHAMPIONS #10, available everywhere today, so we spoke to Smith, Lore and Vecchio about crafting the "Killer App" storyline and the work that went into a forward-facing epic in touch with the digital age.
After wrapping the first arc of this CHAMPIONS series and the tie-in with OUTLAWED, where did the idea for "Killer App" come from?
Alanna Smith: It was something that came up as Danny and I were discussing our shared love for con artist and heist stories. Roxxon was a natural enemy of the team coming out of OUTLAWED, and we both really liked the idea of the Champions changing tactics to try to take them down from the inside. It raised a bunch of interesting questions—what that would cost the team, how it would affect their relationships, whether it's possible to win against a huge corporation while keeping your ideals intact. It seemed like the perfect situation to throw the Champions into and it let us tell a Super Hero story in a really unusual and fun way.
How did you select and recruit Danny and Luciano for this arc?
Smith: Danny had co-written a really slick IRONHEART two-parter for me as part of IRON MAN 2020, and I really liked how they wrote dialogue for younger characters. They also approach story in a very character-and-relationships-first way, which is perfect for a book like CHAMPIONS that's driven by how personalities connect and clash. And Luciano has been one of my favorite artists to work with since we did the IRONHEART solo book together. He brings so much passion and energy to the table and his work is always gorgeous. We wanted "Killer App" to have its own look since it was such a departure from the first arc, so when I found out Luciano was free, it was a no-brainer.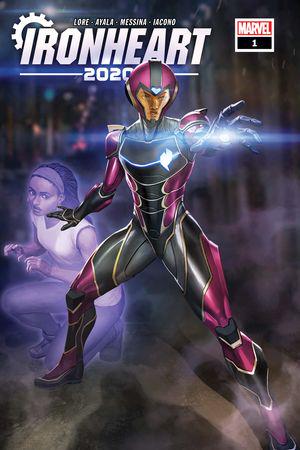 2020 Ironheart (2020) #1
published

added to marvel unlimited

letterer

inker

penciler

editor

colorist (cover)

inker (cover)

penciler (cover)

writer

colorist
What is Marvel Unlimited?
I also want to shout out Clayton Cowles, our longtime CHAMPIONS letterer, and Federico Blee, who did colors for both "Outlawed" and "Killer App." As we were trying something new, it was great to have the two of them in our corner to provide some beautiful connective tissue.
Danny and Luciano, how were you two introduced to one another and what has the creative process been like?
Danny Lore: I was so fortunate to meet Luciano through this process! It's been a blast to work with him on this book because he is so creative and enthusiastic. I'm someone who is just always really over the top excited to get to work on things, and Luciano always met and fed that energy. It was hard not to be excited at every turn. In addition, I think we flow really well creatively in a way that shows up on the page. When I hit a wall, Luciano was always game to help me figure it out, and it allowed me to in turn create scripts as we went on where Luciano could just have all sorts of fun—I hope!
Luciano Vecchio: I was first introduced to Danny's writing in the IRONHEART mini that came out after my run, and I was so thrilled when I learned we'd get to collaborate on CHAMPIONS, it felt just right and serendipitous from the start. I loved that we got the chance to experiment with different ways to approach the script/art dynamic as the moment of the series demanded, which was not only really fun but also formative and enriching. It was super stimulating every time I got the script and also reading each finished issue almost as a first time reader.
Danny, how much of the "Killer App" story was fully formed when you came onboard and what personal spin did you put on it?
Lore: We knew what the team was going to be, and we know what we were building off of. With Alanna, it was really great to start from the knowns, and think about where we wanted each character to go, arc-wise. From there we figured out how to tell a story that would get each character and this corner of the universe to its next step. That's really important for me, personally: making sure that we're telling the story that benefits the characters—which doesn't mean all evolution is good, just that it lets them shine—as well as one that will engage the audience. Whenever possible I like starting from there rather than having a story and making the characters fit into it, and Alanna has given me the space in the past to do that even within the event books we've worked on.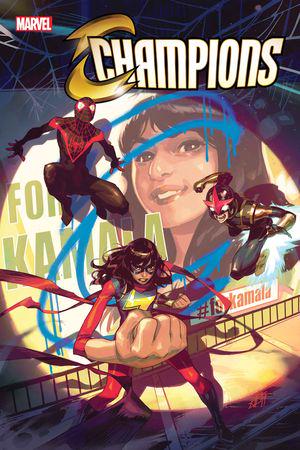 Champions (2020) #1
published

added to marvel unlimited

letterer

editor

colorist

inker

penciler

writer

painter (cover)

penciler (cover)
What is Marvel Unlimited?
Luciano, what original work have you been able to do on the looks and setpieces of this arc?
Vecchio: Here the biggest challenge was to present the Roxx On! brand as an ever-present disembodied looming menace. Also, costume and character design is always one of my favorite parts of an assignment, and here we introduced Miriam and the Roxxon crew, Fizzle and his gang, the Chaperone robots, casual heist looks for Kamala, Sam and Miles, and what turned out to be my favorite, creating new superheroic and casual looks for Viv Vision.
As I am a professor teaching Digital & Social Media at a public university, I have to ask: How much research in regards to social media did you all do for this story and how much is just your own personal experience?
Vecchio: For me it's more based on experience. I'm usually more emotional than mental in the way I work and over the years my relationship with social media and how they affect me and the people around me gets more and more complicated. So more than research I'd say my subjectivity is informed by trying to be actively aware of how these dynamics work. Also my best friend-slash-ex is a communicologist and the academic POV on these subjects has been part of my every day for years, so that helps.
Lore: Is it research if you're just tremendously online all the time? Mostly joking, but honestly, the public discussion about social media and marketing is really important to me as a creative and as a consumer. The place where I really did research was a tangentially related topic that delved into a similar psychology: multi-level-marketing in the age of social media. I was watching a lot of anti-mlm content at the time we conceived of this arc, and that's where Miriam came from. She is the embodiment of some of that "selling the lifestyle" stuff that fuels irresponsible influencers and marketers. Being able to convince folks of things on social media isn't necessarily an evil, but the way that it can be manipulated is.
How did you decide which characters would be at the center of this arc and what their roles would be?
Vecchio: The core group was already set when I got in, but I got the chance to suggest some of the cameos and guest appearances from the extended Champions family and the young Marvel Universe, characters I wanted to draw but that also made sense in the roles we gave them. To me their presence, even if brief, reinforce the idea of the Champions as the positive side of social networking, both in and out of digital.
Lore: We had a general sense of the main team going in—knew that we wanted to still focus on Nova, Ms. Marvel, Spider-Man, Viv and Ironheart. There was a lot of tension and emotional baggage from the last couple of arcs that it felt disingenuous to leave by the wayside. The other characters naturally came in as we went on. Snowguard was going to be a smaller cameo at one point but it made sense to see her as a bit of a guest star. Same with some other characters. Really it boiled down to the themes and character work that we all did in the beginning of planning: which characters needed to be where in order to both heal wounds and exasperate them, both literally and metaphorically.
With the big finish arriving in CHAMPIONS #10, what do you have to say in conclusion, to readers and about this experience?
Lore: CHAMPIONS, from start to finish, has been an amazing undertaking. From the story creation to the outpouring of love from our fans, CHAMPIONS #10 is the culmination of a story that means the world to me. These little Super Hero gremlins—as I so fondly refer to them—are fighting for agency and a voice in their world, and I hope that when everyone reads the conclusion, they feel as if we've given them that!
Get caught up on the current volume of CHAMPIONS via Marvel Unlimited—and look for the conclusion to "Killer App" in issue #10, available at your local comic shop now!
The Hype Box
Can't-miss news and updates from across the Marvel Universe!