Comics
Published October 20, 2017
Champions: Evolve or Die
Mark Waid details the tenuous team-up with the Avengers!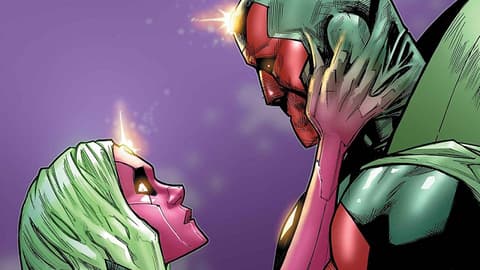 The High Evolutionary has set two planets—and billions of people—on a deadly collision course…and two of the most powerful super groups on Earth must come to the rescue.
Tensions have been rising for the Champions and the Avengers, but they'll need to put aside all differences to avoid catastrophe in CHAMPIONS #14! On November 15, writer Mark Waid and artist Humberto Ramos put this team-up to the test—and reveal a secret that'll change Viv's life forever.
Waid dropped by to give us a few hints on what to expect from the newest issue.
Marvel.com: Catch us up on the events of the "Worlds Collide" storyline so far.
Mark Waid: It looks pretty grim for about 12 billion beings both human and Ani-Men. The High Evolutionary, for reasons as yet unrevealed, has been gearing up for something mysterious that he calls "The Ascension," and his world and ours get set on a collision course.
Marvel.com: What made The High Evolutionary the perfect villain for this tale?
Mark Waid: He fit thematically. At the heart of the story exists a friction between the younger heroes and the older Avengers that they will someday "evolve" into. Plus, no other villains give us two planets colliding!
Marvel.com: Will the teams get along in this issue? They've seemed to manage it alright so far…
Mark Waid: Yeah, well, give it time. As tensions mount, so do tempers.
Marvel.com: How would you describe Humberto Ramos' art style? How does it complement the script you wrote for this story?
Mark Waid: Everything about working with Humberto is a joy—always has been. His style feels so full of kinetic energy that it's perfect for a story with this many characters—everyone has a distinct look and style!
Marvel.com: Describe the dynamic between Vision and Viv in this arc.
Mark Waid: I can't say too much without tipping my hand, but let's just say that Vision has been keeping a secret from Viv, one he's kept since ALL-NEW, ALL-DIFFERENT AVENGERS #13. This creates more friction between them as she tries to figure out what's going on in her father's head.
Worlds collide in CHAMPIONS #14, by Mark Waid and artist Humberto Ramos, on November 15!
The Hype Box
Can't-miss news and updates from across the Marvel Universe!