Comics
Published August 6, 2019
Didja Know... A Few Fancy Facts About 'Marvel Comics' #1
Didja Know digs into downright delightful details from across the merry Marvel Multiverse!

Didja Know digs into the fun facts, strange stories, and divine details that helped build the hallowed halls of the House of Ideas!
Okay, you Didja Know Diehards—sure we're jumpin' ahead of ourselves a bit here, but we're excited, no, exuberant over the arrival of MARVEL COMICS #1000 that we're throwing caution to the wind and chatting up a storm about it right now! And if you don't like it, well, get your own regular column and we'll talk, tough guy!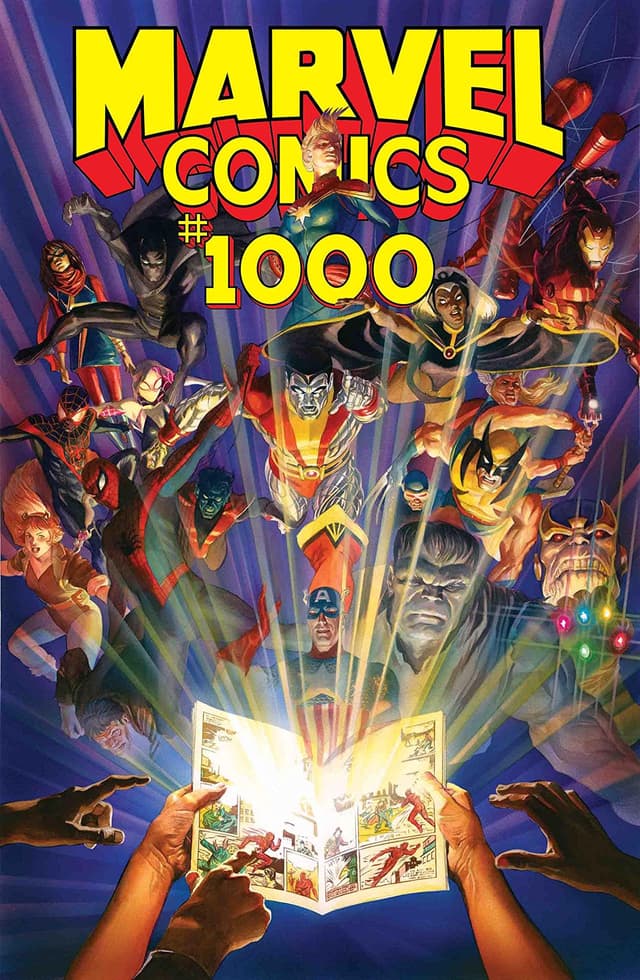 Until then, we're gonna go back—way back—to the very earliest days of Marvel and the little marvelous mag that started it all: MARVEL COMICS (1939) #1.
Why, you cry? 'Cause without it, Charlie, there wouldn't be a #1000, see? Let's go!
Didja Know… Namor the Sub-Mariner didn't exactly debut in MARVEL COMICS #1?
Legend tells of the ominous origins and first appearances of those scintillating stalwarts we call the Human Torch and Namor the Sub-Mariner in that initial 1939 issue, but ol' Pointy Ears actually took his first bow elsewhere…namely in something called Motion Picture Funnies Weekly #1.
Y'see, Namor's creator, Bill Everett, pounded his pencils to get his watery wonder into that eight-page booklet for movie theater promotion—a "giveaway" they called it—but it didn't work so well and Martin Goodman of Timely Comics, Marvel's predecessor, snatched up ol' Subby for his brand-new MARVEL COMICS and, get this, commissioned Eagle-Eye Everett to add four whole pulse-pounding pages to the story. And to add color to it, t'boot!
So, Namor and the Torch headlined that fantastic first ish, with the former first fishin' and finnin' it before the latter even made a single spark!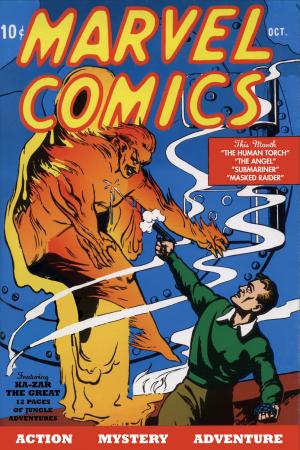 Didja Know… Subby and the Torch weren't the only would-be stars in the book?
The Human Torch was gifted with the longest story in MARVEL COMICS #1, clocking in at a whopping 16 pages, but Namor wasn't too far behind with his 12 peerless pages of aquatic adventure… Hmm, did we say peerless? Hold our soda pop, peeps, as we lay it on the line about the other guy who won 12 pages, too!
Funny thing about 1939—the comic mags kind of shared the spotlight with a thing called the pulps. Those were monthly magazines feature fantastic prose stories, one of which allowed a dude named Ka-Zar to admirably acquit himself with action. And, yes, you guessed it…he also ended up in MARVEL COMICS #1 and stayed for 27 issues until 1942!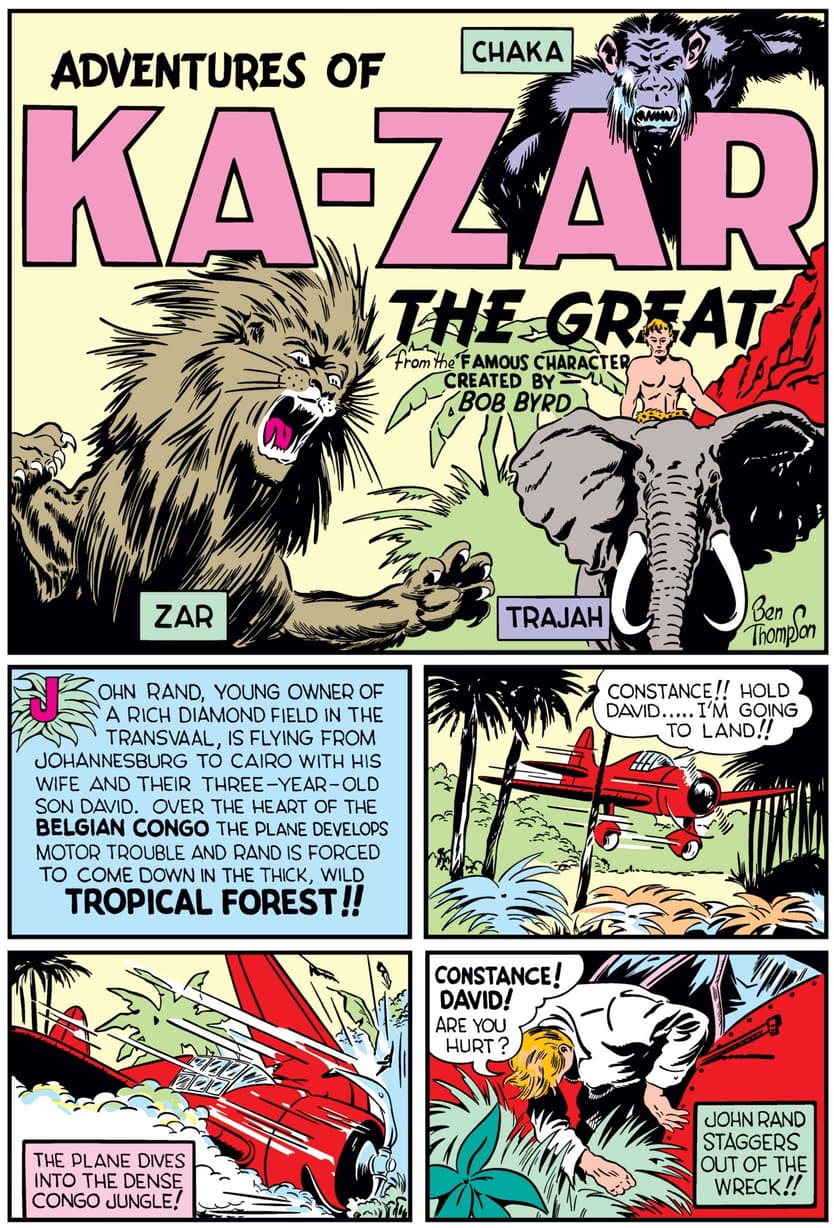 Now, of course, we all know the Ka-Zar who swung into our hearts in 1965, but he's a different jungle Jim. That original Ka-Zar's now chasin' cheetahs in the Happy Hunting Grounds somewhere, but once upon a time he was right up there shoulder-to-shoulder with the likes of shooting stars like the Sub-Mariner and the Human Torch!
Didja Know… two more costumed cut-ups also debuted in MARVEL COMICS #1?
Lest we forget—and we'd be bashful and bemused if we did—two other heroes headed into the hallowed halls of ol' Marvel in that legendary issue: the Angel and the Masked Raider, each of which enjoyed eight whole pages each.
Long before Warren Worthington III chased air pockets as the X-Men's Angel, Tom Halloway donned some duds to give the ol' one-two to gangsters and gunsels in the mean city as the Angel. He possessed no powers, just a good right cross and a great sense of right and wrong, and that was enough for him to last through much of the Golden Age of Comics. You might also remember this Angel from a fun 2009-10 limited series entitled THE MARVELS PROJECT.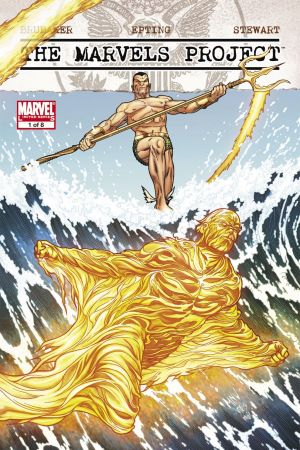 The Marvels Project (2009) #1
published

added to marvel unlimited

writer

colorist

inker

penciller

letterer

other
What is Marvel Unlimited?
Then, our final dominoed dude of MARVEL COMICS #1 answered to the mighty moniker of the Masked Raider. Ranch owner Jim Gardley took up the mantle of the Raider to clear himself of some scurrilous charges of rustling—that's sort of like cow catching without a license, dig?—and he must've gotten quite a kick out of it because he stuck around for a not-unimpressive-for-those-days 12 issues before ridin' off into that sad Super Hero sunset for good…
Peruse these eye-poppin' publications with Marvel Unlimited right now! Then visit your local comic shop to pre-order MARVEL COMICS #1000 before reading it on August 28!
The Hype Box
Can't-miss news and updates from across the Marvel Universe!