Comics
Published September 5, 2019
Didja Know... Spider-Man and Daredevil's Famed Fellowship
Didja Know digs into downright delightful details from across the merry Marvel Multiverse!

Didja Know digs into the fun facts, strange stories, and divine details that helped build the hallowed halls of the House of Ideas!
Hey, True Believers! Some marvelous match-ups are made in Heaven, right? Like peanut butter and jelly, bacon and eggs—even Lee and Kirby! Well, one of our favorites is Daredevil and Spider-Man and you can feast your peepers on the latest from ol' Horn Head and the Web-Slinger in the pages of next week's all-spankin'-new DAREDEVIL #11!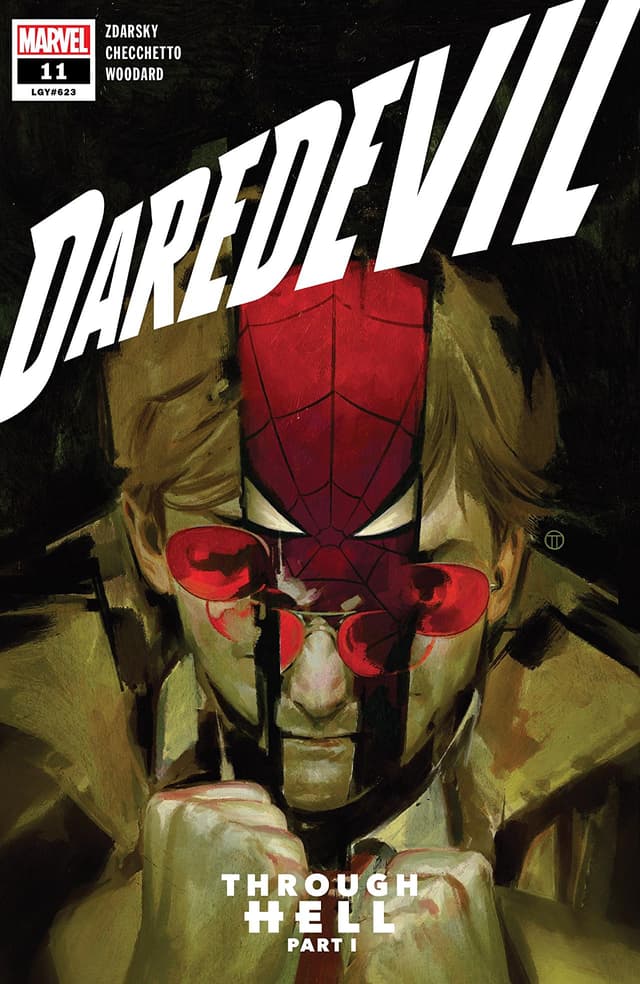 Hmm, that gives us a light bulb of an idea! Let's take a look at some of the earliest meetings between the two heroes and see how their riotous relationship grew…
Didja Know… DD and Spidey actually got along the first time they met?
Sure, too many titans tussle during their first tête-à-tête, but these two guys made nice on their first go-round and reaped the bountiful benefits from it.
In AMAZING SPIDER-MAN (1963) #16, our friendly neighborhood Wall-Crawler "saved" Matt Murdock from some carousing crumb-bums on the street and later ran into his crimson-clad alter-ego at the circus later that day. There, the Man Without Fear and the wondrous Web-Head only fought due to the mesmerizing machinations of the Ringleader, but broke the spell to crash the crazy criminal's schemes and dreams.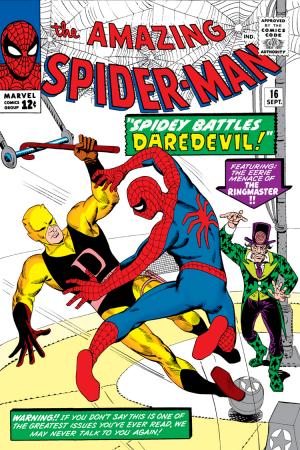 Two issues later, Daredevil gave Spidey all the credit in the world as a "valiant fighter" when the world thought May Parker's favorite nephew's spine turned yellow during a battle with the Green Goblin in AMAZING SPIDER-MAN #18. It was a nice gesture, but the mutual admiration society didn't last long.
Didja Know… Spidey once thought Foggy Nelson was secretly Daredevil?
We look back now and laugh at such fancies, but at the time a boneheaded boo-boo like that could get somebody killed! Fortunately for all concerned parties, the fallout from it failed to produce fatalities.
The Masked Marauder tricked Daredevil and Spider-Man into clashing in DAREDEVIL (1964) #16 and—we almost hate to say it, Spidey fans—but Horn Head got the better of the Web=Slinger and the two parted ways not necessarily nicely. Later, as Spidey listened in to some chit-chat between Matt Murdock, Karen Page, and Foggy Nelson, our hero somehow sprouted the suspicion that Matt's pugnacious partner was actually DD!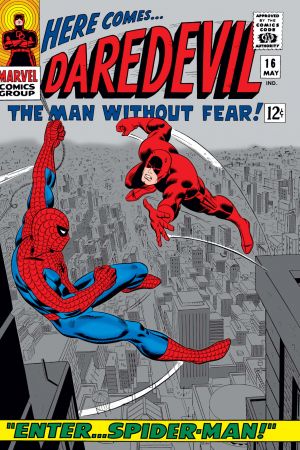 Long story short, Foggy actually tried to foster that misimpression to impress Karen in DAREDEVIL #17, but the real deal patched up his pique at Spider-Man to join forces and mash the Marauder into meatballs. The underlying tension between the two grew and every Marvelite knew it when the heroes met again in DAREDEVIL #27—oh, boy, did they!
Didja Know… Spider-Man and Daredevil teamed up to fight Namor the Sub-Mariner?
We don't know about your Funk and Wagnall's, bunky, but when we look up "epic" in ours it points us to a might little mag with the moniker of DAREDEVIL (1964) #77…and just a simple sly glance at the cover will illustrate the idea.
This came at a point when Spidey was still reeling from the death of Gwen Stacy and maybe, just maybe, he might have poured a little malevolence into his feelings about fighting Namor. Misunderstanding? You bet! We mean, it's comics after all, and who doesn't love a battlin' brouhaha between Super Heroes, eh? Well, readers got their shekels' worth from this one!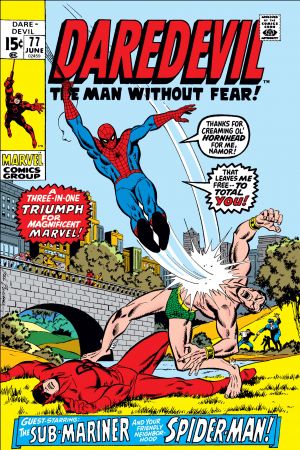 In fact, the whole thing spilled over into SUB-MARINER (1968) #40, minus Daredevil, but we feel as if Spidey probably pictured the crusading crimebuster while punching Namor in his prissy puss! Don't believe it? Get Matt Murdock on the horn and sue us!
Peruse these eye-poppin' publications with Marvel Unlimited right now! Then visit your local comic shop to read DAREDEVIL #11 on September 11!
The Hype Box
Can't-miss news and updates from across the Marvel Universe!