Comics
Published May 9, 2019
Didja Know... The Gigantic Journey of Giant-Man
Didja Know digs into downright delightful details from across the merry Marvel Multiverse!

Didja Know digs into the fun facts, strange stories, and divine details that helped build the hallowed halls of the House of Ideas!
Hey, True Believers, remember that old adage, "It takes giant to fight giants"? Well, okay; maybe' that's not exactly the way it goes, but you'll see our point when you pick up the first illuminating ish of GIANT-MAN, a WAR OF THE REALMS tie-in limited series that's gonna knock your oversized socks off, baby!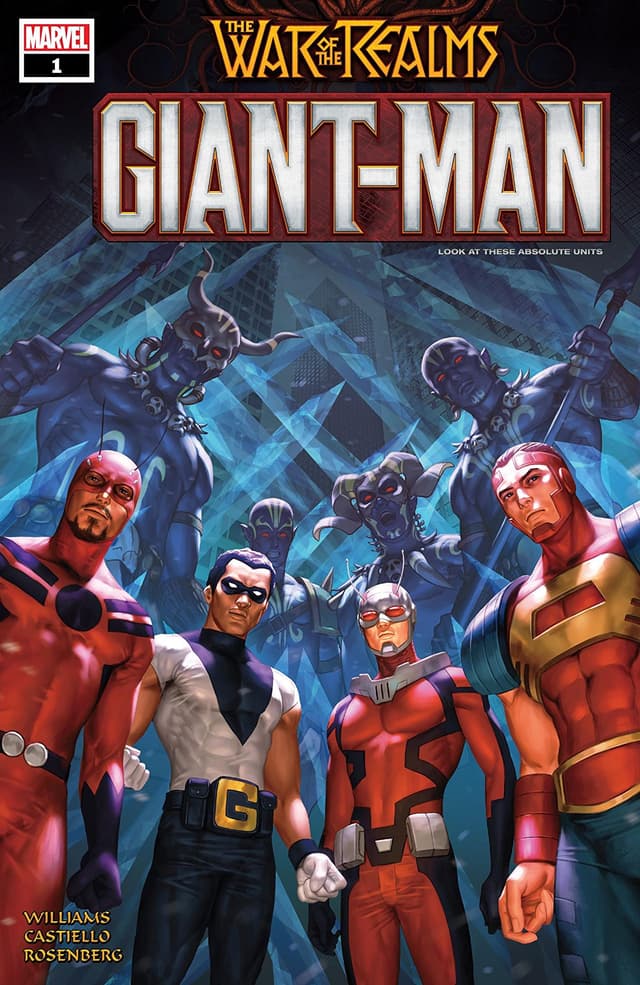 Just thinkin' about the series conjures up vivid visions of all the dashing dudes who've managed the moniker of Giant-Man over the years—and there's been plenty of 'em, Charlie. In fact, since we're all here and having a good ol' giant-size time, let's look through the 'lectrifying lens of history for some big words on the subject!
Didja Know… hank pym used the name three different times?
That crazy Hank Pym! What a card he was! Never could settle on one scintillating Super Hero name—he made 'em up by the bushelful! And though we liked just about everything he did, for us, his three stints as Giant-Man rank up right up there with Mom, apple pie, and that time he was replaced by a Skrull!
So, after debuting as Ant-Man, Hank first pulled on his big-boy pants in TALES TO ASTONISH #49 to parade around as Giant-Man until he tried out the names Goliath and then Yellowjacket. Those lasted him for a while, but the lure of a very descriptive tag was too strong and…bingo! Quicker than you can say "Irving Forbush," everything old was new again.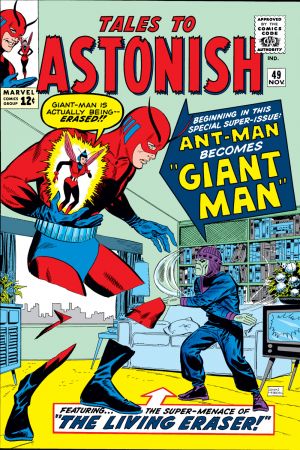 Hank brought back Giant-Man for the second time in AVENGERS #368, but as these things go, it didn't last long. Mr. Indecisive returned to being Yellowjacket and then that kooky thing about being the Wasp happened and…well, let's just say that our boy still couldn't shake Giant-Man and ol' Highpockets turned up again in AVENGERS ACADEMY #7.
Nowadays, Hank's Ultron or something. Who knows?
Didja Know… Bill Foster became Giant-Man because of the Thing?
You know Bill Foster's story, don'tcha? Big-brain scientist, learned a lot from Hank Pym, became Black Goliath with some Pym Particles in LUKE CAGE, POWER MAN #24, helped out the Avengers and the Champions? Yeah, that's the guy! Big like Pym before him, but without all the back-and-forth with names and costumes. Well, not as much, at least.
See, following some amazing adventures as Goliath, Big Bill met up with the Ting over in MARVEL TWO-IN-ONE #55, and what does Mrs. Grimm's favorite son say to 'im? Get this—the Thing reminds Foster that Goliath was a bad guy in ancient times and that "they ain't improved on" the name Giant-Man, in his orange-and-rocky opinion!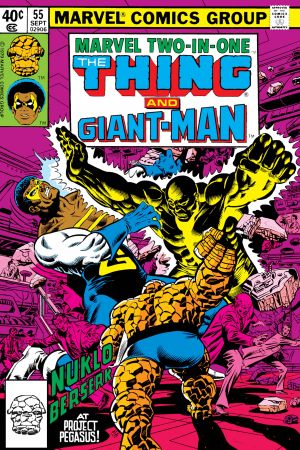 Marvel Two-in-One (1974) #55
published

added to marvel unlimited

writer

inker

penciller (cover)

letterer

penciler

colorist
What is Marvel Unlimited?
The then-newly minted Giant-Man used the mighty moniker for a while, right up until he had to stop using it due to, y'know, being killed and all. Now his nephew Tom's Giant-Man in his place, and from what we understand he's doing a bang-up job with it! Just check out the all-new GIANT-MAN series to see what we mean, Marvelite!
Didja Know… the current Giant-Man owes it all to the current Ant-Man?
Okay, we're not saying techno-whiz Raz Malhotra didn't accomplish anything on his own—no way, no-how! Ever since he walked on stage in ANT-MAN ANNUAL #1, the guy's been wowing them wonderfully, and we're pretty proud of where he's going.
What we mean is this: Hank Pym's old enemy Egghead set his beady little peepers on Raz as a fall-guy for some slick shenanigans, but Mr. Malhotra proved too perceptive for the bald baddie and saw right through his persuasive perambulations! Ant-Man himself saw something in the young man and like Pym before him, passed on a loaded legacy…a Giant-Man suit.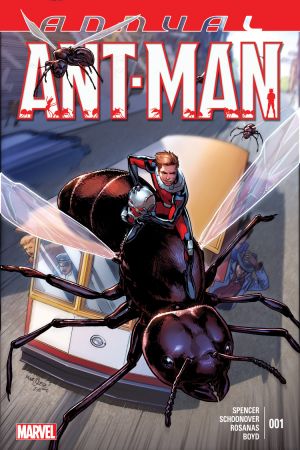 Raz embraced that legacy finally and fully in ULTIMATES #3! And the rest... Let's just say it's not history yet, but we see big things in this boy's future!
Peruse these eye-poppin' publications with Marvel Unlimited right now! Then visit your local comic shop to read GIANT-MAN #1 next Wednesday, May 15!
The Hype Box
Can't-miss news and updates from across the Marvel Universe!