Comics
Published July 16, 2020
'Empyre': The Heroic Lineage of Emperor Hulkling
The new King of Space hails from a family of Super Heroes!
Fifteen years ago, Teddy Altman made his debut as Hulkling in YOUNG AVENGERS #1. But despite his codename, Teddy's actual lineage stems from another Super Hero family tree. He is also, quite literally, royalty on his mother's side. In last year's INCOMING! #1, Teddy adopted his true name, Dorrek VIII, and he also assumed the throne as the emperor of both the Kree and Skrull empires.
EMPYRE #1 – on sale now! – shed some additional light on Teddy's decision to become Emperor Hulkling, and he may have some legitimately heroic reasons for doing so. The entire Marvel Universe is facing an interstellar war in EMPYRE, and Hulkling will undoubtedly play a large role in that. But saving the universe is literally the family business for the son of the original Captain Marvel. Their family tree includes four Super Heroes and a brave princess who was willing to challenge her father's power, making her a Super Hero as well!
Princess Anelle
Believe it or not, Princess Anelle appeared in the Marvel Universe before Mar-Vell. FANTASTIC FOUR #37 introduced Anelle when she was torn between the machinations of her father, Dorrek VII, and her fiancé, Morrat. Although Morrat plotted to steal the Skrull empire, he ultimately sacrificed himself to save Anelle's life.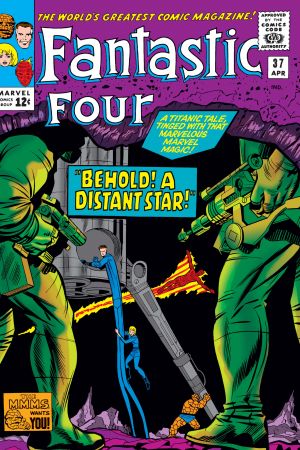 Years later, Anelle encountered Mar-Vell during the classic Kree/Skrull War storyline. She even openly opposed her father's ongoing war against the Kree. During this conflict, Anelle found a kindred spirit in Mar-Vell. YOUNG AVENGERS #10 revealed that Anelle and Mar-Vell secretly tried to bring peace to their people for years. They also fell in love and had a son, whom she named after her father: Dorrek VIII. On Earth, we know Dorrek VIII as Teddy AKA Hulkling.
Sadly, Anelle perished when Galactus destroyed the Skrull homeworld in FANTASTIC FOUR #257. But she had already arranged for Teddy to be raised on Earth in secret.
Mar-Vell
MARVEL SUPER-HEROES #12 introduced Mar-Vell as a Kree scout who was sent to spy on Earth. However, Mar-Vell eventually rebelled against his leaders and he became the first Captain Marvel. He fought alongside Earth's heroes and served as a friend and mentor for Carol Danvers. Mar-Vell's influence on Carol was so profound that she eventually adopted his codename, Captain Marvel, as her own.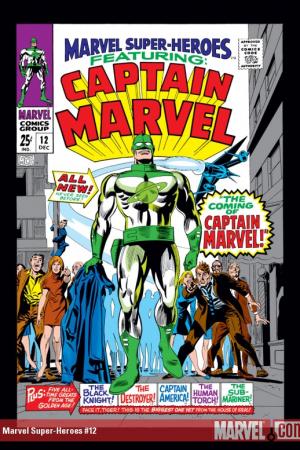 Mar-Vell perished in the landmark graphic novel THE DEATH OF CAPTAIN MARVEL, and he didn't get a chance to see his children become heroes. And Teddy wasn't his only son...
Genis-Vell
Mar-Vell's other lover, Elysius, stood by his side during his final days. After Mar-Vell died, Elysius used his genetic material to create their child, Genis-Vell. He made his debut as Legacy in SILVER SURFER ANNUAL #6 before eventually becoming the new Captain Marvel. After a future version of Genis played a critical role in AVENGERS FOREVER, he headlined the CAPTAIN MARVEL series that began in 2000 and a second one in 2002.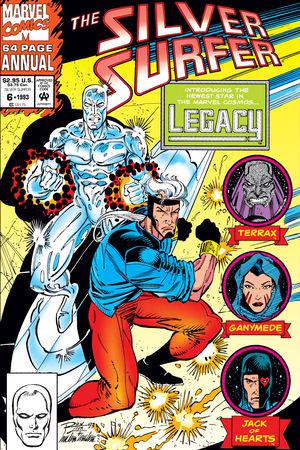 Silver Surfer Annual (1988) #6
published

added to marvel unlimited

penciller (cover)

penciller

letterer

writer

colorist

inker
What is Marvel Unlimited?
Unfortunately, Genis' Cosmic Awareness was used to drive him insane during the course of his second series. Genis seemed to recover when he joined the Thunderbolts in 2005's NEW THUNDERBOLTS. He even took on a new codename: Photon. Regardless, Genis' out-of-control powers led Baron Zemo to kill him in THUNDERBOLTS #100. Genis' body was also discarded in the Dark Dimension, and he has not been seen since. Consequently, Genis never met his half-brother, Teddy.
Phyla-Vell
Originally, neither Genis nor Teddy had a sister. But thanks to a soft reboot of the universe, Phyla-Vell made her first appearance in CAPTAIN MARVEL (2002) #16. Phyla was also a child of Mar-Vell and Elysius, and she challenged Genis for the role of Captain Marvel. During ANNIHILATION: CONQUEST, Phyla became the new Quasar. By then, Phyla had also developed her romance with Moondragon. Both women went on to join the modern Guardians of the Galaxy team.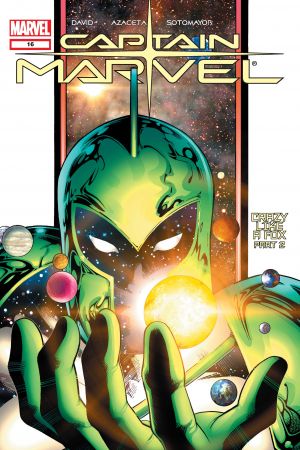 Phyla was later chosen to become Martyr, the avatar of Death. However, Phyla was murdered by Thanos in GUARDIANS OF THE GALAXY #24 during the run-up to REALM OF KINGS. The original Phyla remains dead to this day, but another version of Phyla-Vell and her wife, Moondragon, from another universe have joined the Guardians of the Galaxy in the 616 universe.
Someday, the children of Mar-Vell may finally come together. But for now, EMPYRE has placed the fate of the universe in Emperor Hulkling's hands...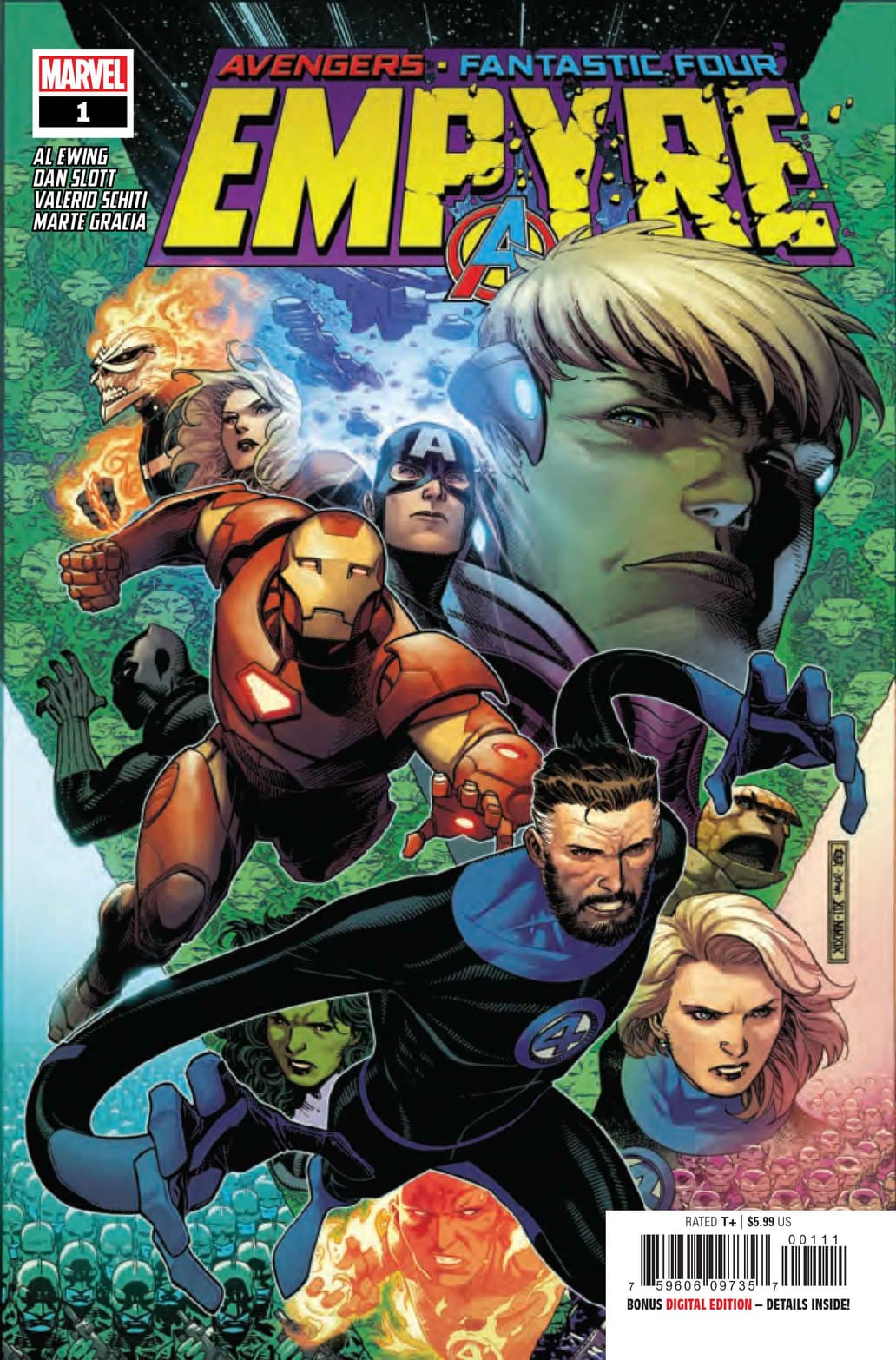 You can pick up EMPYRE #1, written by Al Ewing and Dan Slott with art by Valerio Schiti, at your favorite local comic book shop or digitally today! Be sure to ask your local comic book shop about their current business policies to observe social distancing or other services they may offer, including holding or creating pull lists, curbside pick-ups, special deliveries and other options to accommodate. Find and support your local comic book shop at http://comicshoplocator.com or by visiting http://marvel.com/lovecomicshops.
For digital comics, all purchases in the Marvel Comics app can be read on iPhone®, iPad® and select Android™ devices! Our smart-paneling feature provides an intuitive reader experience, ideal for all types of mobile device and tablet users!
For Marvel's most up-to-date release schedule for your favorite comics, visit http://marvel.com/newcomics.
The Hype Box
Can't-miss news and updates from across the Marvel Universe!