Comics
Published July 16, 2019
Enter Star: Who Is the New Character in 'Captain Marvel' #8?
The 'Captain Marvel' creative team tries to fill in the blanks surrounding the new super Star!
Carol Danvers AKA Captain Marvel is not at her best when we first see her in this week's CAPTAIN MARVEL #8. And while she's trying to do her Super Hero job, someone else steps in to... help? Interrupt? Steal her thunder? It's Star, a new high-flying character who is introduced in the midst of an alien kerfuffle that Captain Marvel, Spider-Woman, and Hazmat are trying to stop. There's something familiar about her, but Carol can't put her finger on what.
Maybe the CAPTAIN MARVEL creative team -- writer Kelly Thompson and artist Carmen Carnero -- can shed some light on this mysterious new face!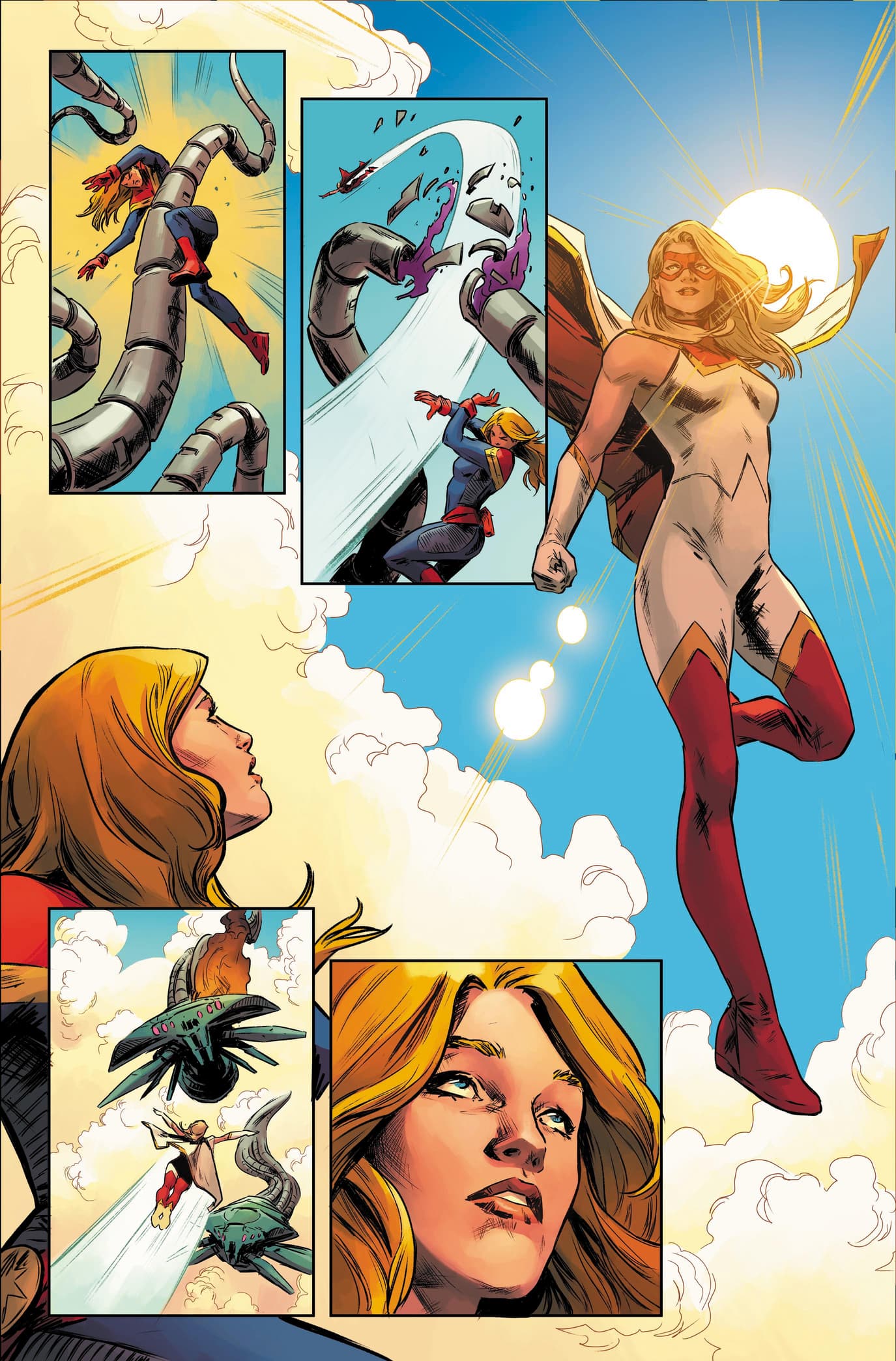 Said Thompson: "Star is this mysterious new hero that's showing up in New York in our 'Falling Star' arc. She's sort of ascending as Carol is suddenly struggling and 'descending,' and it creates a lot of weird parallels and insecurities for Carol.
"Normally this kind of thing wouldn't phase Carol at all but in CAPTAIN MARVEL #8, she finds herself quite suddenly in a very low place, so seeing someone -- a young blonde someone that sort of reminds her of herself, being perceived as her replacement -- is hard to take in stride. It feels like one more hit when you don't have many hits left to give.
"I expect and hope for Star to be around the Marvel Universe for a long time. I don't want to say too much or give too much away for the upcoming story, but she's got a ton of potential just waiting to be explored."
If Star does look slightly familiar, that was intentional. Carnero provided some insight into why Star looks like someone we already know:
"The idea for Star was that she should be like a younger version of Captain Marvel. Somebody for the public to empathize with and see as a new, better Super Hero. Regarding the look, we worked on it a lot—especially the colors that should be elemental to her design. Since her name is 'Star,' of course that element should be prominent on her uniform, but it shouldn't look similar to Captain Marvel or Captain America. After many tests, we finally decided on a classic look---soft lines, bright colors, facemask to preserve her anonymity. The motif that I like most on the suit is how I could integrate the star as part of it, giving shape to her shoulders.
"I hope this character becomes a staple of the Marvel Universe, because Star has a lot of potential, and she's going to give us really unique scenes with Carol."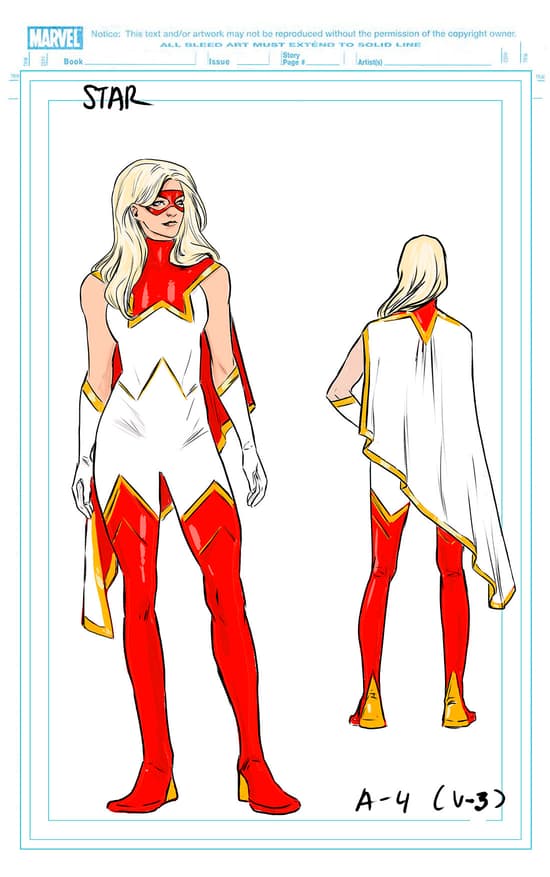 You can expect to learn a lot more about Star in the next few issues of CAPTAIN MARVEL! Readers are certainly excited -- CAPTAIN MARVEL #8 has already sold out its first printing. A second printing is on the way with a brand new cover by Carmen Carnero!
CAPTAIN MARVEL #8, written by Kelly Thompson with art by Carmen Carnero and Tamra Bonvillain, is on sale now online and at your local comic shop.
The Hype Box
Can't-miss news and updates from across the Marvel Universe!